If you read my Toy Photographer's Take on Disney's Galaxy's Edge, you know I am a huge fan of Disney theme parks and Star Wars. Well, never in my wildest adventures of exploring Galaxy's Edge, did I imagine we'd be able to take a part of it home in LEGO form.
Rise of the Resistance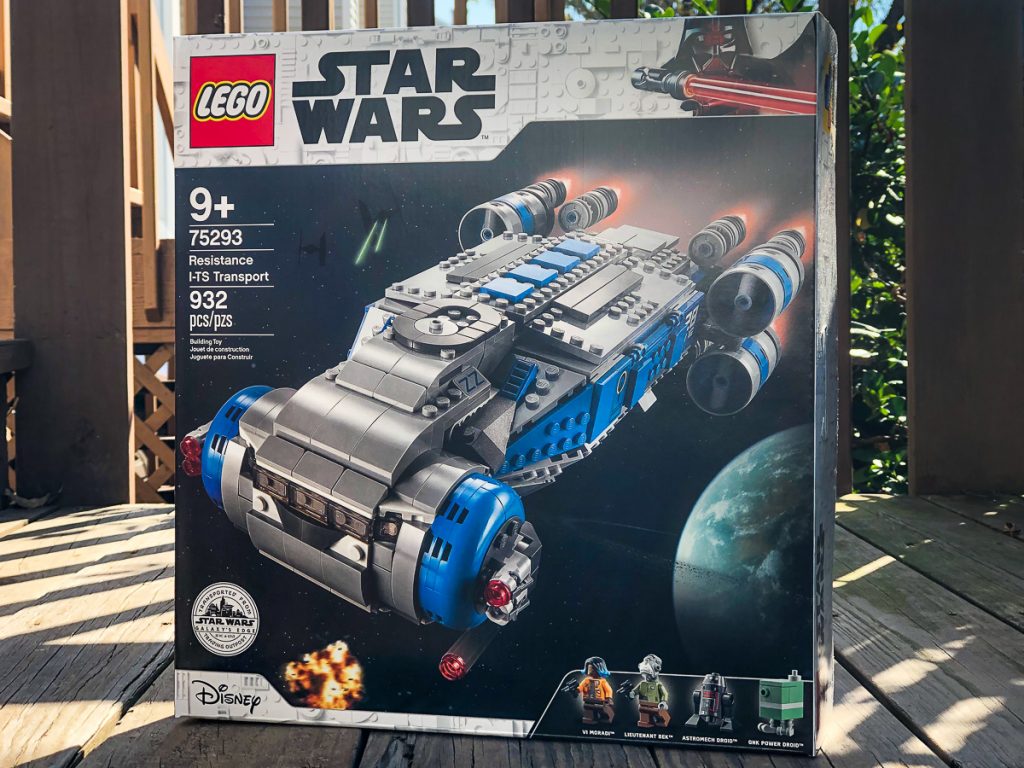 Introducing the LEGO Resistance I-TS Transport (75293), delivered from Star Wars Galaxy's Edge Trading Post. Now if you don't recall seeing this ship in any of the Star Wars films, you didn't miss it. The I-TS Transport is an original creation, designed by Disney Imagineers for the Rise of the Resistance attraction at Star Wars Galaxy's Edge in both Disneyland and Walt Disney World.
Resistance recruits embark on the I-TS Transport ship as they travel from the Black Spire Outpost on Batuu to the secret Resistance base on Picara.
Rebellions are built on bricks
In LEGO form, the Resistance I-TS Transport consists of 932 pieces and includes two minifigures, an astromech droid and a brick-built power droid. The set retails for an MSRP of $99.99.
The I-TS Transport looks almost like a younger sibling to the more well known Tantive IV blockade runner with a similarly shaped cockpit and engine array. (Check out Vesa's review of the LEGO Tantive IV here).
LEGO designers used inventive building techniques to create a nice geometry for the I-TS Transport, which faithfully matches it's real life counterpart.
The Transport has cargo loading doors on both sides, as well as a retractible roof over the cockpit
The cockpit only has seating for one up front, so Nien Nunb, who pilots the attraction at Disney Parks, will have to sit out this adventure.
One cool detail of the build is the observation window added to the back of the ship. While riding the attraction at Galaxy's Edge, this rear observation window is one of two vantage points Resistance recruits can use to watch their journey unfold from Black Spire Outpost.
Meet the Resistance
The transport itself isn't the only thing lifted directly from Galaxy's Edge. Included in the set are characters who can be found in the Rise of the Resistance attraction as well as wandering around the fictional spaceport of Black Spire Outpost.
Vi Moradi is a Resistance spy played by a live actor at Galaxy's Edge, and she can be spotted enlisting recruits, gathering reconnaissance and avoiding First Order patrols at all costs.
In minifigure form, Vi features dual facial expressions and a unique chest print along with her signature two-tone hair piece.
Lieutenant Bek is a Mon Calamari responsible for bringing new recruits from Batuu to the secret Resistance base. His Mon-Calamari head mold has a pattern print on the top as well as printed eyes.
One of my favorite figures included in the set, surprisingly, is only referred to as "Astromech Droid" on the box. I searched high and low to see if this little guy has any form of proper R5 identification, but the effort came up short. My hunch is that since there are multiples of these droids featured in the Rise of the Resistance attraction, Disney opted not to give them unique names. If anyone can correct me on this, I'd be delighted to update this post.
Whatever his name is, the droid makes an awesome addition to this set, and allows me to fully complete my Rise of the Resistance Ride Vehicle MOC.
The last figure included in the set is a brick-built power droid. I never get tired of these boxy droids. While there is nothing of particular interest with this simple yet effective build, having a 'Gonk' droid is a nice inclusion in the set—especially given the frequency you encounter these droids at Galaxy's Edge.
The mission
When it comes to LEGO photography, I tend to focus closely on minifigures, so shooting the transport was a fun challenge. It's a great set piece for any Resistance base, and I enjoyed creating scenes of Resistance troops around the transport, prepping for yet another dangerous mission against the First Order.
While the bulk of photos I shot during my writeup were close-ups of the transport, I did have one shot in mind that I wanted to get of the I-TS launching from its base.
I accomplished the blast off photo by first building supports to hold the transport in an upright position, and then throwing a bunch of shredded tissue paper over a light source to create the blast. I used orange gels on the lights below the tissue paper, and a light with a red gel pointed at the ship to add a bit more color.
It's a simple effect, but I think the end results are very convincing.
Rise of the Resistance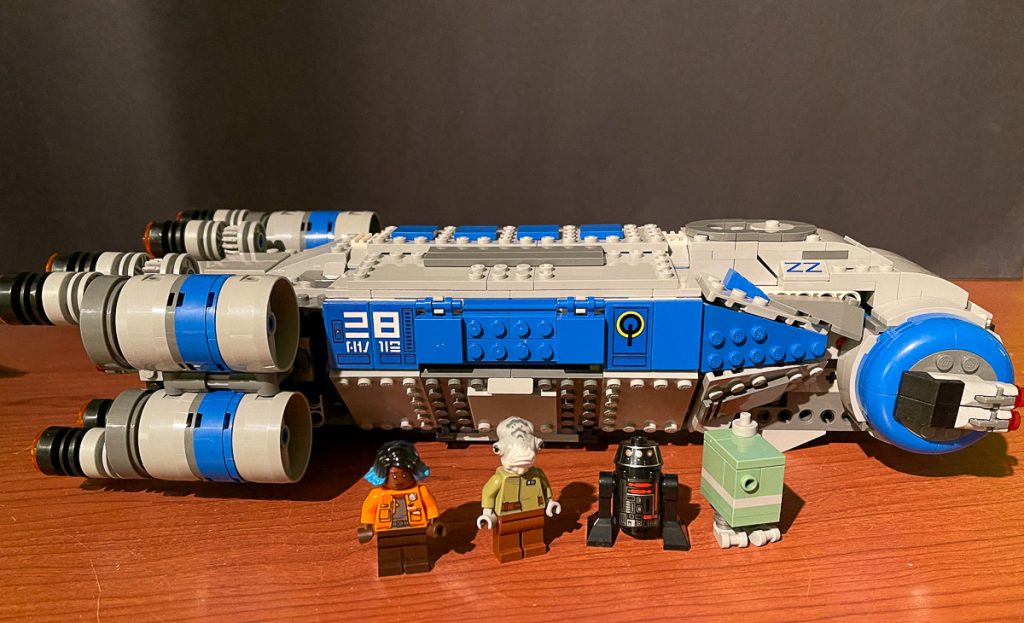 Thanks to LEGO for providing the Resistance I-TS Transport for review. I had a lot of fun shooting the set, and it will make a wonderful addition to any Resistance scenes you want to create.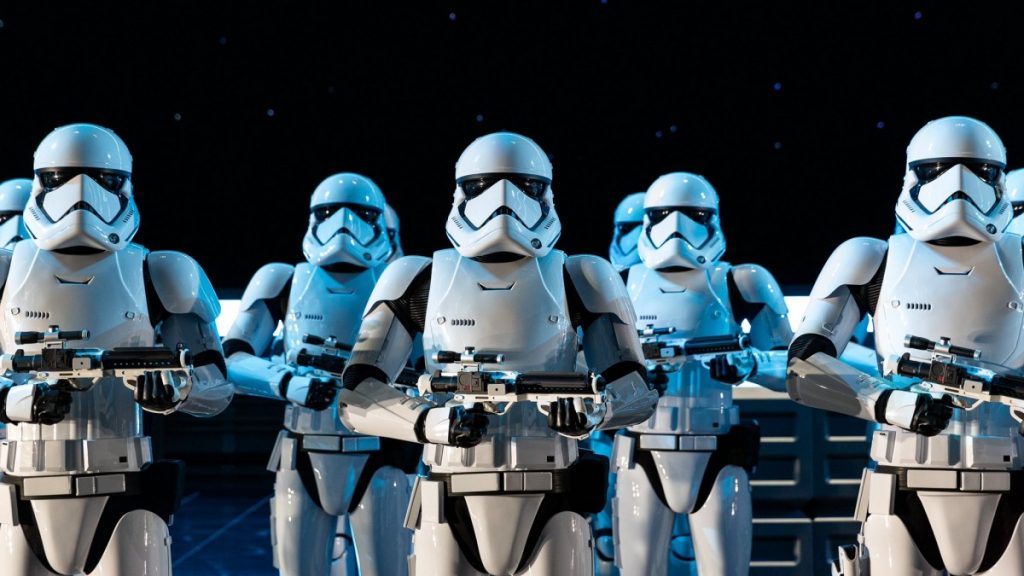 If you'd like to learn more about the Rise of the Resistance attraction this set is based on, you can find information at disneyworld.disney.go.com. Or, check out a complete ride-through of the attraction below (Resistance I-TS Transport makes its appearance at the 1:20 mark).
My fingers are crossed we get more LEGO sets from Galaxy's Edge, as I'd love to contiue to build out my own, brick version of Black Spire outpost. Maybe.
Until then, may the Force be with you. And, as they say on Batuu, "Till the Spire." (I'm pretty sure this means goodbye.)