Flashback Billund, Denmark, summer 2011: I had promised my kid he could get any one LEGO set from the LEGOLAND LEGO store he wants, but just one, and it had to fit our budget. He had a hard time choosing between the Clone Wars 7964 Republic Frigate and the Star Wars 10198 Tantive IV. I said, "Get the Tantive IV, get the Tantive IV!" But I said it only to myself. I never said a word out loud. The kid chose the Republic Frigate and was very happy with it.
Eight years later, an opportunity to review the new updated version of the Tantive IV emerged and I could not resist. Finally I would get my hands on the legend, the first ever spaceship to appear in the Star Wars movies.
It's big!
The new 75244 Tantive IV set is big. With 1,768 bricks, it is bigger than its 1,408-brick predecessor from 2009, the one we never bought. Surprisingly, it also outnumbers the 1,748 bricks of the 2001 UCS set 10019—I didn't see that coming. The sleek, new Tantive IV comes with six minifigures: C-3PO, R2-D2, Princess Leia, Bail Organa, Captain Antilles and a Rebel fleet trooper. I think it is uncanny how they can capture the facial features of a character with so little to play with, by the way.
This is the first appearance of Bail Organa as a minifigure (he actually looks like Jimmy Smits) and he is wearing the Rogue One costume. This set is actually a Rogue One / Episode IV model. Princess Leia has an option to have feet or, for the first time, a skirt element. There is a chance this set will also be one of The Rise of Skywalker sets, but we don't know this as of yet. A similar ship appears in the trailer, you see.
Not just instructions
This being a big set, the instruction booklet isn't really a booklet, it's a book, not unlike what you'd expect from an UCS model these days. There is an information package about the original Tantive IV as well as the LEGO iteration of it. The designers at Billund have a voice with these big sets and I like it a lot. These models don't just appear out of nowhere, there are talented people working hard to get them right, and it's great we get to hear their thoughts.
Building the Tantive IV is business as usual, along with a few stickers and a few new bricks I hadn't encountered before. I don't build that much, so new is a relative concept in my case.
The build
I have often wondered why there are all those colourful bricks in places that cannot be seen on the finished model? They're clearly not just random bricks with whatever colours, they are designed to be there, colourful but out of sight. Are they merely to make the build process more entertaining? I'm sure this has been addressed somewhere before.
It was wonderful to see the model take shape while building. The Tantive IV has a distinctive silhouette with the hammerhead design and the big cluster of engines. This Lego version captures the silhouette very well, far better than the earlier versions. It doesn't bulge at the wrong places and vice versa. There are some play features, including opening cockpit and a consular chamber. The Tantive IV is a consular ship, so I assume the space with the table and two chairs is for consularing… things.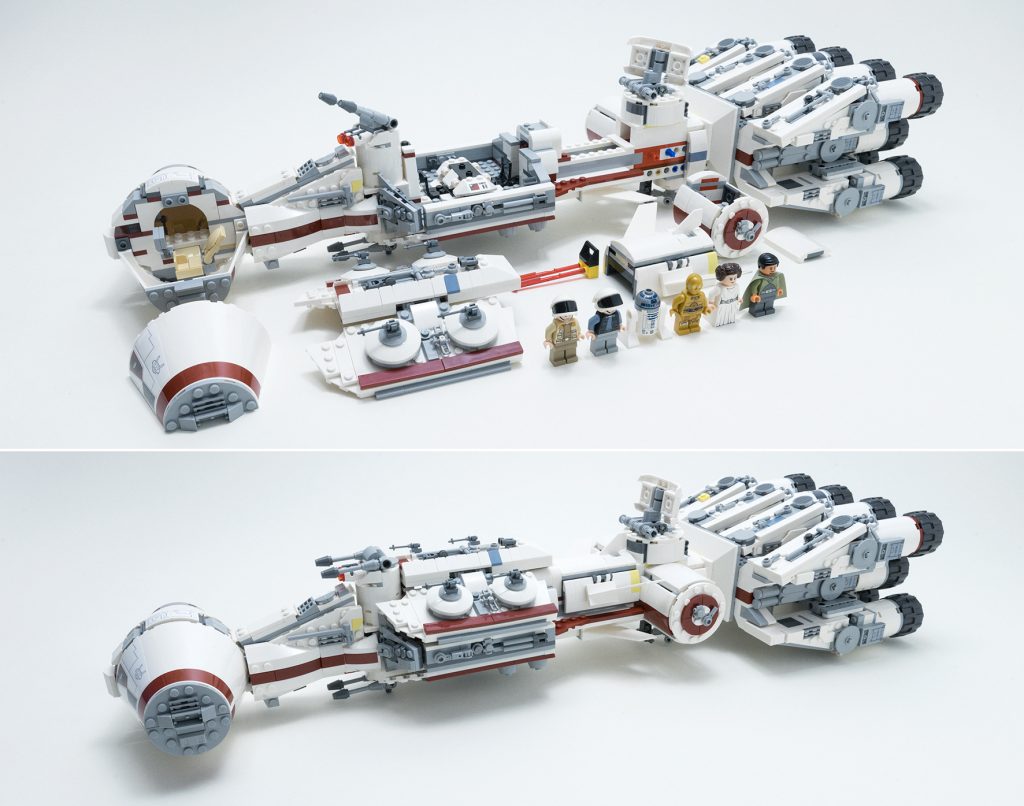 There are two detachable side pods, which I guess are airlocks/docking ports but in this build they double as escape pods. On top there is also a small space for two extra cannon projectile rods. This is good because I lost the two on the forward cannons already as I dropped the model whilst photographing it.
Spares come in handy. The radar dish rotates, but it also doubles as a handle by which you can carry the whole ship around. It works really well, albeit just a little too much to the aft. The nose tends to dive down when lifting from the handle. It's nothing dramatic though.
The business end
Sticker trouble
When putting the model together, I wondered, would it be possible to rethink the sticker sheets? The small stickers are fine, computer screens and such, but with this particular set, the big, dark red curved stripes on the edges of the head were not that easy to get straight. Would it be a big expense to design the sticker sheet to accommodate a couple of extras when sets include stickers that are trickier than usual? Or would that just be a waste of materials? I always struggle with the stickers, but this time I got them fairly straight. I'm sure it would be pretty easy to persuade LEGO to send replacement stickers if everything goes wrong though, so maybe that's enough.
Two more things…
While the LEGO Tantive IV is an impressive and gorgeous model, there are two things I have some issues with.
First, the cockpit windows. I wouldn't know how this could possibly be done in any other way, but here the stickers feel like an easy way out, a little less up to par as the rest of the ship. Maybe there is a solution, a way to construct the head so that there is a real window there, but certainly not one that would be feasible in an official set, I suppose. The fault is in the universe, not really in how this is put together. Since the windows are stickers, it would have been nice to have stickers for the two distinct round ports below the windows as well, to complete the look.
The second thing I miss is not that far fetched. The model has no landing gear and I think that's an omission that could have been avoided. We know from the trailer to the upcoming Star Wars: The Rise of Skywalker that the ship that looks a lot like the Tantive IV (please note, it can be just any CR90 Corvette) has landing gear. Although this set was released months before the trailer, I would assume they considered it. I mean, the Republic Frigate 7964 has landing gear and it sits on them nicely. As it is, the Tantive IV sits on its belly cannon turrets and engines, it's a little awkward for such a glorious model. There should at least be a little stand to really make it shine on your shelf.
~Vesa (Avanaut)
If you want to check out more reviews by Vesa, you can find them here.