In 2019, Disney opened Galaxy's Edge, a Star Wars-themed land at both Disneyland in California, and Walt Disney World in Florida. I was fortunate to have the opportunity to explore Walt Disney World's version, and brought my camera and a few plastic friends along for the ride. In this post, I've collected my thoughts on Galaxy's Edge, along with some toy photography travel tips to create what I call a Toy Photographer's Guide to the Galaxy.
A galaxy far, far away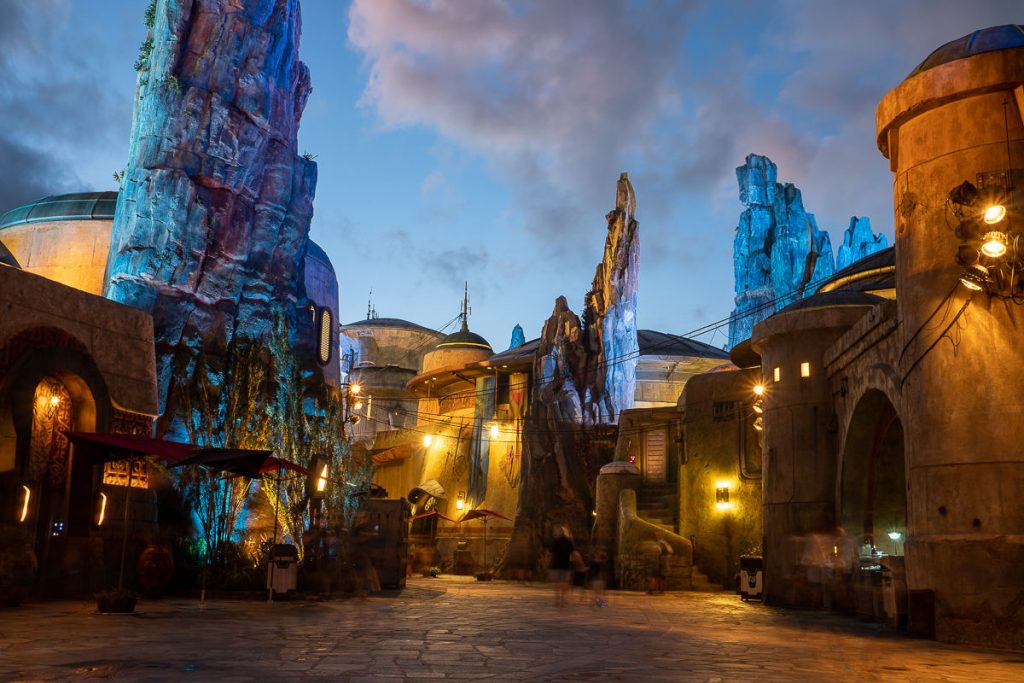 A visit to Galaxy's Edge transports you to the planet of Batuu. Once a bustling destination for travelers and traders, Batuu is now only frequented by smugglers and rogues brave enough to venture this far into the Outer Rim. To make matters worse, the First Order has brought their presence to this remote world, as they continue their relentless pursuit of the rebellious Resistance.
A new hope
For Star Wars fans like myself, visiting Batuu is the closest we'll get to setting foot into the Star Wars Universe. Disney has done a terrific job to make the experience as immersive as possible, and in doing so, created a backdrop for toy photography that you'll be hard pressed to find elsewhere.
Gearing up for the Edge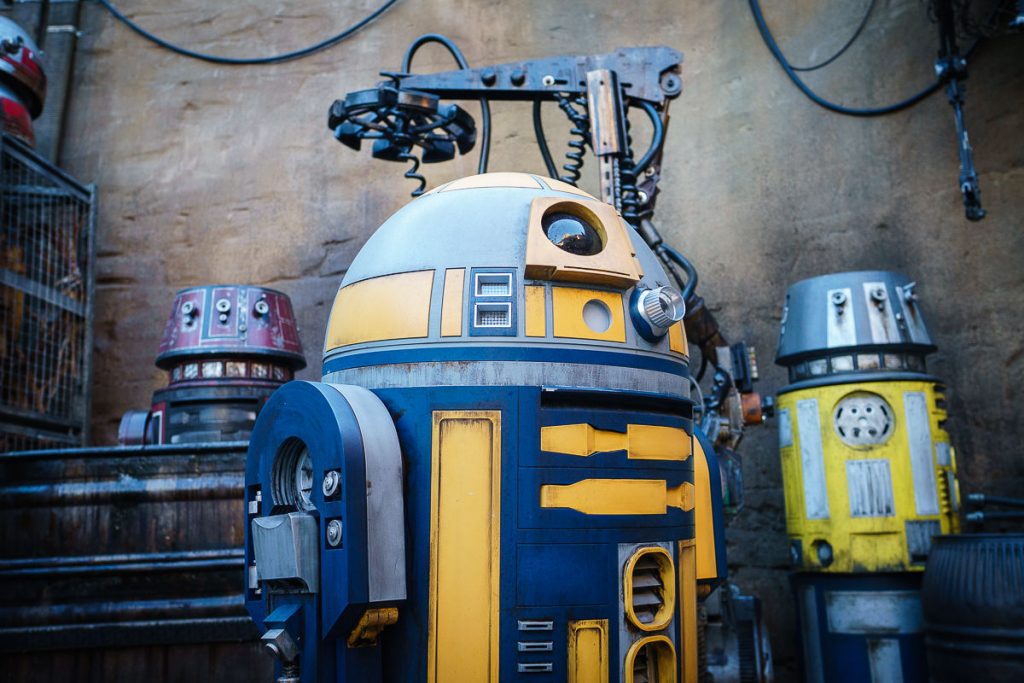 Preparing for my visit, I wanted to keep my kit as minimal as possible. I stuck to a single, 24mm f/1.8 lens for my Sony a6300, a Lume Cube 2.0 for fill light, a GoPro Hero 7 for video and super wide angle shots, and a Sony RX100 V pocket cam to round things out. I did not bring a tripod, but I'll get into the reasons why later on.
My time on Batuu was going to be very limited, so prior to my arrival I did some research on the land, and created a shot list. This was critical for making sure I came home with the shots I wanted. It also helped me pack my toys appropriately, as I thought about how I was going to shoot each toy before adding it to my bag.
Checking out the cantina
Located in the Black Spire Outpost section of Batuu, is Oga's Cantina. This is where I planned to capture the first shot of my trip. Oga's is inspired by the cantina in Mos Eisley spaceport though with considerably less scum and villainy. Still, I made sure to keep my guard up.
Before shooting, I fueled up for my adventure with a Blue Bantha and Rising Moons Overnight Oats from Oga's menu. The Blue Bantha is a chilled blue milk drink (dairy-free, I believe) served with a bantha-inspired vanilla butter sugar cookie. Rising Moons Overnight Oats consisted of oats, dragonfruit, yogurt and seasonal fruit. The Rising Moons Overnight Oats was delicious, while the Blue Bantha is more of an… acquired taste.
The ambiance of Oga's Cantina is accented by DJ Rex spinning the galaxy's best tunes. A former star speeder pilot, Rex has found a new life for himself at Oga's after crash landing his speeder nearby. You can find Rex's playlist over at Spotify if you want to give it a listen yourself.
I mentioned earlier how I didn't bring a tripod on this trip. Before I left for vacation, I was searching for a new table-top tripod that would allow me to capture low angles. After wasting money on gear that didn't do the trick, FourBricksTall clued me in on an excellent tripod alternative – bean bags.
These worked out perfectly while shooting at Galaxy's Edge, and I cannot recommend them enough for toy photographers. They are cheap, versatile and much easier to carry around than a tripod.
For this cantina shot, I brought the bar portion of the LEGO Mos Eisley Cantina Set along with the bartender, Wuher and two denied droid patrons, R2D2 and C3PO.
Shooting in manual mode, I set my aperture to f/9.0 to keep my minifigures sharp, but blur the background. I adjusted my shutter speed to 8 seconds to expose for the ambient light and used a Lume Cube as a fill flash to light up my miniature bar scene.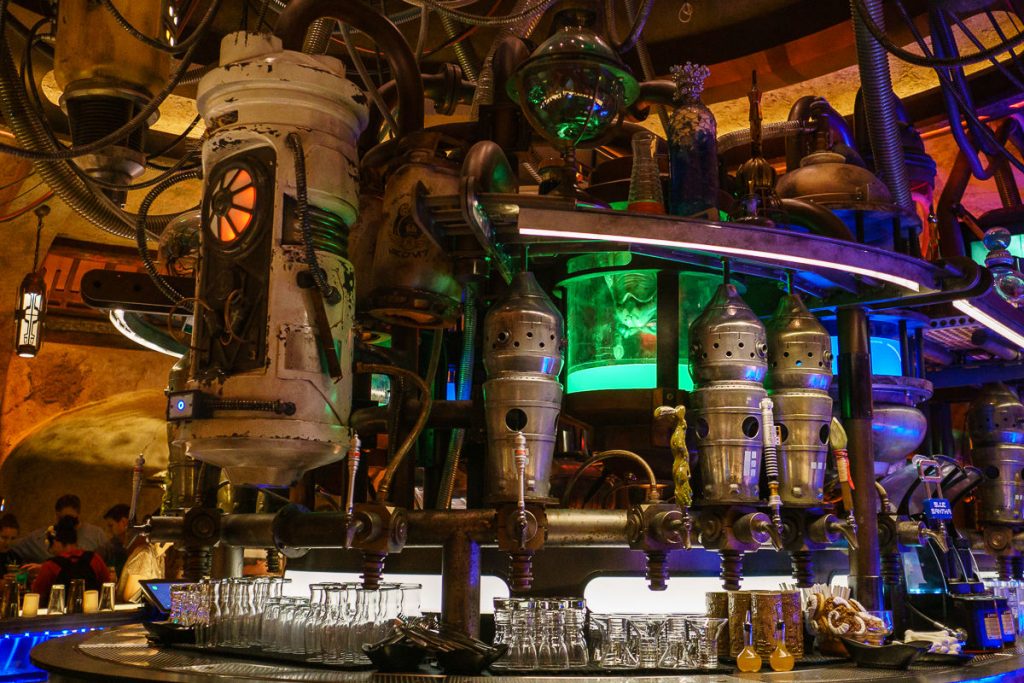 One mistake I made while shooting was rushing through the shot and neglecting to try additional angles and compositions. Had I taken my time, I could have shifted my composition slightly in order to get more of the wonderful colors of the bar in the background of my shot.
Taking your time when shooting on location is extremely important. You never know when you'll get the opportunity to shoot in the locale again.
Unfortunately, I forgot this tip, and hastily shot a few frames, before settling my tab and exciting the cantina.
Smugglers Run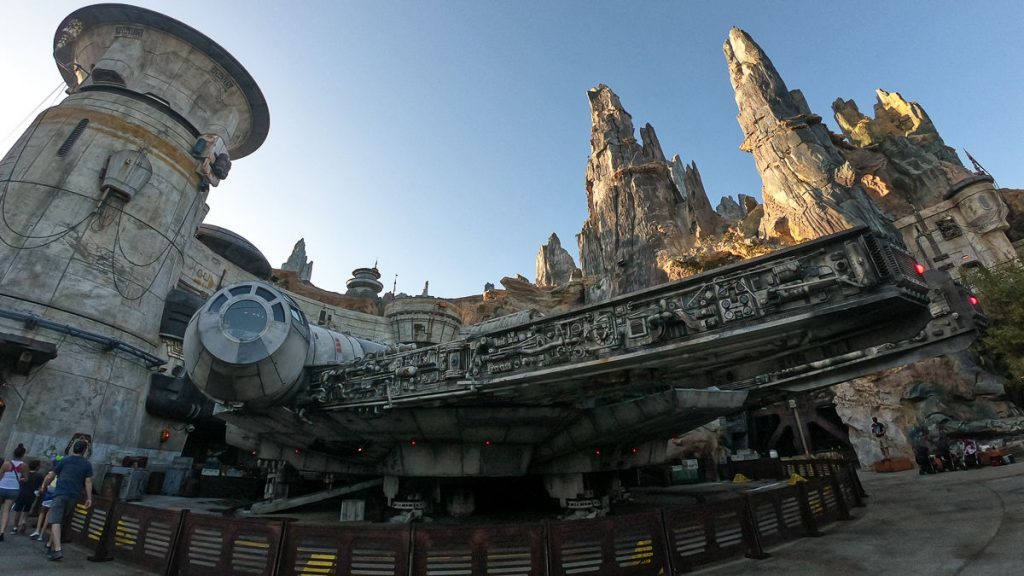 After breakfast it was time to try my hand at interstellar smuggling onboard Star Wars' most legendary starship, the Millennium Falcon.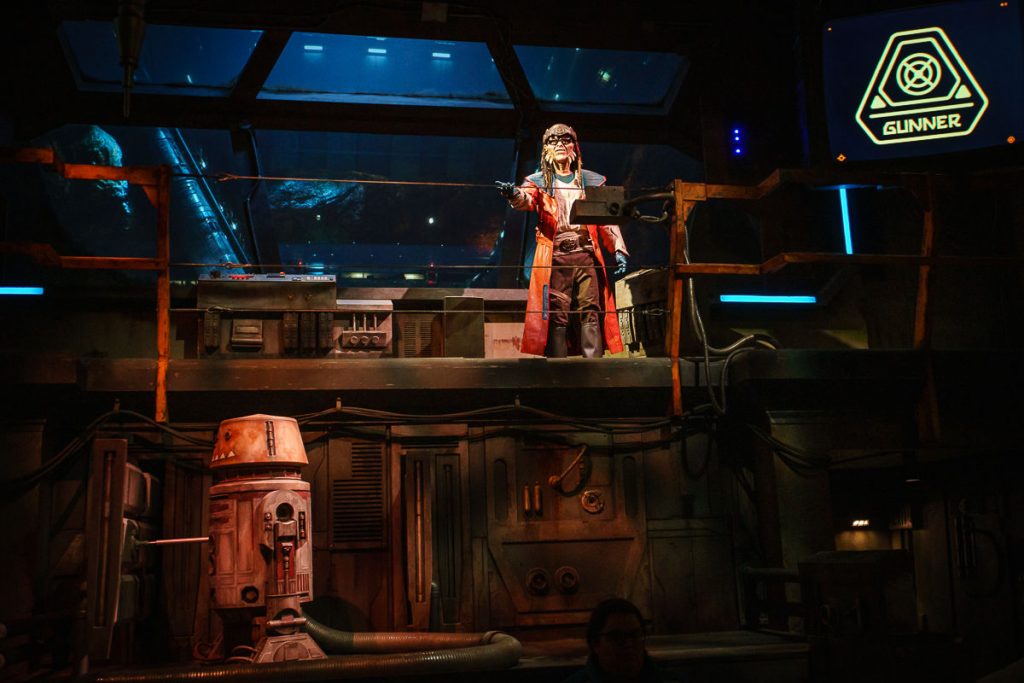 The story of Smugglers Run is that Hondo Ohnaka (Clone Wars/Star Wars Rebels) has taken up residence on Batuu, and is recruiting a crew for a galactic heist. To up the odds, Hondo is loaning his newfound crew the fastest hunk of junk in the galaxy.
Millennium Falcon: Smugglers Run puts you in control of the Falcon, but it also allows you to pass through the ship's iconic interior, complete with common area and Dejarik table. It was on this table where I had planned to take the second shot on my list.
I was worried that getting a shot of my BB-8 Nendoroid on the Dejarik table without other 'crew members' in the background was going to be difficult. To my surprise, there was ample opportunity to shoot in this space without anyone stepping in to ruin it.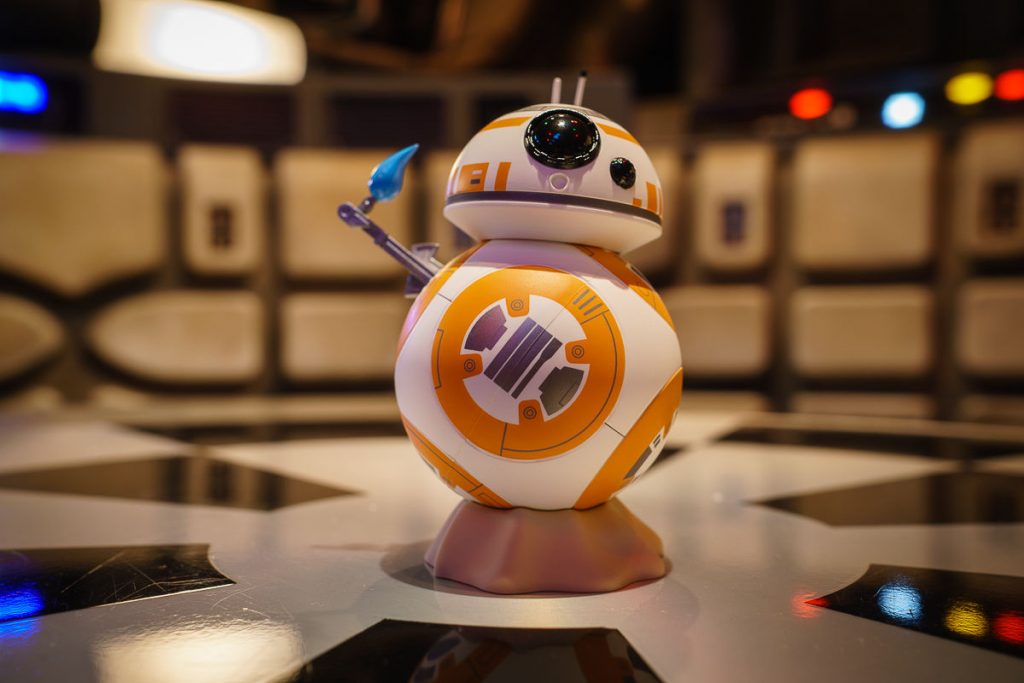 Once again I relied on the bean bags to position my camera. There was enough ambient light in the room to expose BB-8 as well as the background, so I didn't need to use any fill flash.
I set my aperture at f/5.0 to get the depth of field I wanted, and then dialed in my shutter speed to get the lighting right. I set my ISO at 100 to keep the image as clean as possible and used a 2-second timer to avoid any camera shake from pressing the shutter button.
After shooting, my crew was called to the cockpit so I packed up my toys and took my seat in the Falcon's cockpit. Yeah, it is every bit as amazing as it looks.
The First Order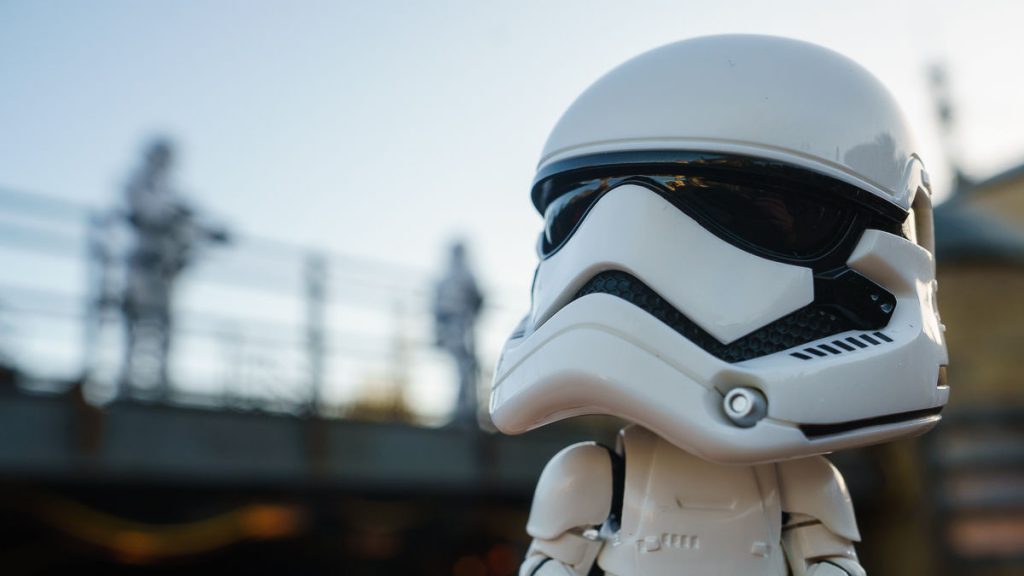 The third shot on my list required tracking down some First Order Troopers, which can be found patrolling the streets of the Batuu. This shot didn't come together exactly as I was intending, as the troopers I encountered were patrolling from a scaffolding, instead of on the street.
For this shot, I hand held my First Order Nendoroid Trooper in front of my lens and composed the shot with the troopers in the background. The troopers were only in place for a few moments, so I didn't get exactly the shot I wanted. Had I had more time, I would have stopped down my aperture a bit more to increase my depth of field. Regardless, I still think it's a cool shot and I'm happy with how it turned out.
Impromptu shots
While pre-planning will go a long way to make sure you get your shots, keeping your eyes open for impromptu opportunities will allow you to capture spontaneous moments as well. Batuu is loaded with these chance encounters. One such moment happened when I stumbled upon one of the land's refreshment vendors.
Soft drinks are packaged in thermal-detonator-esque containers, and BB-8 couldn't help cuddling up alongside one of them. This wasn't a shot I had thought about in advance, but it's one of my favorites that I captured during my trip.
Returning to Earth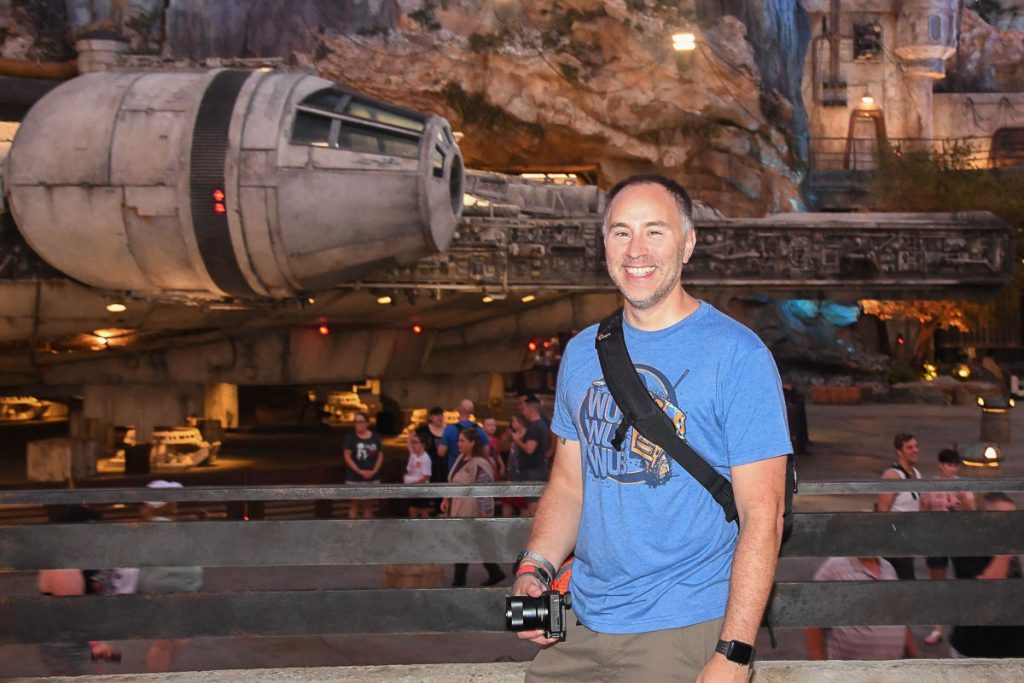 All adventures must come to an end, and before long it was time for me to say goodbye to Batuu. I didn't get to all the shots on my list, nor did I experience all the planet has to offer so I will no doubt be returning again soon.
Whatever galaxy your travels may take you to, here is a recap of tips for when traveling with toy photography in mind:
Plan a shot list. Pre-planning your shots goes a long way, especially if time is limited. Prioritize the ones that are most important, so you make sure to tackle those first.
Avoid overpacking. Think about how and when you are going to use what you are bringing. Try to avoid packing 'just in case' items.
Ask for advice. Reach out to the community for tips before spending money on gear (thanks again @fourbrickstall).
Don't rush. Take your time when shooting and try multiple compositions and angles. Don't rush it and regret it like I did in the cantina.
Keep your eyes open. Don't neglect impromptu shot opportunities. You can't plan for everything, so keep your eyes peeled for potential as you explore.
Have fun. Don't forget to enjoy yourself and take in the sights when traveling to new worlds.