Hardly any LEGO collectible minifigure (CMF) series evokes such emotions as the ones associated with the world of Harry Potter. The universe of wizards and wonders still exudes strong magic, which is here tightly closed in small, shiny bags. And as with Bertie Bott's Every Flavor Beans, you don't know what's waiting inside! But don't worry! The second CMF series does not offer any unpleasant surprises!
This set includes 16 minifigures featuring characters from the whole Harry Potter saga. Each minifigure comes with a lyre… erm, that is, a set of two wands (I bet Ollivander lined his pockets on this order), but each character also has a unique accessory, except for poor Ron Weasley, as discussed below.
If you hear the Harry Potter theme in your head at least once while viewing the photos below, it means that I have done my job well.
So grab your broomsticks and off we go!
Harry Potter
In the second series of HP minifigures, the boy who lived has just found a book of potions that belonged to the Half-Blood Prince. Harry's figure has two expressions: happy with the precious find, and concerned when he sees the note next to the Sectumsempra curse—for enemies. The book of potions is a truly magical artifact. The cover already has a lot of details, but the inside of the book—a plain 1 x 2 tile—delights with intricate detail.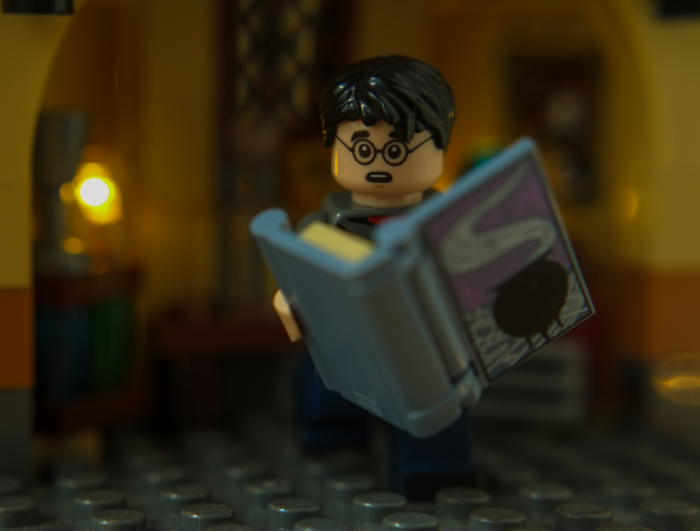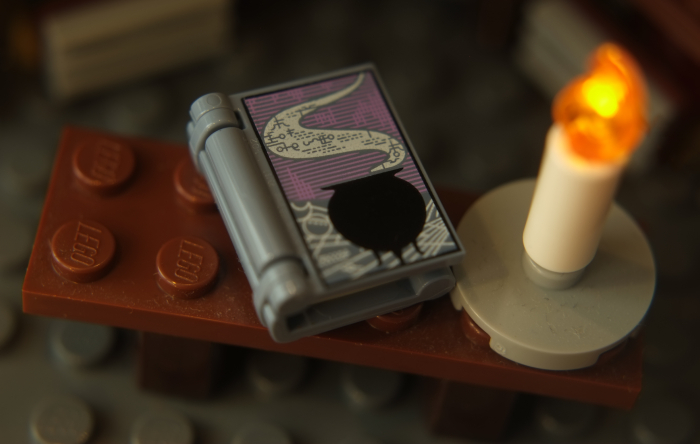 Albus Dumbledore
The Hogwarts headmaster looks gorgeous in a maroon and gold robe, with a star-embroidered cap, but the real star is the phoenix Fawkes. After many years of being a little bland and an almost one-color bird, a cluster of bricks and … a sticker finally led Fawkes to take on its proper and dignified form. In this case, Fawkes steals the show.
P.S.
Dumbledore also has two expressions: a subtle smile and an even more subtle smile. However, I did not dare to portray Professor Albus Percival Wulfric Brian Dumbledore, O.M. (First Class), Grand Sorc., D. Wiz., X.J. (sorc.), S. of Mag.Q without his beard. I'm sure you will understand.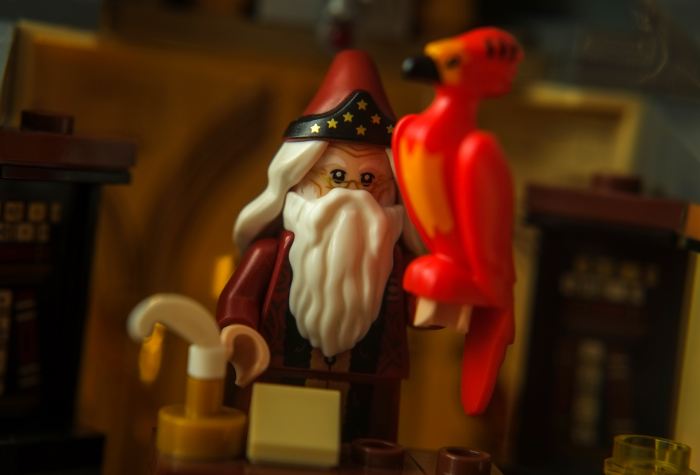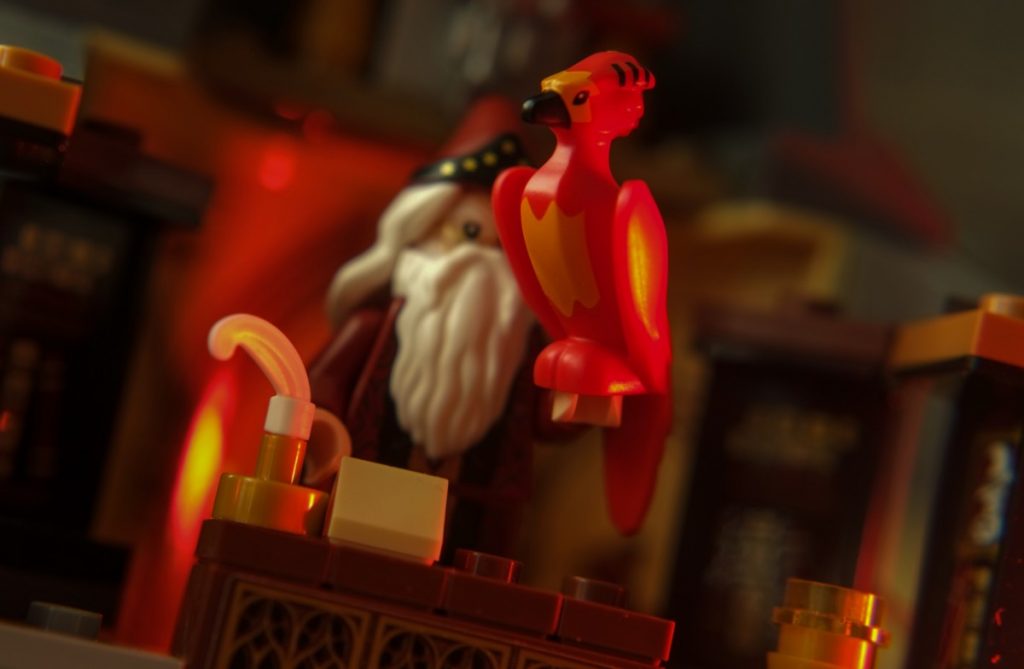 Hermione Granger
We meet Hermione Granger in a striped sweater with a glass of butterbeer in Harry Potter and the Half-Blood Prince. Her facial expressions include a smile and surprise/concern. The glass of butterbeer is a great addition. Not only does this little item work nicely with light, it can be quite useful for other purposes.
Ron Weasley
We meet Ron Weasley in a striped, zipped hoodie, also with a glass of butterbeer, in Harry Potter and the Half-Blood Prince. A glass of butterbeer… oh, sorry, Ron! Hermione was first. As always! I'm really sorry, friend. Ron's facial expressions are a smile and angry face. I bet it's because Hermione also has a glass of butterbeer. And she's first.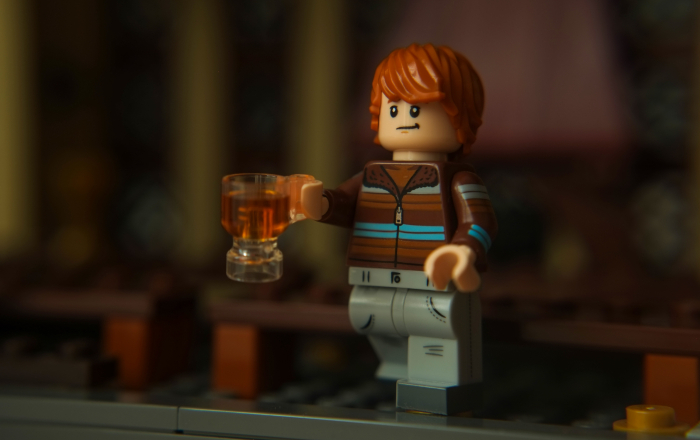 Luna Lovegood
I really like this character. And I like to take pictures of her minifigure. I photographed Luna from the first HP CMF series among plants that might look like those creatures only she can see. I decided to stay faithful to this concept, so here's Luna drifting among strange, fluffy flowers. Perhaps she wanders in the depths of her unfettered imagination, smiling slightly. Then, when she comes up with the idea of creating a great headdress for a quidditch match, her smile grows larger. The lion headdress is pretty neat and I already hear the call from the rest of the animal headdresses from previous series collectible minifigures series!*
*Even though Luna's headdress really looks like made of cardboard and blotting paper.
Griphook
A goblin. Harsh, secretive, reticent, suspicious. Not very pretty. With only one facial expression: a mysterious grin and bared teeth. And his beautiful magical artifact, the Sword of Gryffindor, is a slender, ruby-decorated and powerful weapon. Beauty and the beast, one would say. The sword is really great addition to rather ordinary goblin minifigure. Finally there's a proper item for Dumbledore's office! My miserable whining about the lack of a proper Sword of Gryffindor in the LEGO 75948 Hogwarts Clock Tower set may be found here.
Oh, yes, Griphook has also a key.—vault not included.
Lily Potter (and a little Harry)
We reach a place where it gets sentimental. Due to the fact that the minifigures are not ghosts, Lily and James Potter must date back to pre-novel times. Possibly they are taken out of the flashback. Lily smiles slightly as she walks with little Harry and laughs as she looks at her baby starting to levitate in front of her face.
James Potter
We're still in a sentimental place. The James Potter minifigure smiles cheekily and holds a portrait of him and Lilly. His second expression is the broad, sincere smile he could only bestow upon his son.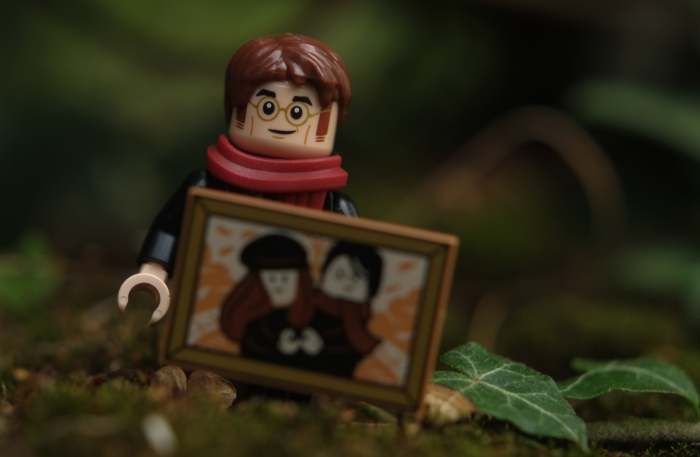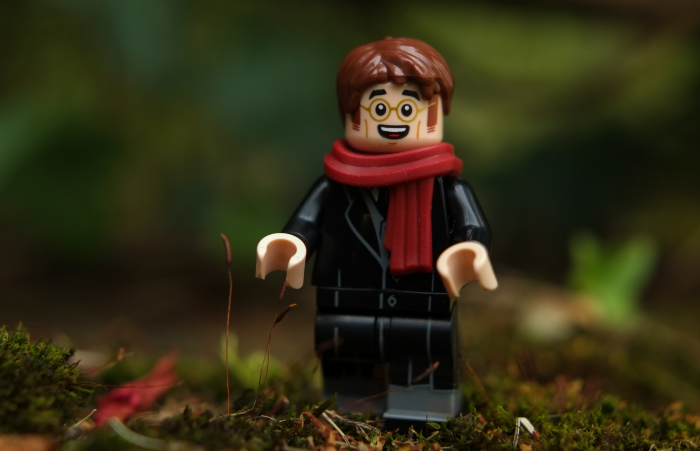 Ginny Weasley
We see Ginny attending the party of Horace Slughorn's exclusive Slug Club, another scene form Harry Potter and the Half-Blood Prince. We know Slughorn likes the company of the famous, the successful and the powerful. Ginny isn't famous, but she was chosen because of her magical abilities. Both facial expressions on Ginny's minifigure indicate she is having a good time. The ice cream desert she holds is placed on something that look like a cocktail glass. It's a completely new and quite useful accessory. The details printed on the dress also deserve attention.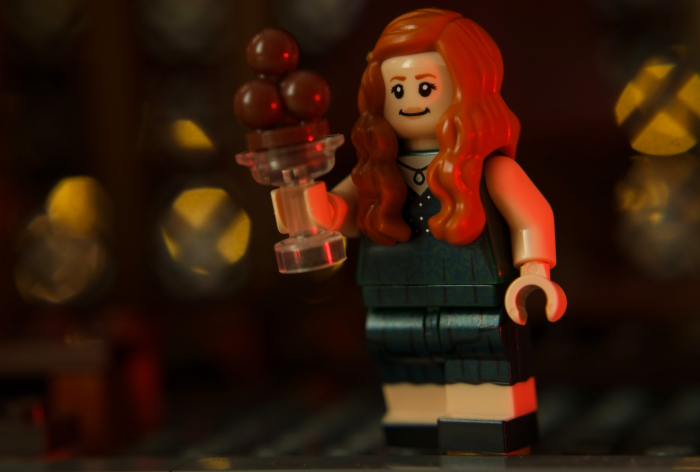 Fred Weasley
First of the mischievous Weasley twins holds a suitcase/gambling booth which indicates this minifigure comes from the fourth part of the saga: Harry Potter and The Goblet of Fire. The suitcase looks really great, with many well-printed details and two tickets inside. His expressions include a smiling face and one shouting, "Bets! Place your bets!"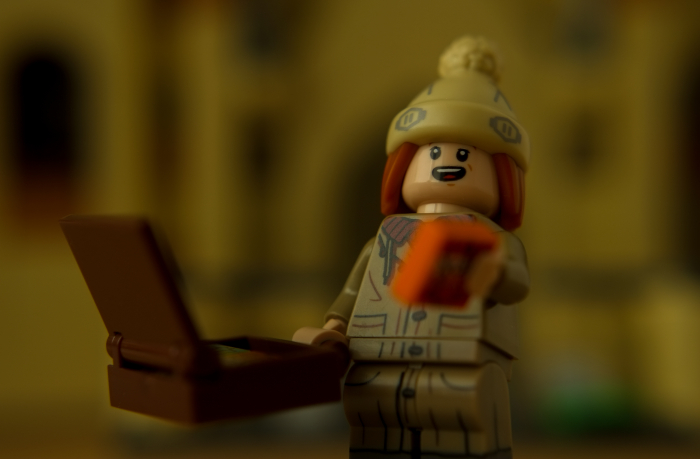 George Weasley
The second of the mischievous Weasley twins looks almost the same as his brother and holds the famous Marauder's Map, a powerful magical document that reveals all of Hogwarts School of Witchcraft and Wizardry, including the location of every person. George's facial expressions indicate the moment of uttering the phrase "I solemnly swear that I am up to no good," which reveals the map and the moment of happiness immediately after uttering the spell. Just look at this second smile! He's definitely up to no good!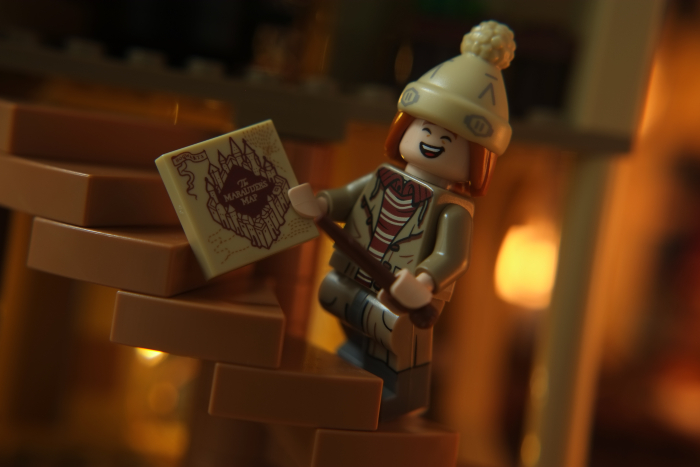 Bellatrix Lestrange
Voldemort's most loyal follower is one of my favorite minifigures in this series. Here she's portrayed as "⤴╧ 93" prisoner of Azkaban, in prison outfit, with handcuffs [certainly magical] and messy hair being her hallmark. The entire minifigure and both facial expressions perfectly reflects the fierce, ferocious and grim interpretation of this character by Helena Bonham Carter.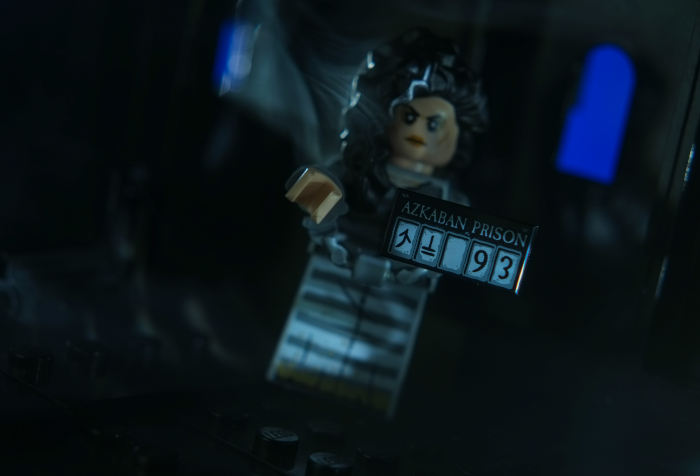 Kingsley Shacklebolt
Shacklebolt, who worked for the Ministry of Magic as an Auror, is quite a mysterious character. Maybe that's why his minifigure has only one face and it's an inscrutable smirk. It is also the only minifigure in this series that doesn't have a unique accessory. (Yes, Ron, I admit your accessory is unique! Almost.) Kingsley is holding a sturdy but ordinary broom. Fun fact: Shacklebolt, unlike other wizards, was capable of dressing properly as a Muggle. But here we have him in his impressive and fancy flowing wide-sleeved robe.
Moaning Myrtle
Myrtle was a first victim of Tom Riddle, later Lord Voldemort, which is why this minifigure is paired with Tom Riddle's diary. After she died, she became a ghost, named Moaning Myrtle. She's flying using the stand that was first introduced in the DC collectible minifigures series. This minifigure and accessory refer to the second part of the saga, Harry Potter and the Chamber of Secrets. When you open the diary you can even see part of a written conversation between Harry and Tom Riddle. Thrilling!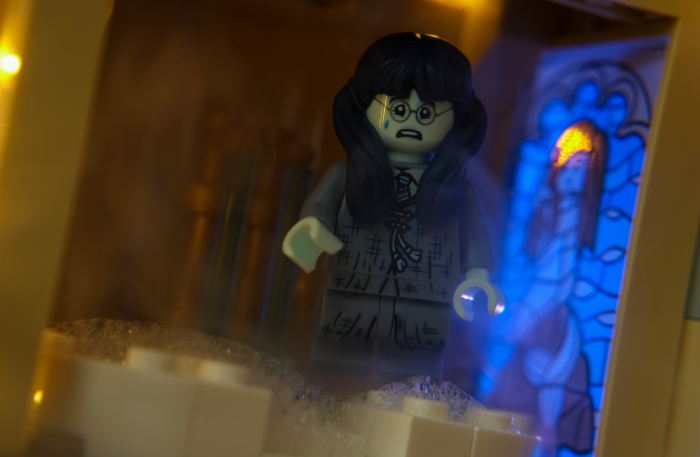 Professor Pomona Sprout
This one is also among my favourites. I love the design and colours of this minifigure, and that it adds another mandrake to the collection. It looks different from the one attached to Neville Longbottom from first series of HP minifigures. We meet Professor Sprout while transplanting mandrake. It's routine for her, but as you can see from the second facial expression, the process can be unpleasant even for her, especially since mandrakes don't like transplanting.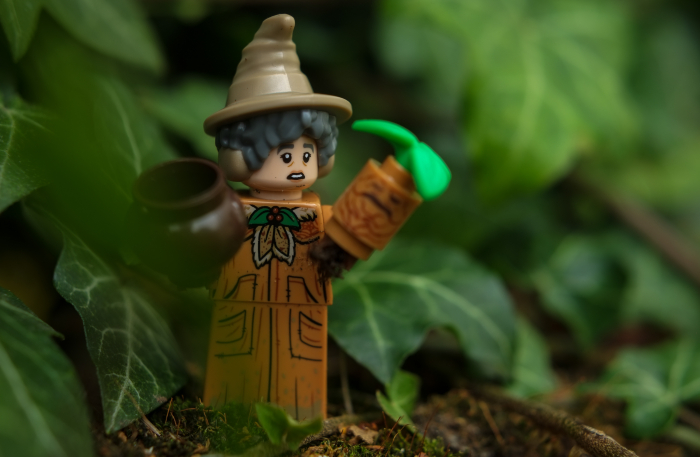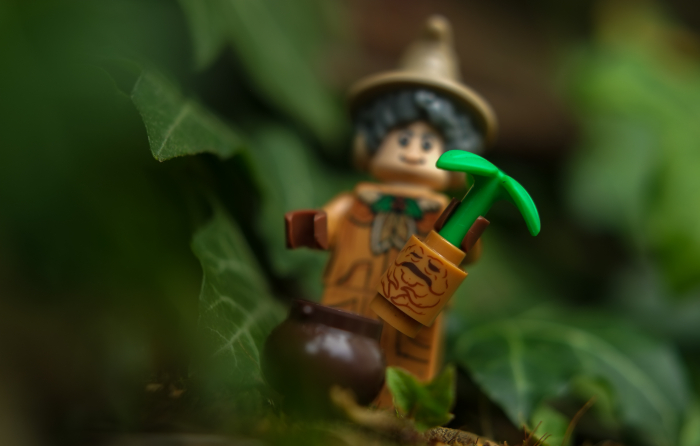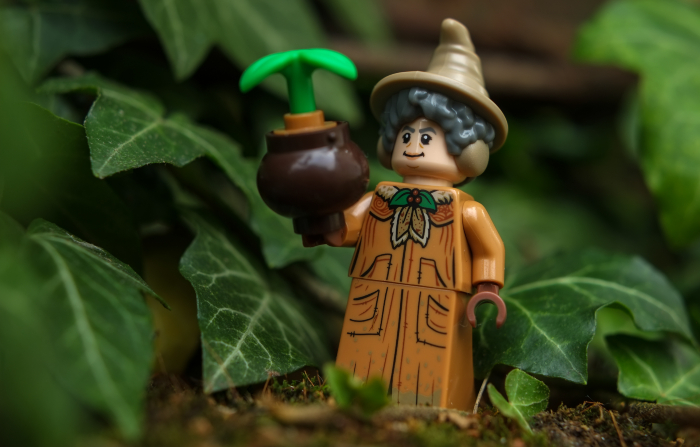 Neville Longbottom
This minifigure of poor Neville refers to Harry Potter and the Prisoner of Azkaban. He holds the sentient Monster Book of Monsters, which attacked him during Hagrid's Care of Magical Creatures class. Neville's facial expressions range from astonishment to horror, when he reveals the true nature of this grimoire. The book itself is very well made and appears intimidating with bared teeth, partly open cover and evil eyes. Neville's minifigure is definitely the true cherry on top of this series!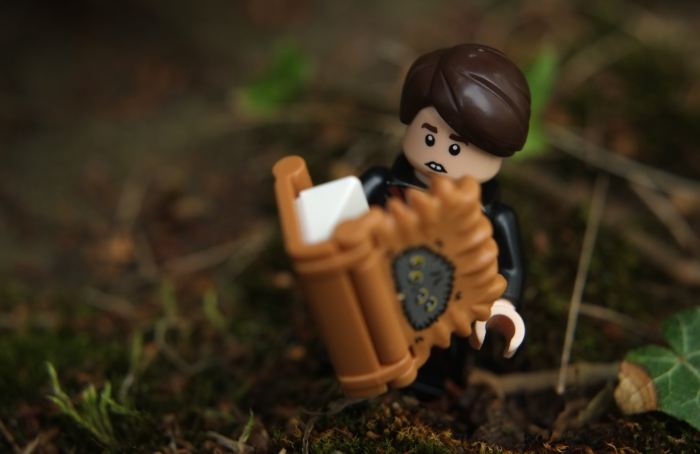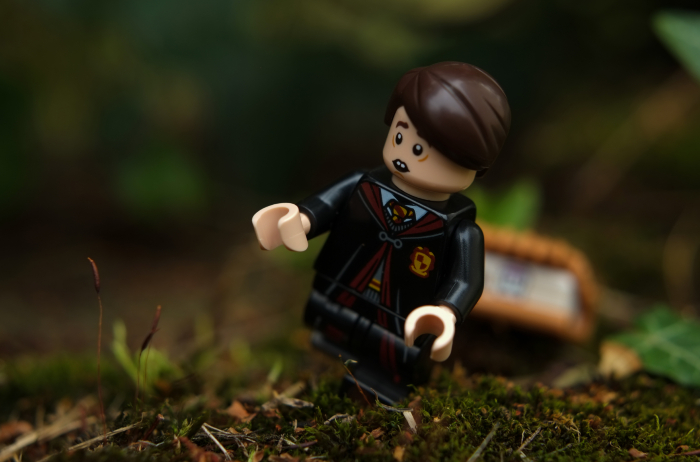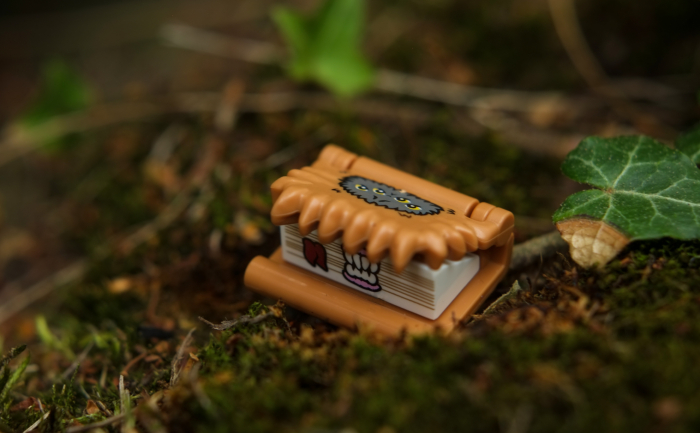 Our journey through the second series of LEGO Harry Potter collectible minifigures ends here, but I bet that your adventures with these minifigs are about to begin! Gather your wands and make some magic!
Howdy! While you're here, we invite you to  sign up to our weekly Toy Photographers email roundup where you'll get a recap of all the week's babbling. And while you're at it, you should definitely join our MeWe community! We hold monthly contests with prizes and lots of other cool stuff.