Have you heard about the new podcast Steff's Baer Necessities? It's hosted by two talented women toy photographers Stephanie (@stalagmitethrilla) and Kristie (@actionfigurl). The aim of the newest podcast aimed at toy photographers is to shine a light specifically on the women who make up this hobby.
Full disclosure, I am both a subscriber and a past guest of the SBN Podcast. I've enjoyed listening to Kristie and Steff's cheerful banter as well as getting to know other women in this wonderful hobby. I find what they are doing so wonderful, I want to take a moment to shine a light on these two talented women. So without further ado, here is Steff and Kristie's stories in their own words.
Kristie @actionfigurl
For most of us, I believe there isn't just one reason why we do Toy Photography. Being part of a community is a huge one (I know it is for me!). It's a space to be ourselves and share our creative side with others who enjoy the same things.
Personally, Toy Photography fills an empty space of art and science that I was longing for throughout the years. At 20 years old, I had plans to pursue a very different career than what I am in now, but due to medical problems, was unable to continue to Graduate school. I found myself in a safer career that would allow me to manage my medical issues and pain, and for a long time I struggled with filling that void. Although my work was enjoyable and rewarding, my mind still wandered toward the thought of something more creative.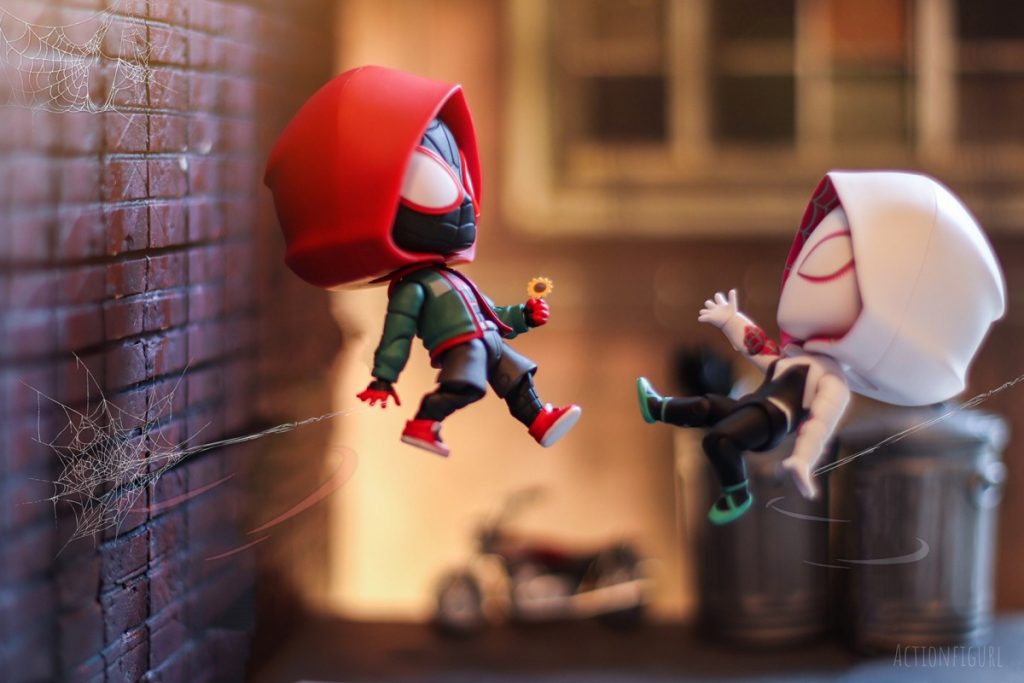 I've known my husband most of my life. We went to elementary school together, and started dating in our early 20's. We both grew up with the love of video games and it was something that we bonded over immediately. I later discovered his action figure collection and to his surprise, I was COOL WITH IT! Eventually he got me into collecting as well, and now we have an entire nerd room dedicated to it in our home. My first Nendoroid was Belle from Beauty and the Beast, and being a huge Disney fan, I was excited that there was an action figure version of some of my favorite characters. Thus began my love for Nendoroids.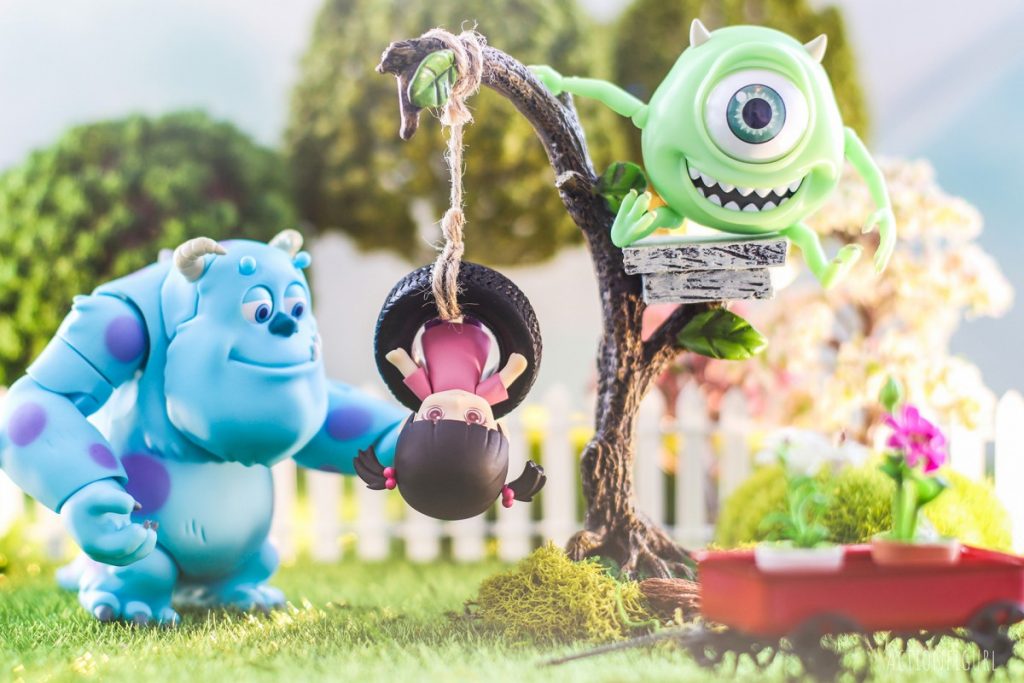 I posted a picture of my new figures on Instagram and through the use of #nendoroid, I found this AMAZING world of Toy Photography. I've always loved Photography, but never truly knew what I wanted to do with it, but the idea of combining my collection with photography sounded awesome – and IT WAS! Finally, I had a space where I could be creative and use this science/art filled brain for something more. It truly has filled my void and while doing so, has opened up doors for friendships and opportunities such as the podcast.
Let's be honest, there's a lot more men in the Toy Photography world than there are women; but that doesn't mean we don't deserve a space in this community. It's not a secret that it can be a difficult hobby for women to be involved in since it is predominately men that do Toy Photography. It is also rare that two Women run a podcast focused on Action Figures, Video Games and Toy Photography; so that's why we're here, doing our podcast!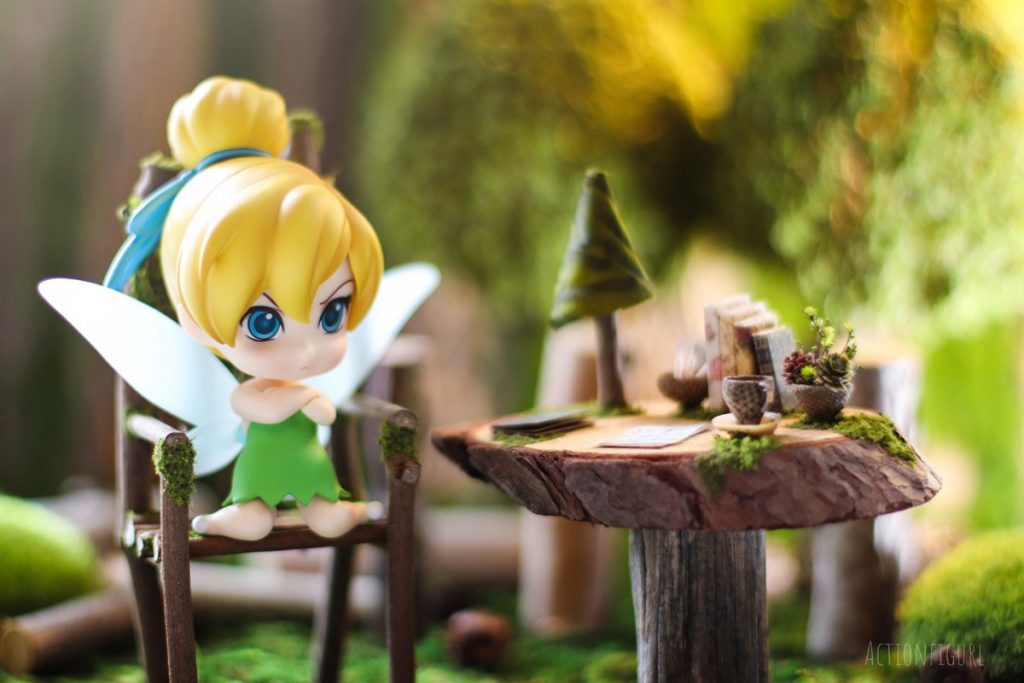 Women need more recognition in the community and could also use the support and encouragement, especially from each other. The podcast gives us a space to bring women who enjoy this hobby into the light while also hoping to encourage other women who may be interested in trying Toy Photography or a Podcast! We are truly here to be super fans of ALL Toy Photographers, but to put a focus on women. We want to see more women enjoying this hobby and feeling comfortable in this community. Overall, we want to get more people talking about Women in Toy Photography and we're hoping our voice can encourage that.
Steff @stalagmitethrilla
The whole magical world that is Toy Photography for me started in the most unmagical place: divorce. It was the complete loss of what I thought was myself, but as a woman I realized that I had more to offer than what this boy saw as cool within me. Holding my 2-year-old daughter's hand, I moved forward during a time where I should be unbelievably happy in society's standards to an unknown scary.
I remember looking at my free time and filling it with my daughter and work, not knowing what interested me anymore beyond normal life. I remember seeing the Batman cartoon and being reminded that I had a love for things before boys. That's when I got back into collecting toys and really enjoying the outdoors. The natural progression into Toy Photography was the introduction from Tumblr to Instagram to @CaptainDangerous' page.
I enjoy getting shots of the figures I love and spending some time in my own mind. It's a necessary release for me as a Mom, girl, and as a human. It's now been almost six years of taking photos, and I'm starting to see that I can be a voice to aide others. Hence the @steffsbaernecessities podcast, a resource for others and a voice to share all those quirks we don't want to admit to our peers.
Podcast AND #sistersinplastic
Staff and Kristi have been very busy. Not only have they launched the super fun Steff's Baer Necessities Podcast but also a new hashtag: #sisters in plastic. Both the podcast and tag are here to shine a light on the many toy photographers, collectors and generally geeky women in our mist. If you enjoy fun conversations around toy photography and toy collecting from a different point of view, I highly recommend the podcast. And if you identify as being female, I recommend using this new hashtag for a chance to be featured on their new Instagram feed!
Thank you Steff and Kristie for all you're doing to raise awareness of the many amazing women who contribute to our fun and supportive community!
~ Shelly