We asked regular contributors Gibbo, Dave and Tomek to create images of imaginary toy conference calls. I'm sure we've all had our share of Zoom calls these past few months—so now it's time to give our toys a chance. What will happen when your toys connect via Zoom? Anything you can imagine!
Check out these photographers' creative set-ups using their favorite toys below.
Stranger Things
I thought it'd be cool for Lucas, Mike and Dustin to be talking about Will's whereabouts when the Demogorgon signs in from the upside-down and gives them a friendly wave. Mike and Lucas don't seem too happy with the guest (Lucas has his catapult at the ready) but Dustin looks pretty happy to see their nemesis.
With that, who is excited about the fourth season of Stranger Things? I know I am!
Gibbo aka @harri.hawk
The 'Pools
The 'Pools are getting a chance to chat. Deadpool, Dogpool, Squirrelpool, and Headpool. Though not a part of this family, and due to a careless regular expression on Wade Wilson's part, Gwenpool was added to the chat. She decided to use her powers of breaking the fourth wall to finally shut up the Merc With a Mouth.

Dave aka @therealstudiodave
Bounty Hunters Guild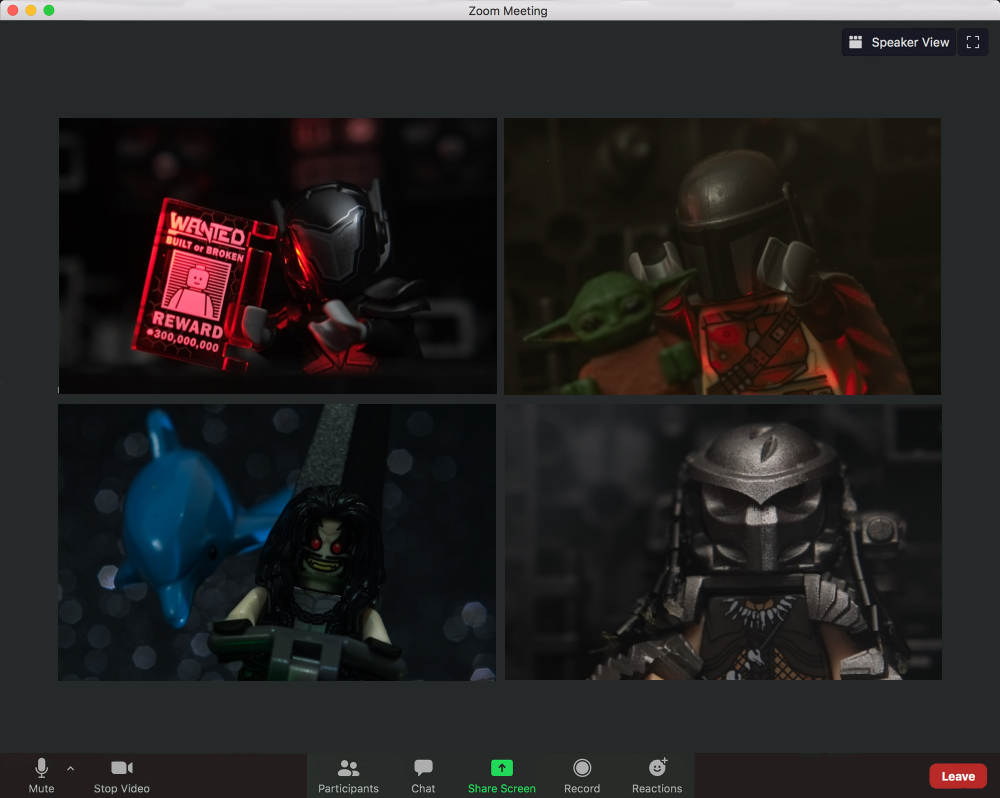 Usually bounty hunters compete mercilessly with each other, but even they sometimes need a moment of conversation to show off, exchange experiences or just ask: "Have you seen this individual?"

Tomek aka @tomekskog
Now it's your turn!
Below you will find a template created by Dave Debaeremaeker. I invite you to create your own creative Zoom meeting image. What toys will you use? What story will you tell? Will you create a crossover, or stay true to your toys' backstory?
Tag your images #tp_zoom_meeting and your image may be featured on our social media streams!