If I fell in a dark and damp cave with Gollum, and he would have asked: What's in there in your exquisite bag you carry, Precious?
I would answer: I have a Fuji Travel Satchel that I got with camera and I carry a camera in it. I use Fujifilm XE-1 with basic Fujinon XF 35mm f/1.4 R lens. I'm not technical person, so I can't tell more about parameters of this gear. All I can say is that I like the camera and lens are light, compact and lens gives nice bokeh [when I finally catch it].
I don't have any lens besides this one, so I'm using also macro filters. There are four of them: x1, x2, x4 and x10. I use x2 and x4 mostly, they don't distort the image and they allow me to come really close to the toys. I think I have to experiment more with the two I use rarely.
I tend to take pictures in low key, so there are also lights in my bag. But it's a jumble of handy, waterproof mini led lights [warm white] and some bike lights [cool white and red], which I borrowed from my daughter's bike [she doesn't ride after dusk]. My toy photography is still only a hobby, so it's hard to invest in more professional lights. I have also a bouncing card made from cardboard to brighten my set ups. I use it mostly when shooting outdoors. When I shoot at home I use different lights more often than the bouncing card.
Next to the bouncing card are wires. I have few kinds of wires: standard silver ones, painted black, white and semi-transparent [plastic]. They also differ in length and hardness. I like to take "actipn" shots, including jumping and flying, so the wires are mandatory equipment of my camera bag. If the image requires some hanging, I pack also a fishing line but I don't carry it permanently.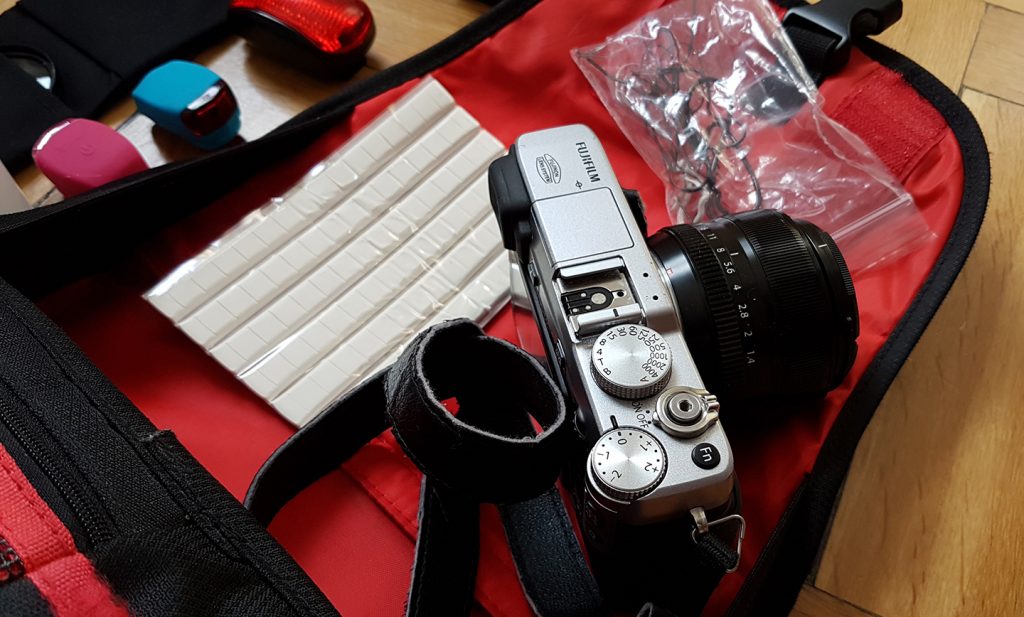 Of course I have to attach the wires to the toys and sometimes to the ground, so I have whole lot of blu tac. This is my real friend, cause my ideas often require such help but I think my minifigs hate this sticky, white thing I put to their backs, legs or heads. But I always clean them carefully after use of blu tac, so they shouldn't complain.
I also have some long pins. Sometimes wire is too much and pin is more elegant and discreet way to make a position of minifig, for example when fig is running. However it's not easy to set the figure in the desired position with the help of a pin, so sometimes I throw curses like a voodoo priest pricking the voodoo doll, not toy photographer placing the toy for the shoot. Well, to be honest the same the same applies to the wires. And blu tac. Yup, stress is often my companion when I try to match the reality to idea in my head
For making an atmosphere or rain I use little water bottle with spray. I use it mostly when shooting outdoors. I also always carry battery charger [you never know where fate will cast you] and the SD cards USB reader.
When I'm out, my bag is often also my "tripod", I use it as a base when I need the better support. I don't carry any minifigs in my bag since my beloved wife bought me beautiful, handy container.
That's all folks!
Tomek (@tomekskog)
P.S. You also can share the contents of your bags or give me some hints what else I could/should add to my bag!