This is a review of a new book by Austin Kleon, titled: Keep Going: 10 Ways to Stay Creative in Good Times and Bad. This is the third book in a series that includes Steal like an Artist and Show Your Work. I'll be honest, even though I like the previous books, Keep Going is the best in the series. Not only because this is a book to help creative types to keep going, but also because it's a book that can help anyone keep going. During the good times and the bad.
I needed to read this
Chapter one is titled: "I wrote this book because I needed to read it." I don't think Kleon is the only one who needs to read this book. I need to read (and re-read) this book. In a world where your online presence is assumed, it's easy to lose focus on what's important to live a life of value. It's so easy to get caught up in other people's priorities and forget your own. This book is helping me to clarify my priorities. I need to ask, what do I want out of my own life, not what is expected of me.
I've spent the last seven years helping to build an online community of toy photographers. My responsibilities to this community often leave me conflicted. Do I encourage my fellow photographers to get off their phones and BE toy photographers? Or do I create interesting content that keeps them online?
The selfish part of me wants everyone to stay plugged in, liking posts, supporting their fellow toy photographers and reading this blog. But there is another part of me that wants everyone to unplug, go outside (or into their studios) and create something!
Reading Keep Going brings this dilemma into stark relief. This book has also inspired me to branch out and find new ways to observe the world beyond photography. Can you tell that I like this book?
Nuggets of wisdom
After reading this book I realize how far I've strayed from a creative life that I'm proud of. Kleon writes chapters like: "Forget the noun, do the verb" and "The ordinary + extra attention = the extraordinary." These chapters are not long, and they're interspersed with motivational quotes and other nuggets of wisdom. Little nuggets I can consume between scrolling my Instagram feed and planning my next blog post. (Yes, my attention span is that small these days!)
I like to call myself a photographer, but I honestly don't take that many photos. I think about taking them, but I don't seem to be able to make the time to actually create them. After reading the chapter "Forget the noun, do the verb," I realize I have some work to do. I've been treating my hobby as a noun and I need to start making room for the verb.
"The phone gives us a lot but it takes away three key elements of discovery: loneliness, uncertainty, and boredom. Those have always been where creative ideas come from." – Lynda Barry

pg 50, Make it Count
More nuggets of wisdom
If you've ever thought about trying to make money from your creative endeavors, you need to read the chapter "Make Gifts." This chapter isn't only for those creatives looking to turn their side hustle into some pocket change, it's for anyone who wants a little freedom in their life.
"If you want maximum artistic freedom, keep your overhead low. A free creative life is not about living within your means, it's about living below your means."

pg 84, Make it Count
This is great advice for anyone, not just self described creatives.
Even more nuggets of wisdom!
While these might be two of my favorite takeaways from Keep Going, there are many more. For example, Kleon extols the virtues of tidying up. His theory is that the act of tidying up can be a journey of discovery. Not the wholesale throwing away of everything that doesn't spark joy, Marie Kondo style. By looking closely at what has gotten buried, you might make an amazing discovery that will send you down an unknown path of creativity!
Kleon also takes a swipe at Silicon Valley mantras like "make your mark" and "move fast and break things." He suggests we substitute these destructive phrases with ones that are more positive, like: "first do no harm" and "leave things better than you find them."
There are many more unexpected treasures buried within these short, tightly edited chapters. Here is another illustration I enjoyed: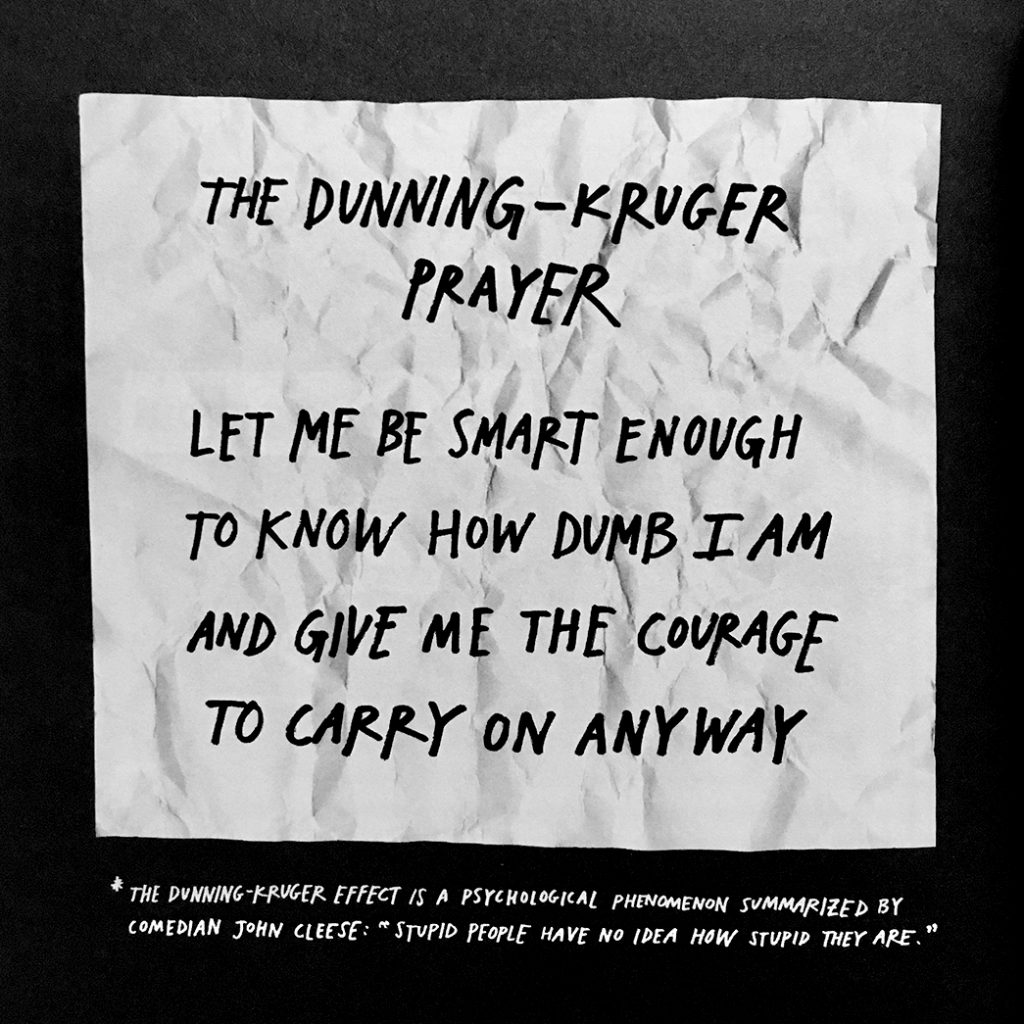 As a writer, Kleon understands the power of words. Words have the power to destroy or create, depending on how they're used. In a world that appears to be moving full tilt into crazy land, I appreciate his message of positivity.
"What we need are fewer vandals and more clean up crews." – Austin Kleon
For a book that is 200 short, image-filled pages, there is much to be learned or relearned between its covers. I find Keep Going to be a delightful read; a small book packed with enough wisdom to inspire anyone. I'm grateful that this book has come into my life at just the right time. While Kleon may have written the book he needed to read, his brand of wisdom is what I needed to read, too.
In conclusion
I want to "worry less about being a great artist." I want to "worry more about being a good human being who makes art." If this sentiment appeals to you, too, then I highly recommended you pick up a copy of Keep Going: 10 Ways to Stay Creative in Good Times and Bad by Austin Kleon"
~ Shelly
Have you read any of Austin Kleon's other books? If so, which is your favorite?
Is there a noun in your life that you wish was a verb?