After three months of procrastinating, it's finally time for my review of the Hogwarts Express (Set 75955). This is the final review of the 2018 wave of Harry Potter sets. Why not take a look back at the earlier reviews as well?
As with my other reviews, this isn't a 'bits and pieces' review. You can get all the information on what it includes and how the build is from Brickset. What this is though, is a review from the perspective of a toy photographer, looking to find out whether this set allows me to take the kind of photos I want to take.
I've broken this review down into several parts to make sure I give everything look. It covers the train, the platform and the minifigures.
The train
I'm not a train enthusiast, so I can't tell you about the accuracy of the train compared to the books or the movie, but it looks beautiful. The red of the Hogwarts Express pops wonderfully in photos, giving a very festive feel!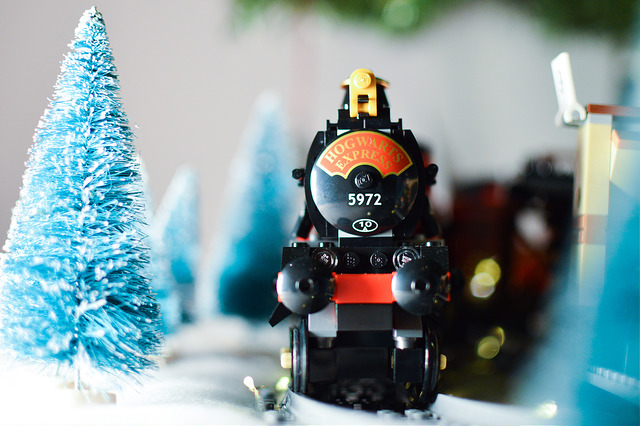 I didn't take this set outside, but I'm sure better photographers than me could so something amazing with this set anywhere there is beautiful scenery! I envision it being placed in the highlands of Scotland somewhere with a backdrop of mountains or lakes with that red contrasting against green or blue waters.
The details on the front of the train are wonderful. There's a lot of texture and detailing on it. However, it was quite tricky to shoot, as that black circle is incredibly reflective. I think a refection of myself and the room made it into 90% of my photos! Such a tough one as I really wanted a close up of that plate piece! If anyone has any recommendations on shooting reflective items like this, I'd love to hear them!
The train itself comes with the engine, a tender, and a passenger carriage. There are 'Hogwarts' details across the outside of the train, making it obvious what train this is wherever you look! These are mostly added on with stickers but do add a little detailing to the otherwise plain red sides of the train.
The passenger carriage of the train has a removable roof and sides. This is brilliant for toy photographers looking to set up scenes. Unfortunately, the downside of this space is that it is very small! It turned out to be almost too small a space to create photos in, other than ones of the characters in their seats. This is something to consider if you are looking at this area to set up photos.
After photographing this, I realised that one solution would be to rebuild the seating and train wall onto a bigger base plate for the purpose of photographing wider scenes. The seats are all fairly common elements that you could probably replicate quite easily. I may give this a go once I'm done enjoying wizzing the train around the tracks!
However, if removing the walls isn't your thing, there's also plenty of opportunity to take photos from the outside of the carriage looking in. I had a lot of fun working out how to light this to give the impression of a late night train home. I'm not convinced I've totally pulled it off with my limited lighting skills, but it was good fun to try! I really enjoyed playing around with this and shooting through the windows. It was a new challenge to explore!
The platform
I'm not sold on the platform elements for photographic purposes, although they are nice to have for display. They do add to the scene, but for my winter set up, didn't quite work as I would have liked! It was particularly tricky getting it in place as I don't have any straight track pieces! Santa has been told, but track is all on back order apparently!
So, what's in the station area? In a nicely designed way, you get a station of two parts; one part King's Cross (with the bridge and clock) and then through the flip door barrier, you move onto Platform 9 3/4. I find the whole thing a little bland overall though, although this beige is representative of parts of King's Cross!
That said, there are a few nice decorative elements, such as the newspaper stand and the wanted poster. These add some nice wizarding universe touches to photos.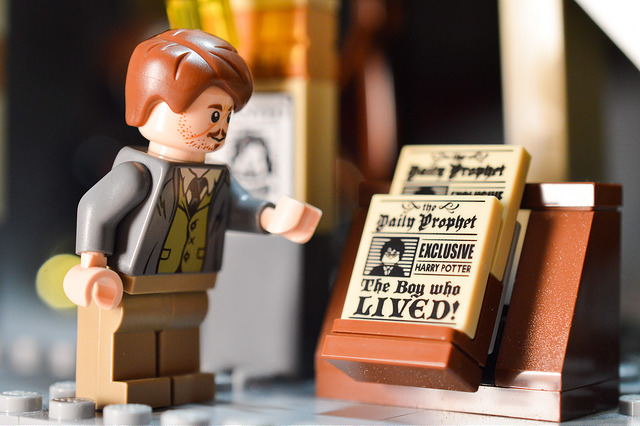 Other than the beige-ness, my other problem with the platform is that unless you can work out somewhere good for a backdrop, the open nature of the platform makes it tricky to photograph as it's not contained within itself. I managed to use it in several instances though. I opted to black out the background using lighting, or positioning the train behind it. However, I would have preferred there to be solid walls of the station so I didn't have to consider what was behind too much! Laziness perhaps, but it's just another part of the photographers puzzle! I may try and build some walls up if I want to photograph this again.
There are also quite a few stickers in this set, and I feel it would have been better to have printed pieces here. They would look just that little bit nicer, especially as I am so terrible at getting them on straight. This is a really cool sign that comes on the station, but I really failed at getting that sticker straight. It's going to irritate me for years to come!
The figures
This set has a good selection of minifigures, including a Hermione with a jumper very similar to that shown in the Order of the Phoenix movie. I love this jumper so much, that I will be stealing it for my 2019 Sig Fig outfit! It's awesome!
We also get Ron and Harry, both in casual clothes. These figures are the same as in the Aragog's Lair set. It would have been nice to see them in different outfits here. It would also have been good to have the kids have the posable little legs. As this is a set themed around the third book, I think the moving legs would have been great to give them the little extra height to show them being slightly older. This would also really help with sitting them in the chairs in the train, allowing for better photos within the carriage. As with the other sets with these short legs, changing them out to posable ones is definitely something to consider before starting to shoot your photos.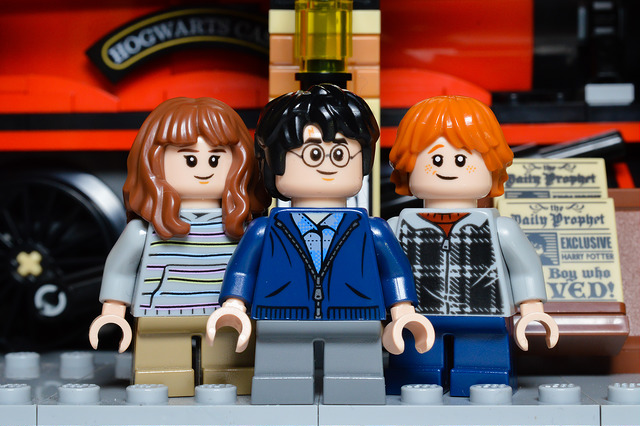 It's also great to have the trolly witch in this. She looks very friendly and can obviously sell you as many chocolate frogs as you can hold!
Other figures include Remus Lupin, complete with shabby clothes and a second werewolf-eyed face.
To add to the third movie theme, we also get a dementor. It would have been nice to have a few of these figures, but the single one is still creepy! I really wish the hands were black though as they stand out a little too much from the rest of the figure! This is an easy fix though and I may switch these out myself.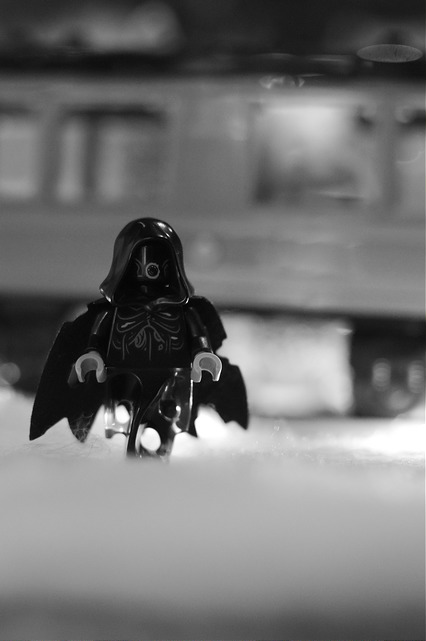 Final thoughts
Overall this is a great set, especially for fans of Harry Potter. It has the iconic Hogwarts Express as well as some nice display pieces, although it's sadly missing any track to go with it. It has a good range of figures with it as well, providing plenty of opportunity for play or photography (or both)!
I'm not sure it's a must buy if you are not a fan and only want it for photography purposes though! It's much more of a play and display piece. It does photograph nicely, and the figures are great additions to the Harry Potter LEGO universe, but I think photographers who are not Harry Potter fans would be better off getting something like the Holiday train to photograph instead. (Another awesome train set!)
I love this train, even if perhaps not for photography. It will likely be out every year under my Christmas tree! There's just something just a little bit wonderful about the bright red train sitting below the tree under the fairy lights.
Thanks for reading and commenting on my reviews of the Harry Potter sets over this year! Have a wonderful Christmas and a very happy 2019!
Disclaimer: This set was provided by LEGO for review.