It's time to continue with our Harry Potter reviews! If you missed the previous ones, you can check out my reviews of the Great Hall and the Whomping Willow set before this one, which is taking a look at the Quidditch Match set.
As before, this isn't a 'bits and pieces' review. You can get all the information on what it includes and how the build is from Brickset. What this is though, is a review from the perspective of a toy photographer, looking to find out whether this set allows me to take the kind of photos I want to take.
Now, I'll be upfront on this review. The reason for the delay in posting it is that I actually didn't like the set. I know! Shocker!
I am a pretty big Harry Potter fan, but I'll admit that the Quidditch element of the books and films never really appealed to me. However, I'm usually happy for anything Harry Potter universe related, so it was with some disappointment that the set really ended up lacking interest for me from a photographic point of view.
As a set it's not that it's bad. It's just not very cohesive, and I had a lot of trouble finding ways to shoot it. In the end, I embraced the minifigures and really just ignored the stands element of the set. This made it a lot easier to photograph, although I did have to break out Photoshop, which is not my strongest area!
The stands
That said, let's at least take a quick look at the stands. You get one of each house, despite only getting quidditch players from Gryffindor and Slytherin. (I would have loved different uniform colours, so this is a shame.) Each has different features, flags and bits to make the scene and introduce play functions that I'm sure will have kids sending studs flying!
The general storyline of the set is the first year match where Snape gets set on fire by Hermione as he tries to save Harry from Quirrel/Voldemort. So we get a Snape and a Hermione figure. These are the same as you get in the Whomping Willow set.
The figures just about fit in the stands, and there really is far too limited space to pull of any kind of photos related to this scene. Room for a couple more figures, or at least for Snape to be able to stand up, would have been super and would have introduced a lot more opportunity for both play and photography.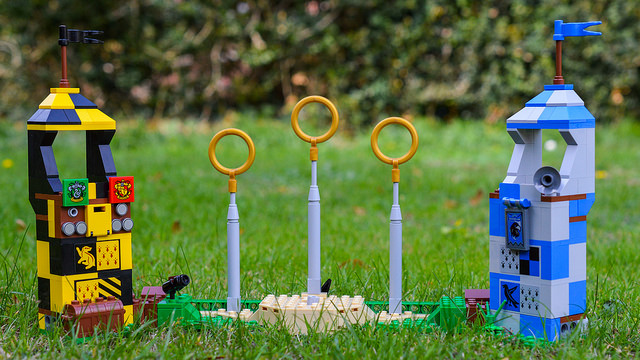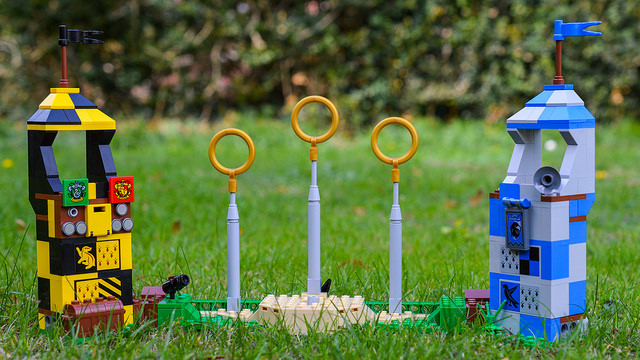 The other two house stands come attached with some goal hoops between them. I feel like these could have been better if they were bigger hoops. However used in the background of a shot, these do look pretty cool. The colour gives a really nice pop to photos.
Word of warning: they are incredibly easy to knock over, which when taking multiple shots to layer in photoshop was a big pain! If you are not planning on having the base in a photo, I would suggest blue-tacking them down before starting!
You can also move the stands around in a few different ways, although they don't attach to each other. (They also have a tendency to fall over a lot, especially on windy days, which was obviously the weather when I was taking these photos!)
The minifigures
I found that by ditching the stands, photographing the figures was much easier. I took them out for a spin on one of the wettest, most miserable Sunday mornings we've had in a long time! I'm pretty sure I'll need to do a load of LEGO cloak washing after this! (Side note: I LOVE the fabric cloaks – this was my first experience of this kind.)
The Oliver Wood figure is a pretty typical figure in the same Gryffindor uniform as Harry (I stole his legs for some of my photos though, as the short figure legs just didn't allow for the flying movement I was after). You can see in this shot that despite the short legs, Harry has the same length cloak as the bigger figures, making it drag a little on the ground.
The two Slytherins, Lucian Bole and Marcus Flint (don't ask me which is which!) have a similar uniform, except obviously in green. They also have brilliant 'evil' smirks that work perfectly for pre-game taunting!
In conclusion, I did eventually manage to get some shots that I liked with this set, but it just wasn't for me. If I had a kids toy box to put it in, I would pull out the figures (because I always need more Harry Potter figures in my life) and dump the rest of the set for play or rebuilding purposes! There's a lot of play features in this set, which kids will love, but for my type of photography (which prefers limited photoshop time!), it fell flat. That said, I think that other photographers might get something out of it that I didn't.
So, here's the question: do you have this set? What did you think of it in terms of using it for photography? Answers in the comments! I'm up for someone changing my mind!