Growing little worlds. Where have I we heard that before? Ah ha! Now I remember. Last year Brett wrote a wonderful post showing how to build a minute garden to photograph in. This post was incredibly popular. In fact it was our most viewed post in 2017 and it also had the most comments. And rightly so. It's very inspiring.
I've created my own outdoor studio before, but this particular post is so inspiring I wanted to build my own little world. Unfortunately, up until now, I could never find the time. Now I have a pressing need to grow my own little world. Soon I will be giving a talk on toy photography at Bricks Cascade that has a hands on component. Beside listening to me ramble, the attendees will have a chance to practice. To facilitate this I want to bring a little bit of the outdoors into the convention hall. By having a mini outdoor studio like Brett's little world, I can engage in a more hands on demonstrations. Added bonus, I will have built my own little world to use down the road.
Getting started
I will confess that I was stumped by what container to use building my own little world. I searched my house, the hardware store, the container store, the yearly garden show AND my favorite nursery. Nothing jumped out at me as the perfect container. I wanted a container with some breadth and possibly room for a small water feature.
While I was mulling over the perfect container I began collecting a few plants. I picked up two varieties of moss and two super cool miniature trees. I figured I could fill in the gaps with twigs and additional moss from my yard.
The container
My first attempt at a container for my little world was a square plastic storage container. I knew the plastic wouldn't hold up in the long run, but the handles are a nice touch. Ultimately I didn't keep this version. Something about the square aspect of the container didn't feel right.
For my second attempt I opted for a more traditional container that is 24″ x 8″ x 10″ (60cm x 20cm x 25cm). I liked the long aspect ratio. I felt it gave me two distinct photographic opportunities. It turned out that the size of both containers is roughly the same size, so the number of plants I had still worked.
To make my little world light enough to carry, I re-used several of the plastic pots the plants came in upside down. They took up space and kept the over all amount of dirt down. The less dirt, the lighter the container will be.
The plants
I chose two pretty conventional moss species as the foundation for my little world. I purchased the miniature trees simply because they seemed cool. Only time will tell if they will work out or if I will need to replace them with sticks to simulate tree trunks like Brett's Little World.
When you start looking into miniature plants you suddenly find there are lots of options to choose from. It doesn't matter if you're looking for miniature trees, ground cover, flowering plants or succulents; they're all available. You can purchase plants to help create a miniature woodland, dessert or alpine terrain. Don't even get me started on how awesome bonsai trees are for creating miniature worlds. If you're interested in researching plant varieties a great site that has lots of information is Miniature Gardening. You will also find interesting ideas by searching for information on creating fairy gardens.
The accessories
From my son's past interest in miniature gardens I knew there is an entire industry devoted to making adorable tiny outdoor furniture and accessories. When we visited our favorite nursery I was hoping to find miniature wire fencing. While I didn't find that, I did find cool miniature red bricks; perfect for creating a patio. I picked up a few more miniature items to decorate my garden including a rake and a pond. I augmented these few man made artifacts with some natural materials like a moss covered stick and a rock from my own garden. My son contributed a small bird house, bird bath and a bench for under one of the trees.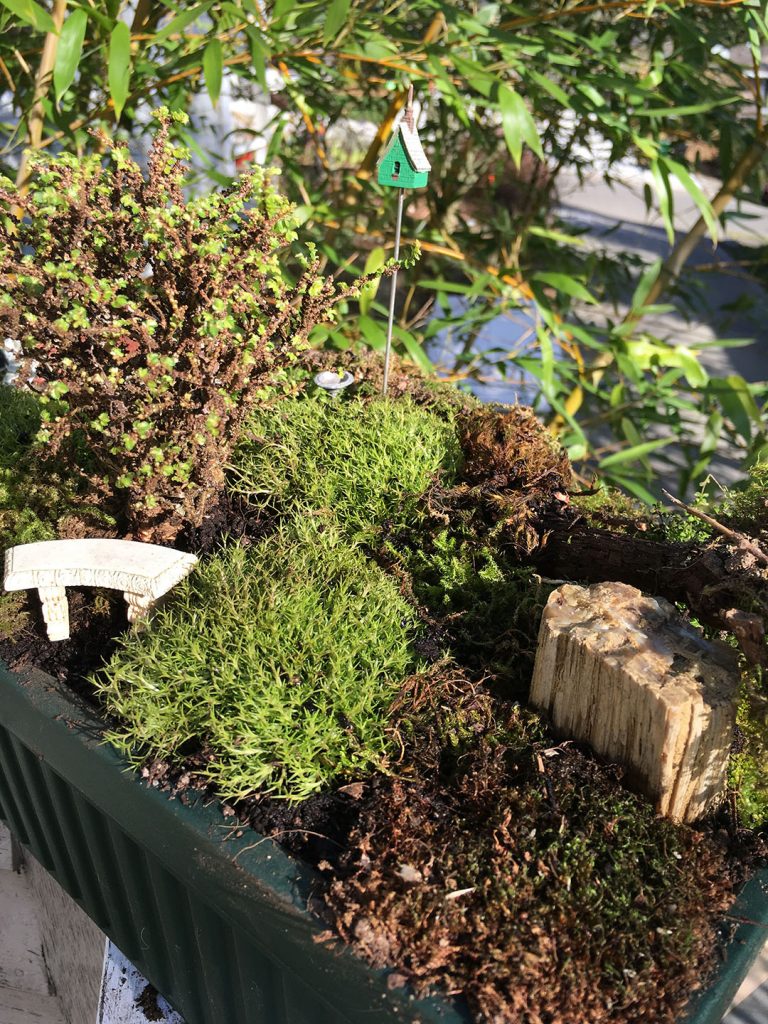 Like all aspects of our hobby you can go crazy on accessories. At Miniature Gardens you can also purchase all sorts of furniture to add interest to your garden. I found the hardscaping to be the most useful items other than the plants. Its not always easy to find paving stones, gates and bridges that are scaled for toys.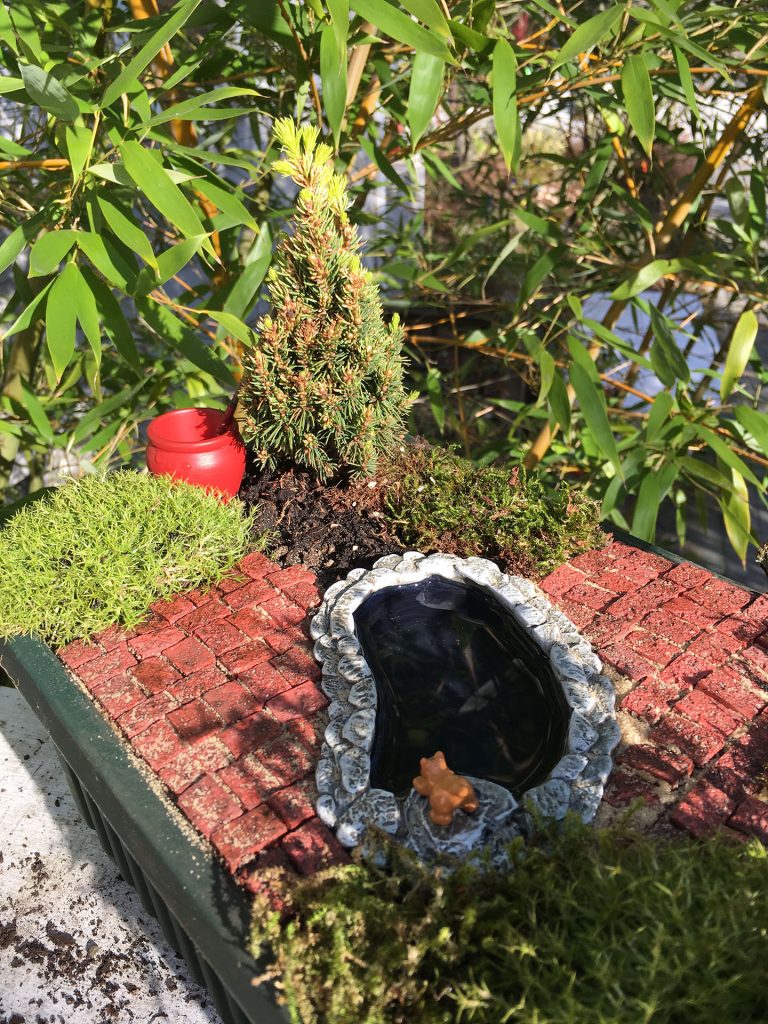 Now that everything is in place, its time for a few test photos.
Conclusion
I think that creating a little world is a fun activity. (Thank you Brett for the inspiration!!) It's great to have a small natural studio to take impromptu toy photographs in. I will freely admit its not always easy to take off on a half day toy photography adventure. Having a little natural studio on hand when inspiration strikes is a nice alternative. I would recommend your custom studio be portable enough to be able to move it around your yard or home to capture the best light.
If you decide to create your own little world, I want to encourage you to let your creativity flow. This little world is a reflection of your toys and the stories you want to tell. Even if you don't have time to build your own little world today, there's no reason you cant begin gathering props that inspire you. In no time at all, you will have everything you need to build your own little world. Now to find the time…
Whatever you decide to do, don't forget to water you little world!
Shelly
If you like what we're doing we invite you to support the blog by purchasing our book that celebrates our first year as a blog: A Year in the Life of Toy Photographers, 2017. The book is available for purchase as either an eBook or as a physical copy. All money will go to support and grow the blog. You have until March 31st to grab your copy!