It's officially Fall, which of course means that it's that time of year where we're inundated with Halloween goodies. Decorations, costumes, pumpkin flavored drinks and treats, scary movies, and as it turns out, LEGO sets!
I considered saving my review of LEGO's new seasonal kit, 20460 Halloween Haunt, for later in October. As I set it up and took some test shots, however, I realized that that it could service photographers well all month long. Like the other seasonal sets that come out throughout a year, it serves as an excellent starter kit for someone trying to get into the holiday spirit.
The Build
The largest part of this set is a small structure with a big swinging black gate. The gate opens up to a cleverly constructed miniature scene, depicting a creepy black house juxtaposed against an orange sky. The gateway is ominous, and is topped with a jack-o-lantern head, the perfect accessory for Halloween photos!
The gateway has a few cool details, like twin lit torches, some purple tree leaves, and a red spider. I love the gate pieces themselves; they were last seen decorating the awning of the LEGO 10243 Parisian Restaurant modular building. They're put to much more traditional use here, and could easily be removed and used on their own if you wanted.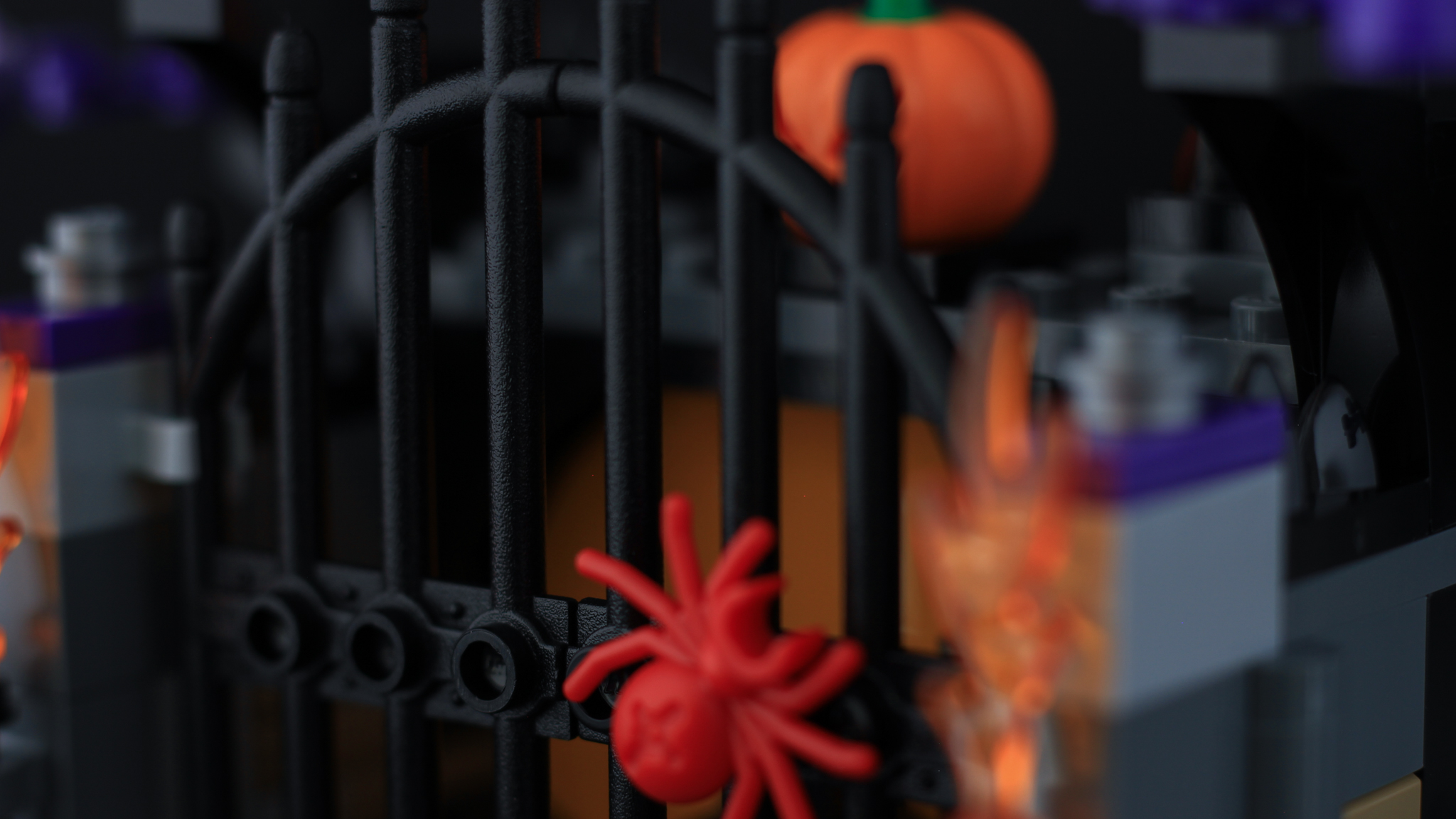 The Minifigures
The set is, admittedly, a bit lacking when it comes to its two minifigures. The first is a male with slicked-back black hair and a detailed torso with a formal coat, white ruffled shirt, pocket-watch, and red cravat. I've seen the figure classified as a vampire, but there's no real indication of that from a design standpoint. If you're going for a vampire scene, I'd use the Vampire from the Collectible Minifigures series 2, or the Lady Vampire from series 14.
The second minifigure is a basic skeleton. If you don't yet have a skeleton, or are looking to add more to your collection (you can really never have too many, as they look great in pairs) this is a good way to pick one up.
The set comes with a few great accessories. Joining the aforementioned jack-o-lantern and spider are some dark olive grass pieces, two grey goblets, bones and skeleton parts, cookies (or maybe eyeballs, since it's Halloween!), a rat, a pumpkin, a couple of green cherries, and my favorite piece in the entire set: a black cauldron!
The cauldron piece rocks. It's appeared in a few sets over the years, namely those in the Harry Potter, Hobbit, Elves, and Monster Fighters lines, but it's the first one I've come across. I found it to be an incredibly versatile piece, perfect not only for Halloween shots, but more traditional set-ups as well.
The Verdict
Overall, I think this is a fantastic seasonal set. Like last week's Ninjago Movie kit, it's only $9.99 USD, providing a spooktacular amount of value for very little cost. The accessories alone will open up new possibilities for your Halloween or horror-themed photos in October. I loved pairing them with some of the Series 14 monster-themed Collectible Minifigures.
As for the larger gateway, it's a cool build that could add a bit of scenery to your shots, whether as the main focus, with the gates by themselves, or simply utilized in the background to add a spooky element.
-James
Have you gotten your hands on LEGO 40260 Halloween Haunt? If so, what did you think of it? Have you been able to take any great photos with it yet?
If you enjoy posts like this, we invite you to join our G+ community. Don't forget to subscribe to the blog to get notified when we have a new post ready for you.