June's photo challenge in the G+ community, Revisiting and Recreating your Toy Photos, is based on an earlier post by Jennifer. This challenge has me thinking about photos in my archives that I've already revisited and recreated.
It seems there's no shortage of them! So I thought I would share of few of them with you.
Last year I was asked by the folks at Brickcentral to recreate my very first toy photo. I'm not particularly shy about my first toy photo even though it's positively dreadful. This is a photo of one of the first mini figures I ever received, placed on its original plate with a fairly unremarkable background. It's not even in focus! In fact this image is so awful it wouldn't take much to improve it.
To remake this photo I wanted to use the same elements that made up the original image, one mini figure and one boy, but without the plate, the piano or the ugly banister. I've always enjoyed when humans interact with LEGO mini figures so I set up a situation where the figure was walking along unaware of his impending doom.
Not only did I have fun creating this image with my son, I like how it shows that I may have learned a few tricks since I started.
While this is one of the few examples of consciously recreating an earlier image, I have many examples of images I've pursued over several months or over several years. This is a process not unlike Kristina's' 52 week project on reflections, but a lot less intense.
Here is a series of three images, with essentially the same subject, taken over several years. I like to think they show some improvement in my skills. 🙂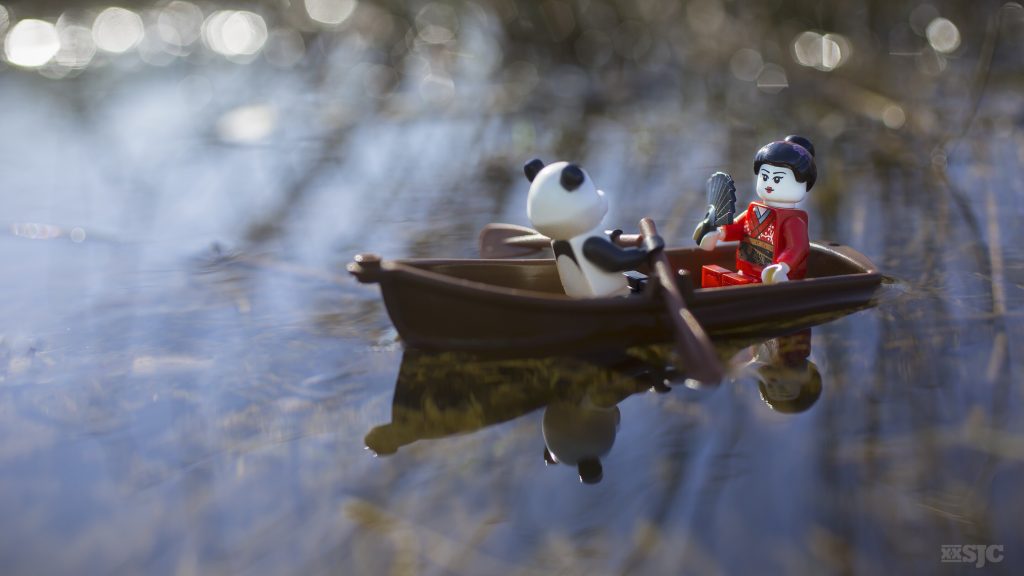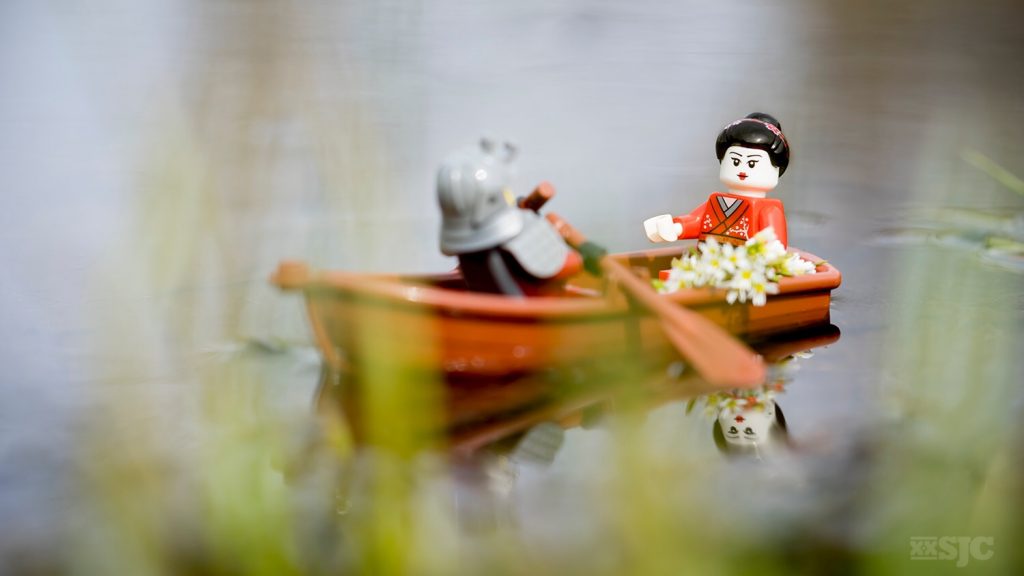 Sometimes in my quest to create a better image I actually go backwards. Over time, I've learned that some images can't be recreated. One of my earliest (and favorite) images is this intrepid explore moving through the surf. This image was a revelation! I can capture little bit of magic while photographing LEGO in the real world.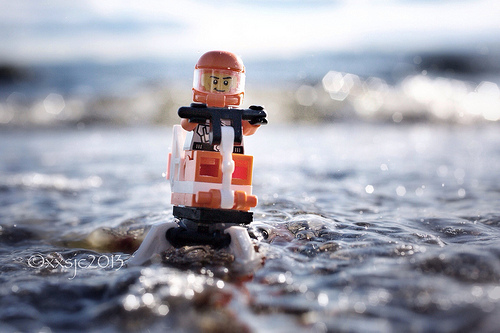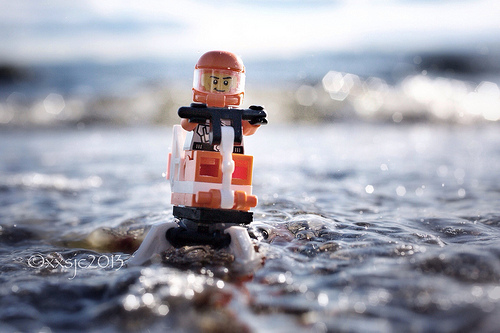 I took this on a body of water with waves and incoming tide. Not exactly a situation you can dawdle in. To this day it's one of my favorites. Unfortunately when I took it I did not set my camera to its full image size or on RAW. This isn't a problem if I you only post to the Internet. Personally, I like to print my images big so I need a larger file to work from. Unfortunately my file is too small; I would be lucky to produce a 16 x 20 print.  Every so often I will feel a little brave and take my intrepid traveler out into the world and see if I can get lucky…again.
So far I've not been able to recreate the magic.
Its fun to revisit and recreate older toy photos. It's a chance to test your new found skills and to see your progress in a concrete fashion. Its also a chance to pursue a favorite theme and see where it might lead.
I hope this post will inspire you to look at your own photos and recreate an image! If you do, please share your results in our G+ Community. By doing so, you will be eligibly to win our grand prize: LEGO poly bag 5004929!
Have fun revisiting and recreating your toy photos!
Shelly
If you enjoy posts like this, we invite you to join our G+ community.
Don't forget to subscribe to the blog to get notified when we have a new post ready for you.