We've discussed many sources of inspiration here on the blog. Things like exhibitions, a change in season, cards, and challenges can get the creative juices flowing. This summer, Shelly wrote a piece about the books that help inspire her photography. I have a reference shelf of my own, though it's not populated by studies on photography or creativity…
I love "Art of" books, usually those about my favorite films. I've talked before about being inspired by movies, and this is an extension of that.
If you're unfamiliar, the "Art of" books I'm referring to usually center around a specific movie or television series. They're collections of behind the scenes information, character and story details, and – most importantly – concept art, storyboards, and production stills.
When I'm in a creative funk, flipping through these books can help spark new ideas, or force me to think of my potential subjects in new and interesting ways.
There are hundreds of these books out there! If you're working with any of LEGO's licensed sets, or with action figures from properties like Star Wars, Alien, or Marvel, you can easily find tomes to choose from. I have "Art of" books for Pixar, The Force Awakens, Rogue One, The Incredibles, Wonder Woman, Batman v Superman: Dawn of Justice, Man of Steel, and Mad Max: Fury Road.
Apart from the images – which have been helpful even for simple shot compositions – the actual text provides knowledge that I might have otherwise overlooked. Those details then help fuel the stories I tell!
LEGO Books
The other half of my shelf is filled with more specific books about LEGO. Things like Matthew Reinhart's LEGO Pop-Up, a Journey through the LEGO Universe or our friend Vesa's LEGO Star Wars: Small Scenes from a Big Galaxy.
Because these books specifically highlight LEGO – my photographic subject of choice – they are a bit more successful at igniting my creativity. I've been inspired by Vesa's work for years, and I can't tell you how valuable it's been to have it accessible in such a tangible way.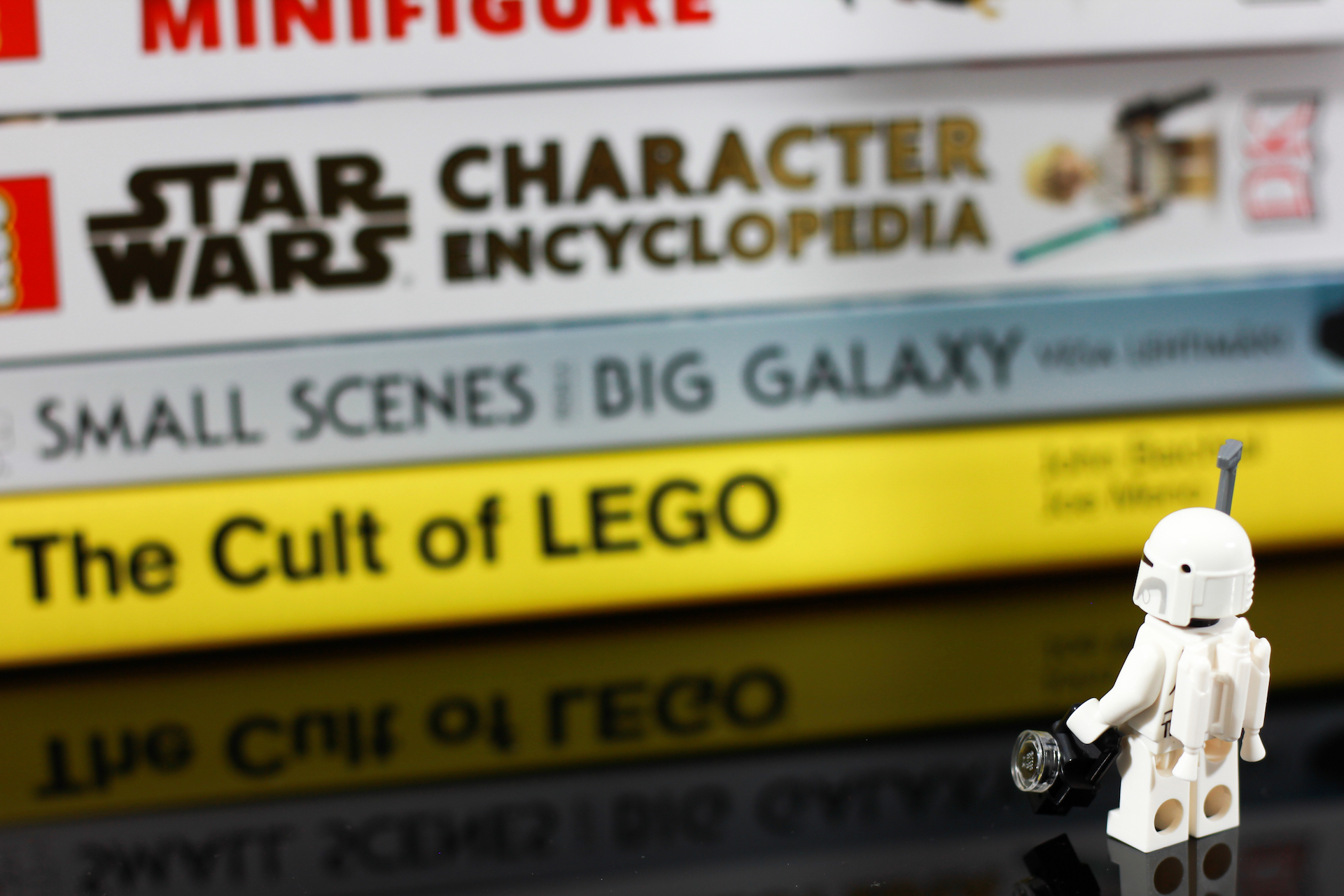 I'm also a big fan of DK Publishing's books like I Love that Minifigure or the character encyclopedias for LEGO Star Wars and LEGO DC Comics Superheroes. They usually come with a rare minifigure, and are packed with character details and minifig information. I've added many a minifig to my collection because I saw them in these books, and have since taken dozens of shots with them.
The Cult of LEGO
Last but not least is a book called The Cult of LEGO. Rather than simple referential information, it's about the history of LEGO fandom. The book is chock full of information about various subsects and communities, and has countless photos of amazing LEGO builds and artwork.
Nothing sparks creativity for me like viewing the work of others. It inspires me to up my game, improve my skills, and tell better stories!
With Christmas just around the corner, perhaps you should consider adding these to your wishlist. Or buy them for a fellow photographer or artist!
Do you have any referential or art collection books that you use to spark your creativity? Tell us all about them in the comments below! 
– James
If you've made it this far, come continue the discussion over at our G+ community! And while you're at it, subscribe to our weekly email round up so that you never miss a post!