Summers are for vacations and vacations are for reading. Who doesn't have a stack of books waiting for the time to read them? Because I love reading, I thought I would share the books that I've read that have shaped my photography. If you've been following the blog for any length of time, several of these books will already be familiar to you. Even though I've talked about them before, I thought it would be nice to put them all in one place.
In fact, many of my past blog posts have been inspired by these books. I often cruise bookstores looking for interesting titles. Beside bookstores I also ask my fellow photographers to recommend their favorite books. By doing this, I make sure I break out of my comfort zone. These books inspire me creatively, encourage me to think about photography as well as reinforce basic concepts of both art and photography.
Without further ado, here is what sits on my reference shelf. These are the books that challenge me when I'm lacking motivation. If you're looking for a book to mix in with your summer reading, take a look at this list and see if anything strikes your fancy.
This is book is the epitome of the quick read. More reference book than prose, this book tackles the art concepts you should have a basic understanding of if you graduated from art school. I picked up this book to not only refresh my memory about what I (supposedly) learned in art school. By reading this book I learned I missed out on a lot in five years of university art education. Either that, or I understand these concepts so much better after struggling with them for years.
I recommend this book to anyone who wants to learn basic art concepts. Ideas like "Context determines meaning", "Sincerity is a non-value in art" and "Art can be anything". While each page is only one short paragraph, the ideas being conveyed, will have you thinking for hours.
This book is the corner stone of my library. I turn to Art & Fear when I'm plagued by doubts. Those frequent and familiar doubts we all have: Am I good enough? Will anyone care? Am I an artist? These doubts have been with me for as long as I can remember. They are old friends Ive made peace with and this book was the first step in that process. By reading (and re-reading) this book, I know I'm not alone, these doubts are unique to me.
Besides being an antidote to personal fears of failure, Art and Fear, explains the artistic process. It seems that uncertainty, doubt and failure is part of the process. This books helps to put this in perspective and give you the tools to keep the creativity flowing. I feel that this book is a mandatory read for any creative person. If you read only one book about the creative process, make it this one.
This is one of those books recommended to me that I doubt I would have found on my own. While Barthes' book has been around for years, I was only exposed to it recently. Reflections on Photography is more a philosophy book than a photography book. If you're interested in the ephemeral nature of the photographic image, how images are perceived by the viewer or man's need to document the passage of time, then I highly recommend this book.
I'm not even remotely qualified to review this book. This is a book that every dedicated photographer should read if for no other reason in that this book defines modern photography more than any other. Her eight short essays have guided the photography debate for decades. Read the book, get back to me and we can have a discussion. In the mean time, I will be re-reading it myself.
This is a difficult and challenging book. Like all difficult and challenging tasks, you get back what you put into it ten fold. This book is exactly as the title descirbes: 307 assignments and ideas from famous photographers and photography teachers. These assignments are meant to help you focus your thought process. These teachers aren't concerned about what you create, but the ideas behind those creations. These are assignments are meant to help you look at the world differently, to teach you 'see' like a photographer and to face your own photographic fears.
If you've ever wondered what its like to take photography classes at the university level, this is the book for you. Even if you never complete any of the assignments, reading the reflections from this collection will help you to think about photography in new and exciting ways. This is a great book if your ready for a challenge.
Such a simple title. This is the book for you if you want to improve your basic photography skills. Each page is a single photographic concept explained in simple and easy to understand terms. A photograph also accompanies each of these topics from a photographic legend that illustrates the concept. The layout is easy to ready, and very user friendly. With chapter titles like: Composition, Exposure, Light, Lenses and Seeing, you know he's covering all the basics. The section on Exposure is one of the best explanations of the relationship between shutter speed, ISO and F-Stop I've seen.
This is a great book for beginners as well as a refresher for more experienced photographers. It will be the perfect quick reference book for your growing library.
I know what you're thinking, "Why are you recommending a book about portraits?" I'm recommending this book because I think that many of us are really taking portraits of our toys. This book continues the discussion started in "How to take great photographs" and applies the same ideas to portraits. In concise and easy to understand language it shows you how to manipulate viewpoint, color and composition to create visual stories with depth.
I like how this book helps you to focus on the relationship between photographer, subject and viewer. So often we forget the viewer is a part of the equation, when they are the most important part of the triangle.
This is the book that put Austin Kleon on the map. I like to think of it as Art & Fear light. Kleon covers many of the same ideas written about in Art & Fear, but he presents them in short, easily digestible bites for the age of the Internet. There are lots of great graphics to keep you entertained as you move through this short book.
If you're feeling creatively burned out, this is the perfect book to inspire you. There are many great ideas on how to keep your creativity flowing. It also explains clearly the difference between stealing someone else's ideas and being inspired by them. While I tend to like my books a little heavier hitting, I think this little nugget deserves a place on your artists reference shelf.
This slim little volume attempts to explain the Japanese concept of Wabi-Sabi. Have you ever wondered why photographers like to take photos of rusty metal, or abandoned towns, or toy rooms? This book will help you understand the idea of wabi-sabi and the beauty of a hand made object, imperfections and fading beauty.
Personally, I'm trying to figure out if the idea of wabi-sabi can be applied to the world of plastic. Stay tuned, we may be creating a challenge around wabi-sabi in our G+ Community.
I picked this book up because Modern Photography is an amorphous beast of different genres and styles. Photography is more than the finished product; it is also the representation of an idea. Those ideas can be represented in different styles and genres. This book breaks down modern photography into six distinct catagories: portraits, document, still life's, narrative, landscapes and abstracts.
Within each section a wide variety of photographers are shown whose work exemplifies the many different possibilities these categories represent. Each photographer has a detailed explanation of why this photographer is important, a brief history of their work and the idea behind it. This book is a concise history lesson of the post modern photographic world. In reading this book I was reminded of how malleable the photographic medium can be. This book showcases some of the more innovative and successful photographers working today. If you're curious how far photographers are pushing the boundaries of this medium – this is a great place to start.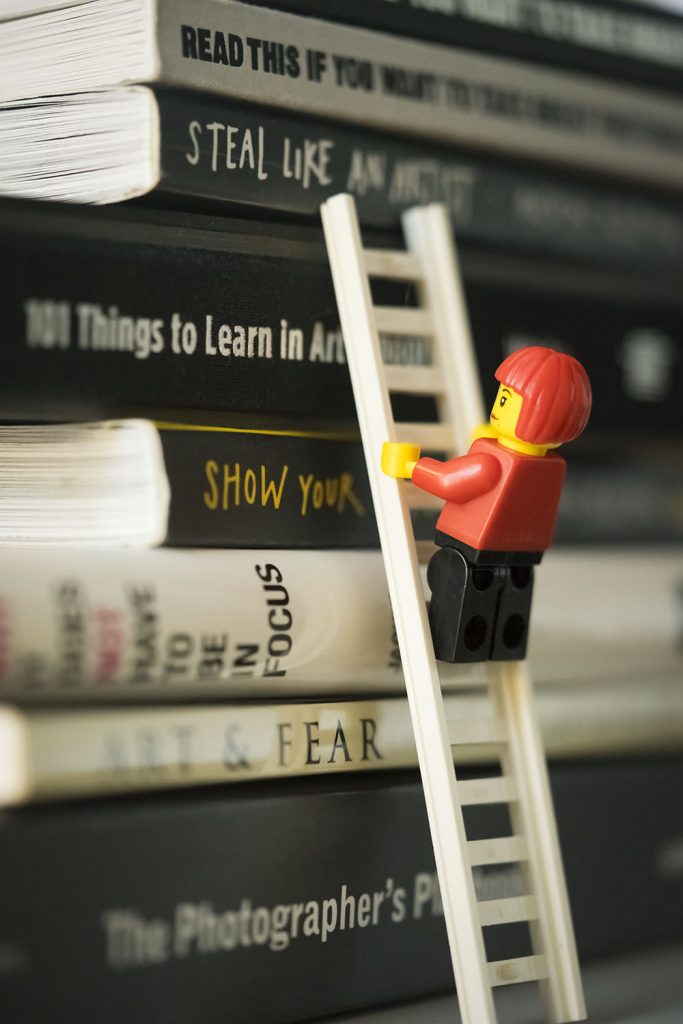 What Books Are on you Reference Shelf
Photography is more than just an image to be published on social media. It's a form of artistic expression, a language, a way to tell a story. I want to understand why I'm attracted to the photographic process. Reading books, helps me to find those answers.
So while you're dragging around your toys to photograph this summer, why don't you throw in a book as well? See how the written word can spark your imagination, inspire you to think deeper about your images, give you the skills and confidence in the knowledge you already know. Books are an amazing resource for the artist and I encourage you to take a deep dive into one of these, or another of your choice.
In the next few months I will go back and re read Barthes and Sontag. I need to read some books multiple times to understand them and I put these two squarely in that category. I also will be reading Art as Therapy by Alain de Botton and John Armstrong. Insure I will be talking about this one in some future blog post! If there is anything else you think I should read, feel free to recommend your favorites in the comments.
Shelly
What books about photography and / or the artistic process have you read and enjoyed?
I encourage you to sign up for our weekly email round-up or join our G+ Community were we hold month contests with prizes for the winner!