I've known Maia Weinstock via Flickr for a few years, so when I heard that her "Women of NASA" set was being released on November 1st, I knew I wanted one right away. I had a feeling the set would be popular, so I ordered one in the middle of the night on release day from LEGO Shop@Home.
I'm very happy with this set. All three vignettes were fun and interesting to build and are great tributes to these amazing women. There are already many reviews about this set and the builds, so I'd like to write this one from a minifigure photographer's perspective.
Nancy Grace Roman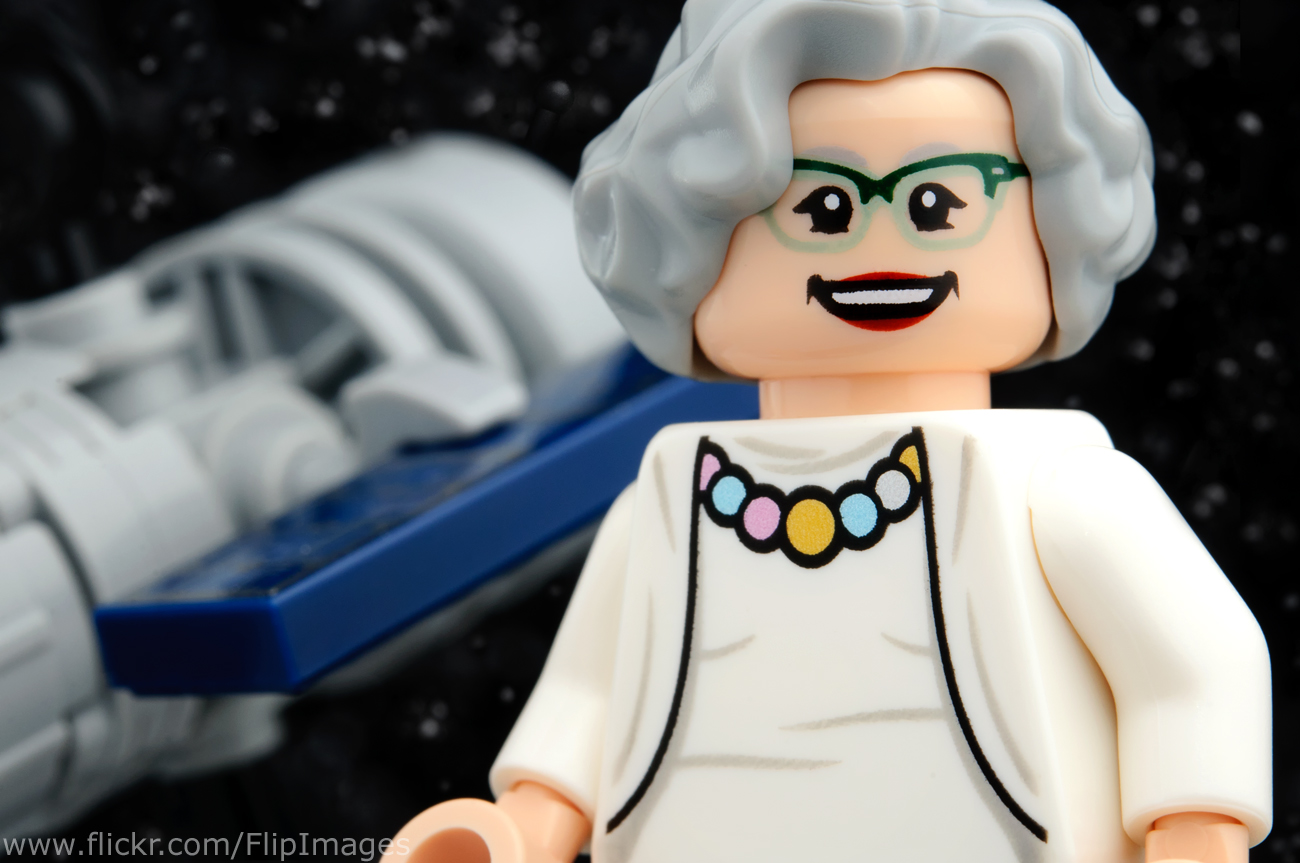 She's known as the "Mother of Hubble" so the build includes a replica of the Hubble Telescope. It also includes printed element (not a sticker) showing a planetary nebula.
The minifigure looks quite stylish with her green glasses and colorful necklace – I don't think we've seen either of these elements before. She has a lovely smile which makes her very photogenic! While the minifigure was easy to photograph, I struggled a bit trying to fit the Hubble Telescope in the background due to my use of a macro lens (a wide angle lens might have been better choice for this shot).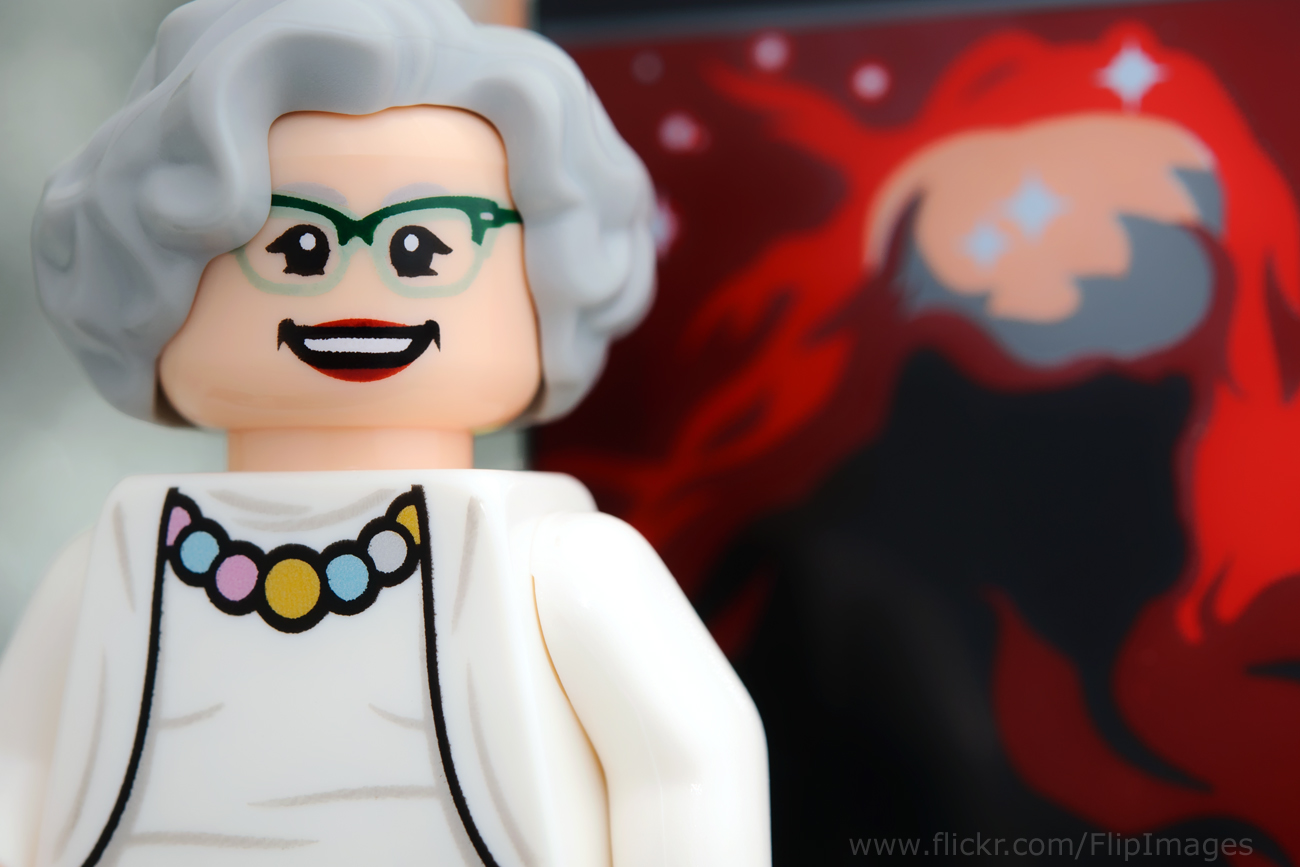 I took a second photo of her in front of the planetary nebula piece, which makes a fantastic, colorful background for her portrait.
Margaret Hamilton
Margaret Hamilton was a pioneer in computer software back in the days when computer science was a relatively new field. Her navigation software was instrumental to the success of the Apollo 11 mission, so it makes sense that she is posed with a stack of computer printouts (the white and blue pieces).
Her vignette recreates the iconic photo of her next to the printouts with the black board in the background. All the wonderful details on this minifigure made her a delight to photograph. I love her gold rimmed glasses and also the texture printed on her torso. Although you can't see it in the photo, she has some wonderful printing for her shoes.
Sometimes I struggle to photograph the minifigures with longer hairpieces, since they can't turn their heads. It can be tough to follow the rule of thirds when the subject can only look straight ahead but in this case, the vignette had enough visual interest that I think it works to have her centered in the frame.
Mae Jemison and Sally Ride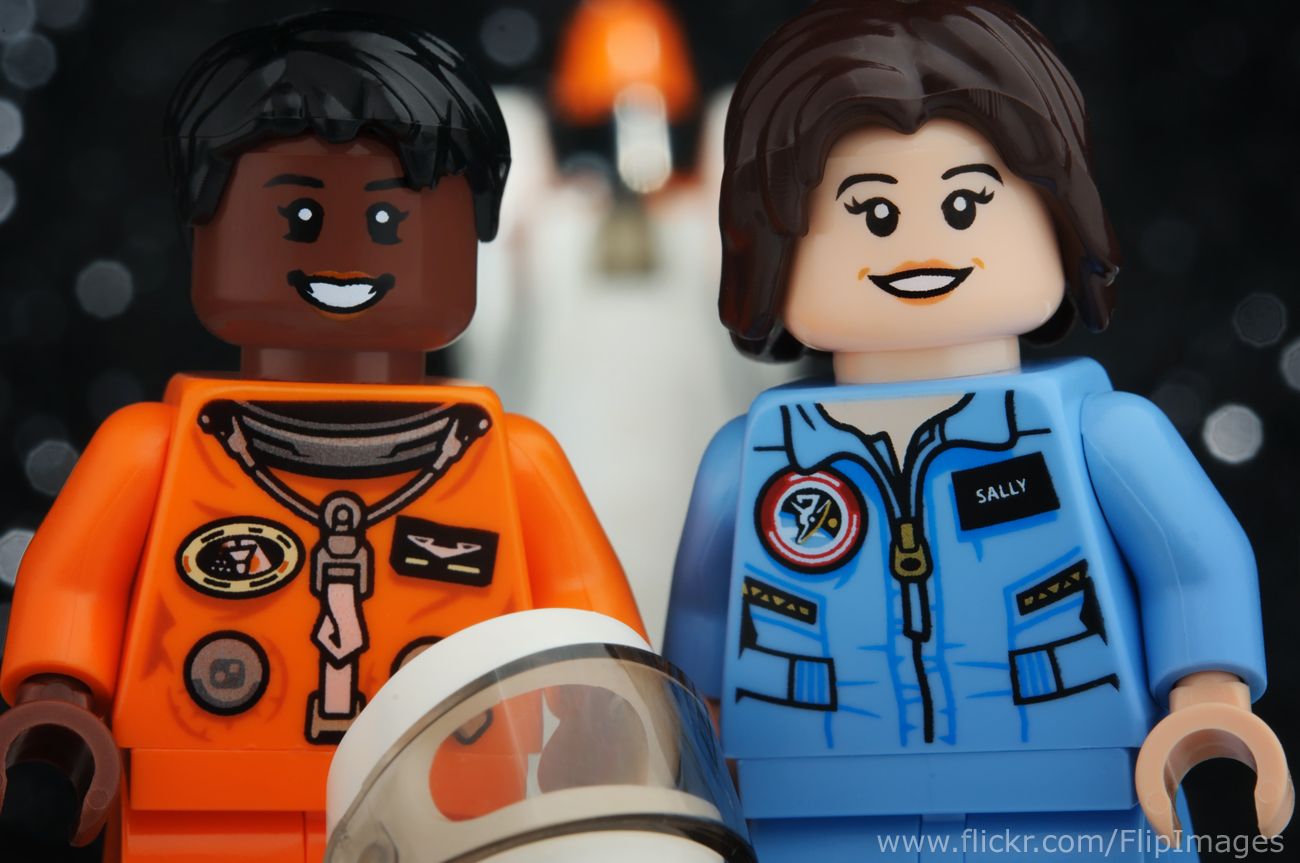 These two astronauts were among the first women in space and are an inspiration to girls and women everywhere. They are appropriately displayed in front of a mini build of the Space Shuttle. The build was fantastic and it's very clever how the Space Shuttle is designed and built. I wish I could have fit more of the Space Shuttle into the photograph but again, someone who has access to a wider angle lens could probably do a better job.
I thoroughly enjoyed taking a portrait of these two minifigures. Once I got them in front of the camera, they seemed to come to life with their enthusiastic expressions and colorful uniforms. The blue and the orange work well together in photos.
Also, each minifigure comes with some amazing details, from Sally's name tag to the printed details and patches on Mae's space suit. I enjoyed reading the biographies of these women in the instruction booklet and I especially enjoyed learning that Mae is an accomplished dancer! I will make sure that the Mae minifigure has access to the Ballet Studio in the Assembly Square so she can continue dancing.
Overall, this is one of my favorite sets this year. Between the great details on the minifigures and the wonderful vignettes, it makes a fantastic tribute to these women.
~Lynn
Have you had a chance to get this set yet? Do you plan to photograph the minifigures?
If you've made it this far, come continue the discussion over at our G+ community! And while you're at it, subscribe to our weekly email round up so that you never miss a post!