When the LEGO A-Frame Cabin (21338) was announced as part of the LEGO Ideas line, I knew right away that I had to add it to my collection. This set is based on the design by Andrea Lattanzio, an Italian LEGO fan who has a talent for building detailed and intricate models. It is a true work of art, with a stunning level of detail and a realistic design that captures the essence of a cozy mountain retreat.
Box Content
With 2082 bricks grouped into around twenty bags numbered from 1 to 15, plus an additional bag containing a canoe and three coiled whips, the LEGO Ideas A-Frame Cabin offers hours of enjoyable building time.
The set comes with two building instruction manuals, both of which feature beautiful illustrations of the cabin in day and night settings on their front covers. This allows the collaborative building of the set, should you desire to do so together with a friend or family member.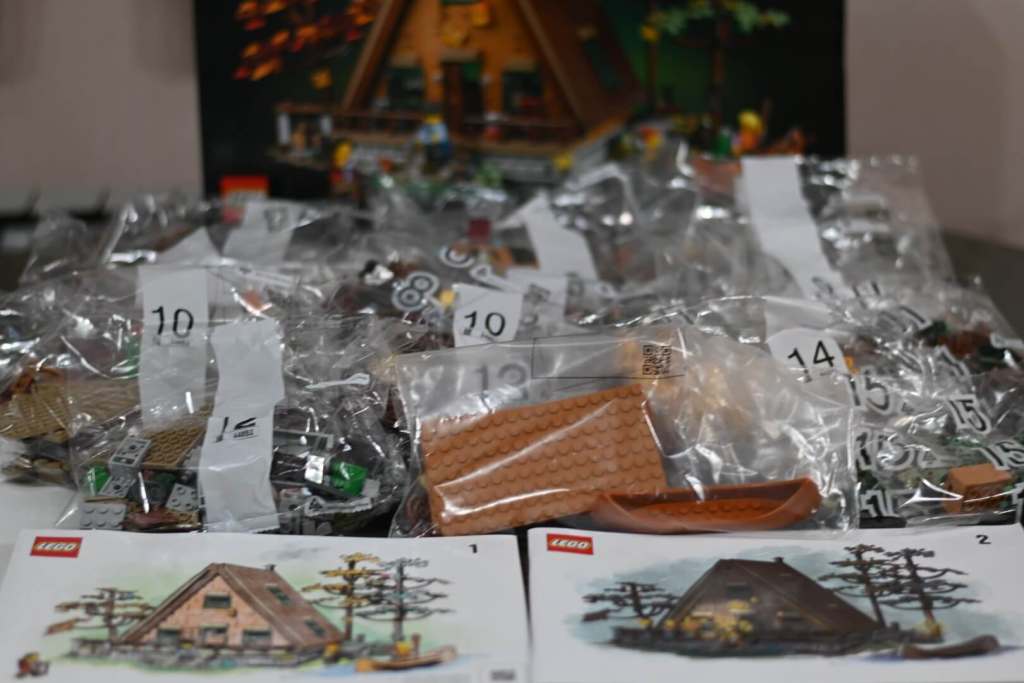 And the best part? You won't find any sticker sheets here. All of the elements are beautifully printed, which adds to the set's overall quality and attention to detail.
Minifigures & Animals
The set comes with four minifigures that can be customized to create a variety of characters based on your preferences. The product page on the LEGO website and the box art provide details on how to combine different elements to create unique characters, such as parents with teenagers, two couples, or just a group of random people. With this level of customization, you can let your imagination run wild and bring your favorite characters to life in LEGO form.
The LEGO A-Frame Cabin also includes a total of 11 animals and insects. Some of these are visible at first glance, such as a playful squirrel and an adorable otter. However, there are also some hidden surprises to discover – spoiler alert – like a frog under the stairs or a spider lurking in the attic. The set even includes a few winged creatures, such as moths, butterflies, and birds. With such a diverse range of animals and insects to discover, this set is sure to provide endless hours of imaginative play for LEGO fans of all ages.
Building Experience
With a symmetrical roof and multiple trees, it was difficult to avoid repetitiveness, but even so, the building experience was pleasing. To add some variety and avoid excessive repetition, it is possible to customize the trees by adjusting the positioning of branches and leaves, as I personally did.
You begin by constructing the foundation, ground floor, and porch, followed by the first tree and the woodshed. The instructions for the loft, roof, and the remaining exterior details are provided in the second booklet.
One aspect I particularly like is the abundance of hidden references and easter eggs that you discover as you build the set. Most of the references are hidden inside, and if you are a fan of modular buildings or LEGO Ideas line you will know what they refer to. It took me three days to finish the cabin, but I believe it can be completed in a few hours.
Exterior
In contrast to the original Ideas project, which embodies a rustic and ramshackle aesthetic with a vintage appeal, the official A-frame Cabin from this set boasts a contemporary and modern design. However, certain design elements like the uneven surface of the outer walls or the foundation stones crafted from Thor's hammers have been retained.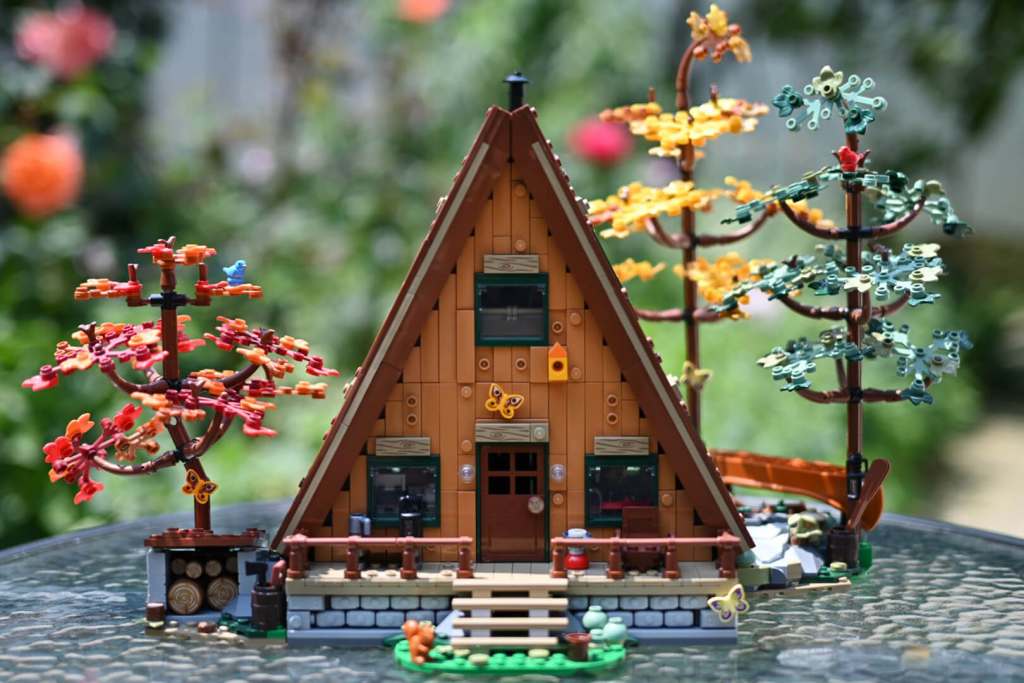 At the front stands a spacious porch where the minifigures can gather, enjoy each other's company, and engage in delightful sing-alongs. The porch boasts a comfortable rocking chair, a portable camping stove, and a table with a lamp. A small birdhouse adorns the front wall, nestled just beneath the window.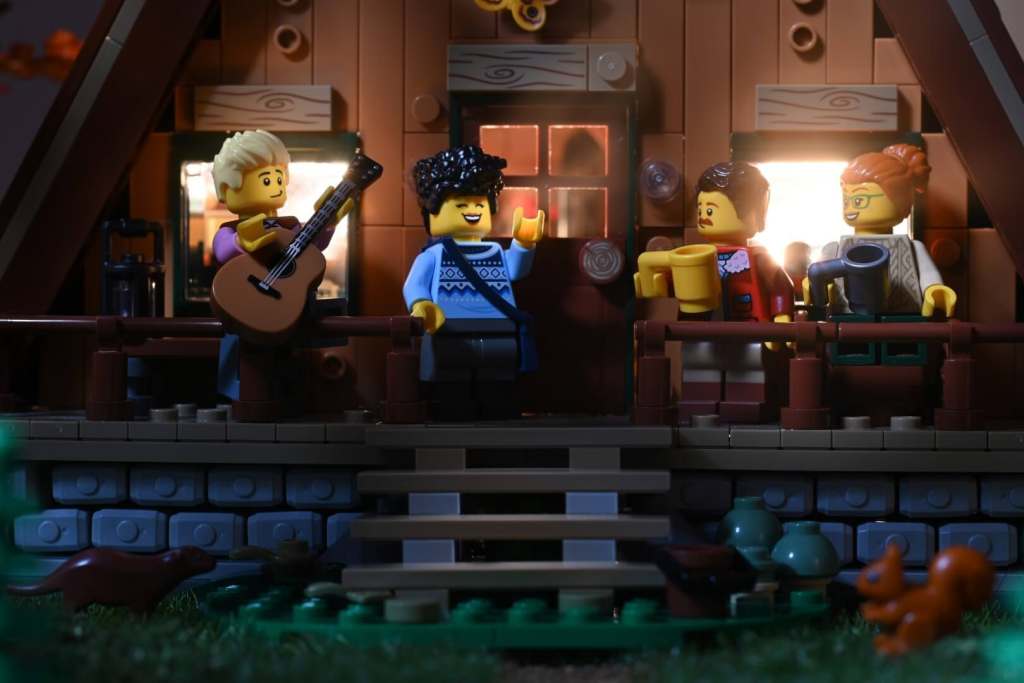 The back of the house is characterized by a large black chimney, an Octan fuel tank, and what appears to be a water tank or water heater, given that there's an outdoor shower next to it.
In the absence of an indoor toilet, a shovel and toilet paper are provided outside for the necessary needs. 🙂
The house is surrounded by trees on both sides. On the left, a smaller tree stands, sheltering a wood shed beneath its reddish-orange branches. On the opposite side lies a rocky area adorned with two tall trees, displaying captivating shades of yellow and light green. Below them flows a peaceful stream that serves as a residence for a frog and a lovely otter. Two black poles are used to store the dark orange canoe when not in use, and nestled beneath it is a crate with a couple of life jackets, ensuring safety on water adventures.
Both sections can be detached from the main house and merged into a compact grove or island. The combination of colors and shapes looks really impressive. My only complaint here pertains to the trees, which seem to be lacking foliage. I believe that adding more branches and leaves would greatly enhance the overall impression.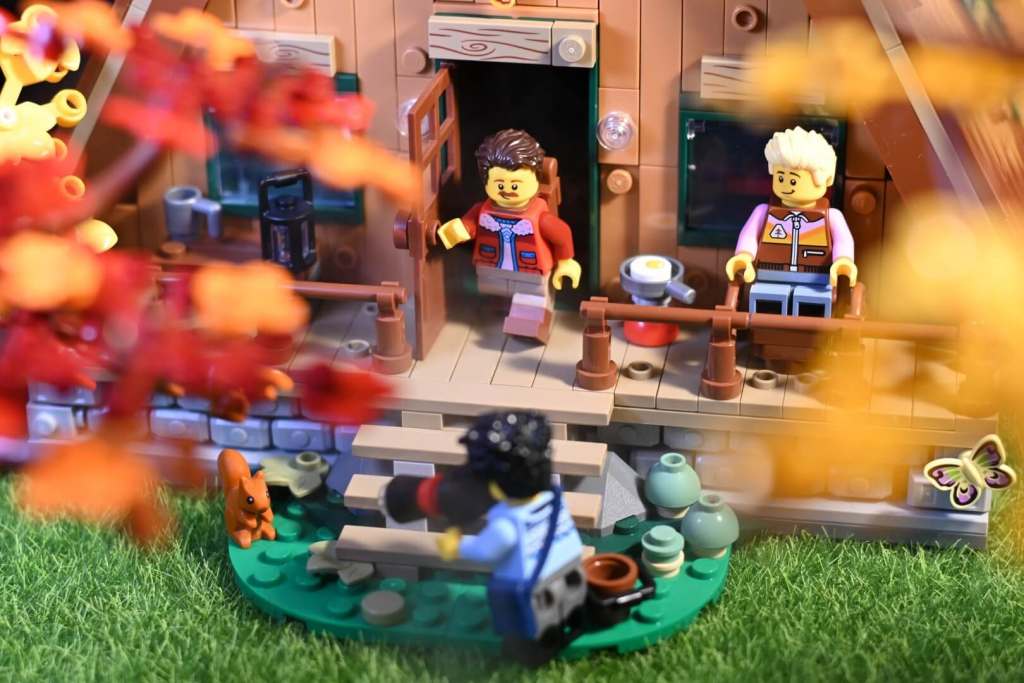 Interior
After removing the roof panels, you gain access to the interior of the cabin, which is divided into two levels: the ground floor and the loft. The interior boasts exquisite detailing. On the left side of the entrance, you'll find the compact yet well-equipped kitchen, complete with all the essentials for food preparation, a sink for handwashing and dishwashing.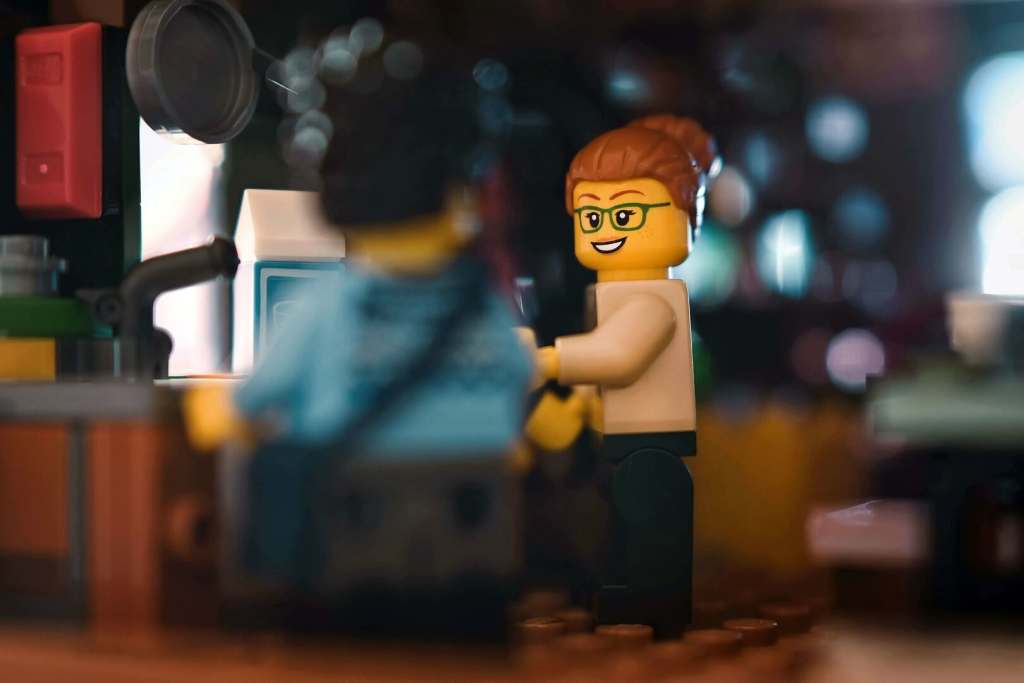 Opposite the kitchen is a desk featuring a typewriter, likely serving as a homage to the Lego Ideas set 21327. Complementing the setup are drawers, a table lamp for night work, and a few newspapers, possibly hinting at one of the minifigures being involved in journalism, but they could also be writing a novel.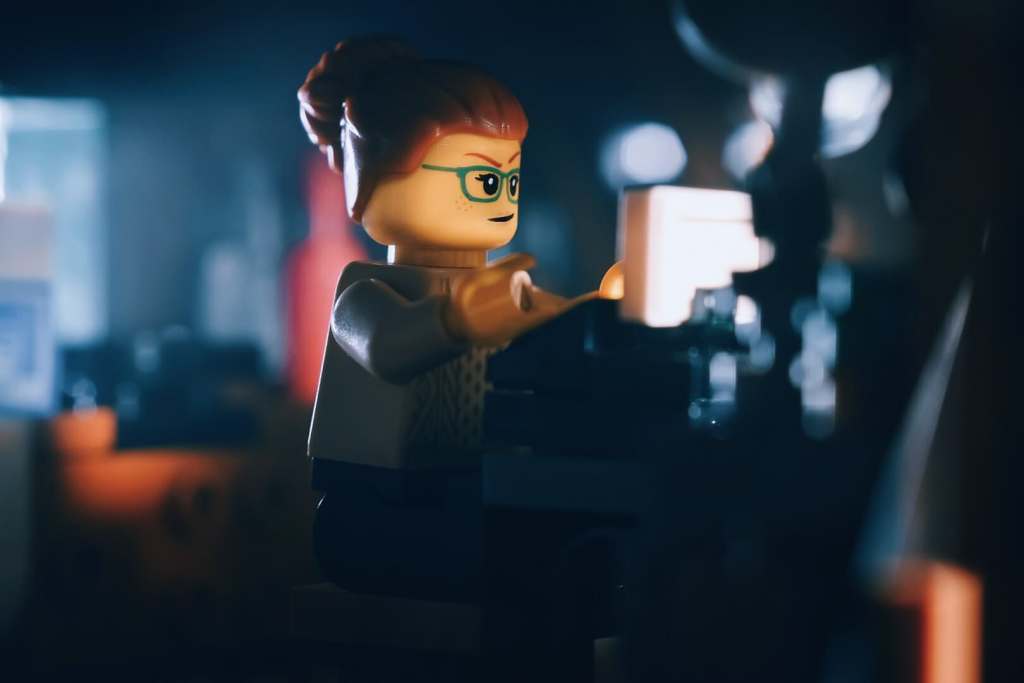 To the right of the entrance is the living area, adorned with two cozy armchairs, an acoustic guitar, a record player, and a display cabinet housing a rich collection of vinyl records. Here, the minifigures can unwind to soothing music while enjoying activities such as reading newspapers or sipping coffee or tea.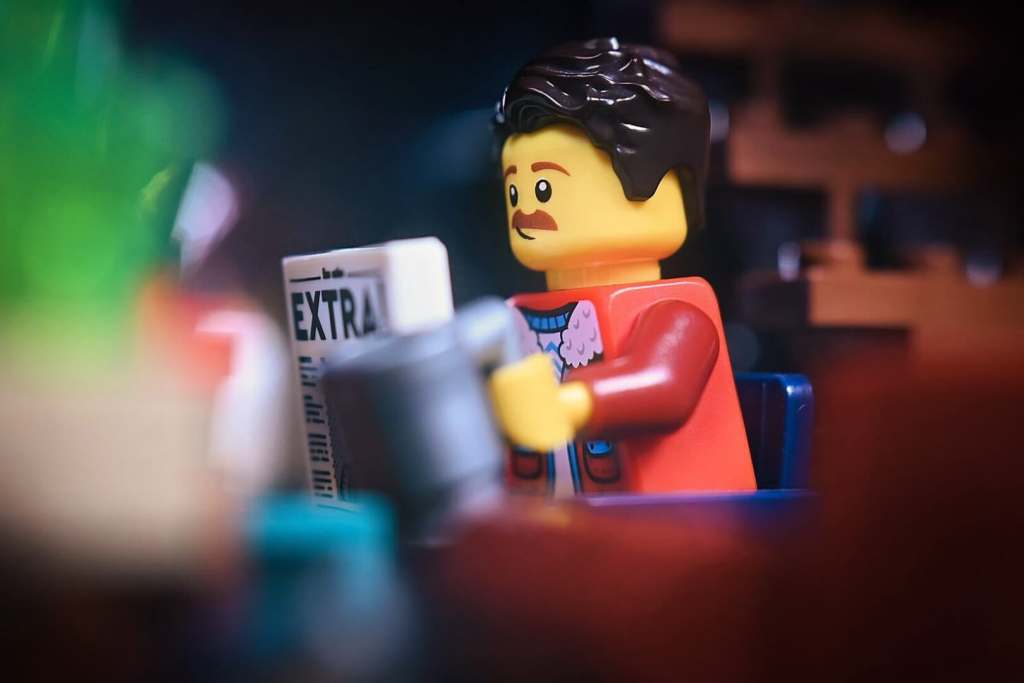 There is also a collection of various crystals and rocks, suggesting that one or more minifigures are involved in geology.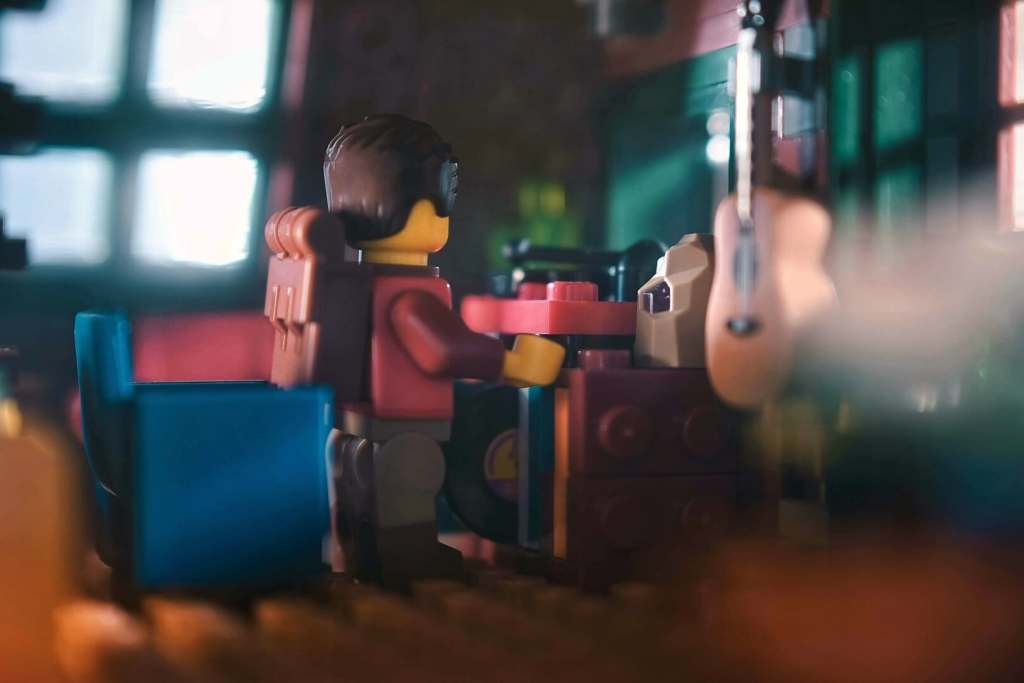 Underneath the staircase, which leads to the upper floor, there is a stove, firewood, and a fire extinguisher. Safety comes first. The staircase leads to the loft, where you can find a bedroom with a bed large enough for two minifigures.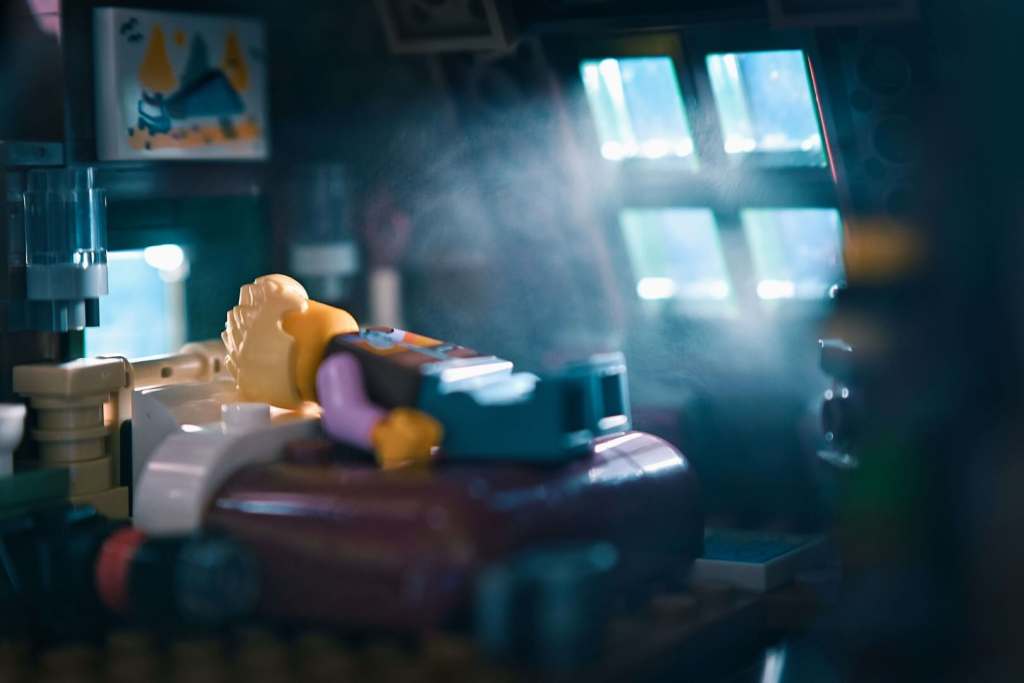 The space is equipped with all the essentials for nature enthusiasts and adventurers – binoculars, a dedicated camera with a telephoto lens for capturing wildlife, a map, a bookshelf filled with bedtime reading material, and an extra surprise – a scaled-down replica of the Lego Ideas set 21318 Tree House.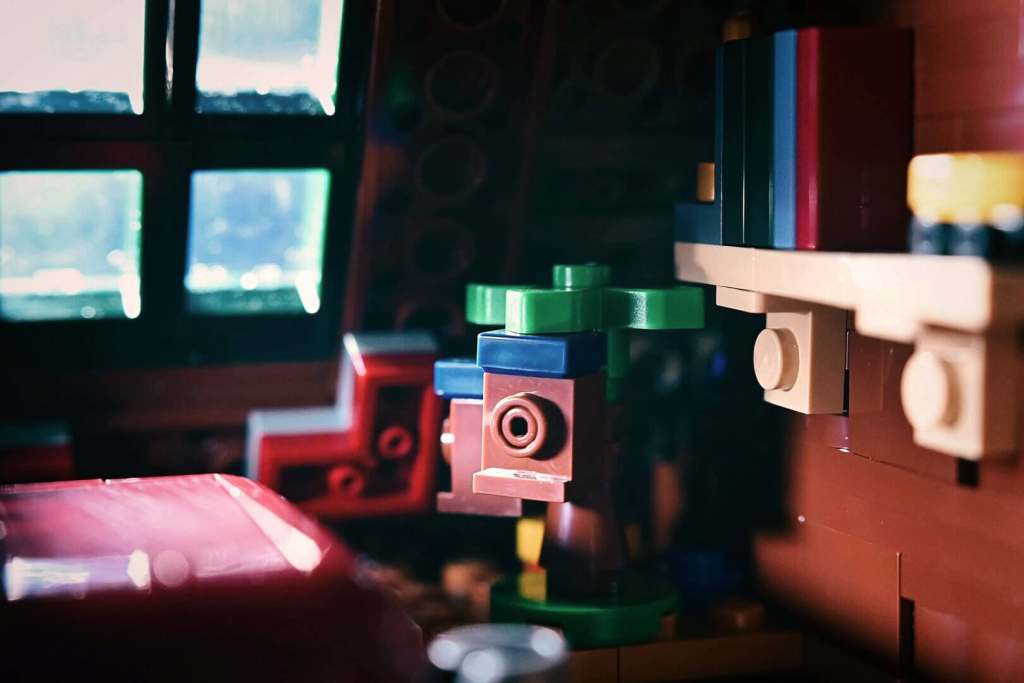 Another easter egg can be found above the bed – a picture of a blue cottage that Andrea also designed.
Storytelling Possibilities
As I mentioned before, it is possible to combine minifigure parts to create different characters. Within the cabin, numerous clues are available to suggest potential roles for the minifigures: a geologist collecting minerals and rocks from the environment, a writer engrossed in a new novel, a wildlife photographer capturing the wonders of nature, a keen bird watcher, enthusiastic nature lovers, and adventurers, or just a family seeking a peaceful vacation amidst the beauty of the great outdoors. When it comes to storytelling, the possibilities are endless, and the only limit is your own imagination.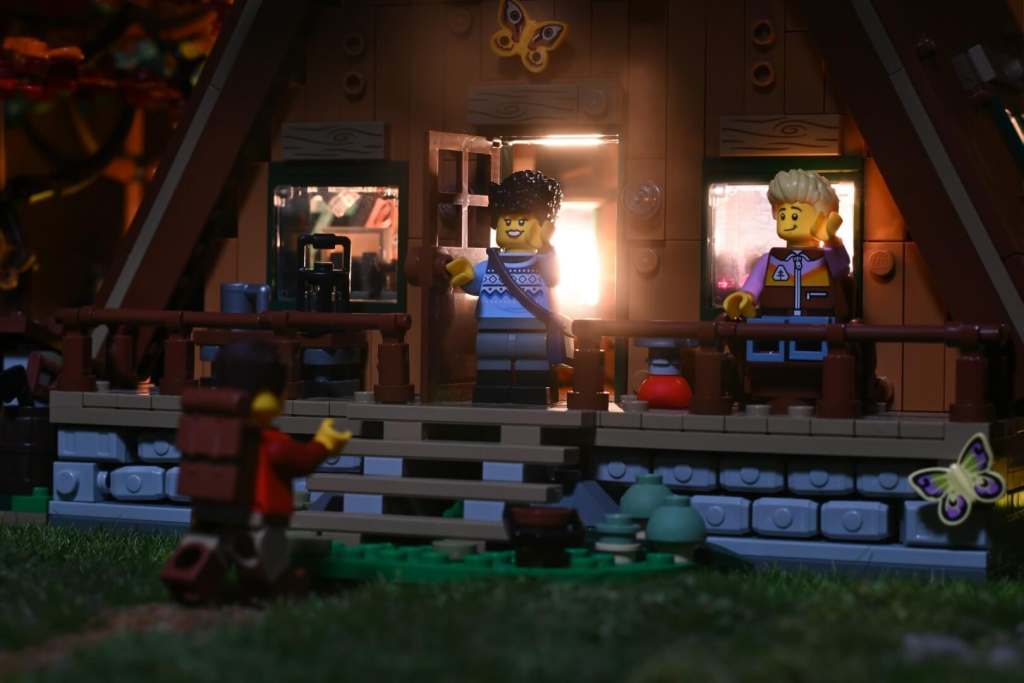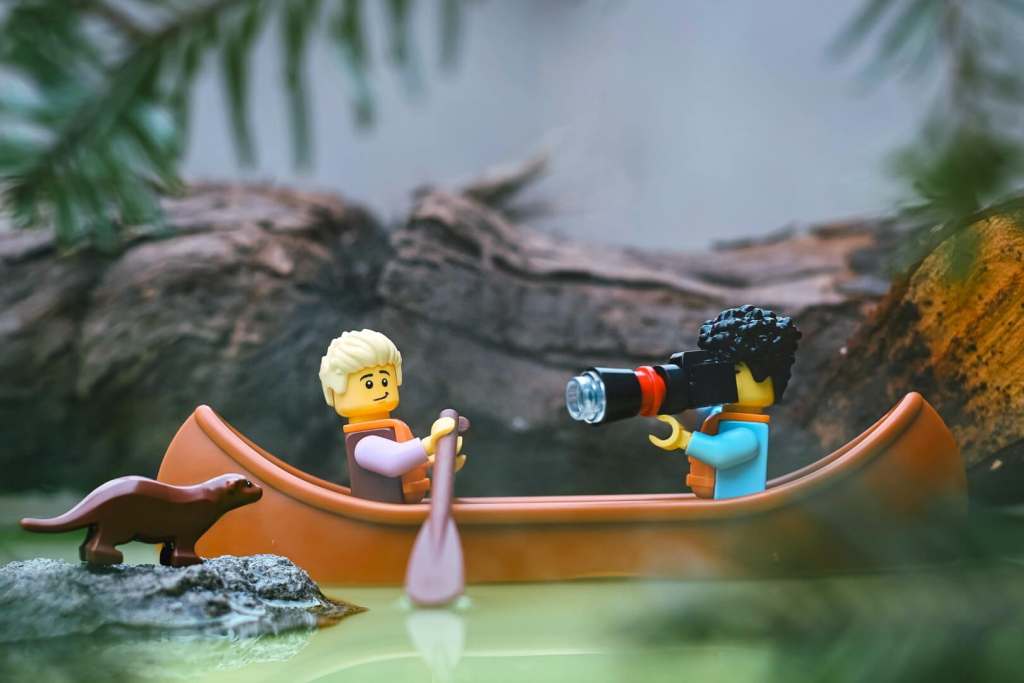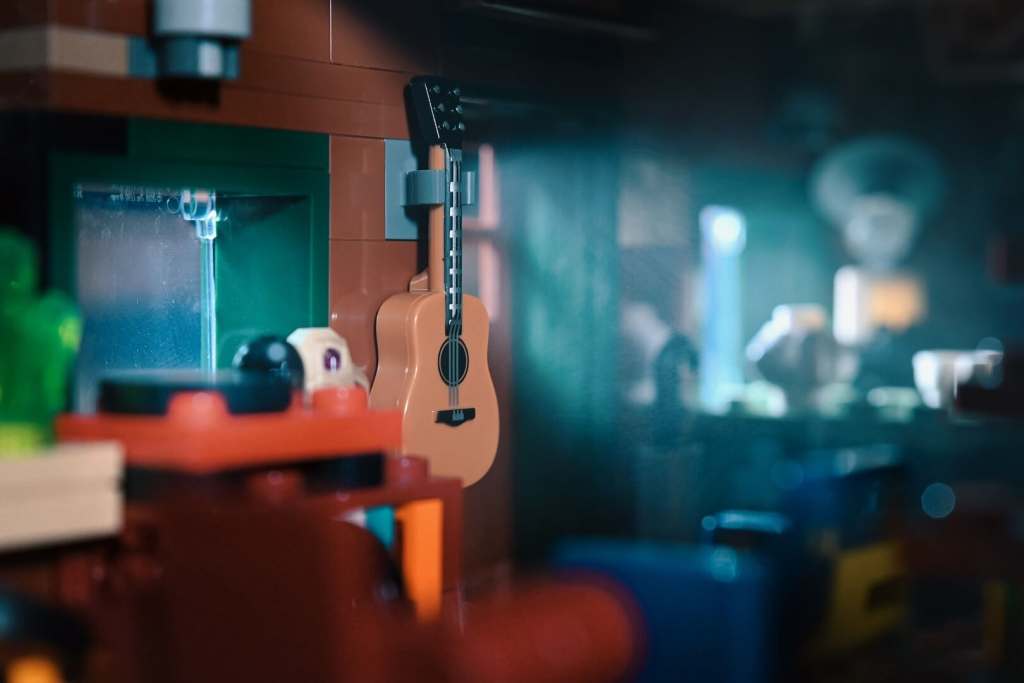 Conclusion
It's clear that a lot of thought and care went into the design of this set, and it's a true testament to the creativity and skill of its designer. I'm thrilled to have this set in my collection, and I can't wait to see what other amazing creations the LEGO Ideas line will bring us in the future.
The A-Frame Cabin (21338) is available at LEGO.com and is currently priced at €179.95, $179.95 or £159.99.
Thank you for reading!
Zoran Pesic (IG: Bricktoygrapher)