I've been taking photos of toys for a little over one year now, since December of 2020. Prior to starting with toys, I was a landscape and macro photographer. When the pandemic hit and lockdown ensued I needed to find an outlet to help keep me sane. I was watching some videos on YouTube when I came across a video on the Lensbaby channel featuring Shelly Corbett taking toy photos. I was instantly intrigued and fell into the toy photography rabbit hole — and I haven't looked back since.
I have found that the toy photography community has a strong sense of family. Most photographers are willing to do anything they can to help each other out. I really like that about the community. It's like a giant family spread out across the globe. 
Where do you get your best photography ideas?
I get my best ideas from a variety of sources. Sometimes while watching a movie or a cartoon something pops in my head. Other times it's from a book or, on occasion, I will walk into my studio, grab a toy and think about what I should do to make a fun scene. When I do that, I try to put the character in everyday situations, like maybe Captain America sitting and watching his favorite sports team on TV. The MeWe toy photography community has a monthly challenge that helps get ideas flowing. I also belong to a group on Instagram where we come up with collaborative ideas each month. The concept is we each do a photo based on an idea, very similar to the MeWe challenges, except we all post our photos the same day and time. Both groups are very supportive and have helped me become a more well-rounded photographer. Having a group of folks to bounce ideas off of is often very helpful to get the creative juices flowing. 
Tell us your favorite photography environment (indoor or outdoor) and why it is where you like to create your best work?
Right now I really enjoy working indoors in my studio. I think it's probably because I can manipulate everything in the environment from the posing of the figure to the lighting, to the smallest prop or detail in the photo, and I can leave it set up for hours, or even days, while my creative process unfolds. Outdoors simply doesn't allow that type of freedom. Also, when I'm outdoors I tend to want to take landscape and macro photos. I do want to get better at outdoor toy photos though. 
What are the essential tools in your toy photography arsenal and what might we find surprising in your tool kit?
I currently have a Canon 80D for my go-to camera. I most often use one of three lenses: my 90mm macro f2.8 for smaller toys such as LEGO, my nifty 50 kit lens for 1:12 scale and Funko, and of course my Lensbaby Edge 50. I'm not sure I have anything too surprising in my tool kit, but perhaps the museum putty I use to help figures and LEGO stay in the position I want. I also have a Lensball, but haven't really used it too much yet for toys. Maybe I'll give it a go outside soon as I want to try more outdoor toy photos. 
What kind of reaction are you looking for from your viewers?
I want my viewers to smile when they see my photos and maybe just for a minute forget about the problems of the world — basically become a kid again for just a tiny bit, back when all we cared about was playing and having fun.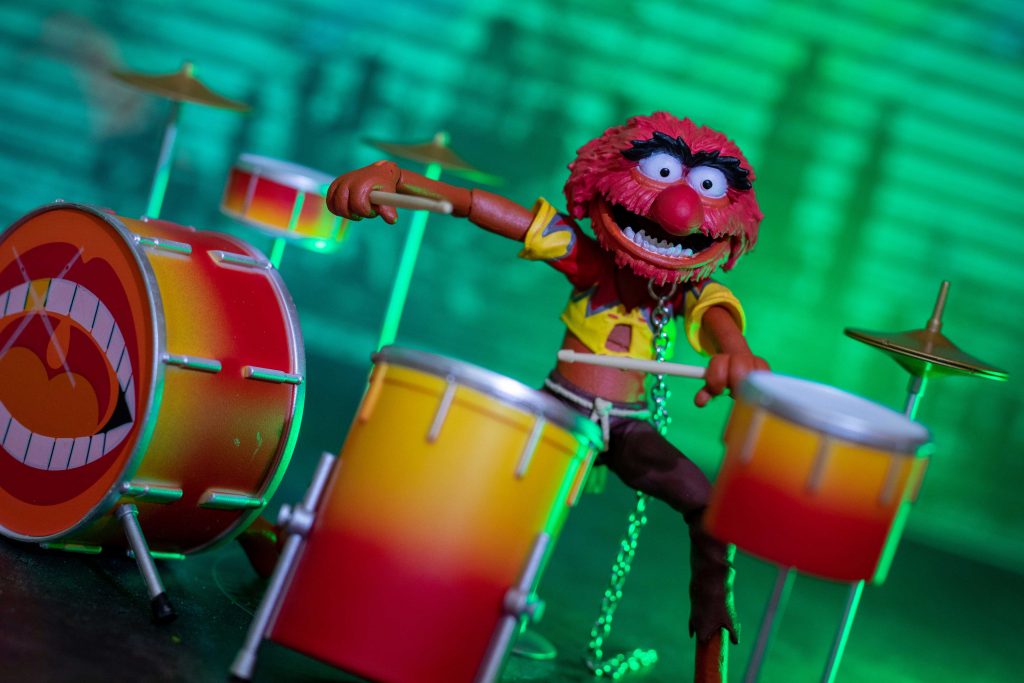 What has been your most treasured feedback?
My most treasured feedback comes from my family. When they look at one of my pictures and tell me what they think of it. They are all generally very supportive of my work and my wife tolerates my new obsession with toys and even encourages it, at times by buying small props for me. Or sometimes her creative side comes out and she will make a prop for one of my photos. When one of my family gives me constructive criticism that also helps me grow as a photographer. My wife is the most supportive and the most critical of my work, and she is usually right. 
What is your favorite toy photography-related memory?
Just a couple months ago, my wife and I were finally able to visit with my parents after not seeing them since the start of the pandemic. Going back home and spending time with my parents and the genuine interest they took in my toy photography will always be special, not only for the time I spent with my dad and mom but for my dad's attempts at creating a few toy photographs of toys as well. 
You can find Todd Rosenberg on MeWe or on Instagram as @toddretired.