Several times I have heard the saying "life is not a video game" (check whether it is not the Mandela effect). Ok, so maybe life isn't really like a video game, but some of its aspects, and the things we do, are arguably comparable! Take toy photography for example. My experience with taking pictures of toys is vividly similar to completing quests and levels in a video game.
Revisit
This game metaphor fits in with the November Toy Photographers community challenge: tp_revisit, which consists of loading an old save, i.e. a photo/idea that we have done earlier and revisit it. Of course taking into account our current skills/knowledge/gear.
So, click LOAD GAME and off we go!
Low level quick save
I took this photo in a quick, ad-hoc setting. I probably wanted to execute this idea as soon as possible and share it with the world. Do you relate to that feeling? If you don't turn an idea into a photo quickly, it will fall somewhere in the corner of your memory, it'll start to get dusty and it will be more and more difficult to come back to it. Do you also happen to be more enthusiastic about a fresh new idea than the one waiting in the queue?
And another important point—in 2016 I was a really low-level player, so leaving the house with the figures and camera was out of the question. I did get a bit creative anyway by equipping my Weedian minifigure (inspired by the band Sleep's Dopesmoker album art) with a robe made of fine sandpaper and lowering the phone to eye level with the minifigure. As the photo referred to the cover of the re-edition of Sleep's cult album, I had to take care of the desert ground [T-shirt] and the alien skies [a piece of blue cardboard]. Unfortunately, my vision of taking this photo on the beach, which is not far from my house, was shrouded in fog of war. I was too low level to come up with it!
Mid-level quick load
A few years, a few hundred photos, and [hopefully!] a few levels later, I decided to reshoot that photo. It took me a while, yes, but I suppose browsing through my older pictures I would find at least a few more images that I once thought I'd reshoot SOME DAY.
I have felt for a long time that my first approach to this theme didn't do the Weedian character justice. Not to mention the fact that over the past few years I have really gotten into taking pictures outdoors and I just wanted to see what this minifigure would look like in real sand and real [alien] skies. Also, my collection of LEGO minifigures has since expanded to include some Jawas. The use of a Jawa torso seemed an obvious choice to me, and it also gave this minifigure a kind of twist. With a little imagination, you can treat Weedian as an equivalent of Jawas in another part of the pop culture multiverse (maybe with little touch of Dune's desert-dwelling Fremen).
In the meantime, I mixed Sleep and the Jawas in an intertextual photo that connects these universes. So I couldn't leave the actual Weedian without a proper revisit. Well, I just couldn't.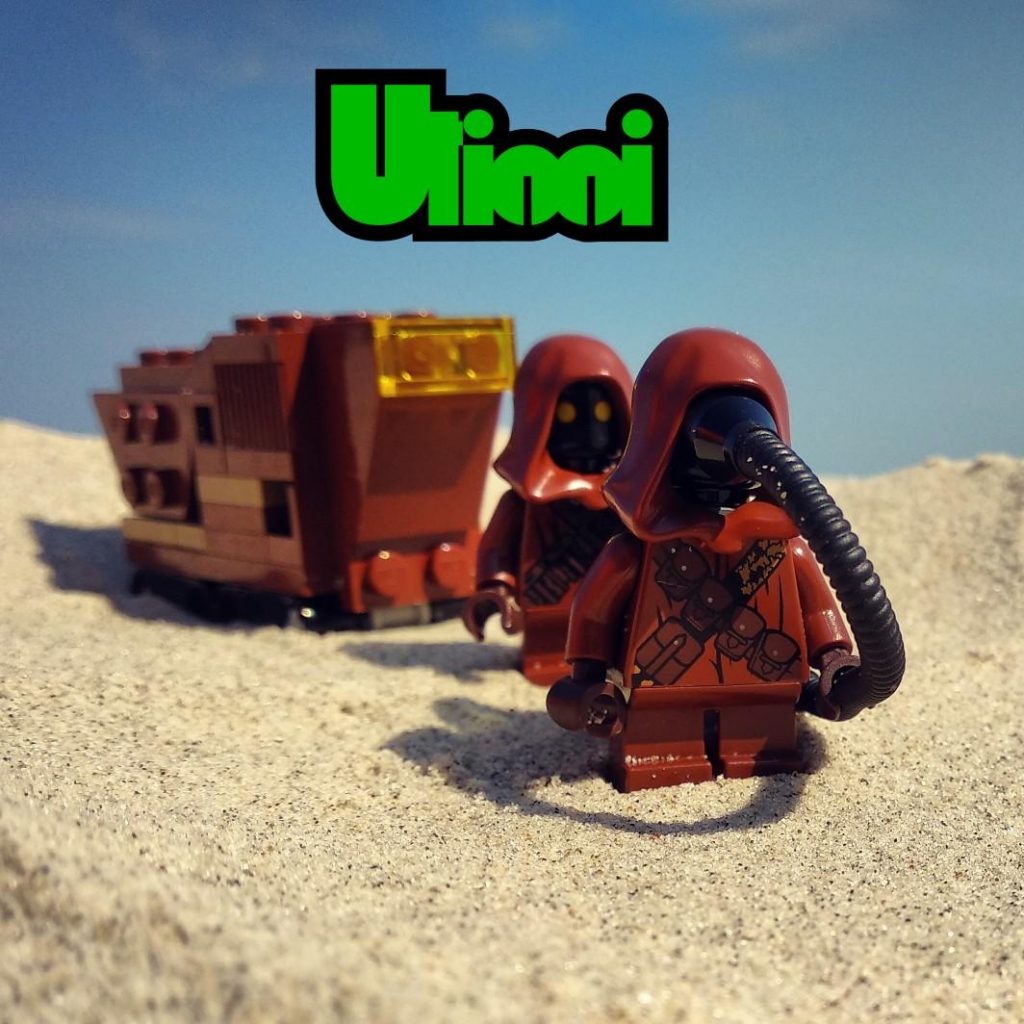 SAVE
The differences in the approach to these two photos were more than noticeable. These differences hit the eyes like the burning sun from an alien sky. In the case of the first photo, the idea itself was much more important. The photo played an ancillary role, which is quite understandable. I had no idea about photography then. It was true though that it was no longer a photo of the minifigure on a white background, I took care of some setting there, but still, what mattered most was that I executed the idea.
In turn, in the case of my revisit version of this photo, the idea and photography are on equal footing. Here, the photo is not only a medium of content. Since those early days, it has become very important to me what the photo looks like, not just what it shows. The next levels I passed in this game also showed new possibilities for toy photography, including the storytelling factor, which I hope is also visible in this photo.
Reshooting your own, old shots is not simply about taking an improved photo in technical terms. It is also, as in this case, adding new meaning and context, enriching the idea with something that was not there before.
It's really worth doing an exercise every now and then, as the revisit challenge also perfectly demonstrates how we've advanced as [toy] photographers!

Howdy! While you're here, we invite you to sign up to our weekly Toy Photographers email roundup where you'll get a recap of all the week's babbling. And while you're at it, you should definitely join our MeWe community! We hold monthly contests with prizes and lots of other cool stuff.