Scheduled for release this September, the sequel to 2018's Venom movie is titled Venom: Let there be Carnage. This will be the second film in the Sony Pictures Universe of Marvel Characters (SPUMC) franchise. Perhaps by coincidence, LEGO has released the LEGO® Marvel Spider-Man Carnage (76199) set, which is another second for this symbiotic character as it joins the previously released Iron Man in LEGO's growing Marvel helmet series. (Admittedly, this is more a bust than a helmet.)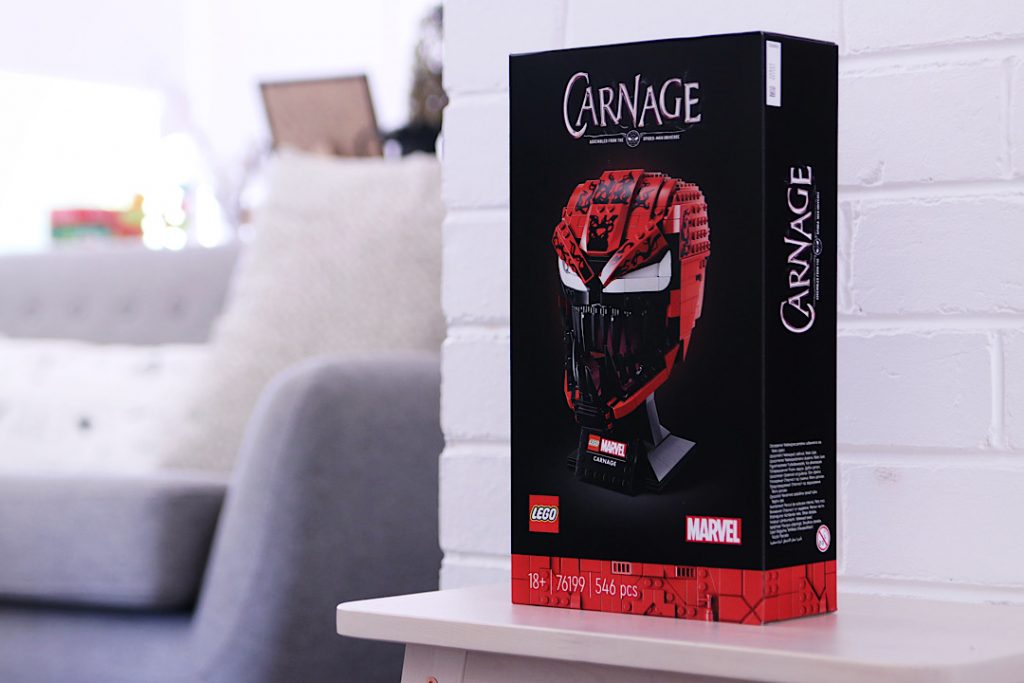 At time of writing, Carnage will be available from 11 April 2021 via lego.com for US $59.99, £54.99, €59.99 and AU $89.99. For this review, I'll examine the build, aesthetics, playability and, as always for the purpose of our readers, the photographic value of this scarlet head.
Build
At 546 pieces, this is a quick build that will take most people a single sitting to complete. There were fun elements of stacking the layers, but it does get slightly monotonous as it is essentially building an oval. Based on the images on the "adult collector 18+" box, I was skeptical of any articulation.
As I began constructing the mouth (while carefully avoiding the sharp fangs), I noticed hinged pieces and my eyes momentarily lit up at the possibility of an articulated mouth. However, this was not to be, as the hinged parts sat in fixed positions to accentuate and support the curved lower jaw. There are ball joints situated in the temporomandibular joints, but due to the design, one is not able to articulate the jaw without risking bricks and pieces popping out from the cheeks.
Overall, LEGO Carnage's head is sturdily built and affixed smartly on an identical stand to the Iron Man helmet. There is also a nice printed plaque adorned with "Marvel Carnage." The consistency will be pleasing to potential collectors of this Marvel helmet series.
Aesthetics
For those unfamiliar with Carnage's origin, in summary, a part of the Venom symbiote's spawn merged with serial murderer Cletus Kasady after entering via an open cut in his hand. The marriage of blood, symbiote and the psychotic personality of Cletus resulted in the villain, Carnage. He is usually portrayed in red and black with tendrils bursting forth from his body and a wide, gaping mouth filled with sharp teeth.
With that in mind, let's have a look at the aesthetics of this head.
Pros
Colors: The choice of red and black is spot-on here. The white in the eyes contrasts nicely against the black cheekbone and red eyebrows. Initially, I wasn't convinced by the bright pink of the palate and rear of the mouth. However, the design choice became clear to me as it formed a vibrant backdrop to the black teeth, which would otherwise be lost in the shadowy depths of the throat.
Mouth: Building upon my last point, the design has perfectly captured Carnage's intimidating razor-sharp fangs. Visually, I love how almost half of the visage is filled by the mouth. Side on, the massive, piranha-like overbite is recreated well with a jawline that extends from chin to the back of his scalp.
Cons
Tendrils: As mentioned, Carnage's look is iconic to me largely due to his tangled and tortuous tendrils darting in various directions. It's a missed opportunity here that we didn't have some tendrils poking out of the back of his head or maybe even from the display stand as a nod to that feature.
Eyes: I like how both eyes are built slightly differently with the ends of the right one sitting a tad bit higher. However, it would have been more accurate if both ends of the eyes were extended farther and wider to the side of the head.
Playability
As a display piece on the shelf, this is a beautiful model. It's not really a playable set, which I'll explore more in the section below.
Photographic potential
According to my measurements, the height from the top of the skull to jaw on Carnage's head is ~14cm. Google tells me the average height of a male human head is 24cm. Taking into account that Carnage would probably stand taller than most in real life, I'm ball-parking the scale of this head at 1:3.
Personally, it's a challenge mixing this with other action figures in my collection, which are 1:12, or my LEGO minifigures at 1:42, not taking into account using forced perspective and composites.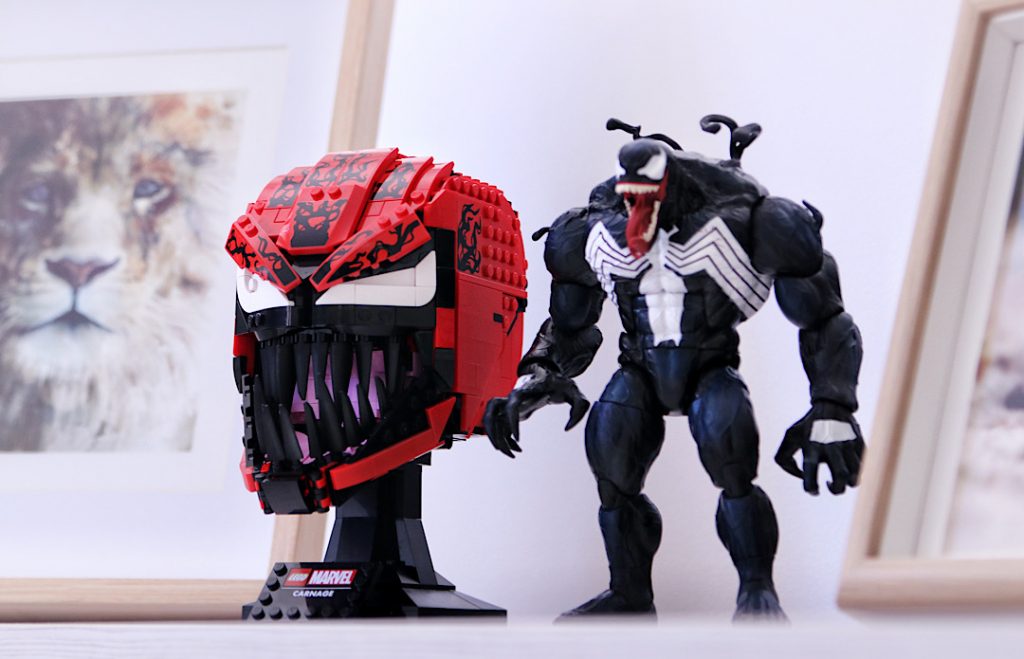 Final thoughts
For fans of Venom and Carnage, this would be a great addition to your display collection, especially with more Marvel helmet sets in the pipeline. For toy photography, I found some limitations mainly with the scaling and lack of a body and articulation. That said, I had fun shooting some ideas in certain spots around the house. You might find yourself doing the same if you pick up this set!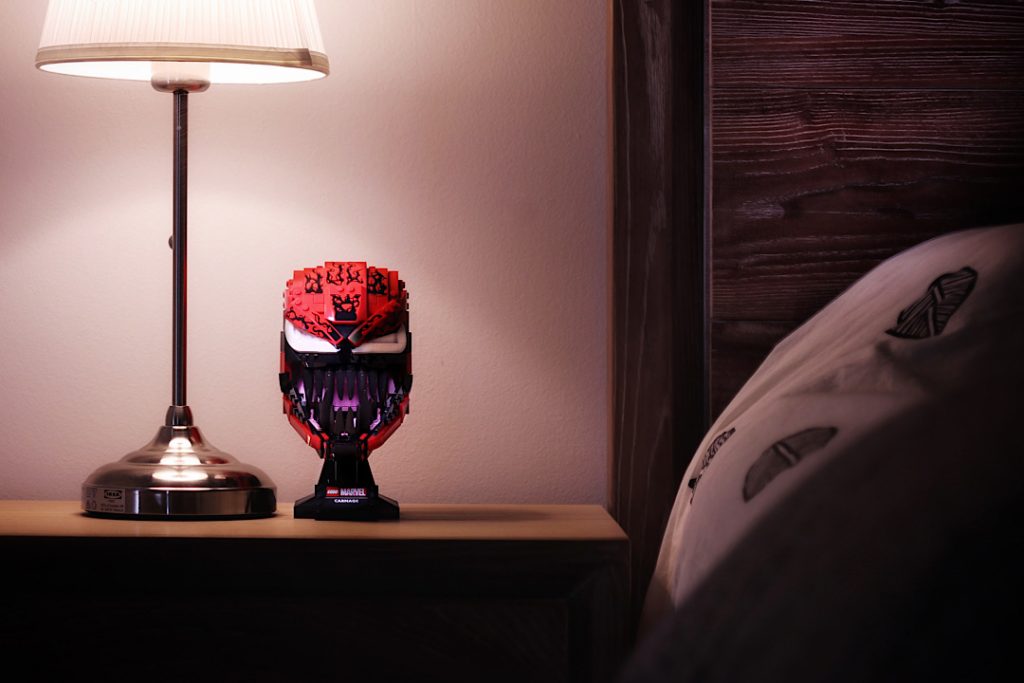 Thank you to The LEGO Group for a sneak peek at this new set.