LEGO had announced it's new 40463 Easter Bunny set for 2021. It comes with a bunny with posable head and ears, and two eggs—and they all sit atop a lush green meadow. This release coupled with the upcoming 40462 Valentine's Brown Bear, which sits on a similar grass patch, could be a sign of more similar builds to come.
We will go through the build, playability and, as always with any Toy Photographers' toy review, I will be looking at how the set holds up for photography. Is it just a pretty piece on the shelf or will it shine in front of the camera? Spoiler alert, I enjoyed it.
Build
A brief look through history shows this is not the first LEGO bunny set. We've had the LEGO 40086 Easter Bunny, which is grey and comes with a giant carrot; 30550 Easter Bunny, a cute yellow rabbit with a green egg; 40271 Brickheadz Easter Bunny with humanoid arms; and, of course, last year's 853990 Easter set reviewed by our very own Teddi Deppner.
This set stands out from its predecessors as it shifts from an exaggerated caricature to a look that is more realistic, which appeals to me. With 293 pieces, it is a simple build to complete.
Pouring out the contents of the four plastic wrappers, I was immediately drawn to the colourful pieces. There are many SNOT (Studs Not on Top) pieces—a hint that suggests a clean and smooth finish. Also, I spied some ball and socket elements, which delighted me as I'm a fan of articulated beings.
I chuckled to myself as I started to build the meadow base and a carrot took shape within. This is the first of a few other little surprises, often hidden and only known to the builder.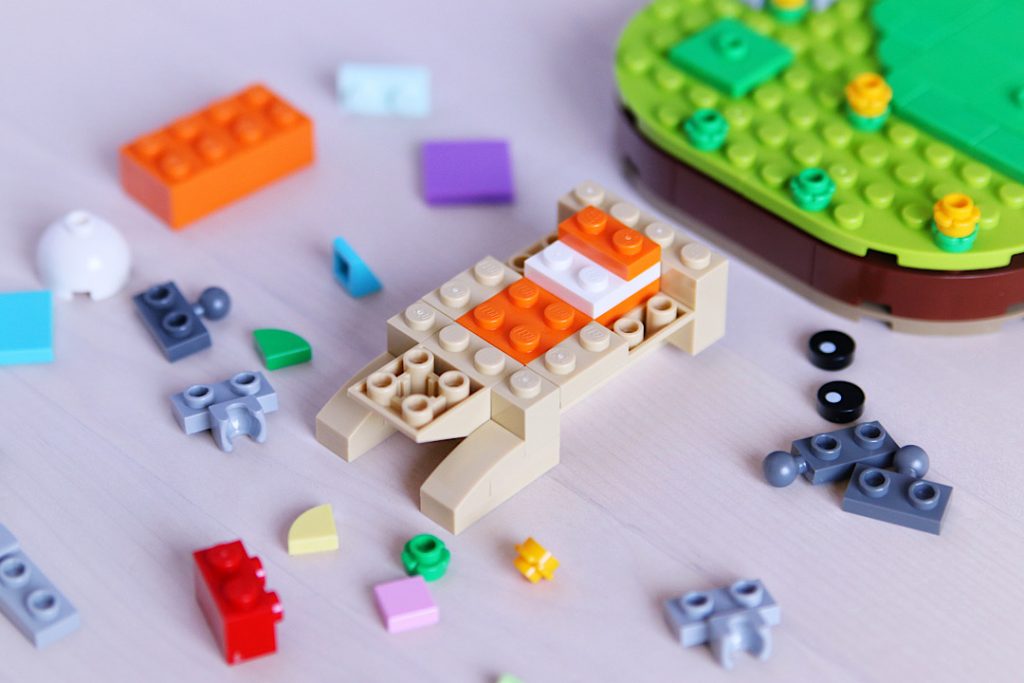 The core of the bunny is made up of orange bricks. Like the sub-terrainian carrot above, the bunny's belly is unseen in the complete build, but it is a fun inclusion nonetheless—what other colour would be within a bunny's stomach but orange for all the carrots it eats?
In many cultures around the world, eggs symbolise rebirth or new life, and the painting of Easter eggs are common in a variety of Christian traditions. These days, we have chocolate eggs with elaborate wrapper designs, and this LEGO set includes two eggs with similarly elaborate designs. They are advertised as customisable, as you can mix and match the 1×1 round quarter tiles (three colours) which encircle the middle of each egg. Someone wiser than I can do the permutations of possibilities.
Playability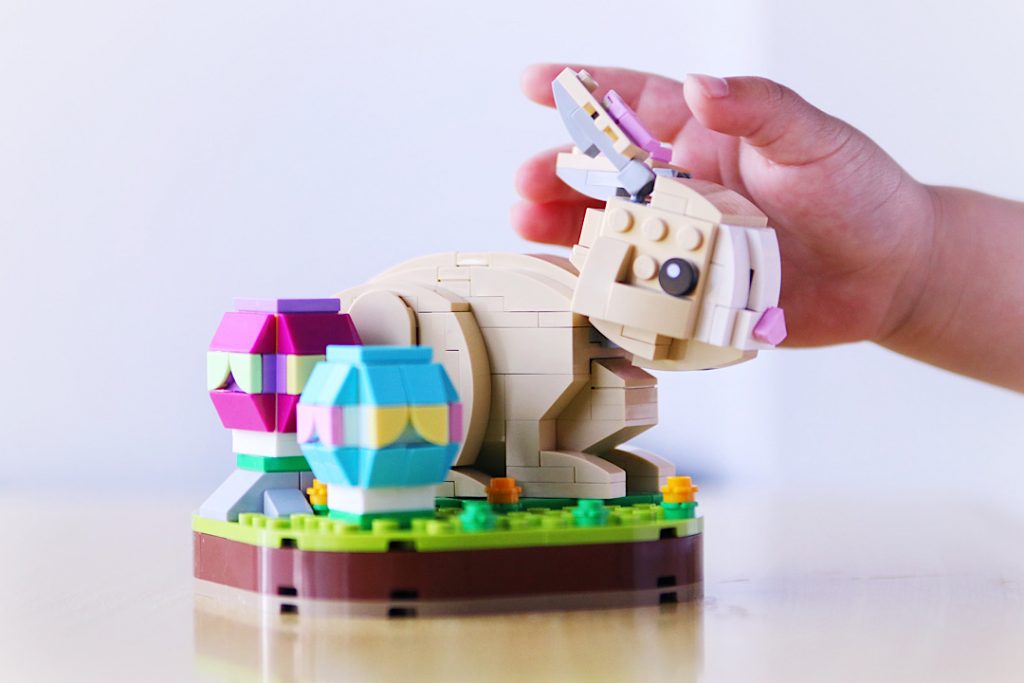 Admittedly, when I first received this set in hand, I was tempted to dismiss it as a display-only item. However, I was thrilled to discover it has some playability. As mentioned above, the eggs are customisable, and if you have various spare 1×1 tiles, I'm sure you can decorate them in countless ways. The bunny and eggs are also easily detachable from the meadow base.
Bunny has seven points of articulation:
2x strong hind hips
2x fluffy ears
1x functional neck
2x rotating eyes (Yes, I'm counting them, too.)
This gives options for posability and expressions—it's amazing how tweaking the positions of the ears, eyes and head can portray various emotions.
Photographic quality
Well, the build is now complete and it's time to take it out into the field for some shots. I went into my wife's veggie patch as it seemed like the right environment for our bunny.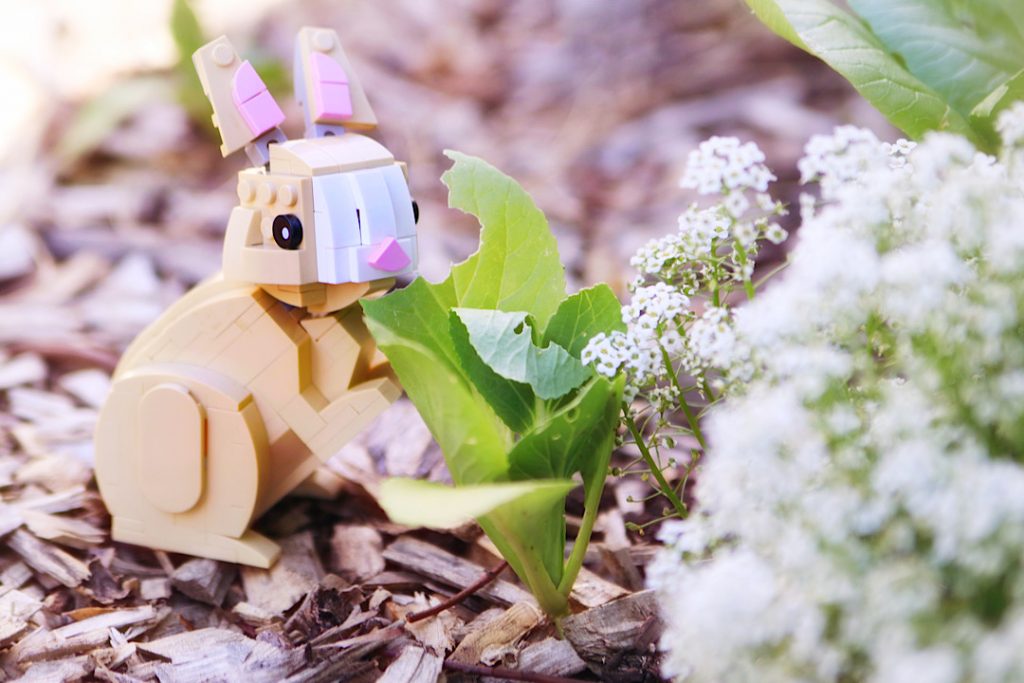 Alas! Once outdoors and having its fill, Bunny bolted out into the nearby forest!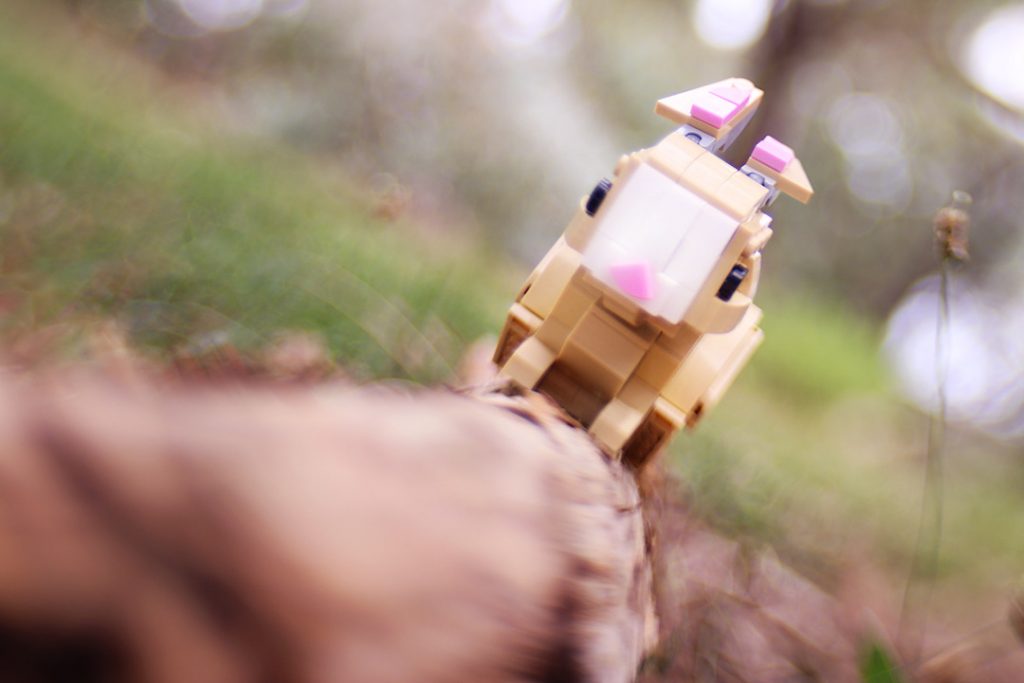 In conclusion
In summary, this LEGO set is fun to build with some surprises along the way. If you're looking to have a realistic looking LEGO bunny, this is a very good option compared to previous LEGO Easter Bunny iterations. There is lovely photographic quality with the stud-less finish, and numerous options for poses and expressions with the articulated joints, such as standing, sitting, running and jumping.
This set is scheduled to launch on 1 February 2021 so keep a lookout before the bunny zooms away. It will be available for €14.99/$14.99. Thank you ToyPhotographers.com for the opportunity to review this cheerful set, and LEGO for providing it for review.
Howdy! While you're here, we invite you to sign up to our weekly Toy Photographers email roundup where you'll get a recap of all the week's babbling. And while you're at it, you should definitely join our MeWe community! We hold monthly contests with prizes and lots of other cool stuff.