When I first saw the LEGO Jurassic Park T. rex Rampage set (75936) last year, before it was released, my jaw dropped open about as wide as the gaping maw of T. rex on the front of the box. Then I got busy and forgot about it. I wasn't reminded about it for over a year because for some reason beyond my imagination I have not seen toy photographers using this model very much, save for a couple early reviews and collector shelf displays. What is wrong with you? (Please forgive me if I missed your work.)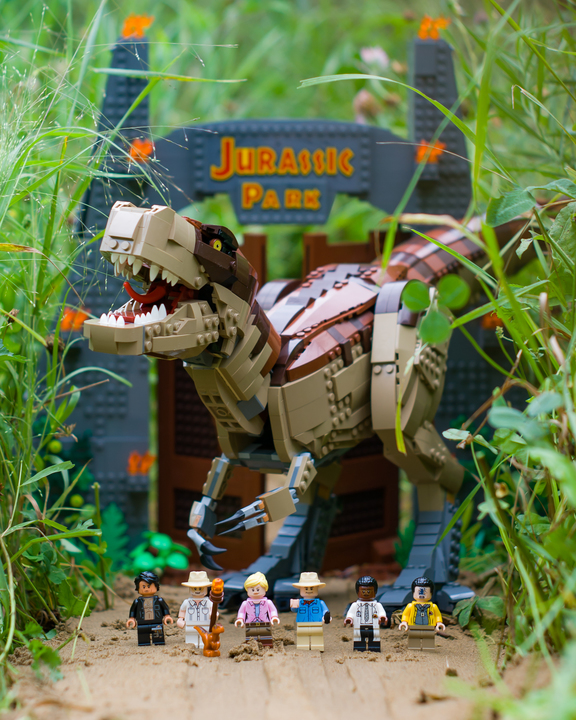 A two-part build
Let's go over the build first. This is a 16+ build with more than 3,000 pieces. The build comes in two parts with two separate instruction manuals. Bags 1–7 complete the T. rex, and bags 8–15 form Jurassic Park's iconic gates.
This split highlights one of the great aspects of this build. It's perfect for two people to work on together. Because it comes with two separate manuals, each half of the project can be done simultaneously by a pair of builders. Each half of the build took about four hours to complete, so they are pretty well balanced that way, too. And if you prefer cooperative building, each model has a lot of symmetry, so you can take turns building the similar elements. That way everyone can enjoy constructing all parts of each model without feeling like they are just building the same thing over and over.
Roberta (Rexy)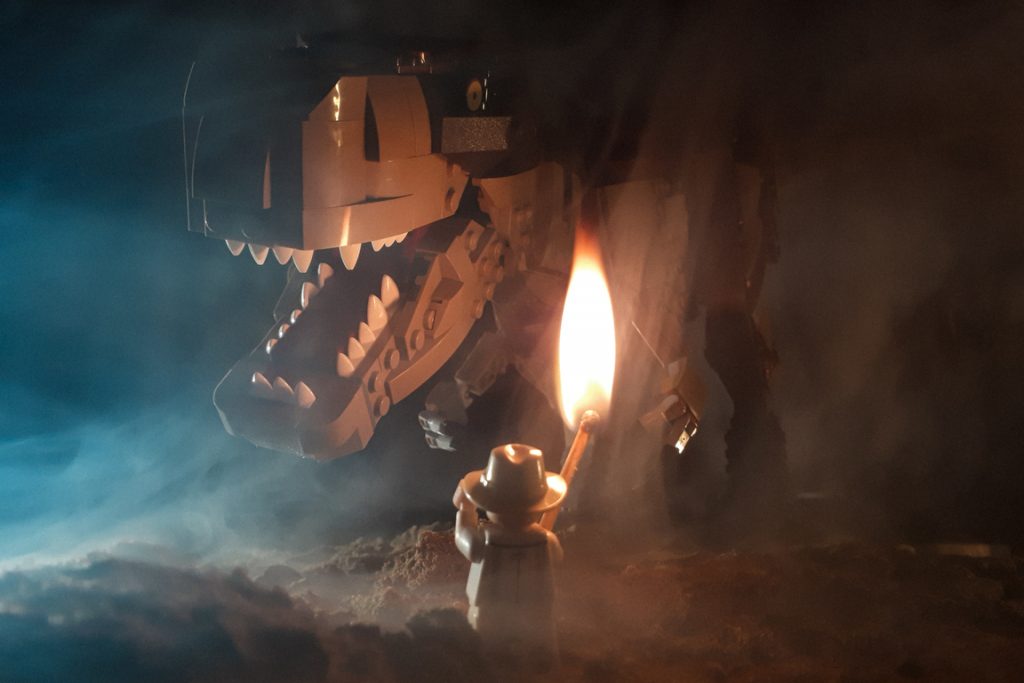 The T. rex half is a masterpiece. Organic design with linear parts is always a challenge, but the T. rex lends itself almost perfectly to this style as it is not perfectly smooth like a car body. All the blocky edges blend into what would be the tendon, muscle and skeletal structure with rough skin stretched over it all. Even the studs are welcome. They add a very natural random scale texture to otherwise smooth, shiny curves.
For those with technical interests, the hips are beautifully designed. They use gears and ball joints that utilize opposing motion and friction to create a joint that is stiff enough to support the great size of this model but is still smooth without incremental angles. They also allow for the joint to twist along multiple axes. This really helps when trying to balance the model on uneven terrain.
Articulation of the tail, neck, mouth and arms are also very solid. The head joint is the only weak one. The neck can be raised and lowered (not quite as low as I'd like), but the head needs additional support to remain raised. However, this is acceptable as the ball joint allows the head to be twisted side to side, cocking the it at odd angles, which is more valuable for posing.
My only criticism of the design is directed at a couple of parts on the underside. There are at least three locations where I think an upside down wedge would have streamlined and filled out the structure under the tail, and perhaps the jaw, when viewed from low angles. Otherwise, this is one of the better looking undersides on a LEGO model.
The gate
I found the gate build a little lackluster after making the beautiful dinosaur. This is, however, likely a tribute to nature's beauty when compared to theme park aesthetics created by eccentric billionaires. LEGO's design is spot-on with the movie, complete with gear-actuated doors. The final product is actually quite impressive to look at.
I also appreciated the miniature sets from the movies that were incorporated into the interior of the gate pylons. Each minifigure has a set to inhabit that corresponds with a moment in the film. While each set is small, the details are well realized and yield some of my favourite parts. These include printed, round 1 x 1 tiles of beer can lids, donuts, and cool swirly pastries that look like dazed or hypnotized googly eyes.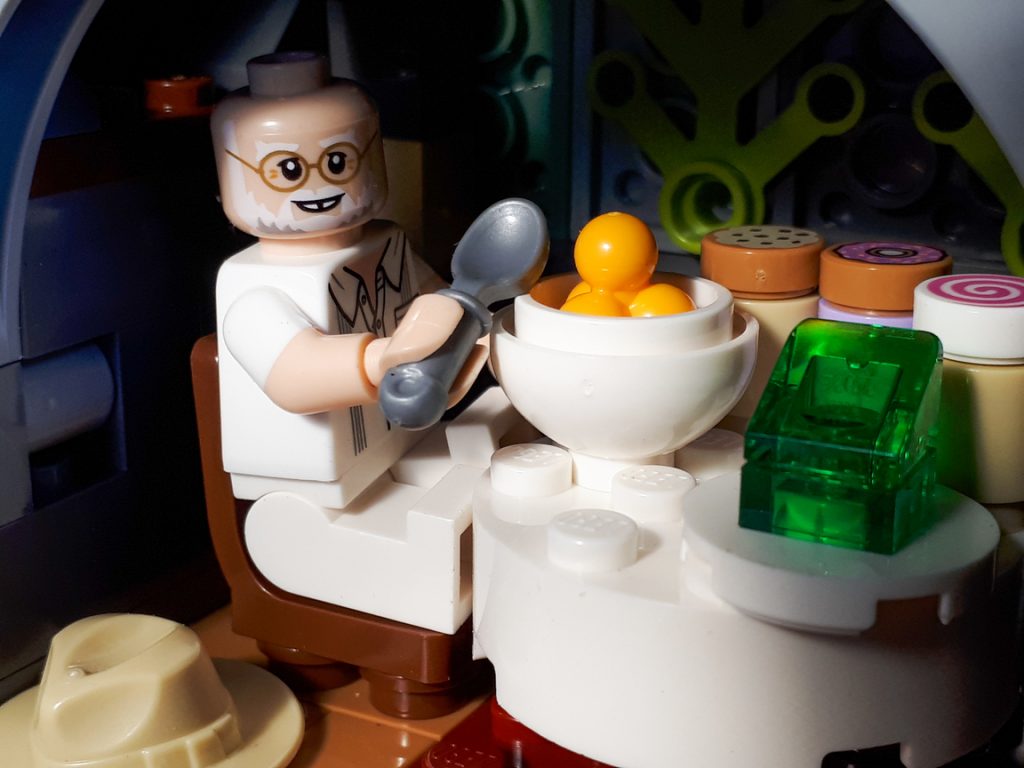 The CRT computer screens (stickers) evoke nostalgia, and the accompanying printed keyboard tile is beautiful and so detailed you can actually read the letters on it.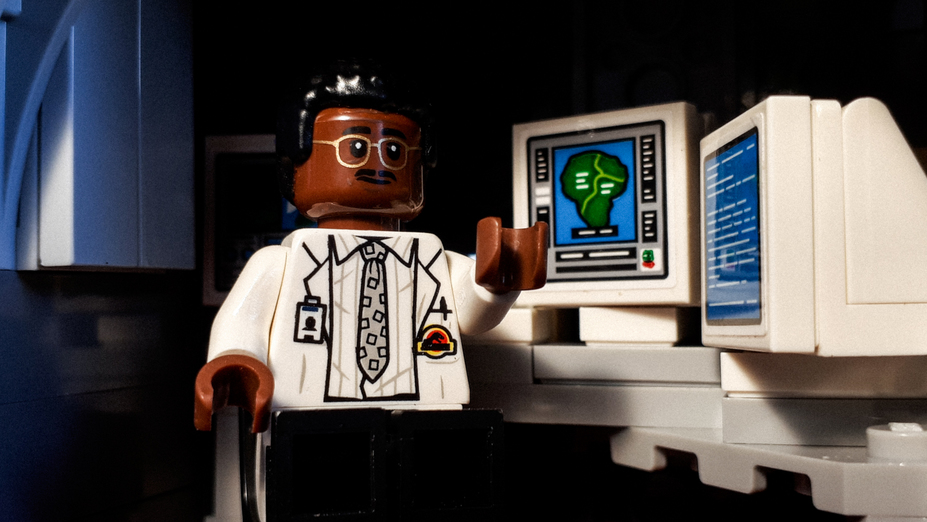 My wife was delighted with the split dino egg and baby T. rex as well. Another highlight is the toilet—while the appropriate film character is not included, you can now shoot a glorious death scene for Samuel L. Jackson in his place (he never got one in the film due to a hurricane in Hawaii).
I was very pleased with the amount of greenery included in the set. I find LEGO sets are typically stingy on foliage. But there is enough included on the base of the gates to fill some fairly large scenes.
Minifigures
The minifigures included are excellent. They include John Hammond (Richard Attenborough), who has a great old man face with cool gold glasses; Ian Maolcom (Jeff Goldblum) who sports a fantastic bushy, sweaty chest; Alan Grant (Sam Neill) complete with cravat and mole on his cheek; Dennis Nedry (Wayne Knight aka Newman) wearing a flattering acid face peel; Ellie Sattler (Laura Dern) who has a great shorts/boots combo; and Ray Arnold (Samuel L. Jackson) with gold glasses and labcoat.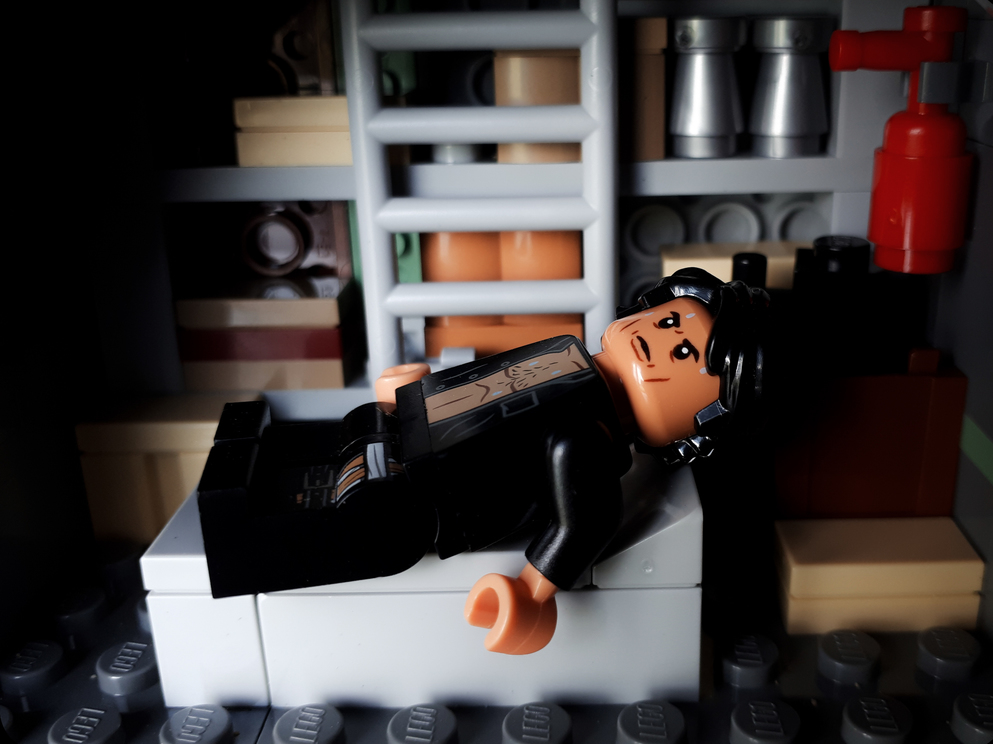 What's missing? The children. They really would have completed this flagship Jurassic Park set. Perhaps this is just good marketing, because now I want to buy sets that include a jeep, the kids and the acid-spitting Dilophosaurus (how did Newman get acid on his face in this set without it?).
Shooting dinos
From a photographer's perspective, this set offers a lot. The scale of the T. rex is by no means accurate with the minifigures. It measures a little over 27 inches (69cm) long. That puts it at about 1:20 scale, or about twice the size of the 1:40 scale minifigures.
This math is based on the 44-plus-foot-long stat included on the T. rex fact sheet sticker. Where this stat came from is beyond me—the largest T. rex on record is less than 43 feet long, and the model of Roberta (Rexy) in Jurassic Park was only 40 feet long. Anyway, it doesn't matter. The size is fantastic for photos.
When shooting figures close up at wide angles with large creatures in the background, you often diminish the apparent size of the monsters. Obviously I would much rather exaggerate my imposing monsters and the oversized scale allows me to do this, even when it's in the background. That being said, the perfect scale match for this dino would be 3.5-inch figures.
As previously mentioned, this model has fantastic articulation allowing for a diverse range of poses, but because of the minifigs' size, I tended to lean toward a head down, tail up position so it can get low enough to interact with them.
The model is sturdy and has survived me trucking it around outside quite a bit. It requires commitment for outdoor photography though, as it is not pocket-sized, or even backpack-sized. The same thing goes for the gate. Sturdy and easily movable without damage. But it will be the only thing you will be carrying as it requires two hands.
For studio photography, the gate provides lots of flexibility. The front panels can be easily removed to allow more light, space or backgrounds to be added to the tiny sets. The removable panels are also a great feature for setting up random fill terrain in the form of floors, walls and greenery backdrops. So, while the sets themselves are small, the scenes that you can create with elements from the gate can be considerably larger and diverse when reconfigured.
Conclusions
Final verdict, this is my very favourite LEGO set to date. I'm not one to use my LEGO as decor, but I will display this T. rex in a very public part of my house. Partly for show and partly because I want it easily accessible for photo shoots. This set will provide material and inspiration for years. Snap it up if you can.