Being a long time Lume Cube fan, I was super stoked to get the chance to put their latest product, the Lume Cube Panel Mini, through its paces. During that time I found a lot to love about the panel, and one surprising design flaw.
Disclaimer: Lume Cube was generous enough to send me a Panel Mini to review. However I am under no obligation to them to spin the Panel Mini in a positive way. The following are my opinions and my opinions alone.

I am on record many times saying that I highly recommend the original Lume Cube lights (the square ones), and I think that any toy photographer should have a pair of these in their bag of tricks. So, I am also going to compare the two throughout this review, and try to answer whether the Panel Mini replaces the original Lume Cube as the top dog of lights for toy photographers or not.
Panel Mini features
The box comes comes with the panel itself, a USB-C cable, a hot shoe adapter and a rubber diffuser.
The panel itself is just slightly larger than a credit card, and less than half an inch thick, which means it will slide into your pocket or bag very easily. At 3oz it is quite light. There are 1/4″-20 tripod mounts on the bottom and side, which allows for the light to be mounted horizontally or vertically on your light holder of choice.
The Panel Mini's light comes from 60 LEDS, which can be colour temperature adjusted from 3,200K to 5,600K (or, for the less technically inclined, from daylight balanced to nice, warm golden hour-type light). Illumination can also be brightness controlled from 1–100% in 5% increments.
A really nice feature is the inclusion of an LCD screen that displays all of the Panel Mini settings, including battery status, light temperature and light intensity. This is a vast improvement over the original Lume Cube lights, which doesn't provide any status information, leaving one to guess.
The Panel Mini is controlled by a single button and single wheel on the side. This button doubles as a power button, as well as switching between light intensity and light temperature modes. The wheel is used to make the actual adjustments. The side of the panel also contains the USB-C port.
To turn the power on/off the button needs to be held for 5 seconds, which greatly reduces the odds of it turning on in your pocket or gear bag.
Battery life, power & heat
One of the biggest issues with portable lights like this is power management. They all have smaller batteries that don't last that long. It's a constant struggle to guess how long lights are going last in the field.
Never one to trust manufacturers specs, I tested the battery life myself. At 50% brightness and a full charge, the Panel Mini lasted 2 hours and 17 minutes. At 100% it lasted an impressive 1 hour 15 minutes. In contrast, the original cubes last only 30 minutes at 100% brightness. These numbers match up pretty closely with the manufacturers specs.

Hands down, these are the longest lasting battery powered lights from a power perspective I have ever used (Lume Cube brand or otherwise).

As a bonus, the Panel Mini runs (and even charges) at 100% brightness when connected to the USB-C cable. This means these lights can run continuously in a studio setting. One could also conceivably connect them to a USB power pack and get extra long life in the field.

The largest downside to the original Lume Cube square lights is that they get incredibly hot at 100% brightness—not just unpleasant to touch, but first-degree burn levels of heat. It happens with all four of my cube lights. As a result I rarely use my cubes at max power, sticking in the 50% or lower range.

In contrast, the Panel Mini only gets slightly warm to the touch, even after 75 minutes of maximum brightness. (As an aside, I found, based on the highly scientifically accurate "touching with my finger" method, that the panels stay cooler if you screw in the aluminum hot shoe attachment to the side of the panel. The hot shoe seems to act like a mini heat sink.)
Panel Mini light quality
From the perspective of an action figure or LEGO minifig, the Panel Mini is a large, flat light. As a result it is a softer light, which makes it nicer for those portrait-style shots of our beloved figures. To demonstrate I took two shots of my Hot Toys Doctor Strange figure with both the original cubes and the Panel Mini. With both the lights were in roughly the same orientation and distance from Strange, with the back edge of the light lined up with his eye.

First the original Lume Cube: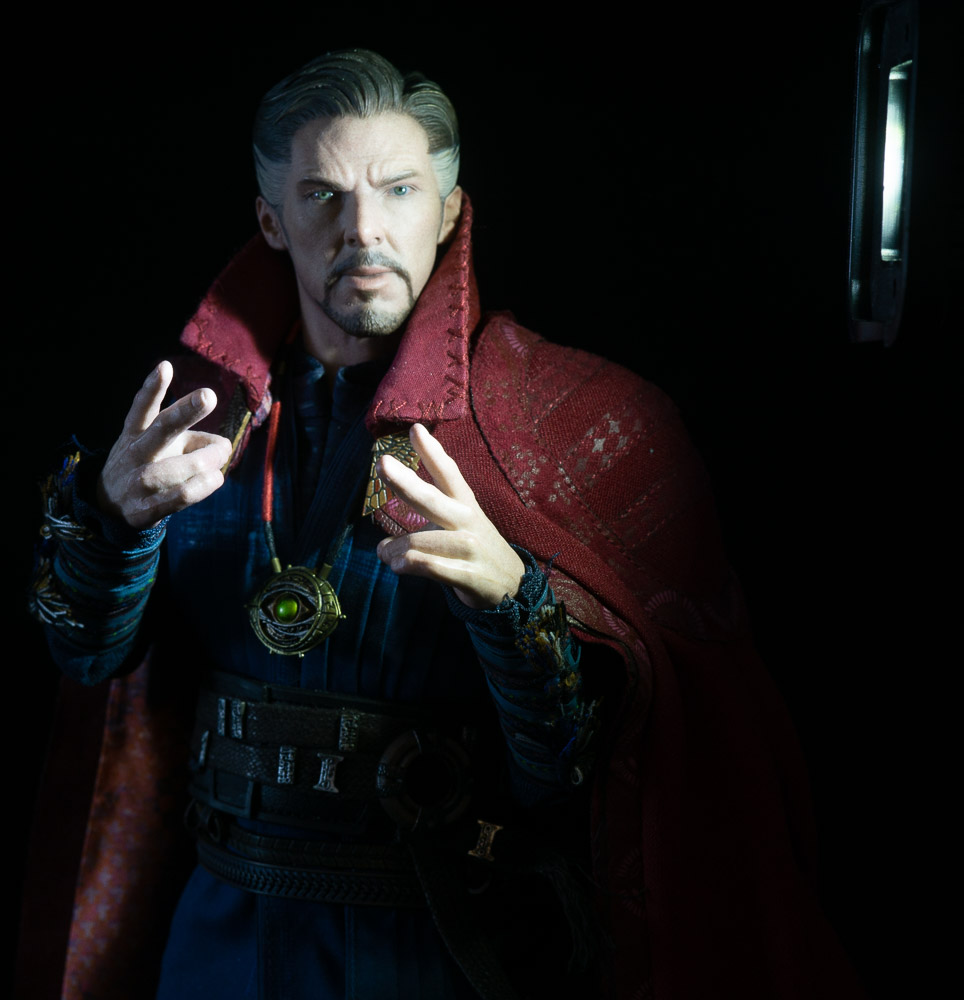 And the Panel Mini:
Both of those images are taken with the exact camera settings, and not post-processed (except to remove an annoying dust spot).

As you can see, the Panel Mini puts out a nice soft light that wraps around Strange's face. Whereas the original Lume Cube is a harsher, cooler light.
The Panel Mini is not as bright as the original cube. However it does put out (faux-science jargon warning) a properly good amount of light. It's not as bright, but you likely won't notice if you don't look for it.
Weatherproofiness
This is the area where I think the Panel Mini really falls short. Unlike every other Lume Cube product, which tend to be practically indestructible, the Panel Mini is not ruggedized, and is not waterproof.
One of the big selling points of the original cube for me is its ruggedness. I have no fear of bringing them into the harshest environments. I've exposed them to the salty ocean surf and the sandiest desert environments. I've used them in rain, and thrown sand and flour at them for practical effects, and just toss them in the bottom of my camera bag and don't give it a second thought.

I cannot say I'd do the same with the Panel Mini. To be fair to Lume Cube, the panel wasn't designed for toy photographers, or for putting in harm's way. It was designed as a portable light for podcasters and the like. For that purpose the decision to trade waterproofiness for a cheaper price point is likely the right one. It's just not the right one for toy photography, especially those of us who thrive in the harsher environments.

I am actually pretty disappointed in the loss of this ruggedization. This light is pretty solid in every other way. As a result this light will likely mostly see studio work or fair-weather field use.
Conclusions and comparisons
So, all in all the Panel Mini is an excellent light. It produces bright, clean light. It has a long lasting battery for a light of its size, and the ability to control the colour temperature is a nice touch.

So the question remains: Will it replace the original Lume Cube lights? The short answer is no, but that doesn't mean its not worth having in your lighting tool kit.

The original cube really shines for its brightness and accessories. It comes with filters that can be used to control the colour temperature. I only ever use the orange ones, which the Panel Mini does natively, so the wider range of light colour modifications is less important to me.

The original Lume Cube also has snoots and barn door attachments for narrowing the light beam down considerably. That is super handy for dramatic shots or special effects shots. The original cube, however, is very poor at creating diffused light to simulate a soft-box. It does have a domed diffuser, but it doesn't quite deliver the same level of light diffusion that a soft box provides.)

The original cube's strengths are in powerful, narrow lights. The Panel Mini excels in soft, diffused light. This makes them complementary tools in the lighting toolbox.

At $59.95 USD, the Panel Mini is competitively priced. (The original Lume Cubes sell for $89.95 USD each—both prices from lumecube.com.)

If you can afford only one light for your toy photography I would still recommend getting the original Lume Cube. But if you want to round out your light generating arsenal, you won't regret picking up a Panel Mini or two.
[dave]
Want more toy photography goodness? Subscribe to our weekly email round up so that you never miss a post. You can also listen to episodes of the podcast!