One small step… you know the rest!
To celebrate the 50th anniversary of the Apollo 11 mission, LEGO has released the Creator Expert 10266 NASA Apollo 11 Lunar Lander set.
This is difficult set for me to review. Well, difficult to review from a toy photography point of view anyway. Let me explain why…
This set touched down already built… and glued, for a LEGO photography project. Sure, that cut the time it took to deliver photographs back to LEGO, but it also impacted on my inspiration process. You see, when I'm photographing a LEGO set, a big part of the inspiration for me comes from the building. As the set takes shape, photography ideas also take shape.
"Mystery creates wonder and wonder is the basis of man's desire to understand."
– Neil Armstrong
Another thing that made this a challenge to photograph was not having the box or the instructions. It wasn't until I'd finished photographing it, that I accidentally discovered some of it's playability features…features that could've added to the photographic inspiration! There is a hidden compartment that open to reveal the camera that filmed Niel Armstrong as he climbed down the ladder to the moon's surface. There's another compartment on the opposite side on the Lunar Lander too.
The ascent stage detaches from the landing stage. It consists of three parts and the "front and back" sections can be removed to open up and expose it's interior. Again, I didn't discover this until after I'd sent LEGO my photos. Now that I have, I only wish there was an easy way to inject some light into it.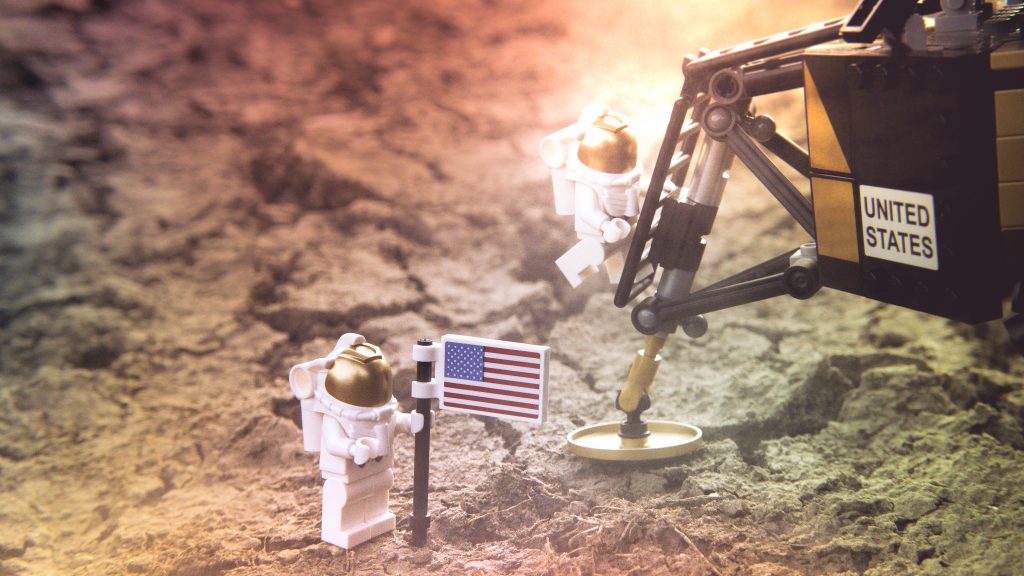 OK, maybe my review of the NASA Apollo 11 Lunar Lander, isn't really a review of the set and its photographic potential. Maybe it's more a review of my creative process with LEGO photography. Sure, I struggled to find inspiration in an already built set. And yes, the scope of the project requiring submissions to reflect historically accurate images stifled any addition of humor into the photos I create. But, the NASA Apollo 11 Lunar Lander is a fun set to photograph!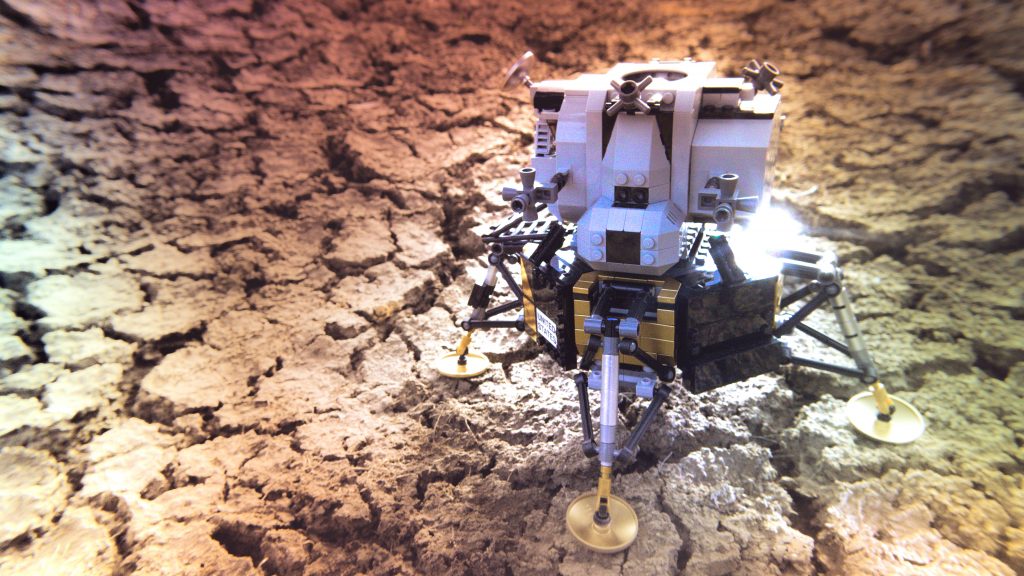 It's small enough to transport easily, yet big enough to make an impact! And now that the LEGO photography project is done, I'm sure I'll be photographing it again…now that I know some of its hidden features and being able to inject some humor into the photos I can create.
For those attentive readers, the first three photos in this post were taken on the "lunar landscape" of dry cracked mud under the bridge at our lake. And for those who sent me good wishes for rain, that location is now a foot under water!

– Brett
Want to stay updated with everything that happens on Toy Photographers? Subscribe to our weekly email roundup so that you never miss a post. While you're subscribing, do the same for the podcast! And be sure to check in on our communities on MeWe and Flickr.