What a year this has been! But before I say goodbye to 2018, I want to take the time to acknowledge a few of my favorite blog posts from this year. Let me grab a fresh role of toilet paper (TP) and I will get started awarding the first annual TP Awards of Excellence!
The Criteria
I will be completely transparent and let you know that these awards do not reflect the opinions of any of the fine folks who work on The Toy Photography Blog.  These "awards" of excellence are simply my own completely subjective opinions.  When I look back over a year of nearly daily publication these are the posts that stand out for me. These are the posts that make me laugh, have touched me deeply or taught me something. So without further ado, let me present the first Annual TP Awards!
The post that made me laugh the hardest
The Rules of DEIMOS, by Dave DeBaeremaeker had me grinning and laughing from the very first paragraph. If you haven't met Dave, he falls somewhere on the spectrum between Santa Claus and Deadpool. There is always a smile on his face, a twinkle in his eye and a sarcastic comment on his lips. As I was reading The Rules of DEIMOS I couldn't help but see him holding his package of Tim Tams trying to catch James eyes at the Oregon Toy Photo Safari pot luck. I was imagining this situation and laughing all the way through the post.
But besides the humorous way the post is written I like what Dave has to say. I like his idea about creating rules for your own personal universe. Rules that make sense to you and that reflect your values and ideas about toy photography. These rules can reflect the characters original story, or move in the opposite and unexpected directions; you're the boss. Having a set of creative guidelines is a great way to develop a consistent style. But like all the rules of photography these are only guidelines and are made to be broken.
So thank you Dave for creating this wonderful post and all the other great posts you contributed this year. Congratulation on your TP Award of Excellence!
Posts worthy of a second or even third look
Two posts tied for this TP Award of Excellence: How Do You Achieve Unlimited Power? by Tom Milton and Lessons from the Cinematography of The LEGO Movie by Anna Bitanga. I'm a big fan of both of these artists and to have them contribute these amazing behind the scenes look at their thought process was a treat. Not only did I learn about the creative effort they spend on their photos, I took away actionable items to try in my own photography.
If you're looking for some creative low-fi tools to create practical effects I highly recommend Tom's article. You may be inspired to try his creative technique, or at the very least you will better understand the effort he puts into his images. Now when I see his work, I'm even more impressed. Now to find me some old CD cases….
Lessons from the Cinematography of The LEGO Movie was no less inspiring. I have always been a little intimidated by studio photography and lighting. But Anna breaks down the principles of rim lighting, fill light and subject separation in such a clear way that I'm inspired to try my hand at a creative lighting project over the holidays. I love how she shows want it takes to build up an image, but revels her thought process at every step of the process. If you're looking to improve your control of lighting, I highly recommend this post.
Thank you Tom and Anna for creating these fabulous contributions to the blog. Congratulation on your TP Awards of Excellence!
Best product review
We feature our fair share of product reviews on the blog and we ask our reviewers to create their reviews from a photographers view point. There are plenty of places you can go for unboxing videos or reviews about the nuts and bolts of a particular toy or LEGO set. But where can you go to see if a toy is worthy of your photographic time?
My absolute favorite review of 2018 is the Licensed to Build – a review of the LEGO Aston Martin DB5 by Tony Tulloch. This is a clear case of turning lemons into lemonade. Tony made no secret of the fact that he truly enjoyed building this set, but was completely uninspired by its photographic potential. But like the McGyver of toy photography we all know he is, Tony took the set and created a truly unique review. If you haven't checked out his homage to a fictitious James Bond MI5 equipment catalogue, I encourage you to check it out.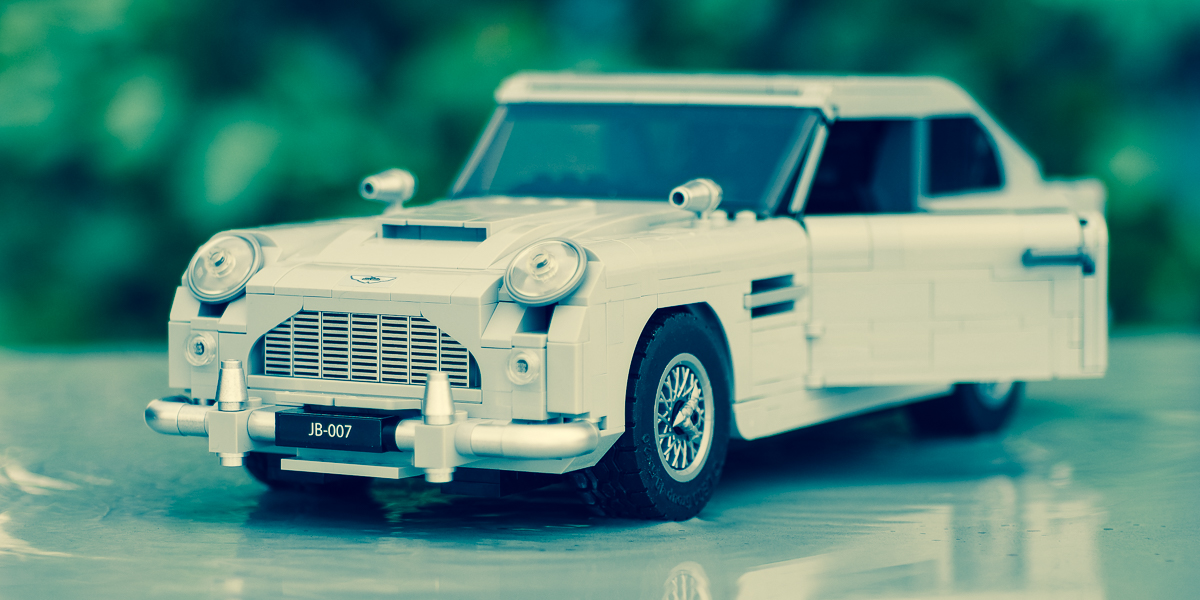 Thank you Tony for creating this fabulous review. And thank you for all you do behind the scenes to keep our MeWe community a fun place to hang out. Congratulation on your TP Award of Excellence!
Favorite Six Image Narrative
When I started the Six Image Narrative series in May, 2017, little did I know that we would be going strong 18 months later. By keeping the rules behind the series as vague as possible it has allowed each photographer to interpret the theme in their own unique style. The posts have ranged from the serious to the silly, from the abstract to the topical. But one series that stands out from me this year is My Own Dove by Yuri Bader.
Who knew six images could evoke so much emotion? This is such a simple story that hits all the emotional highs and lows of the best narratives. I think Yuri is a poet at heart and I'm so glad he shared his picture story with our community. Congratulations Yuri on your  TP Award of Excellence!
Favorite Podcast
James has created some amazing content through his near weekly podcasting. Their has been interviews galore, roundtables and of course his thematic series with Kristina. My favorite of all these is hands down the episode on Fear. While I personally haven't explored the concept of fear in photography I found myself thinking a lot about the topic. What do I fear and how would I portray this in a photograph? If thats not great programming, I don't know what is. So thanks James and Kristina for inspiring me to think deeply about photography and its deeper meaning. For this I give you both a TP Award of Excellence!
The Disappointments
2018 has been a fabulous year. The blog ran like clock work, we've assembled an amazing team of professional and carrying writer / photographers and we even moved our associated community with very little drama.  But even with all this success, the year wasn't without its disappointments.
The post I didn't write
In September I wrote a post about Fair Use and Toy Photography. This has been a recurring topic for me and I wanted to update my views on the topic. In fact I had scheduled and interview / conversation with one of The LEGO Groups lawyers and wanted to share the information I learned with the community. During our conversation I was asked not to write a post about our conversation. This request was made even though I sent the questions in advance AND I was clear that I wanted to share the results.
So if your curious about selling your work and want to know what I learned, please contact me directly. I'm not sure what light I can shed on the subject, but I did learn that LEGO is still the nicest company to work with. If they decide to sick the lawyers on you, they will be as nice as possible about it. Small blessings, right?
The photographer I miss
If you are like me and you've been around the community awhile, you know that photographers come and go. Life interviews, priorities change, people lose steam,,,its all a part of the process. Change is inevitable. But when a photographer who you've come to rely on as a member of the community AND who's posts you adore suddenly leaves the community, it leaves a hole. Marco, where ever you are, please know that you are missed. Its good to keep this hobby in perspective and not let it distract you from what is truly important.
Onwards and Upwards!
2019 is just around the corner and we're making plans for the new year. We have new writers coming on board with plenty of knowledge to share and there will be LEGO giveaways galore. We are even planning more meet-ups around the globe so stay tuned! Or better yet, join our mailing list so you don't miss out on any of the fun!
Thank you to everyone who has contributed to the blog by either writing, contributing a six image narrative, reading and commenting on our posts or participating in our MeWe community. You all deserve your own TP Awards of Excellence!
~ Shelly
I've shared with you a few of my favorite moments on the blog this year. What are yours? Do you have a favorite post, comment, topic or writer? Please share your thoughts in the comments below.
We're always looking for new writing talent, Six Image Narrative submissions and members for our growing MeWe community. If you want to get involved, let me know and I can let you know where to begin.