Toy photography is a relatively new passion for me. I've always enjoyed macro photography, mostly focused on the insect world and flowers. As my children grew, I used photography as a way of capturing their creativity, taking pictures of my son's Lego creations and my daughter's art. This year, as I searched for something special to celebrate my son Lewis's 15th birthday, the Toy Safari came up at just the right time to become a mother-son adventure.
A number of the attendees of the 2018 Oregon Toy Safari have shared their experiences at the event here on the blog. Much has been said about the benefits of getting to know other toy photographers in person, hanging out with people who "get" the toy photo passion, and playing with other people's toys.
It's true. All of it. (Did you hear that in Harrison Ford's voice? Me, too.)
It was also a wonderfully friendly group that welcomed a mom and her teen son, providing an accepting and positive environment for those of us new to this particular community. The trust, respect and generosity that I witnessed with this group of people is something very special. I discovered amazing open hearts inside the photographers whom I'd only known through the lens of their cameras before this event.
Still, given all the time I spent focused on time with my son during the safari, I wish I'd had more time to spend with each of the other attendees. And maybe that's why in some ways, the biggest impact of the toy safari has been what we experienced after it was over!
#1 Knowing the Person Behind the Picture
Shelly Corbett has said that she likes to put the social back into social media, and that's exactly what she did. Now that we've met 30 other toy photographers, seeing their work on Instagram and G+ is really different. I love commenting and knowing who is on the receiving end of my words.
This experience has had a transformational effect on my interactions with other toy photogs online. With this fresh realization of the full-faceted HUMAN on the other side of the photo, I'm interacting more with Instagram stories, leaving more comments, reaching out with direct messages to people I haven't met whose work I enjoy, especially if they are someone who doesn't already get dozens or hundreds of comments on their photos.
Take-away: Value the person behind the photo, and give them some acknowledgment and love.
#2 Sharing the Joy of Creation With Others
Before the Toy Safari, my photography was a solitary activity. Even when I was on a trip with the family, setting up and taking the shots was something I did on my own. I didn't want to impose on anyone else. I didn't want to deal with trying to communicate what I needed help with.
But the folks at the Safari showed me that there can be a lot of synergy in getting another brain involved. And there's a joy that can be shared by letting a non-photographer help with a shot. I'm forever grateful to the peeps who involved my son Lewis in spraying aerosol atmosphere or otherwise included him in their process. That was so cool!
I'm a lot less shy about involving others now.
Take-away: Bring someone along and don't be shy about collaborating or involving others in my hobby.
#3 Seeing Possibilities Beyond "My Usual"
As the photos taken on the Safari have continued to trickle out over Instagram (#ortoyphotosafari), it's amazing the variety that came from Oswald West State Park over just a couple of days. We went to other locations, but even just that one location produced a deluge of fabulous pics. Beach shots, rocks and creek, mossy nooks, ferns and trees, bright sunlight, dim shadow, cliff-like rocks, and knotted driftwood. You'd think we went to a different planet with some of those shots.
And the toys! Funny mashups, tender moments, epic action, everyday fun. Creepy, romantic, hilarious, thrilling, adventurous, calamitous, roguish. It broke me out of the boxes I hadn't realized I'd been working in, got me picking up different toys when I got home.
Seeing other established photogs stepping outside their "usual" has encouraged me to do the same and embrace more variety in my Instagram gallery. I'm still me, and you'll still see plenty of Kanan and Hera there, but now there's some different faces to enjoy. Especially the face of Ray Z. Tenny, my custom Lego guy from @krash_override.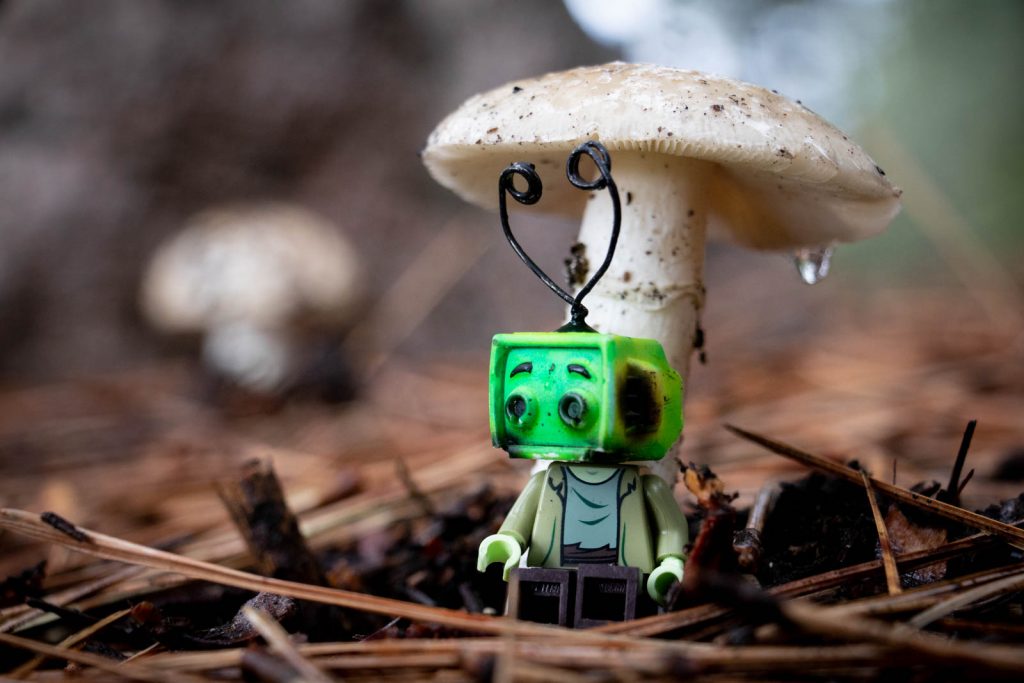 Take-away: Do something different. Grab a different toy, try a different shot, get outside your comfort zone and see what you find there.
It's Not Over, Not By A Long Shot
The Oregon Toy Safari is not over yet. It's still going strong: on the hashtag as we release more of the photos we took, and in our hearts as we act on the things we experienced during our time together. There are many more things that could be said about the time I shared with these toy photography peeps in Oregon, but if I wrote them all this would be a book instead of a blog post.
One last piece of encouragement to my fellow toy photographers: Find a few like-minded toy photographers in your area and arrange a meet-up. Pick a spot with a lot of nooks and corners for your toys (whether a park or a vacant lot or a scenic spot in your city). See what happens. Post the results on Instagram at #toyphotomeetup and tag @toy_photographers and @teddi_toyworld to share the joy!