This is my 400th blog post. It seems like only yesterday I was writing my 300th blog post. Where has the time gone? While my 300th blog post first appeared on Stuck in Plastic, my 400th blog post finds me in a very different place: The Toy Photographers Blog. So much has happened from blog post #1 to #400.
The early days
I started my journey as a toy photographer as an accidental twist of fate. A perfectly timed gift (series #1 of the LEGO collectible mini figures) combined with a heightened awareness of the new social media platform called Instagram lead me to the small but exciting world of toy photography.
Somehow, I fell into the role of clubhouse mom. Maybe it was because I was older than many of my fellow photographers; maybe it was because I have a strong mothering instinct. Whatever the reason I personally wanted to share my knowledge of photography and help my fellow toy photographers become better at their chosen craft. I was able to achieve this through my contributions to Brickcentral and my own photography.
In those early days there was not the exceptional quality of toy photography that you see today. We all exchanged information, shared what we knew and inspired each other. Somehow we all became better at what we love. I continue to be influenced and inspired to push myself as a result of the amazing photographers I know.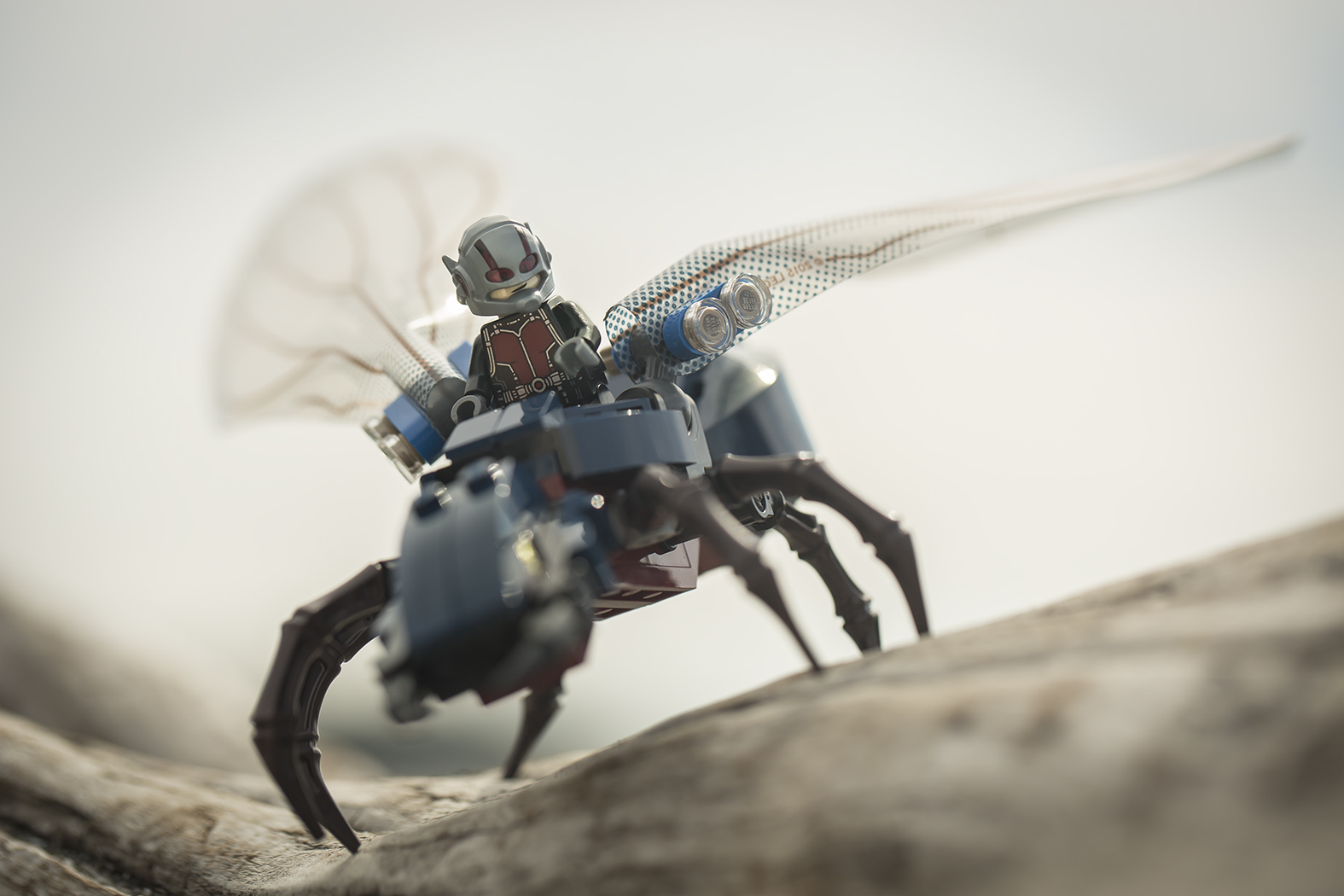 Blogging as a learning tool
When I first started blogging it was as a way to add value to my own work. Instead of being just a toy photographer, I would be the toy photographer with a kick ass blog. I wanted to create what is referred to as a "value added product". Of course the biggest reward to writing 400 blog posts, is how much I've learned from the community.
So many of my early posts reveal that I am an incredibly insecure artist. I've talked about feeling like an imposter, the anxieties of exhibiting alongside my earliest influencers and of course that I know shit about Photoshop. As I've worked my way through 400 blog posts I seem to have worked out a good many of my own insecurities and anxieties.
I have this community to thank for this unexpected turn of events. You have taught me how to make my toys fly, how to create cool lighting effects using a cardboard box and of course how to buy a vintage lens. With every blog post I research, write, edit or read I'm learning about my own photography. I will freely admit that sometimes I get frustrated that I do this for free, but then I'm reminded where the real value is; its in the sharing.
Week after week I listen to the Toy Photographers podcast week after week and I realize that I've inspired more than a few people. I'm embarrassed and humbled in equal measure the number of people who have said nice things about my work on the podcast. I want you to know that this feeling is mutual. Through this odyssey of 400 blog posts, I've learned so much it's hard to quantify.
Change is Constant
Over four years and 400 blog posts I've learned that change is constant. Not only have I changed over the course of the many thousands of words I've written, but the community has as well. I've made friends and I've lost friends. Fellow writers come and go, moderators in our G+ community change as people's lives change. It is all a part of the process. In the early days I took every lost follower and friend who drifted away personally. But I've learned that for most people toy photography is a stress reducer, it's a welcome relief from the drama and everyday pressures of life. It's a great way to deal with depression or a world that seems to be spinning out of control.
One change I can't reconcile myself with … it's the enforced algorithm if Instagram. We all knew that change would come when Facebook purchased Instagram. But did it have to be so drastic? For years my online social world revolved around scrolling through my feed until I reached a photo I had seen on my last visit. This way I knew I hadn't missed any posts from either friends or feeds that I enjoyed. Now when I get online I have to manual search for friends to see what I've missed. Often I leave a bunch of likes on a feed as I catch up on what I've missed. Frankly sometimes Instagram seems like too much work!
Speaking of change…as of June 4th, Instagram has a new algorithm. This one is designed to make sure that the posts you interact with appear higher up in your feed. Be sure and like the posts from people you want to see the most! While the new algorithm still makes it hard to discover new toy photographers, maybe it will help you keep track of those nearest and dearest to you.
While Instagram tries to figure itself out, I've had lots of time for my other love: G+. Our little G+ Community is small enough that I don't miss posts and many of my friends have graciously joined the group. With a smaller group there's more interaction and I've managed to recapture some of the excitement from my earliest days on Instagram.
The Future
I have no idea where the future will take me. Who knows, I might not even be photographing LEGO by the time I make it to my 500th blog post! So much has changed from my 300th to my 400th blog post anything can happen. Here are just a few of our accomplishments both professionally and personally:
Toy Photographers was launched January 2017
We became a Recognized LEGO Fan Media outlet
We've teamed up with the LEGO Ideas Team multiple times
We created our first book: A Year in Toy Photography; 2017
I spent some seriously amazing time with Kristina Alexanderson, Julien Ballester, Luigi Priori and of course my work husband Brett Wilson.
I visited Lego House and toured the LEGO factory in Billund
We started the Six Image Narrative
I've hosted not one, but two toy photography meet-ups
With the help of Leila Chieko we made a full length movie about the Seattle Toy Photographers Meet-up (more on that later)
I've begun to successfully sell my work locally
And so much more!
While its always fun to look back, there's so much more to come:
More contests are in the works
I'm always searching for amazing photographers willing to share their work on the blog
More opportunities to work with The LEGO Group
Cool swag will soon be available for sale on the blog
A super fun holiday project is in the works
Look for A Year in Toy Photography: 2018
The release of #SeattleToyPhotoSafari: the documentary in 2019 (sorry we want to enter it to a few film festivals)
And you know what? I think the world might finally be ready for us. With the impending release of a major film about the life of Mark Hogancamp, toy photographer and creator of Marwencol, I can't but think that toy photography is about to become mainstream. It feels like the rest of the world is realizing what we already know: toy photography is fun!
Conclusion
If you've made it this far, thank you for reading my ramblings. If you've enjoyed even a few of my posts, I thank you. As I continue on this creative journey I want to thank you for taking it with me. I promise that I will continue to learn about this fun hobby and share that process with you. In addition to sharing my own experiences I will work with the Toy Photographers team and extended family to bring you content worthy of your time.
Onwards and upwards my friends!
~ Shelly
As I make my way towards my 500th post, is there anything you would like me to write about? What are the issues that are vexing you? How can I help? Do you want to sell your work, do you want to learn how to print, do you want more ideas to help spark your creativity? Let me know in the comments what you've enjoyed reading and what you want to read next. This will help me to keep creating interesting content. 
I chose images for this post that have appeared at some point between numbers 300 and 400. It's interesting to note that they all reflect the concept of journey or as I like to reference: seeker. Somethings never change. 🙂