I don't usually pay much attention to the "Memories" that Facebook alerts me to every day, but one I received last week has me feeling nostalgic: I have now had my camera for six years!
6 Years Ago…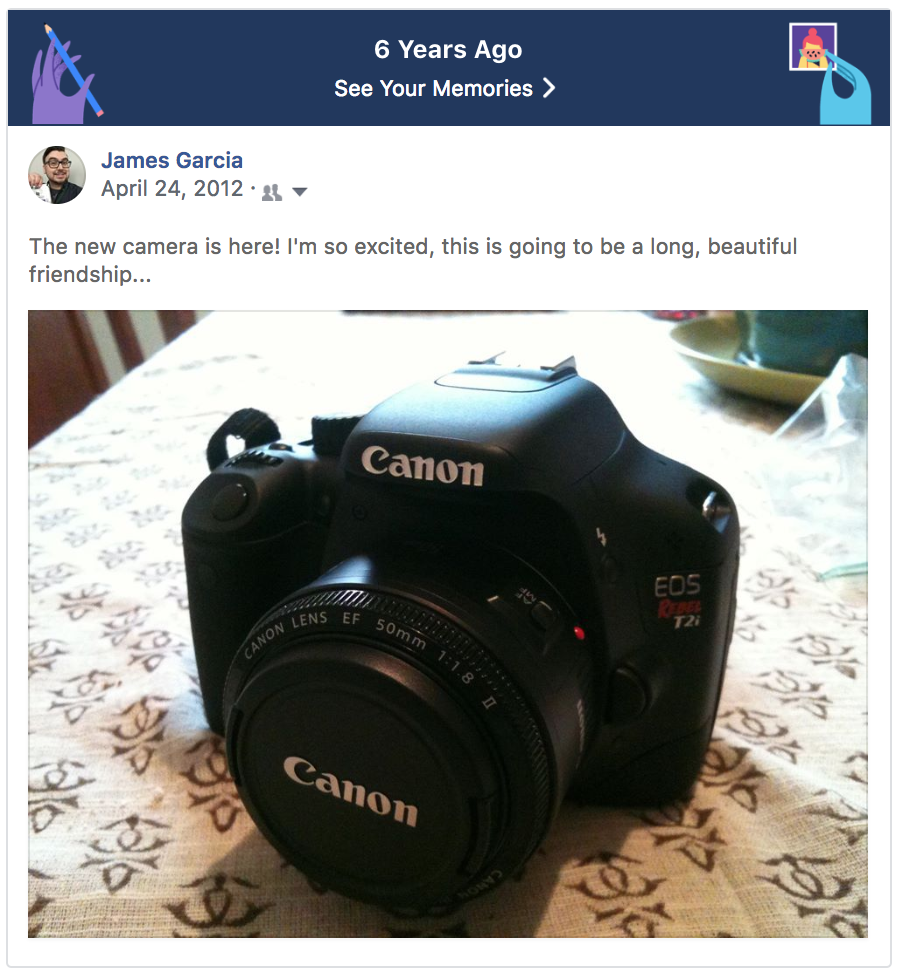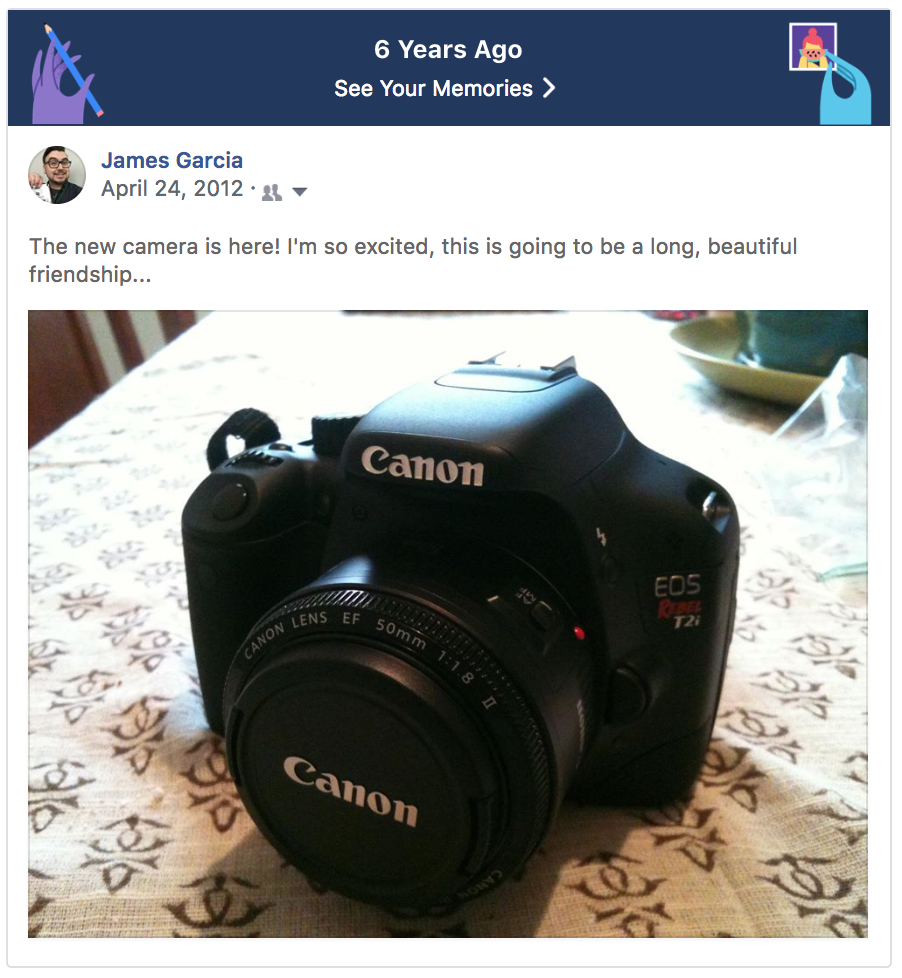 In my original post, I predicted that, "this is going to be a long, beautiful friendship…" Little did I know just what that friendship would entail, and how big of an investment I was making!
When I bought my trusty Canon EOS 550D Rebel T2i, toy photography wasn't even on my radar. I had seen some LEGO photos on Instagram, but I had yet to discover our community, which would have just been taking shape. I wasn't even a photographer, save for a few heavily-filtered Instagram photos that still exist on my original account.
I purchased the camera for video work, upgrading from a Canon FS100 camcorder I'd been using since 2008. I was just starting out in freelance videography and needed something that would shoot in higher resolution and offer me the availability to swap out lenses. I knew nothing about DSLRs at the time, and chose the T2i because I've always liked Canon and it fit into my budget.
It was love at first sight! Along with a "Nifty Fifty" 50mm lens, I was finally playing with shallow depth of field and taking more professional looking video. A year and a half later, I took my first toy photo.
Better Gear = Better Photos, Right?
I started getting serious about toy photography about two years ago, around the time of the Seattle Toy Photo Safari. I'd been shooting steadily for three years, but wanted to become more active in the community and take better quality photos. Naively, I thought I had the answer: I would just upgrade my camera! Having better equipment surely meant that I'd take better photos, right? After all, the photographers I looked up to all seemed to have more expensive gear. To do what they were doing, I'd have to spend money on something with more bells and whistles.
I spent hours on Google, trying to figure out what the "best" camera was. I watched countless video reviews on Youtube, and found websites that would give me comparison charts for various camera specs. Despite my intensive research, I never did upgrade. Instead, I decided to make the best of what I had, and realized that it wasn't my gear that needed upgrading – it was my own photography skills.
Technical Knowledge is Power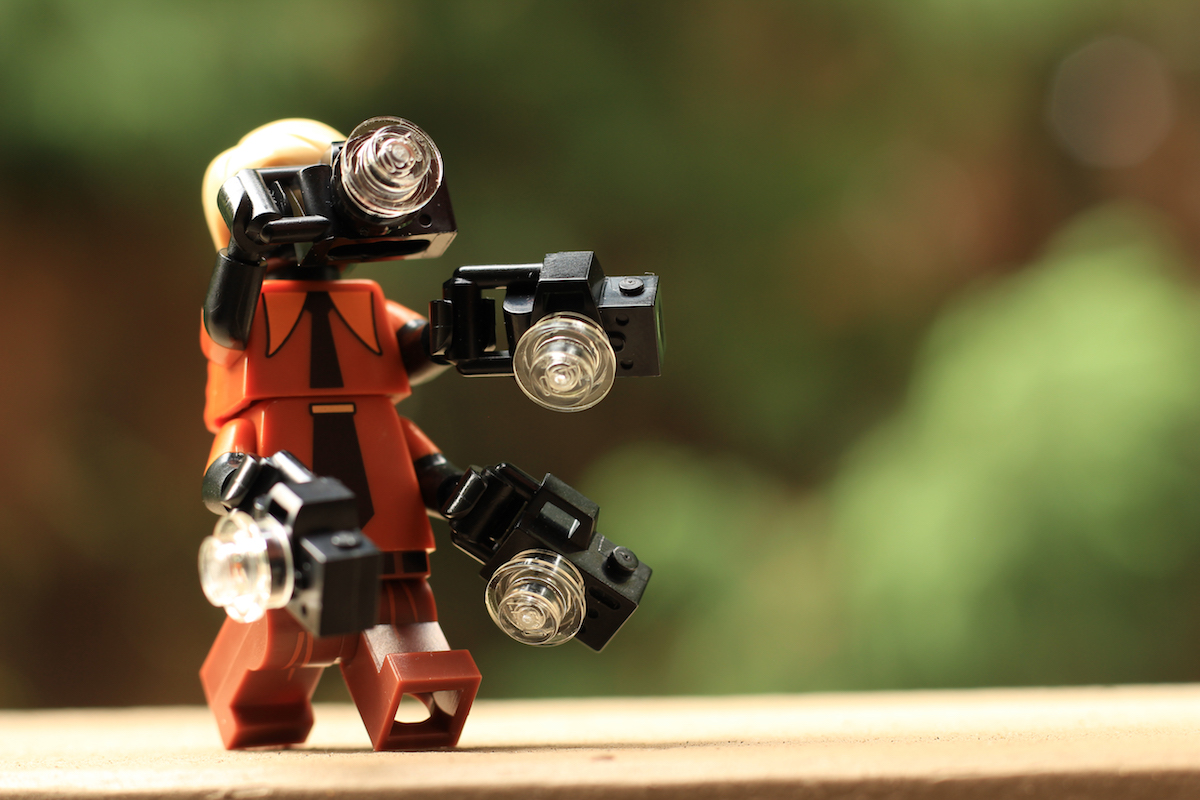 Instead of purchasing new equipment, I dedicated myself to understanding how my own camera worked. What did the buttons actually do? What did I have to do to capture the photos I wanted? Since confessing that technical jargon was my greatest photography blindspot a little over a year ago, I've managed to harness the capabilities of my little Rebel T2i. I'm now shooting in full manual, and know exactly what dial I need to turn or what setting I need to adjust to capture the shots I envision. I've never been more proud of my photos, and I'm using the same exact camera that I was six years ago. I even still use that Nifty Fifty lens!
Both Brett and Shelly have written about how photography has less to do with the camera you use, and more to do with how you use it. I don't think I believed it until witnessing it myself. I'm not saying I'll never upgrade my camera – but for now, I'm happy to have my Rebel by my side.
-James
How long have you had your camera? Have you ever had the urge to upgrade? I'd love to hear your experience in the comments below!
I'd also like to take this opportunity to remind you about the Downtown Diner giveaway! You still have two weeks to enter for the chance to win.