A Story of The 2018 Meet-up Giveaway Figure
Another year down…has it already been a year?! It seems like it was just yesterday that we were having pizza and beer at the G+ Headquarters along with exploring the ruins of San Francisco's famed Sutro Baths.  
Would you believe it if I told you that, during that time, I had already been planning the next year's (2018) CMF to give away?  Well, I was. In the past I've created custom figures ranging from known characters to my original creations like the Low-Brow and Eyeball heads. While these have been fun to make, there has always been one idea near and dear to my heart that I wanted to create.  I vowed to myself that 2018 would be The Year of the Robot CMF!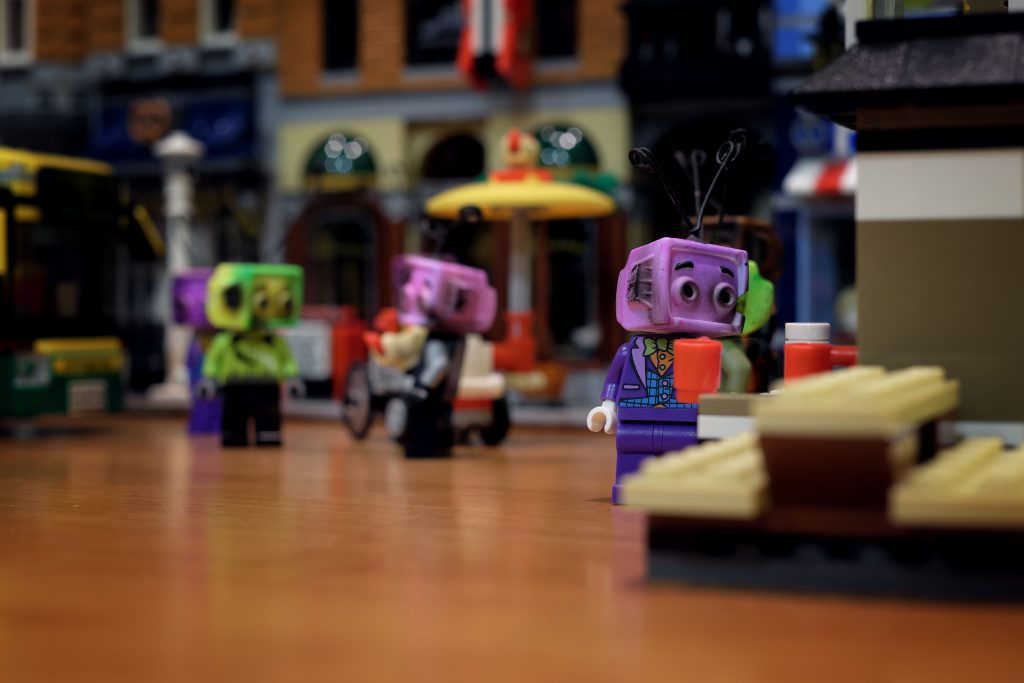 Humble Origins
Going into this project, I had no idea how I was going to make this idea happen.  I liked the idea of a "Security Camera Head' to spy on all the unsuspecting Minifigures of Lego City.  That idea was eventually put on the back burner for something a little more unexpected. You see, from time to time, I like to frequent "Swap Meets" (AKA – "Flea Markets" and/or "Car Boot Sales" for you British AFOLs). Sometimes I buy toys and odds and ends that catch my eye even though I have no immediate idea of what to do with them. I just know that it is cool enough to eventually do something.
This years CMF was one of those items. originally it was a simple Fifty-Cent purchase that sat on my customs table for a couple weeks until one day an idea hit me.  It was just about the right size for a Lego head.
I made a quick silicone mold with Smooth-On's "Mold Star-15" Platinum Cure Silicone. Once the mold cured I ran a quick test with Smooth-On's "Smooth Cast-30" Resin and drilled the bottom of the head to fit on a Minifigure's Neck Peg. It was a little big, but to my surprise, the over-sized head added to The Little Robot's charm!
Prototype
After I saw that the head fit, I thought it might be best to test the market so to speak. I wanted to see if this new bot would be well-received.  jANTMANuary was the perfect opportunity! I could make a quick run of the heads and give them away on Google Plus to gauge what people would do with these bots. Just as I had expected, the bots were a hit!  But I was not in the clear just yet!
I wanted to do something special for the meet-up…and I had already given away the figure by doing a test-run in January.  So, back to the drawing board! How can I make these guys different (or even) more desirable than the first?! The answer to that question was waiting for me in the jewelry-making/bead section of my local craft store.  After some testing, I landed on a slurry of aluminum wire, epoxy and paint to give the bots an added layer of character with a makeshift (and slightly mangled) antenna. After seeing the final prototype, I knew that I had the perfect CMF for this years meet.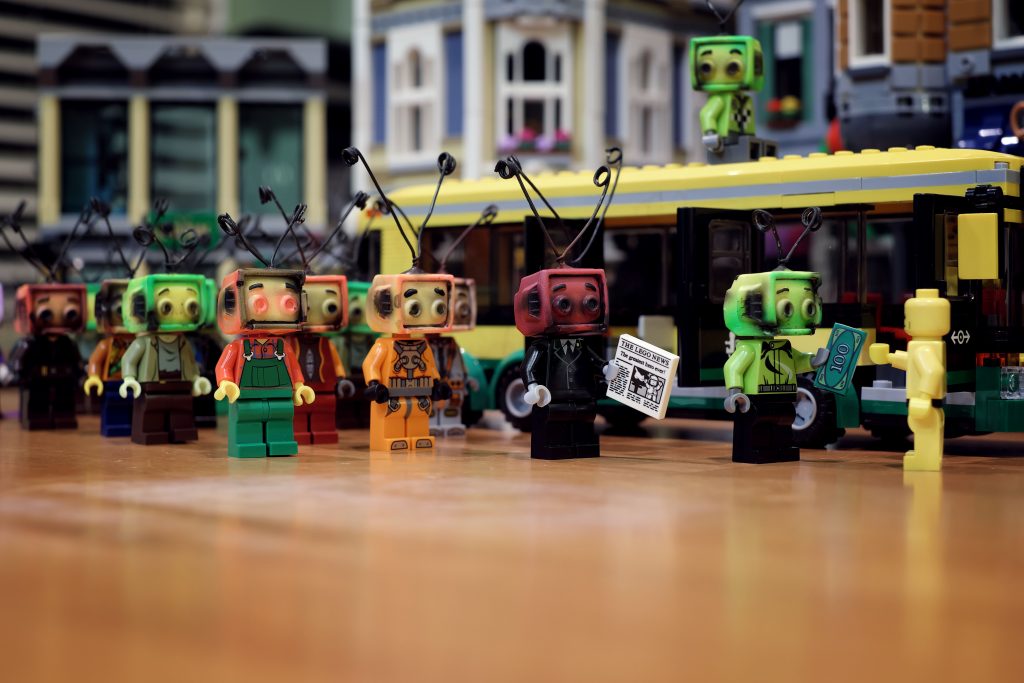 The Process
Anyone that has been following the #krashes_kustom tag will know that I enjoy "lifting the veil" of what it takes to make a custom action figure.  So as an added bonus to this years Toy Photographers meet-up CMF, I decided to film the process of making 30+ minifigure heads! Even though I learned that I'm not a fan of the video editing software I had at my disposal, I enjoyed showing what it takes to make a Custom Minifigure Head.
Last but not least, I want to add a quick warning for anyone that is interested in trying this out for themselves. Please be careful! I can't stress this enough. If you're under the age of eighteen, talk to your parents and make sure they're cool with you experimenting on your toys.  Some of the chemicals and tools you use when working with resins and hard plastics are dangerous. Protect yourself with a respirator when sanding and eye protection when cutting/chipping.  You only have two eyes! And as a toy photographer, you need both of them in perfect health! Also, if you have never used power tools or sharp razor blades, ask someone to help you out. Customizing can be fun, especially when you keep every thing safe, especially you!
I hope you enjoy watching my process video and that it inspires you to "Think Outside The Brick" when it comes to your own MOC Builds.