This week's review takes us back to the world of LEGO. This time, we won't be discussing one of the many licensed sets, but something from LEGO's long-running and under appreciated original line, LEGO City.
I will admit that I don't purchase LEGO City sets very often. While I was a big fan of them as a kid (back when the line was called Lego System), the various police, fire or airport kits haven't caught my interest. I did snag last year's 60134 Fun in the Park and this summer's 60153 Fun at the Beach people packs, due to their assortment of minifigures.
The subject of today's review, 40170 Build My City accessory set, is similar, but is missing the minifigs altogether. Without them, is it worth investing in for photography? Let's find out!
Streetlight Construction Zone
This accessory kit comes with an array of pieces organized into nine mini-builds. The first is a streelight with an attached speed limit sign, a yellow rack of tools (holding a generic shovel and push broom), and a construction sign depicting a minifig using a shovel.
For photos, I separated these pieces, though looking back I could have easily used them to make a construction zone scene. By experimenting with the streetlight next to some of my modular buildings, I got a nice photo depicting the hustle and bustle of city life!
The shoveling sign is, admittedly, a bit less fun to photograph. Maybe I'll take my own advice and build a construction zone next time…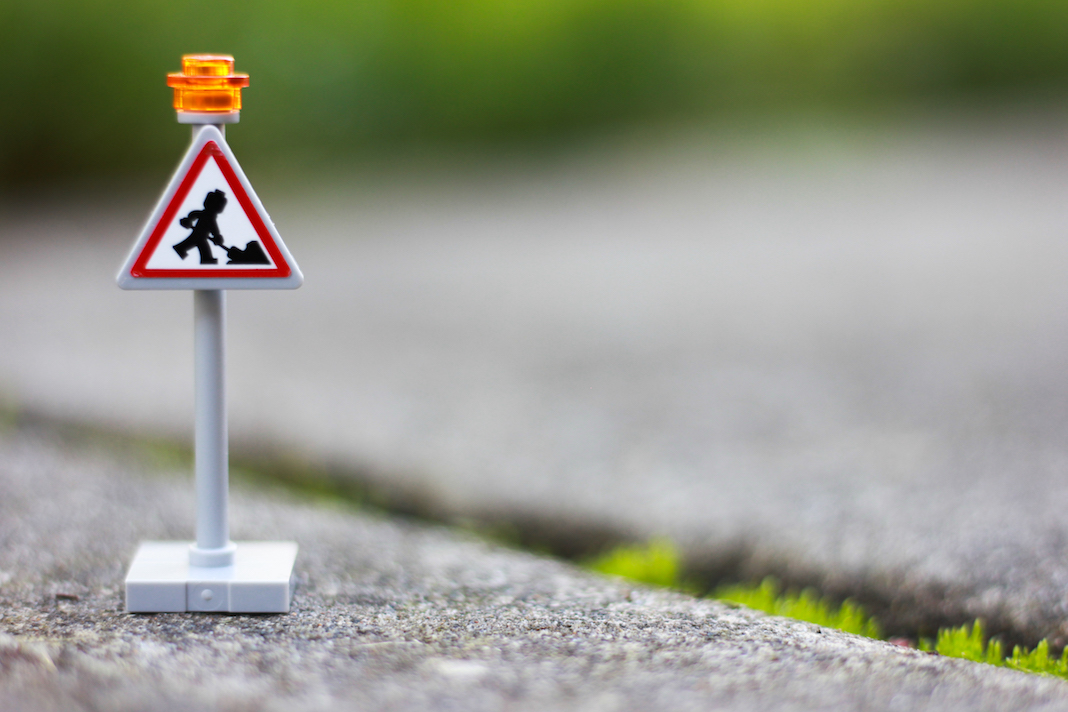 Bench and Box of Fruit
The second mini-build is a bench, with two drinks and a newspaper, and an accompanying box of fruit. The box holds a carrot, banana, and rare green apple piece. These little builds themselves are nothing special (the bench in particular is built using a blue 2×4 tile, which is a weird color choice), but the accessories are a nice bonus. You likely already have your hands on the very common coffee cup, newspaper, and fruit pieces, but it never hurts to have more.
In order to get the most of photographing these builds, I inevitably paired them with minifigures. Mostly, I chose to stick to generic, smiling yellow faces, to really tap into the LEGO City's more simplistic style. I don't photograph these minifigures often enough! Hopefully I'll do more of that now that I've played with these setups.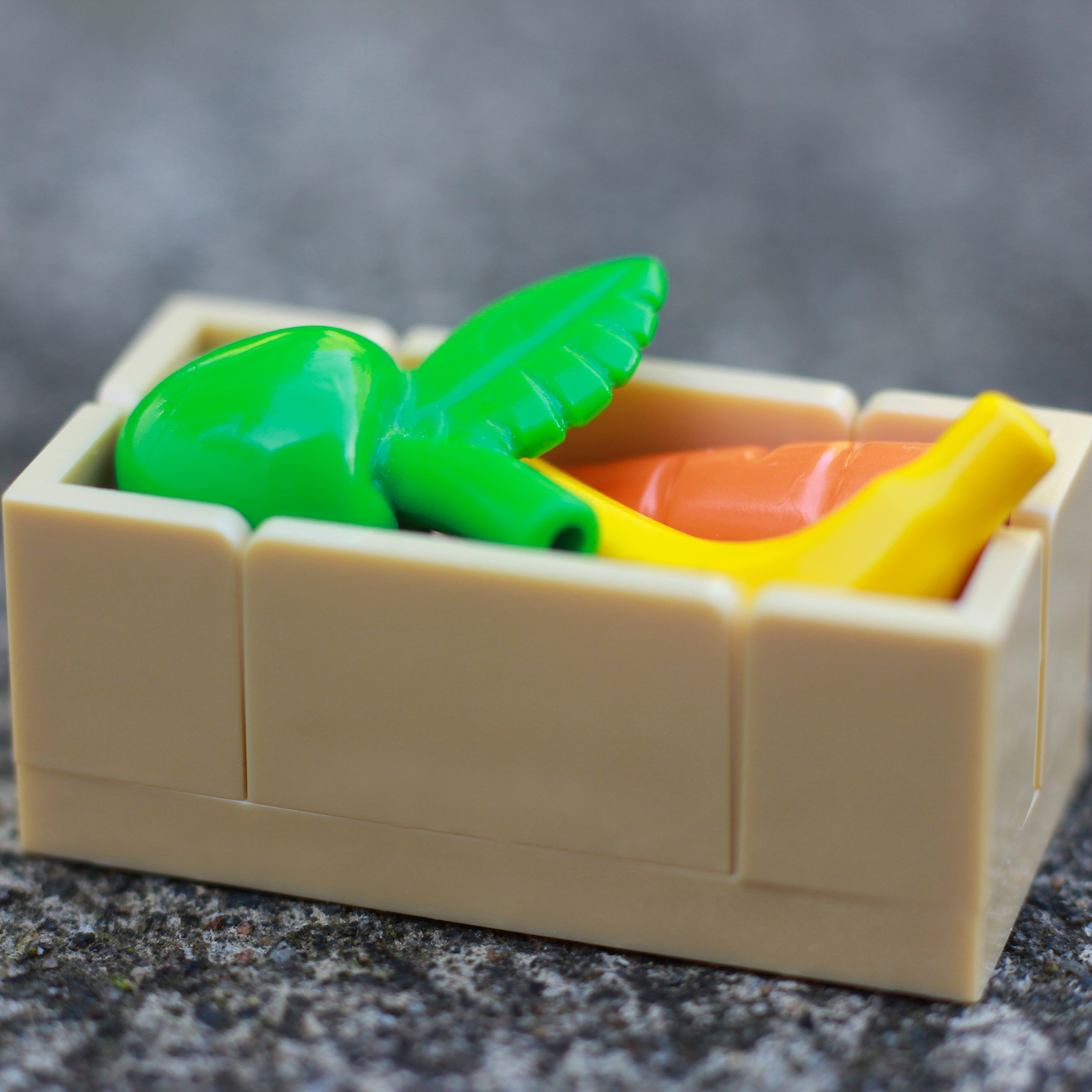 Bus Stop
Another sign depicts a bus stop, built next to a green trash can and a clear wine bottle. Bus stops like this are extremely common in and around cities, so I like that it was included. I didn't find much use photographing it out in the real world (I don't own any LEGO buses to include in shots) so I used it in conjunction with my modular buildings instead.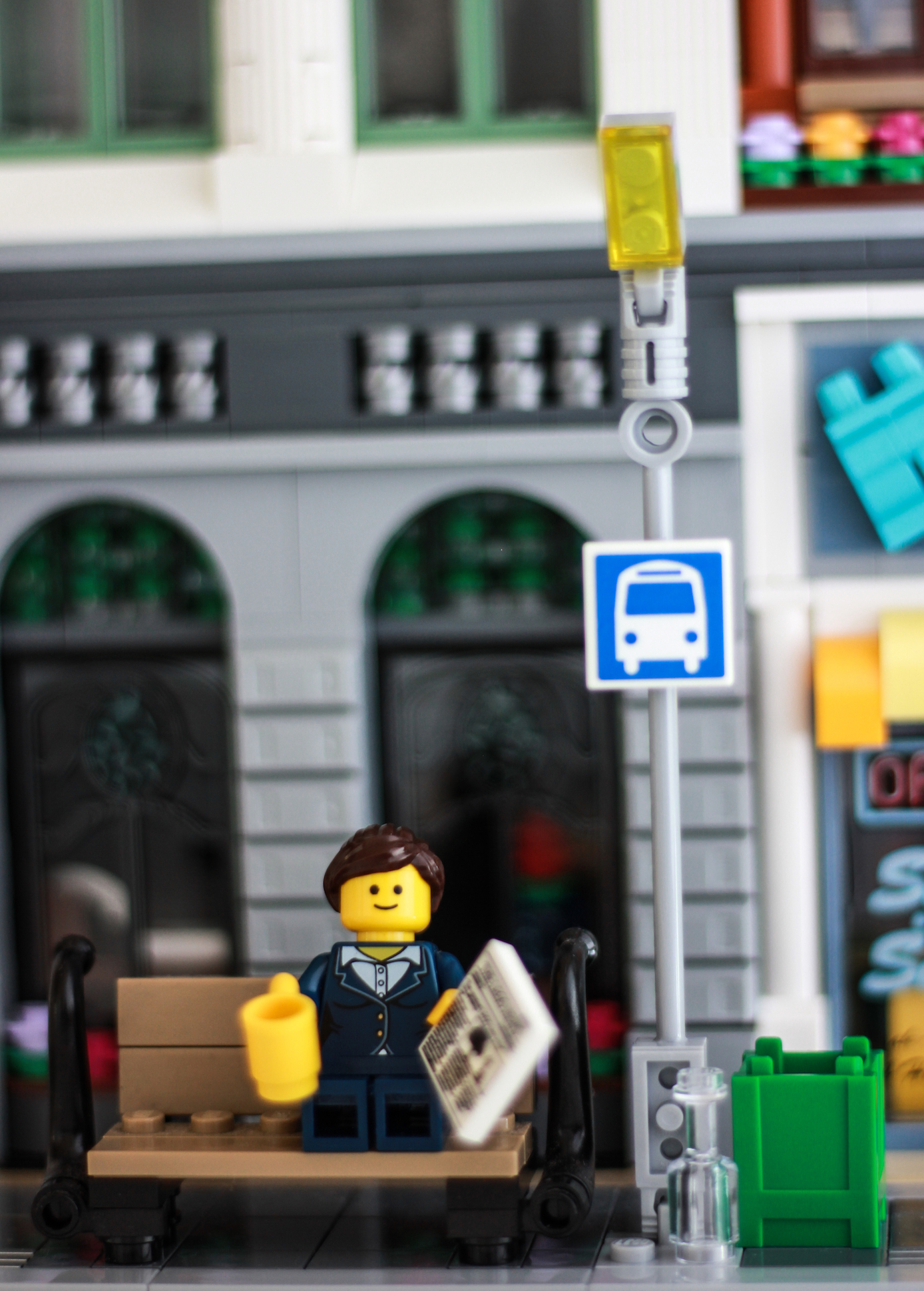 Bike Rack
My favorite of the mini-builds is the red bike rack, with a map tile and blue bike. I thought the use of the bluish gray lattice plate for the actual bike rack was clever, and fits two bikes nicely. I took it to a bike path on one of my photo walks, and got a nice photo by including another bike piece of my own.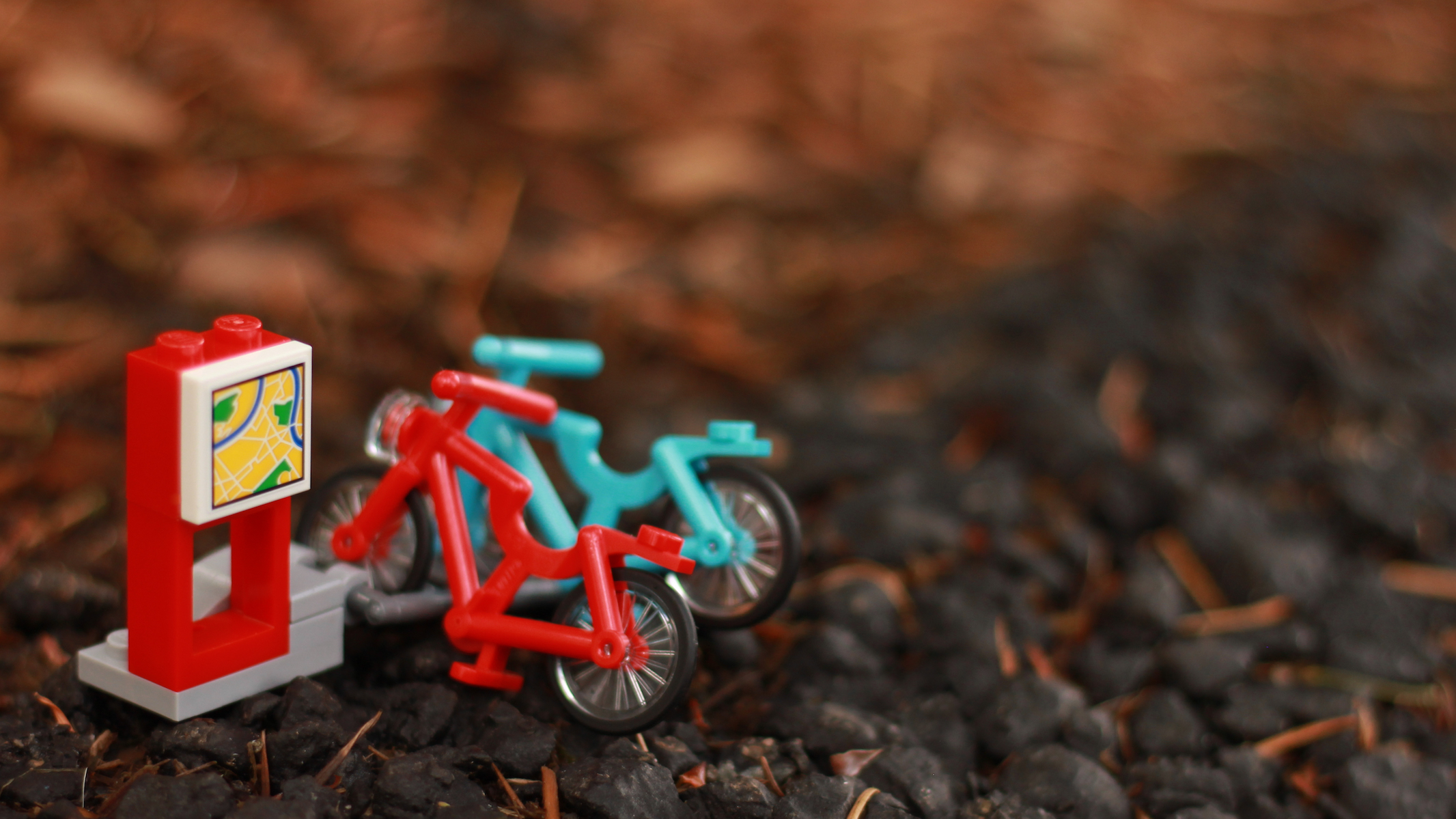 Plants and Fountain
Next up are a small fountain (complete with a water leak and green frog) and a batch of plants. The plants are a skinny tree and group of red flowers, which are pretty common. The instructions also place a gray jackhammer piece in the group, though I think it should have been with the streetlight construction zone. Perhaps it's what caused the water fountain to spring a leak?
Again, I found these most photographic when paired with minifigures. I actually found them to be nice scene-setters, as simplistic as they are.
The jackhammer piece came in handy for one of my favorite test photos:
Parking Attendant Booth
Last but certainly not least is the largest of the nine mini-builds, a parking attendant's booth. The hazard stripes on the barrier are a perfect touch. By omitting the small blue parking sticker this could easily be a toll booth, and I could see it going well with just about any vehicle, LEGO City or otherwise. I actually got a great shot by using it with a few Star Wars figures!
The Verdict
All in all, this ended up being a fantastic set to photograph. At first I worried that I would be limited by its simpler, more generic nature. To my surprise, that actually made it more versatile. I began by thinking, "How am I going to shoot that?" By using the pieces as accents instead of the focus of my shots, the ideas came naturally and freely. Looking back, I'm surprised by the wide range of photos I managed to get!
At just $9.99 USD, this kit has tremendous value. I suspect it'll be a popular set for the MOC crowd and LEGO City collectors, but I think it's a must-buy for photographers as well!
Have you gotten your hands on this accessory kit? If so, what did you think of it? Let us know in the comments below! 
–James
If you enjoy posts like this, we invite you to join our G+ community.
Don't forget to subscribe to the blog to get notified when we have a new post ready for you.