I love the Teenage Mutant Ninja Turtles. It was one of my favorite cartoons as a kid and some of my favorite action figures to play with. In 2010, someone broke into my parents' house where we stashed my TMNT collection and they stole everything. Since then I have slowly been acquiring new ninja turtles to take photos of and I figure I would start featuring them here. I would also love to see other peoples' TMNT toy photography, so please make sure to tag your ninja turtle photos with #TP_TMNT.
NECA TMNT Secret of The Ooze
I still remember heading to the movie theater with my mom and my friend Buck to see Teenage Mutant Ninja Turtles II: Secret of the Ooze in the 1990s as a kid. It was easily one of my favorite childhood movies that even featured an appearance of Vanilla Ice, which is hilarious to me now. These TMNT action figures from NECA have exceeded my expectations and the four action figures combined with the expansion set will provide me with photo options for years to come. Let's dive into why I love these action figures.
These TMNT action figures are just like the movie and come with different facial expressions and props, which creates so many photo opportunities. I did get the expansion pack for additional props and head sculpts. The articulation for these four turtle brothers is pretty solid but could be better. These are action figures I will hang on to and keep coming back to take photos of. These were a lot of fun to create a stop-motion animation with and I will be working on some real-world-type photos with some forced perspective in a local pizza spot when I get more time. That being said check out my first round of photos and stop-motion animation below and make sure to check back for more.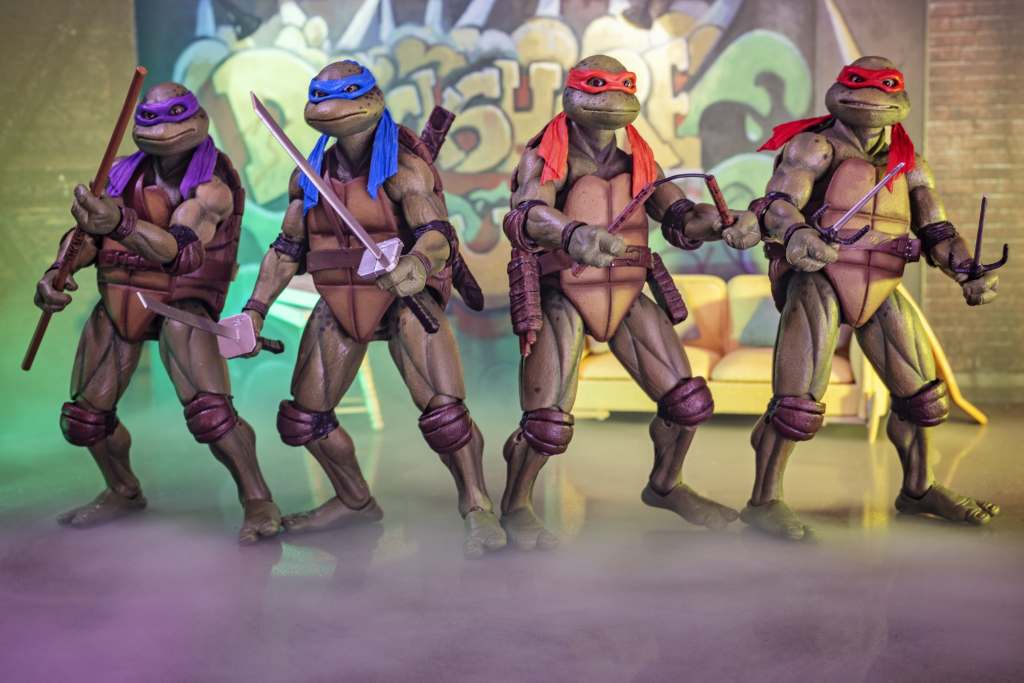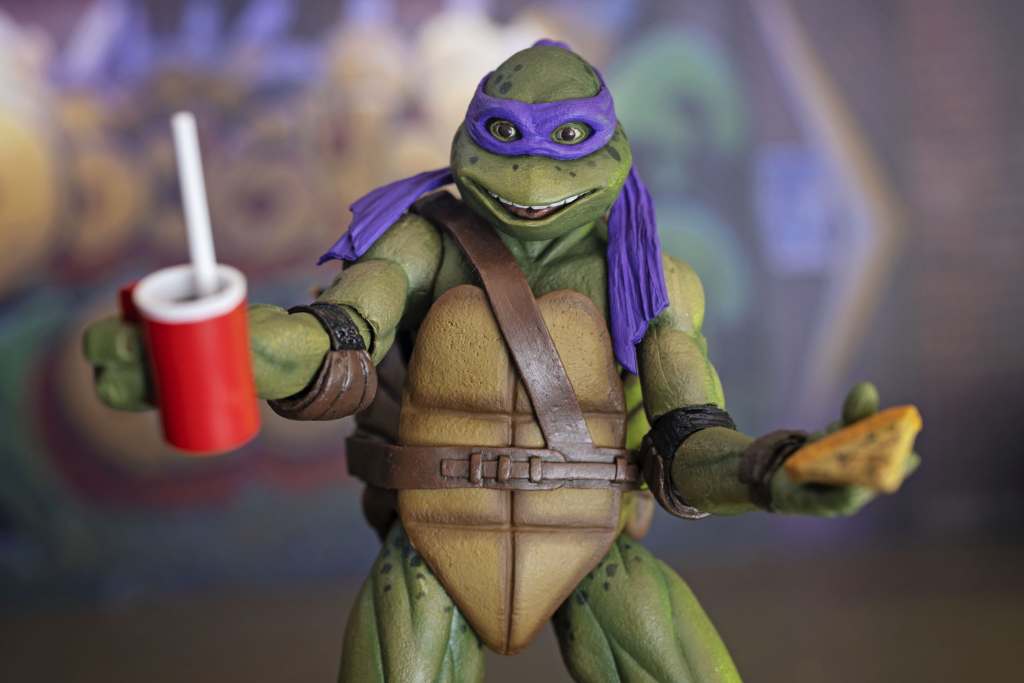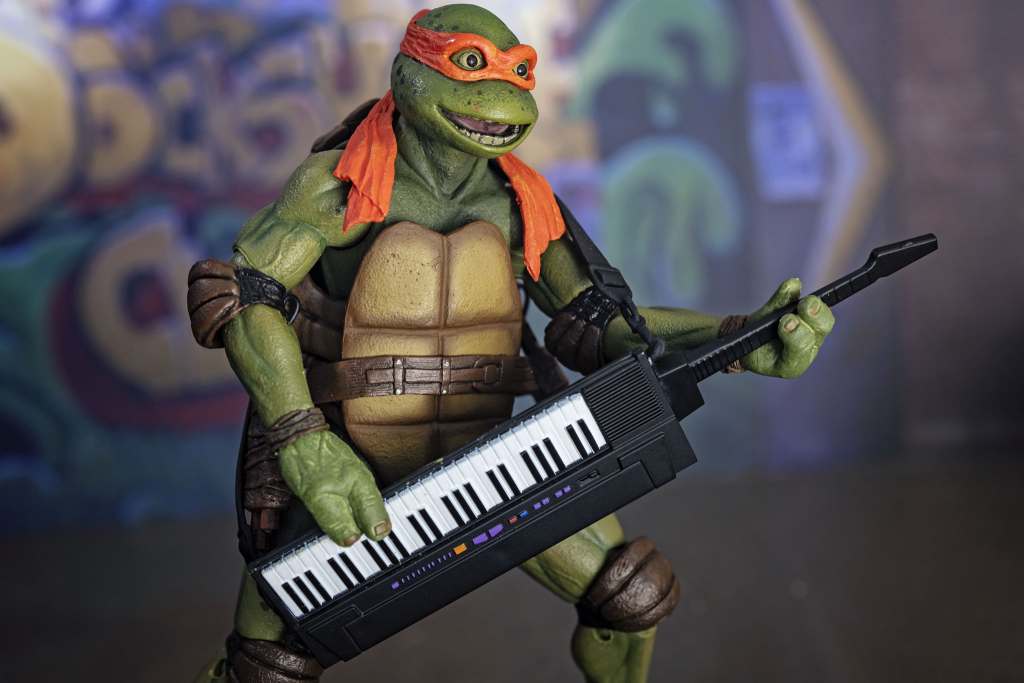 TMNT Mutant Mayhem Movie Action Figures
These Mutant Mayhem Movie ninja turtles are surprisingly fun to capture photos of and superposable for a smaller action figure. They also are very affordable at $9.99. For the record, these TMNTs do not come with a surfboard like shown in the photo above, but I will be using that to make one of these dudes surf in the following weeks for another photo for this post.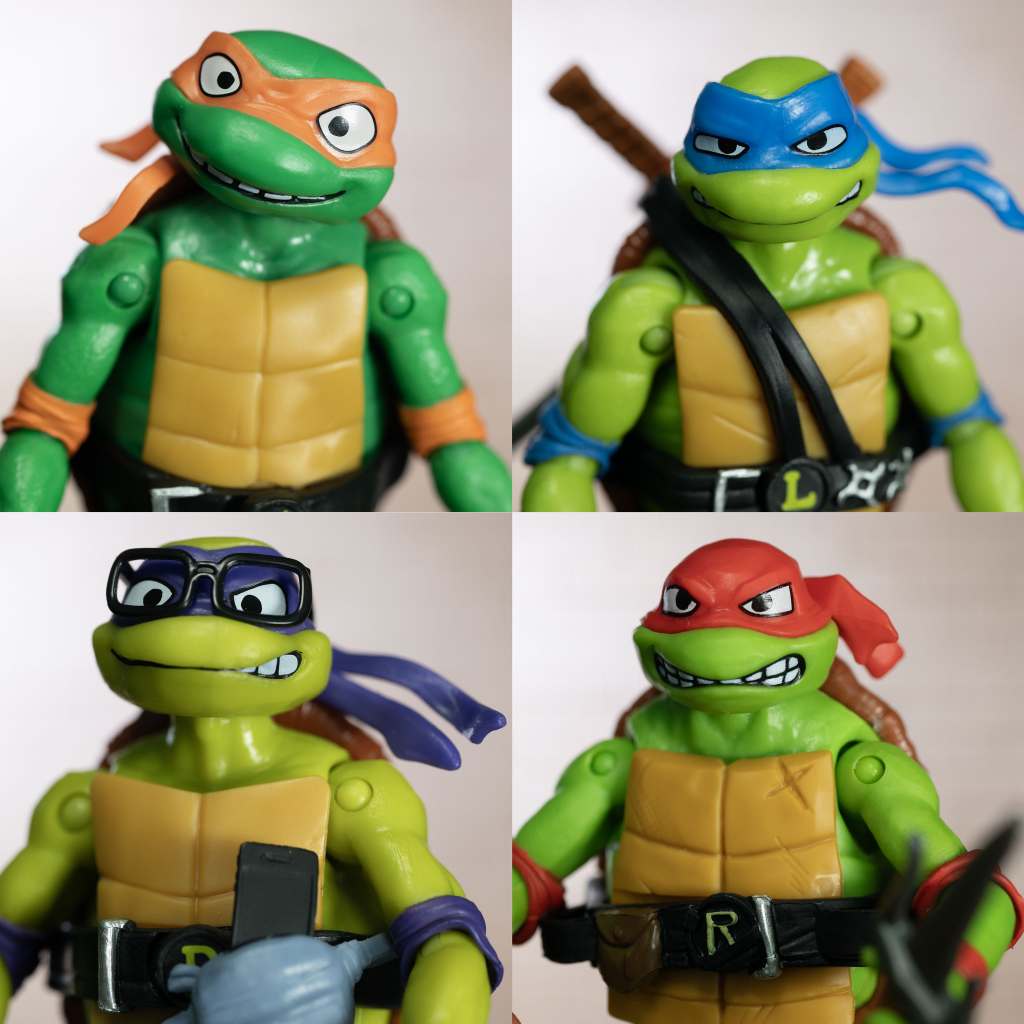 Super7 TMNT
I have been watching Super7 make some really cool action figures over the past couple of years, and when I saw their Ultimate Michelangelo I preordered it from Big Bad Toy Store.
For years I have considered ordering, via eBay, the classic TMNT action figures from when I was a kid, but I'm glad I waited because this action figure exceeded my expectations. Let's dive in! Overall, the action figure is great and the articulation even makes posing ollies on a skateboard possible, which is important to me as a skateboarder turned toy photographer. The accessories for this action figure are spot-on. The Super7 Teenage Mutant Ninja Turtle action figure comes with painted weapons and also has an unpainted weapons rack like the original Playmates Teenage Mutant Ninja Turtles, which is a really nice nostalgic touch. Michelangelo comes with two sets of nunchakus. One set is really nice with metal chains between the ends. The second set is your traditional, all-plastic action figure nunchakus that bend more. In terms of photos having these two options is awesome. Nice work, Super7! Read the full review HERE.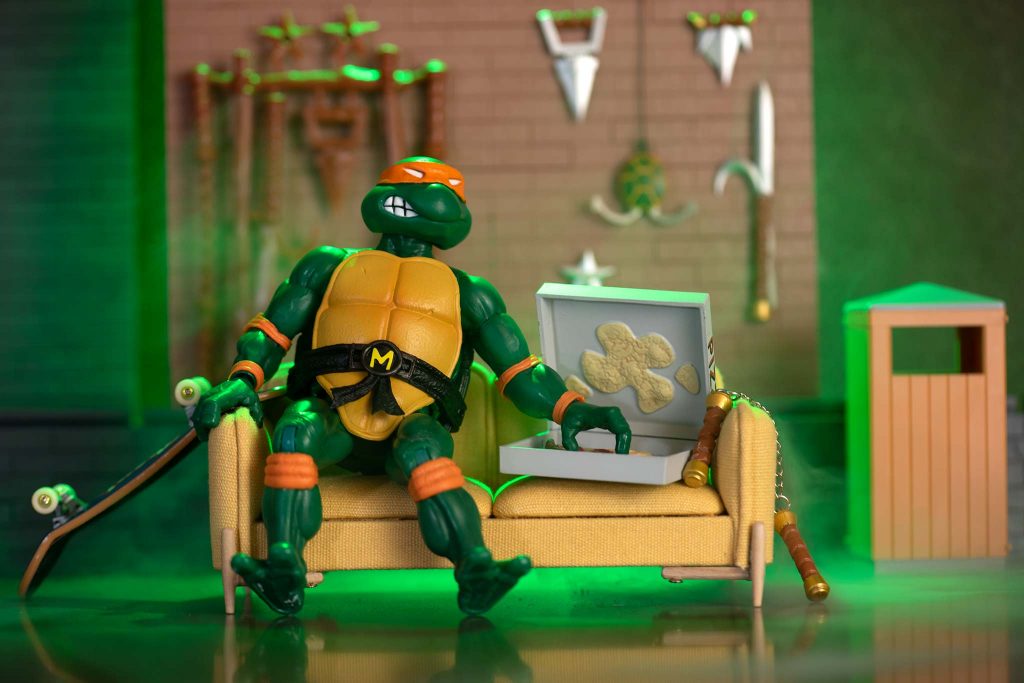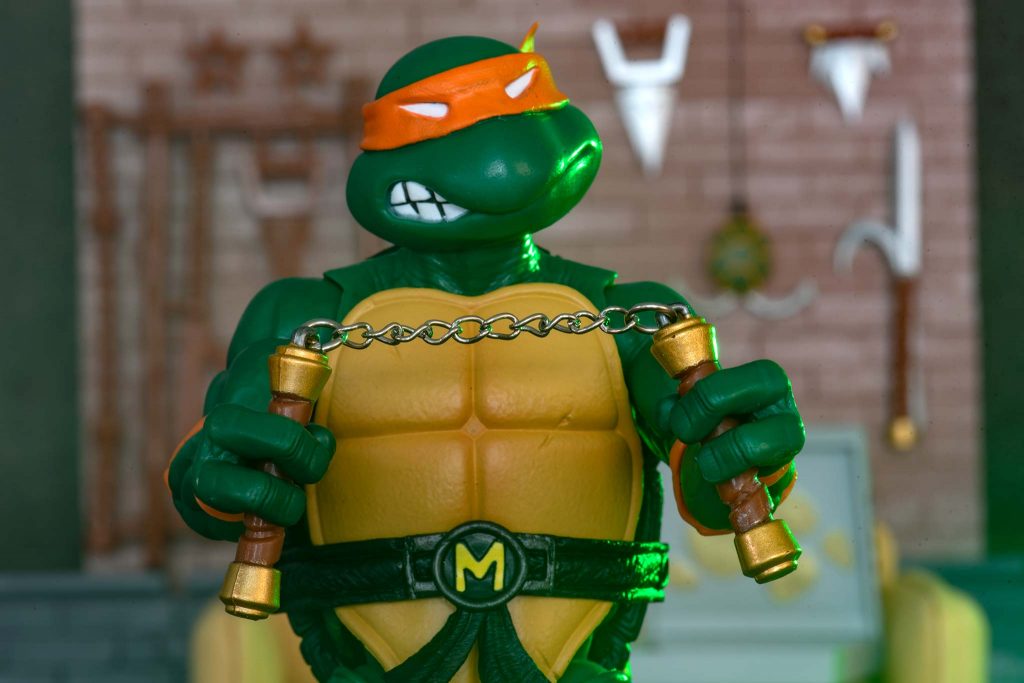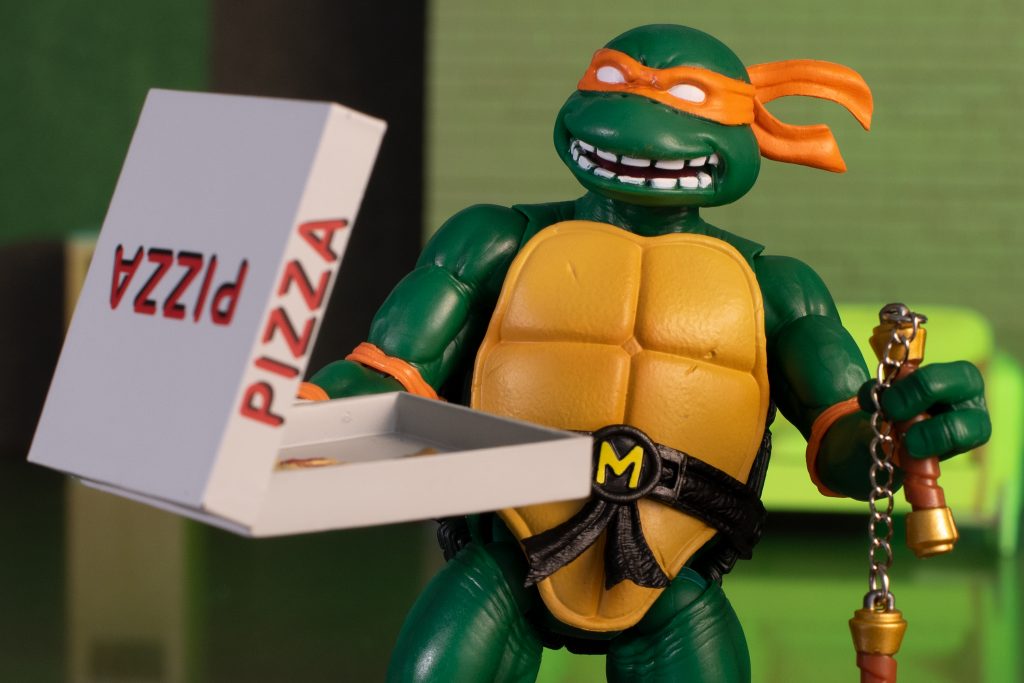 Mega Construx TMNT
Megacontrux has released several iterations of the Teenage Mutant Ninja Turtles over the years and below are some of the classic versions. These little dudes are highly posable and a lot of fun to capture photos of.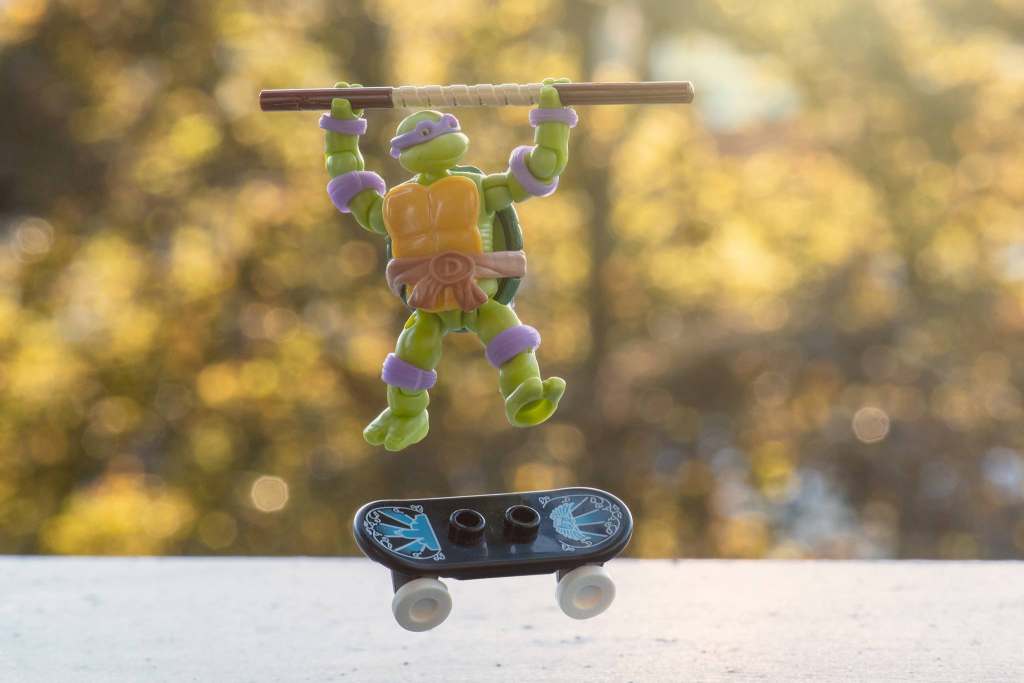 LEGO TMNT
LEGO TMNT does exist and they are a lot of fun to capture photos of if you happen to have some of these minifigures. Take a look at a few snaps below and check back soon for more.