Imagination
I think photographers have quite a developed imagination. And especially toy photographers, who operate on a completely different scale and often have to use their imagination [and then the viewer's one!] to turn ordinary surroundings into a fairy-tale land or, for example, turn everyday objects into the interior of a building.
So I hope that the path my imagination has taken in this case will not turn out to be astray for you, dear readers/toy photographers.
Horizon…
The horizon of the next events is a certain movie and a certain tree [and no, it's not The Fountain!]. The movie is Event Horizon from 1997, directed by Paul W.S. Anderson, with Laurence Fishburne, Sam Neill, Kathleen Quinlan, Joely Richardson. The tree is an oak; an old, mighty tree with a spiraling trunk, as twisted as a movie. What connects these two seemingly completely different elements of our reality? Yes, my twisted imagination!
Well, in the summer, this oak tree, which I pass every day on my way to and from work, sheds a considerable amount of little unripe acorns. Having walked past these acorns for several seasons, I finally came up with what reminds me of their shape.
They remind me of those bulging, round shapes that line the walls of the core room – the heart of the ship in the movie Event Horizon. Pretty crazy association, isn't it?
Of course, I didn't stop there, because right after the association, an idea for a photo popped up from around the corner of my brain! I collected several dozen of these acorns, probably exposing myself to the strange looks of passers-by. But we – toy photographers – are used to strange looks, so it didn't make a difference to me.
The well-stuffed bag of acorns spent the next almost three years in my warehouse, and the idea was still pushed beyond the horizon of subsequent photo shoots for various reasons.
…and beyond
You know how it is when an idea is a little more demanding than usual, it starts to drift. This idea has been drifting for a really, really long time, just like the space ship from the movie. Finally, this summer, all the pieces of the puzzle fell into right place and I was ready to go ahead with this project! Previously, I had no idea what to use to build the interior of the core chamber. Our trusty colander had the perfect shape and texture, but I'd have to cut it up. And since I don't like to destroy unbroken items for photos, I abandoned the idea. Not much later, however, I returned to the colander, but armed with a a solid portion of waste paper and flour. The kitchen equipment served as a form, which I covered with papier-mâché. Now I only have to [sure, "only"!] cover the walls with rows of acorns, paint the whole thing and the chamber was ready!
Of course, I had no ambition to recreate this place down to the smallest detail. Rather, I wanted to refer visually to the film and capture the mood. That's why in my version the gravity drive is not a bristling ball surrounded by concentric circles [how to build such a contraption!], but it's made from elements of a broken French Press coffee maker and Christmas lights. Full DIY!
Event Horizon
When I finally had the whole structure set up, it was time to dance around the kitchen table that serves as my studio. If you hung a camera from the ceiling and recorded my dances, and then played back the recording in fast motion, you would see me moving the camera tripod back and forth, waving the lamp over this diorama, looking for the right angle, and blowing smoke inside the chamber. It would undoubtedly be a amusing sight!
You can see the results of my efforts below.
I'm also posting several versions of the photo, with slightly different variations of lighting and with and without smoke. Judge for yourself if it holds up!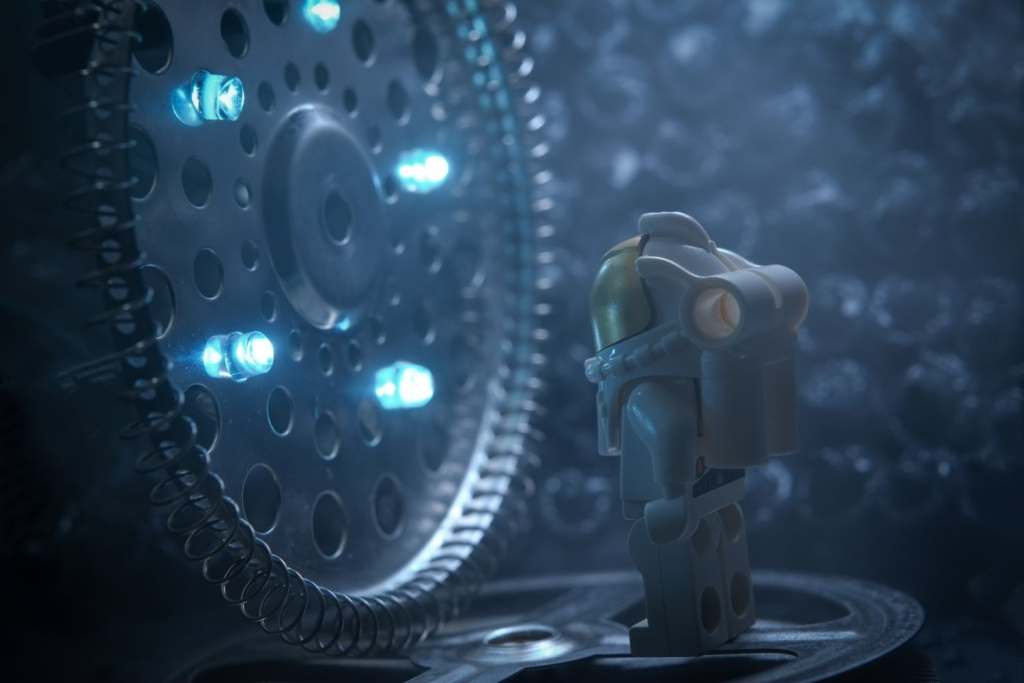 Since the Event Horizon is slightly smeared with pure Lovecraftian terror, I couldn't help myself and I made a version in which a strange smoke seeps from a portal to another dimension, enveloping the astronaut, frozen in fascination and terror.
Hell-o! While you're here, we invite you to  sign up to our weekly Toy Photographers email roundup where you'll get a recap of all the week's babbling. And while you're at it, you should definitely join our MeWe community! We hold monthly contests with prizes and lots of other cool stuff.