For toy collectors and photographers, the advent of a long-awaited piece, especially when it comes to Hasbro's HasLab projects, is almost like a holiday. These huge and expensive crowd-funded toys, which Hasbro wouldn't make without a commitment from those who preorder them, can take a year or more to arrive on doorsteps, and once they're delivered, the company won't produce any more or sell them to anyone who didn't take part in the funding campaign. The first of these projects came in the form of a 3.75-inch (or 1:18) scale Star Wars The Vintage Collection (SWTVC) model of The Khetanna, Jabba the Hutt's sail barge from Star Wars: Episode VI – Return of the Jedi.
HasLab's latest SWTVC offering to land in our greedy hands — which came amid campaigns for a few gigantic Marvel Legends and Transformers toys, a Star Wars the Black Series 6-inch scale Rancor that failed to get enough backers, and even a HeroQuest board game — was an absolutely beautiful Razor Crest. This iconic ship from wildly popular Disney+ series The Mandalorian measures in at a weighty and tremendous 30 x 20 x 10.5 inches (76.2cm x 50.8cm x 26.67cm), giving it a strong presence in any room it's displayed. The ship captures oodles of details from the show and it has all sorts of moving parts, accessories, doors, an escape pod and other surprises. It even included an exclusive Mando figure with soft goods cape (so he can sit in the pilot's chair), and two carded figures: Offworld Jawa Elder (Arvala-7) and Grogu with pimpin' chromed-up pram.
But is it good for toy photography?
The world began unboxing Razor Crests three weeks ago, and since then, all sorts of talented toy photographers have been proving that, yes indeed, this gorgeous piece is an absolute gem in front of the camera!
To celebrate the Razor Crest's release, we asked some of the best photographers in the game to show us what they've done with it so far — and we couldn't be more pleased with the results. Keep reading to enjoy a fantastic selection of imaginative shots featuring Din Djarin (aka the Mandalorian, or Mando), his adorable foundling sidekick Grogu, and an exciting cast of characters with the Razor Crest, inside and out, on a variety of planets.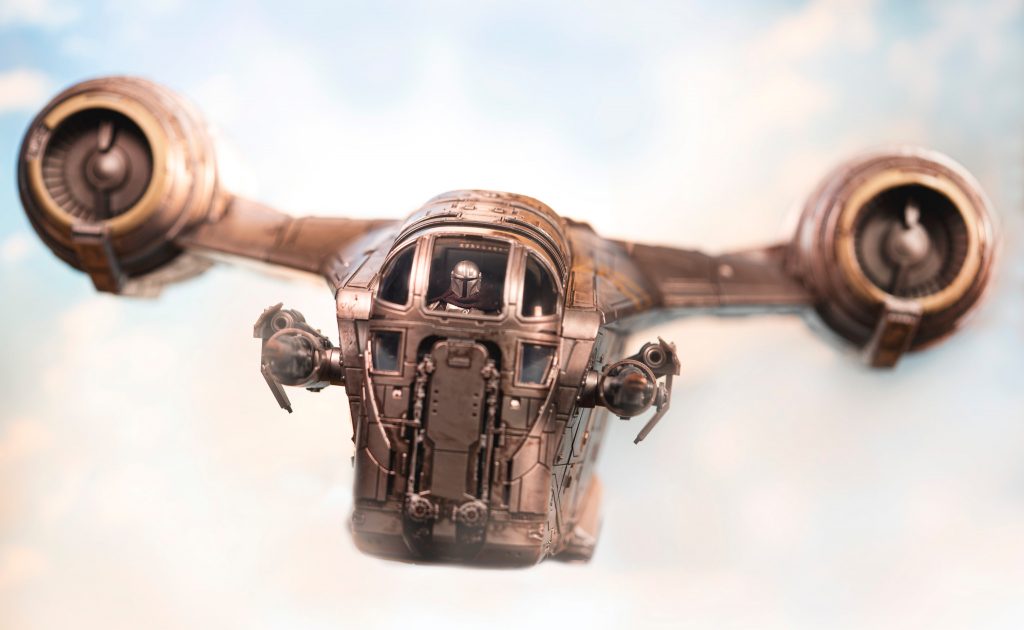 @swittpics
Spencer Witt – Salt Lake City, UT
The Haslab Razor Crest is such an amazing toy to shoot and play with. As someone who mainly collects 6-inch figures, the size and detail with this ship showed me how much fun the Vintage Collection figures can actually be. The detail on the ship is amazing. (Also see Spencer's featured photo at top of page.)
Honestly, the hardest part about shooting it is the size and the ability to get a background big enough to photograph it indoors. I have not yet taken the Razor Crest outside to shoot, but I will someday soon, once it gets warmer. It's been an absolute blast to shoot and play with!
@chezpics66
Chris Lynch – Boston (and Brewster), MA
Finally getting my hands on the Star Wars the Vintage Collection Razor Crest from HasLab has been quite a joy. I've only had the chance to shoot it a little bit so far, but I'm already looking forward to using it a lot more for my photos in the coming months. Just as a backdrop piece alone, it's quite stunning.
And I'm looking forward to the challenge of making the most of its cramped interiors, as I did with this pic of Mando and The Mythrol. I definitely feel I've only just tapped into the possibilities when it comes to the Razor Crest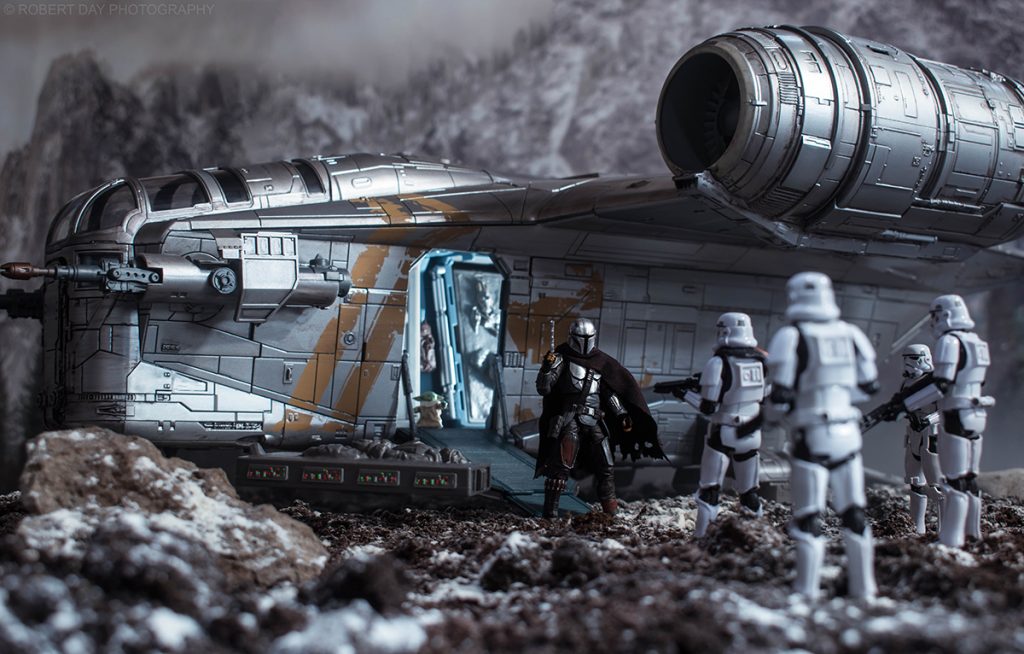 @97_parsecs_photography
Robert Day – Sittingbourne, UK
Like everyone else at the time, as soon as the Haslab Razor Crest was revealed, I began plotting and planning for the many shoots I would do with it when it came. Being such a fantastic piece, the Razor Crest needed its own trio of shots, so I did my best to make each feel vastly different in composition and setting — all of which I achieved on a ping pong table in my garage.
Not only did I want to show off the ship's beauty from every angle, I wanted to demonstrate that, like in the show, Mando and the Razor Crest travel all around the galaxy, using dirt, flour and sand, along with printed backgrounds to make fun images and a giant mess in my garage!
For the first shot, I wanted to post a relatively simple scene that showed off this beast of a ship. It's like it arrived straight off The Mandalorian set — it's that detailed. I really hope Mando gets another Razor Crest down the line on the show (his was blown to pieces). And as much as I like his new N-1 starfighter, as seen in The Book of Boba Fett, it's no Razor Crest!
Carrying on with this trio of pics, I thought I'd present different angles of the Razor Crest in each shot, and this is probably my favourite angle to shoot from when it comes to photographing the ship. It was a lot of fun setting up a scene with Mando delivering his bounty and, of course, the Razor Crest looks fantastic on Tatooine. While I lit the interior with a plain white light in the first pic, I opted for red in this shot, and I think it suits it better. I'll definitely be doing some interior shots at some point to show it off in all its glory.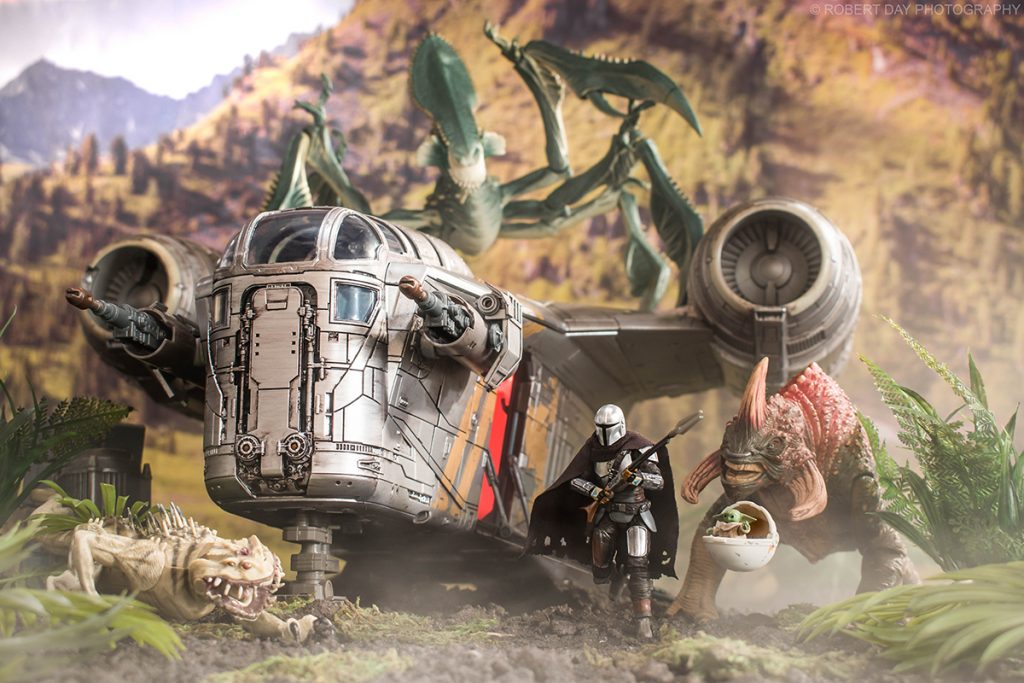 To finish off the series, I thought I'd go for a more exotic, swampy look. I've wanted to use the Geonosis arena creatures all together for quite a long time now, but I never really got around to it. For some reason I just thought they'd look cool with the Razor Crest. It's a small detail, but I've got the back end of the ship pushed deeper into the mud, showing the weight where the Aacklay is on top, and luckily, only the landing gear was muddy as a result. I don't want to get this beauty of a ship all filthy!
Of everything I have accumulated since starting toy photography in late 2019, few things are more fun to shoot than the Razor Crest.
@blksrs
Isaiah Takahashi – Orange County, CA
The Razor Crest has landed! It's almost impossible to explain how incredible this ship is. It's a must-see in person. I put it together and was able to take it outside really quick for these simple shots. But there's so much potential for the Razor Crest in toy photography! I can't wait to have more time to shoot it.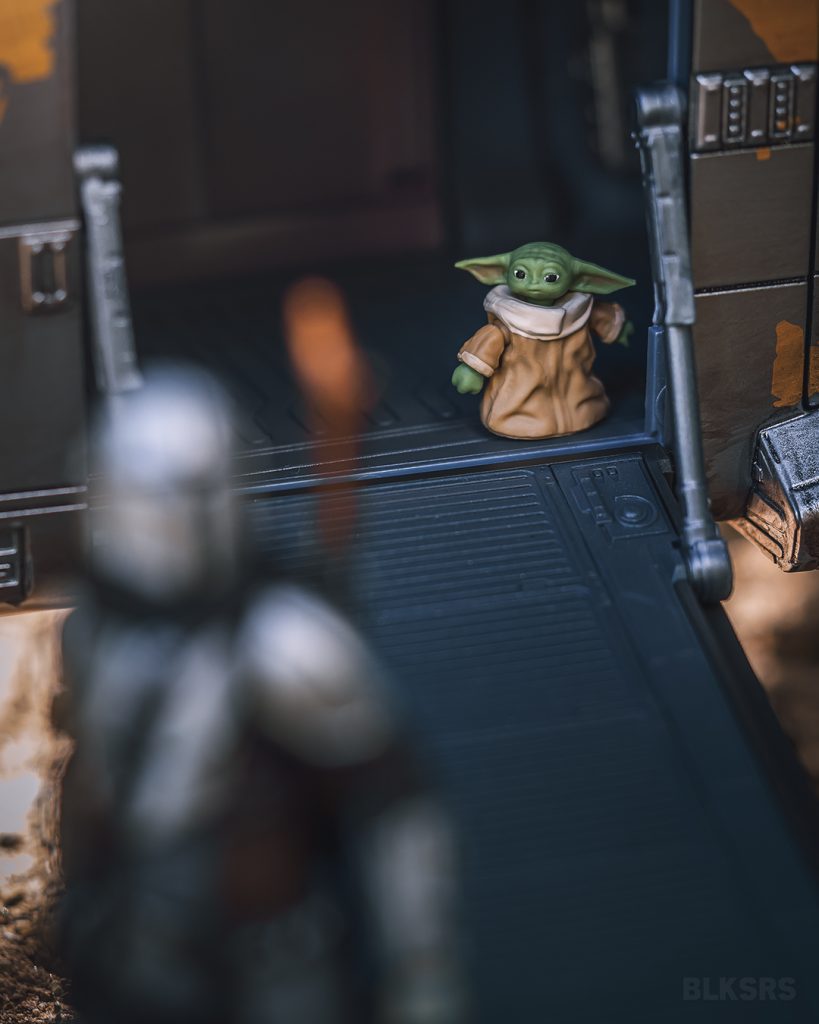 A huge, massive congrats to the Hasbro Pulse HasLab team on this project. I have a feeling there will be much FOMO happening as more and more backers show off their Crests!
@oliversees
Oliver Peterson – Center Moriches, NY
I stupidly chose not to "back the barge" during the original HasLab campaign, and it still stings, so I wasted no time backing the Razor Crest campaign, and boy am I glad I did! This lovely piece quickly became the crown jewel in my collection. It displays beautifully and looks amazing on the outside, but as Spencer said, it's quite large and difficult to capture when shooting indoors. With that in mind, I went in close for my first foray into photographing the Razor Crest. The interior is a bit tight, but it's loaded with wonderful details, including a carbonite freezing chamber, four frozen bounties who can be hung from the ceiling, a gun closet loaded with weapons, Grogu's little hidey hole cabinet and hammock, and even Mando's famous vac tube — the galaxy's first on-screen space toilet!
There are lots of fun things to shoot in there, plus it has a separate cockpit with three seats and a box for Grogu.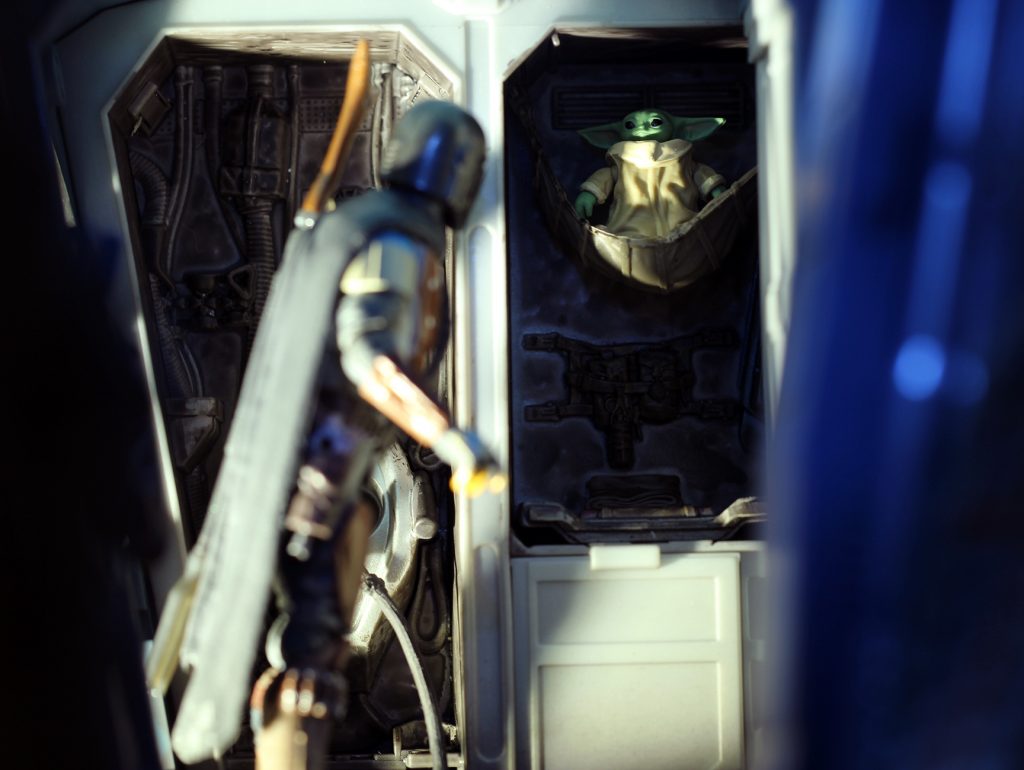 For my initial shots, I decided to show Mando and Grogu inside, kind of going about their daily business. The ceiling comes off, which would allow plenty of light to stream into the Razor Crest's hull area, but I wanted to shoot up at an angle through the back hatch, so I needed the ceiling attached to give a feeling of being aboard this cramped ship. While I was able to let in some light through a side door and the back hatch, I added three small LEDs to the ceiling using sticky tack. Two are set behind the hanging carbonite blocks, but one had to be in frame to get the light right.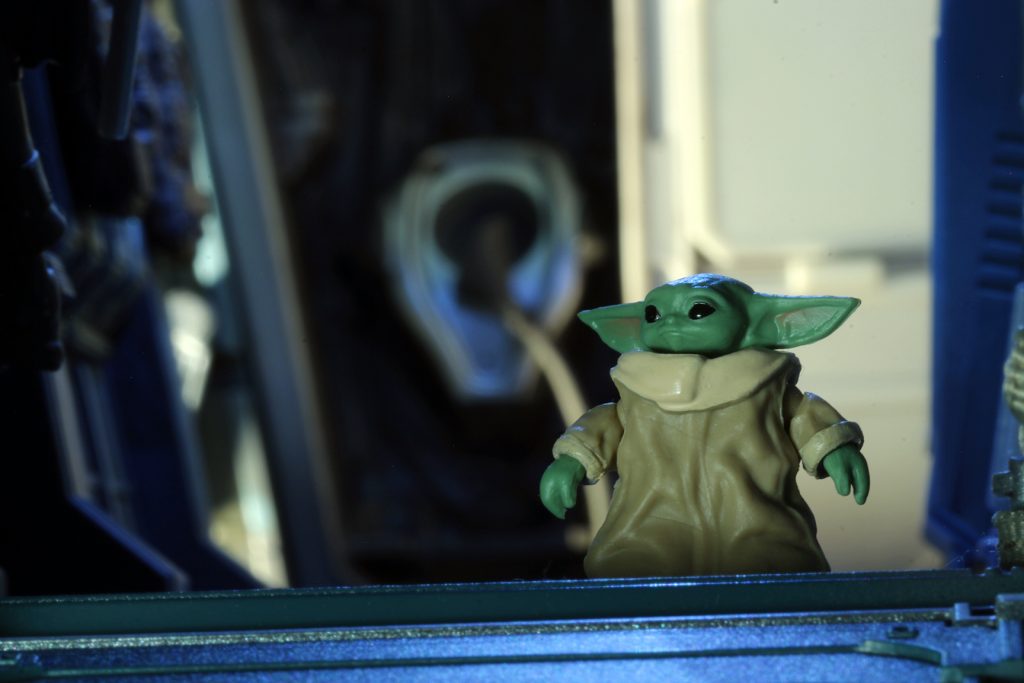 I didn't mind the way it looks, but I obscured it with some hanging wires using Photoshop — they keep your eye from looking too closely at the light fixture, and the wires give the ship a grungier, more lived-in feel. This first image is clearly the best of the shots I'm sharing, but I've posted two more to show off some of the fun details I mentioned above, including Grogu in his hammock (this can be closed with a removable cover, and there's another cubby below him), and another of him near the ship's rear ramp with the vac-tube in the background.
@rustbeltcollector
Sam Shumaker – Northwest OH
The HasLab Razor Crest is one of those items you just have to see in person to appreciate. The detail and scale are just incredible! When it showed up, I knew just the spot where I wanted to shoot it, even though the weather had dropped to a very chilly 13 degrees. While I typically shoot indoors during the winter months, this ship had to be outdoors to be properly captured in all its glory!
I tried to shoot a photo that not only showcased this beautiful ship, but also gave a sense of adventure in foreign landscapes. That's the very thing that has kept me hooked on Star Wars all these years.
***
We hope you enjoyed these photos and maybe even gained some insights from the photographers. As we said, the HasLab Razor Crest is no longer available from Hasbro, and finding it for the original $349 price is a pipe dream at this point. However, for those who still want one, they can be found for various prices on eBay and for $799.99 via Big Bad Toy Store — yes, that's a whole lot of money, but The Khetanna was once readily available for double its original $499 price, and now it's selling for $2,500–$5,000. Pro Tip: The Razor Crest's figures (one loose and two carded) can be sold for about $250–$300, which would bring your cost down significantly without removing any essential characters from your collection, and those prices, too, will only go up.
Did you get the Razor Crest? Have you shot it yet? Tell us about your experience photographing the Razor Crest in the comments below, and show us your images via our Toy Photography Blog social media accounts or in our MeWe community.