Hi, I'm Chellie, @littleplanetchell on Instagram. I currently live in Virginia, USA, very close to where I spent most of my childhood on a family farm surrounded by horses, cattle, sheep, and assorted other animals. I am a veterinarian (and former agriculture teacher) by trade but have been obsessed with photography since I got my first camera at age 10 (yikes, 40+ years ago!). All of my "formal" photography training has been in the last 15 years or so through online classes, my local camera club, and many photo workshop adventures.
How long have you been a toy photographer and what attracts you to this hobby?
Although I'd photographed some toys (mostly stuffed animals) over the years, I didn't really "discover" toy photography until 2020. From the moment I stumbled upon those first photos in the crazy, fun world of toy photography, I was hooked. I was (and very much still am) absolutely mesmerized by the never-ending flow of incredible images, and completely blown away by the creativity, talent, and knowledge being shared every day in the toy photography community. 
What photography editing software do you commonly use in your image creation and how does it help you express your ideas?
I love post-processing! Software programs and plugins are as important to me as my camera is in creating my final images, and I use them extensively and unapologetically. My starting point is always Lightroom to organize my photos and do basic RAW file edits. Then it's on to Photoshop or plugins like Topaz Studio for more fun creative editing like compositing, focus stacking, color changes (black and white, day to night, etc.), and adding motion, lens flares, or overlays like textures, sparkly bokeh, weather elements (rain, snow, fog, lightning), or other magical stuff.  
Tell us your favorite photography environment
I am happy creating indoors or outdoors. Photographing indoors lets me take my time to create an entire scene, experimenting with every aspect from toy selection, posing, and creating foregrounds and backgrounds to playing with lenses and lighting. I can easily spend hours working with a single setup. But I find there's magic in the spontaneity of photographing toys outdoors. Finding amazing light, atmosphere, reflections, colors, or textures make me jump for joy when I see the image in the viewfinder or LCD screen.  Or just as often, it comes from serendipitously discovering a fabulous setup while walking around the neighborhood, hiking in nearby parks, or out on a wild and crazy photo adventure somewhere.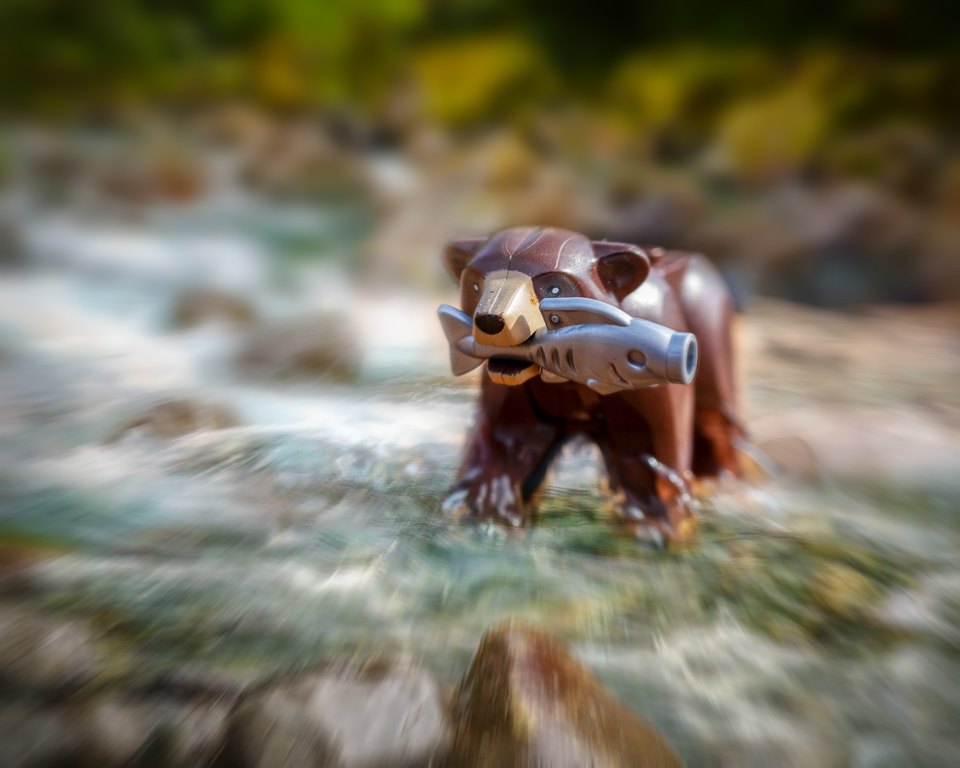 There are a lot of toys out there to choose from to photograph. What is your favorite toy line and why?
LEGO minifigures! They are super fun, expressive, and colorful. They are also small, durable, and inexpensive (relatively speaking … until your collection explodes in size of course, LOL) so I don't have to worry too much about bad things happening when I take them out in the world. I love that there is a seemingly endless selection of themes and characters. And of course, there are gazillions of LEGO accessories to keep things interesting and add even more variety.
What is your favorite toy photography-related memory?
Two memories come to mind. One is the first time I took toys on a hike with me to photograph in a national park.  People stopped to watch and even took pictures of me photographing my toys. It was like paparazzi. I wasn't prepared at all for that, but I've gotten used to it now.  It amazes me how many people stop and watch, comment about how cool it is to be photographing toys, or even ask if they can photograph my setups. Another fun memory is sitting in an airport bar with a couple (non-toy) photographer friends waiting for our connecting flight. They asked what toys I had brought (they get me and I love them for that :)) and soon the table was covered in toys and everyone was playing with them and brainstorming ideas for setups.
You have an amazing portfolio of toy imagery, which image has an unexpected story behind it?
Not sure it qualifies as "unexpected", but it is a fun story, for me at least.  In 2020, one of the first toy photography images I created was "Viking Hiking" using the only figures I owned at the time, a set of Playmobil vikings. I spent hours creating a slot canyon using crumpled brown craft paper for the canyon walls and a towel for the ground, and then waiting for it to get dark enough for me to light it the way I wanted. That image was the one that really sent me down the rabbit hole of toy photography. I have acquired many, many more figures since then, but the vikings have remained among my favorites. Last summer I took them with me on a road trip to southern Utah, and one of my favorite images from the trip (toy or otherwise) was the vikings exploring a real slot canyon. They were very excited :).
What are the most important tips that a new hobbyist should know if they are interested in pursuing toy photography?
Don't worry about the "it's all already been done before" negative thoughts in your head. As a very wise toy photographer (ahem, Shelly) told me, "it hasn't been done by YOU". So what if it's the millionth LEGO stormtrooper photo in the world? If you want to create it, then just go with it. Photograph what you want and how you want. Process the way you want. Don't be constrained by anyone's photography rules or what you think something "should" look like.
Keep it fun! That's what it's all about. Photograph what makes you happy, gives you chills, makes you want to do nothing but play with the toys and the camera (well, ok, I guess you probably still have to do some adulting, at least to earn money to buy more toys, LOL).
And finally, just start creating. Learn as you go. And reach out and ask for help when you need it – the toy community is super awesome and very supportive.
What else would you like us to know about you or your photography?
I'm so very grateful for everything I've been able to see and do, and my photographic experience is pretty diverse. I am an adventurer at heart, exploring state and national parks and public lands in the USA and travelling around the world, always with cameras (and now toys!) in tow. So you'll see a lot of nature, landscape, wildlife, and travel-related images in my portfolio. I am on the official photography team at a local county fair, and I think renaissance festivals are awesome. I also once had a pet photography business, where in addition to creating pet portraits for clients, I volunteered at animal shelters and with animal rescue groups, photographing hundreds of dogs and cats for their adoption listings. Check it all out at SmugMug. Being a photographer has always been incredibly rewarding and super fun, and I can't wait to see what's ahead. 
Thank you Chellie for sharing your thoughts for our Feature Friday Feature. You can follow Chellie on IG here or check out her other images over at SmugMug.