Why The Queen's Gambit Looks So Damn Good states the Vulture article by Tomris Laffly. And damn is she right. For those that haven't seen Netflix series, it is nothing short of beautiful, with simply stunning cinematography.
Now, before I get lost in my thoughts about pretty television shows. I need to take this back to the beginning. When Shelly first asked me to start writing for the blog, I had to ask what is it that you want me to write about? And her simple answer was "influences." And when it comes to this blog post, it definitely is about influences.
So, back to The Queen's Gambit. There are two things that strike me personally about the visual language of this show.
First, the high contrast between light and shadow, playing, in my opinion, on the idea of the light and dark found in chess. In this shot, the light from the centre of the image shows the importance of chess to the two characters. As darkness wraps around them like nothing else matters, this is their only interest. The characters, both the larger people and the smaller wooden chess pieces, are also framed with back light. Creating strong and bold shapes, where these elements become decisive and exciting.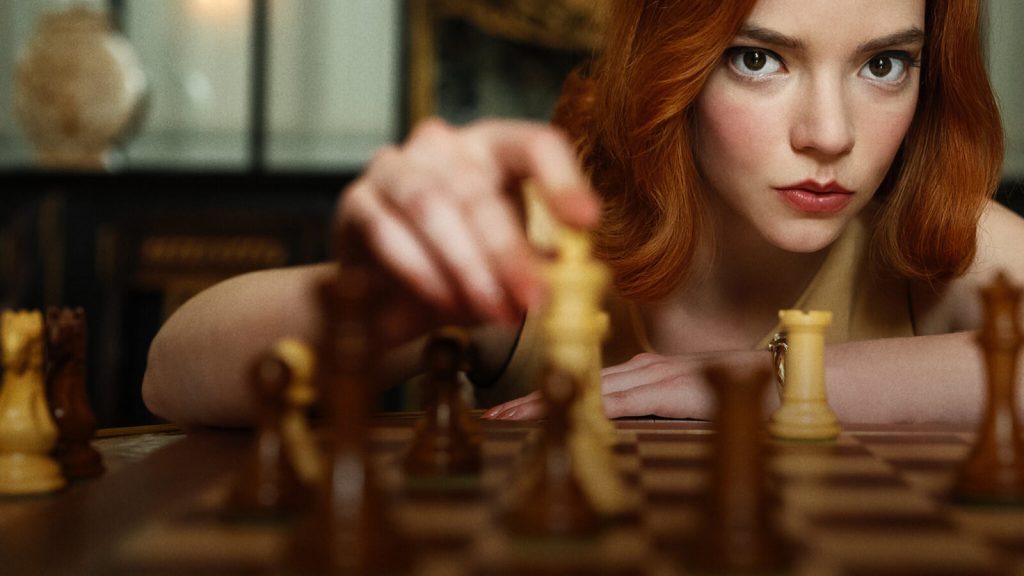 But I was also taken by the softness and depth to the imagery, with lots of shallow depth of field creating standout details and dreamy bokeh. Especially with Anya Taylor-Joy and how her face is constantly framed in that classic Hollywood style to stand out from everything else on screen. As you can see in the image above, we get a great sense of depth looking through the chess pieces. And this is something the show does so effectively with its blocking throughout.
That's Wizard's Chess
I was watching the miniseries earlier this year around the time when there were also the reveals of the 20th Anniversary Harry Potter LEGO sets. I have a few Harry Potter sets, with various bits of the castle that I have collected over the past few years. And criminally under-photographed, as is the case with most of my toys. But in this case, there was only one set I wanted. Set 76392: Hogwarts Wizard's Chess. I think it's because the set is just a little different, but I genuinely think it's genius. It's both a scene from the movie and a highly detailed chess set with brick-built pieces at minifigure scale. I love it.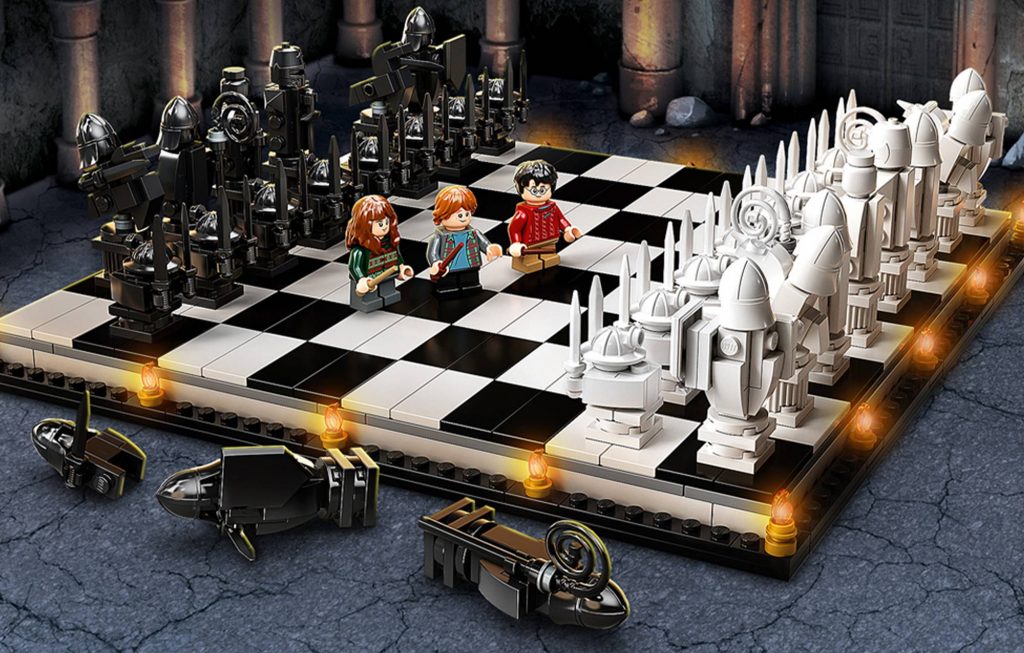 So I waited it out. While waiting for the set to arrive, I started to look for further inspiration, and at chess photography in particular.
Like I said, it's all about inspiration
I first found Niki Riga, who like The Queen's Gambit likes to shoot through the chess pieces and focus on the players themselves. And by doing so creates images that capture moments, capturing the players' character, their concentration and their emotion.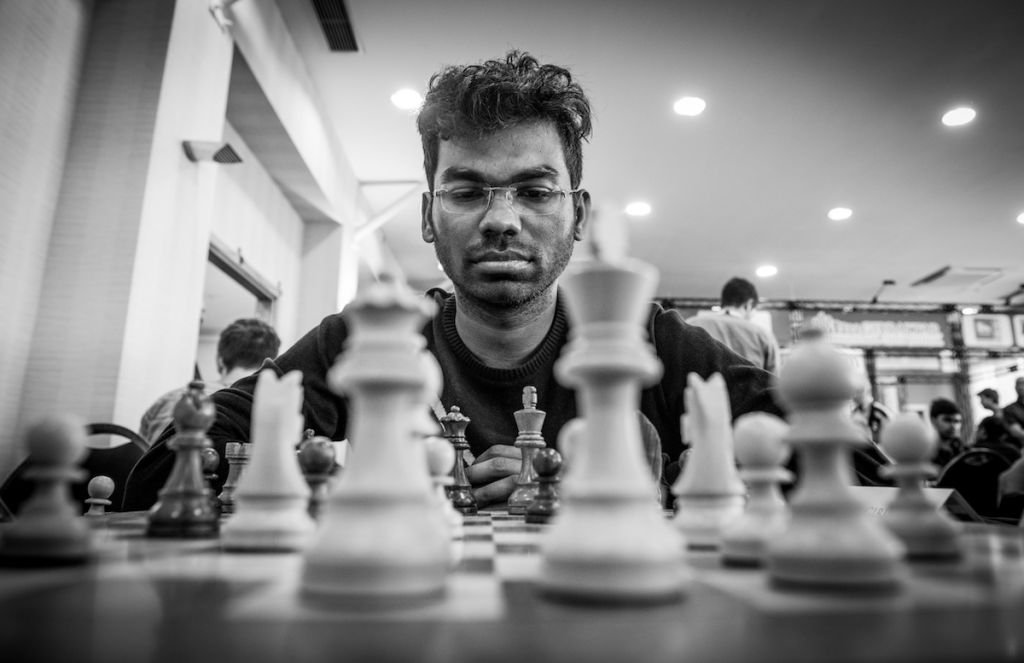 I also found David Llada who, with this photo, shoots through the chess pieces to frame the individual behind them. Creating drama in a very static image and using the totem-like structures of the individual pieces makes the photograph.
Izzy wizzy, let's get busy
So with all this inspiration what was I to do? It was time to make some practical magic effects and start taking photos.

The practical lights are small LEDs that connect to USB connectors. It just takes a small bit of tack to hold them on the tip of the wand, and LUMOS. I also used a backlight and a little bit of atmosphere to give some definition to the surrounding chess pieces.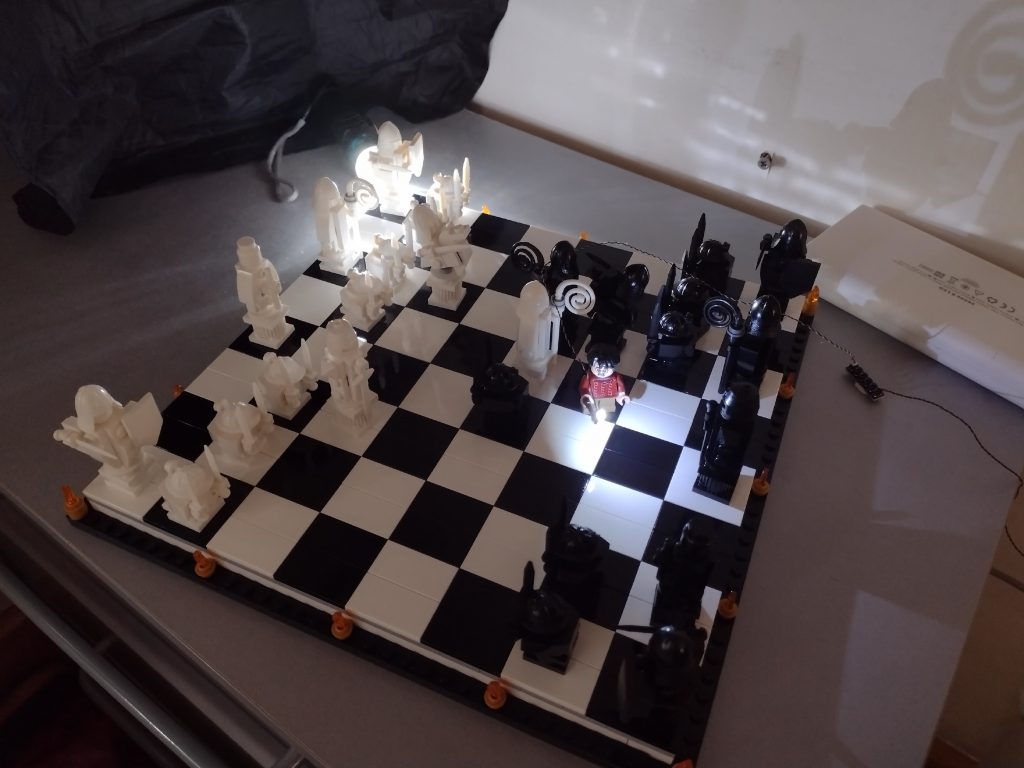 Like the influences I sighted above. I wanted to shoot through the chess pieces, adding depth to the photos. It almost feels like a graveyard or museum after dark. Using a shallow depth of field gave more illusive and suggestive shapes with the surrounding pieces, to create an eerie feeling, enhanced by the nervous expressions of the minifigures.

I'm not sure I ended up with the photos I was planning for in the beginning, but that's part of getting inspiration, I suppose. Making art of any kind is about remixing all of your existing inspirations into your own thing. No art is ever unique, it's always a new mix of existing elements. The ideas I had watching The Queen's Gambit are still present in my finished photos. But now I have finished images that also tell the story of their own creation and the journey to making them.
For anyone who is interested, I can't rate the show or the LEGO set highly enough. Both are quite cerebral and a bit clinical in what they offer, so they probably won't be for everyone. But both are striking and elegant in their execution and I think offer something just a little bit different.