Recently I wondered: Why am I still a toy photographer? I was updating my website and I noticed that I've been doing this for nearly 10 years. That's a really long time to be doing the same creative project. I've seen so many toy photographers come and go over the years, I've lost track. Realizing both the longevity of this project and the number of people who have left it behind has made me question my own motives. Why am I still a toy photographer and many others aren't?
The answer that came to mind was that for me this is more than simply toy photography. If my only motivation was a toy photo, I would have moved on long ago. There are only so many photos of toys you can take unless you're a collector. There is no denying that A steady stream of new toys keeps the ideas flowing. But I'm not a collector, I'm a photographer.
Why am I still a toy photographer?
Why am I still a toy photographer? From the very beginning, the world of toy photography has been a journey to something else. At first that was to help elevate this hobby into something more. Then it morphed into a community building exercise. Along the way I:
Was one of the founders of Brick Central. We started BC to showcase toy photography featuring LEGO minifigures, because the action figure guys gave us very little respect.
Was asked to be a founding member of Stuck in Plastic whose original aim was to see our artwork hung on gallery walls.
Started my first toy photography community on G+.
Founded this blog because I thought that LEGO and action figure photographers (and everyone else) should interact. We have much to learn from each other!
Started another community (Hello, MeWe!)
Orchestrated yearly printed retrospectives of our community.
All of this was accomplished with the help of many friends. I've learned over the years that I'm stronger and learn so much when I work in a group. The variety of viewpoints and experiences always makes for a richer end product. Not to mention, the process is more fun!
All of these projects and the friends who have helped me have acted as a support as well as an incentive to keep going. I think of it all as support and accountability. Without both of these, it's very hard to lead a creative life.
Challenges = growth
Each of these challenges has required me to grow. One project has led to another with the challenges and learning experiences, growing larger each time. But I've never had to face the challenges alone. There has always been a community around to lend a hand and help move projects forward.
The possibility of growth has kept me going as a toy photographer for nearly 10 years. If I was simply taking photos without the benefit of a project, a personal goal or some larger purpose, I would have left long ago. Each new challenge is an opportunity to grow. Some of these challenges are relatively easy and in my wheelhouse; herding cats for instance. Others have nearly broke me; being a LEGO ambassador or beta testing a new lens, for example. Although looking back on the last decade, I wouldn't change a thing. Each opportunity has been a learning experience preparing me for the next challenge.
"It is good to have an end to journey toward; but it is the journey that matters, in the end."

– Ursala K LeGuinn, Left Hand of Darkness
Challenge yourself
It's so easy to fall into a comfortable groove. Grooves are easy! They can be predictable, easy to work into day-to-day responsibilities and don't ask much in return. In my experience, grooves aren't very satisfying.
"I certainly wasn't happy. Happiness has to do with reason, and only reason earns it. What I was given was the thing you can't earn, and can't keep, and often don't even recognize at the time; I mean joy."

– Ursala K LeGuinn, Left Hand of Darkness
I'm not sure if the current challenges I have set out for myself will be enough to sustain me for another 10 years. But I'm sure that between them and the current projects in place, I've got a couple more years of toy photography fun in me.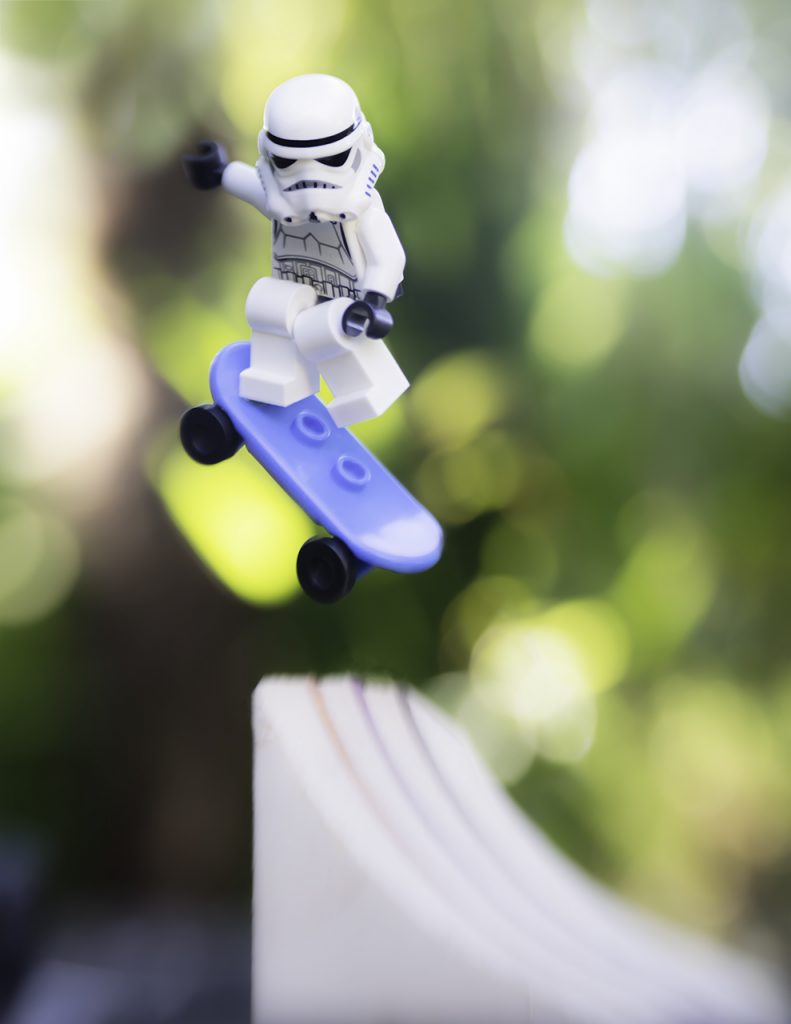 As you look at your own creative life, I encourage you to challenge yourself. If you want to continue to be a toy photographer—awesome! If it's time to move onto to new areas of exploration, I wish you well. But whatever you decide to do, know that you are stronger than you think. And while you're busy challenging yourself, make sure you put your support system in place. It doesn't matter if you call it your friends: scaffolding, accountability or support, they are the difference between your success and just another learning experience.
If you're already challenging yourself, let me know in the comments. There are many ways, big and small, that we can challenge ourselves every day. Let's learn from each other!