When I first saw this LEGO Creator Fiat 500 model online I must admit that I was a little skeptical. Building cars is not typically my thing, it's not scaled to minifigs for photos, and the Fiat 500 is basically all curves in real life. This last point intrigued me though. I was interested to see how the subtle curves that go into car design are tackled with what are essentially linear components. The preview of the interior details was the deciding factor and I decided that I wanted to dip my toe into what appeared to be a rather technical and detail-oriented build.
I do most of my set building alongside my wife, so we decided to take this set out on our 10th anniversary trip to Toronto. We set up in the lounge at the Royal York, ordered some drinks and a cheese plate to get into the mood for this classy looking build, and set to work.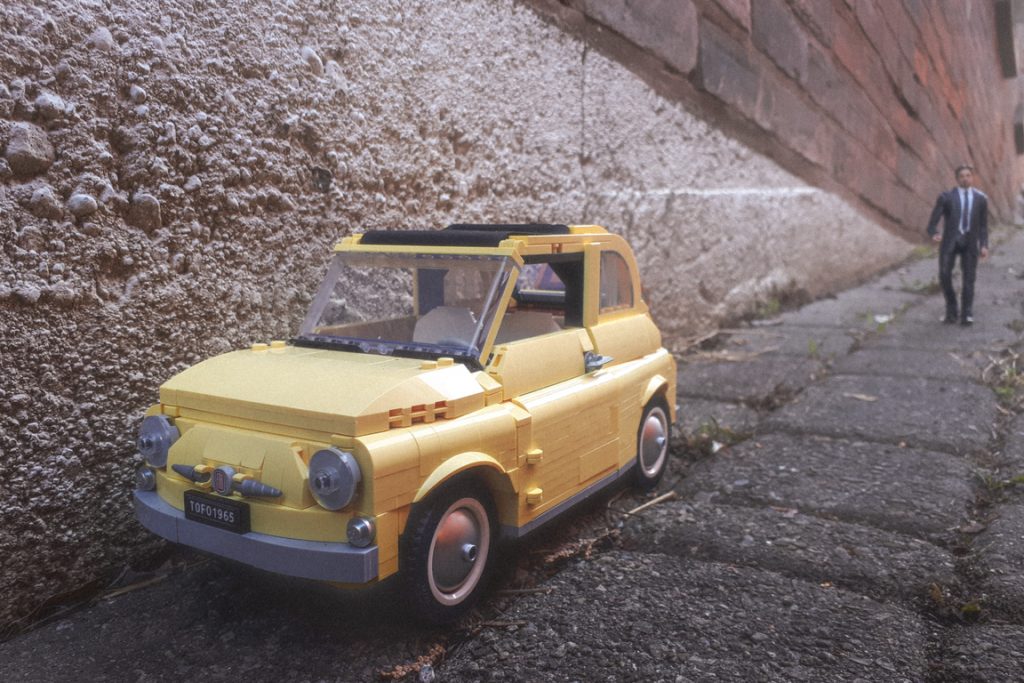 It helps to be an expert
As my wife began to assemble the chassis by candlelight, we quickly discovered why this is called an "Expert" Creator set. The initial framework has quite a number of single stud connections that require a delicate touch to assemble and hold together between building steps. That being so, the framework is quite solid once assembled, and has survived many trips while simply tossed into the sack of toys I take out daily to shoot (it's a reusable grocery bag). After a glass of wine, a local cheese plate, pot of tea and one of the best triple chocolate desserts we've ever had, we managed to complete bag one and part of bag two.
This delay was partly due to the aforementioned detail in this model. LEGO creates detail with small parts, and this set is mostly very small parts. To put this into perspective, the last Expert set I built, Welcome to Apocalypseburg! (set 70840), contains about 170 pieces per bag set, compared to 320 per bag set in the Fiat 500. This model packs a ton of pieces into a small package.
I finished bags two and three on my own with considerably more haste and was delighted to see the shape of the car come into perspective, and the functional details reveal themselves. The motor detailing is lovely and has the cobbled together look of old engines while still feeling like a tight and cohesive design. The functional fabric sunroof adds a nice texture and a great element that changes the look of the model for different photo scenes. My favourite detail elements, however, are inside the car.
Interior details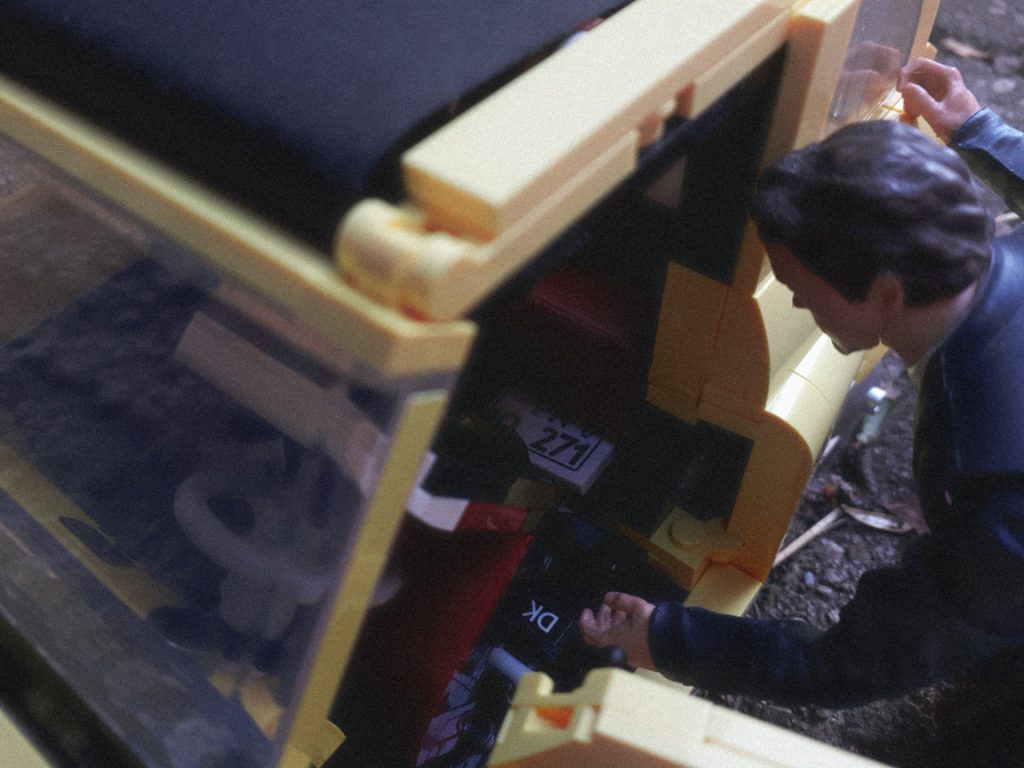 The Fiat 500's interior styling is beautiful. The white and dark red leather seats are a perfect complement to the light yellow exterior, and the subtle curves make them look rather more comfortable than hard plastic LEGO. The front seats tip forward, which is both realistic and welcome to allow back seat access after the build is complete. I particularly like the steering wheel, signal control, gear shift, E-brake and window handles. These details really finish the interior. This brings me to my one disappointment. I was really, really hoping to see a glove box. In truth, I don't know if the real Fiat 500 had one, but I wanted one.
Exterior concerns
My biggest initial concern with the LEGO Fiat 500 was the exterior. The design cues that go into car bodies are extremely subtle. Accomplishing this with LEGO is obviously part of the challenge, but from an aesthetic point of view, not always possible. Given the challenges in creating round shapes from square blocks, I'll allow that this is a remarkable model. Overall it looks like the Fiat 500, but there are a few weak points, especially around the windows and roof area.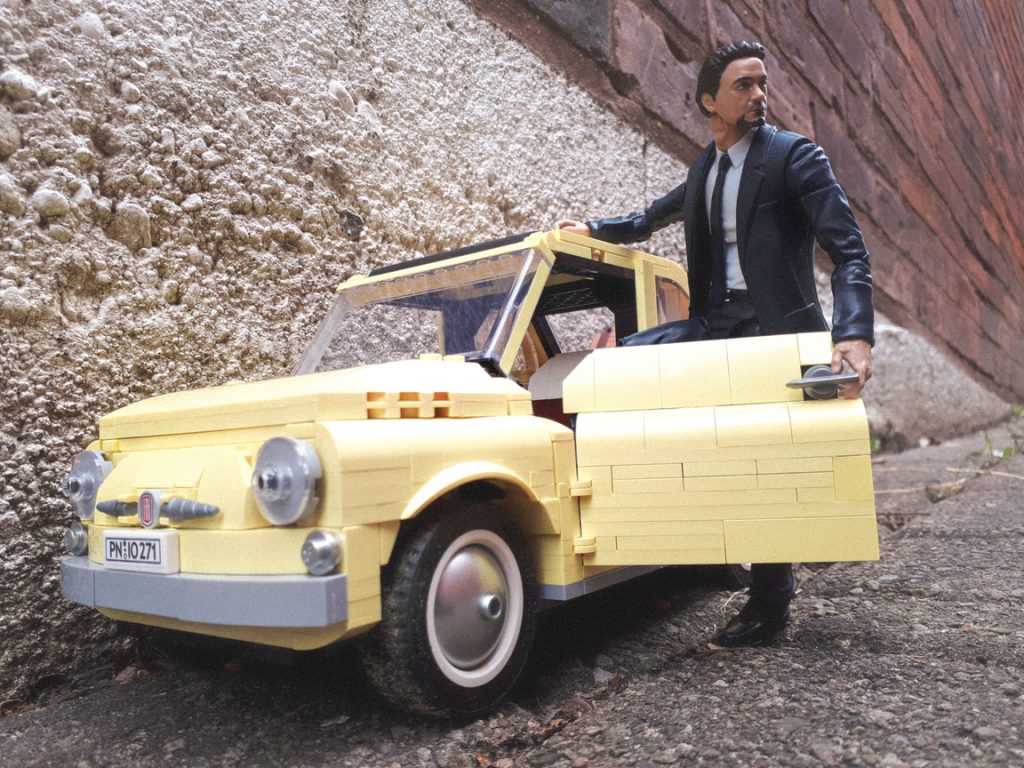 The side profile is really good, but for me the windshield is just a little too square. The soft curve of the windshield on the actual Fiat 500 ends up looking very much like a bubble and is a large part of the overall look of the car.
The windshield on the Creator set looks more like it's from a Volkswagen Thing—rectangular with all hard transitions. Also, hinges were used to create subtle angles with the front and back quarter panels. This is very elegant and I wish something similar could be done with the window panels so they were not completely vertical. This being said, I'm probably being overly picky. The model looks very realistic, and I doubt I could have designed it better myself without inventing new parts. And while it isn't a diecast car, it nails the 1960s auto styling.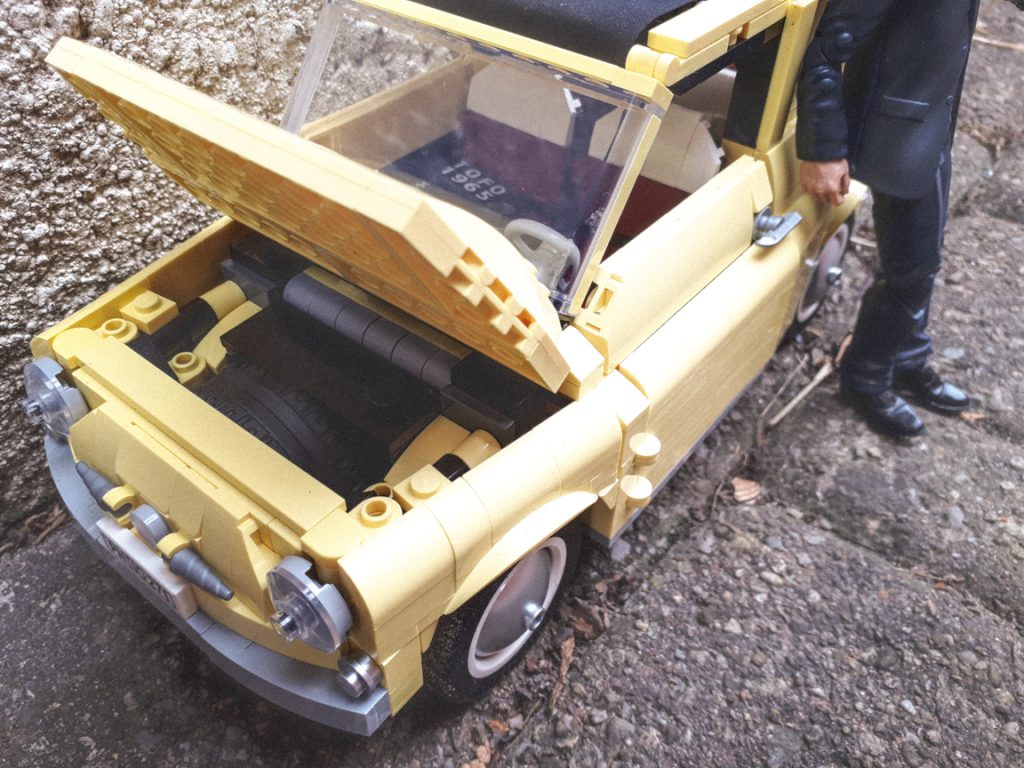 Where the LEGO Fiat 500 falls flat
The only part of the set that was neglected is the undercarriage. I did not think of it until I turned the car on its side to take a photo as if it was in an accident and had rolled over. For all the hidden detail in the motor, interior and under-hood space, some mechanical greebling on the underside would have made this a home run for photography. As it is, the underside looks very plain, flat and generally like the underside of any old LEGO brick.
I would also like to have seen a set of windshield wipers. As a final gripe, the colour matching on the yellow parts is not perfect. Perhaps the plastics are from different batches. The 2×4 tiles look like they are a slightly darker tint. Overall the blend is fine though.
Accessories
At first I really liked the little painting and easel, but I have since mostly forgotten about it. The problem is the scale. It's too small for the car, and too big for minifigures. As a result it sits alone in my toy sack waiting for a 1:24 figure to take an art class.
Where the LEGO Fiat 500 shines
In spite of the easel, scale is actually where this set really shines. As a toy photographer, I'm open to all toys—LEGO and otherwise. This Fiat 500 is a nearly perfect 1:12 scale model. The LEGO model measures 9.5 inches (24cm), while the 1965 Fiat 500 was 9 feet 9 inches (297cm). That makes it 1:12.4 scale.
That's darn near perfect for all your 1:12 figures. Given the awesome 1960s vibe this model embodies so perfectly, there is a lot of potential for toy photography mashups.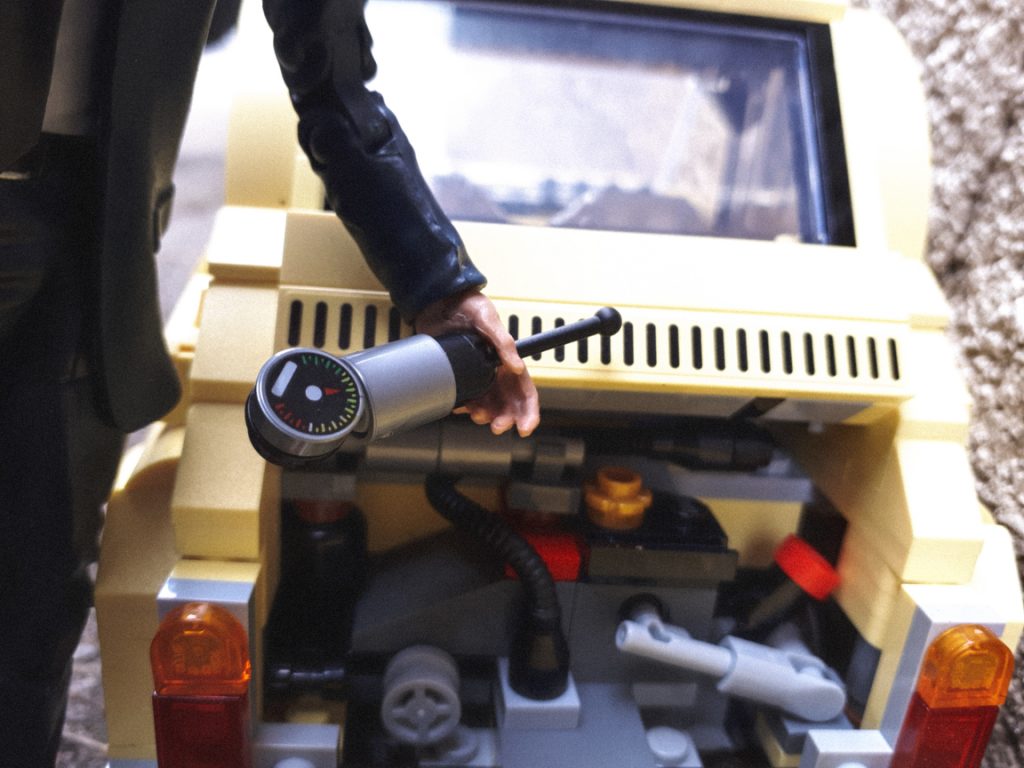 Final verdict
The LEGO Creator Fiat 500 is a great set for photographers, especially those who like to shoot scenery outdoors and play with forced perspective. The scale is large enough to blend with most dirt and street textures, and it matches your 1:12 figures perfectly. The interior detailing is wonderful and stands up to reasonable closeups in photos. There are enough functional components for a wide variety of scenes and setups. For builders, I think you will appreciate the subtle techniques used in the body panels, but there is room for experts to improve on some of the detailing.
Let me know what you think of this model below in the comments, and please share any suggestions you may have for its use in photos.
Other recent LEGO reviews on the blog: