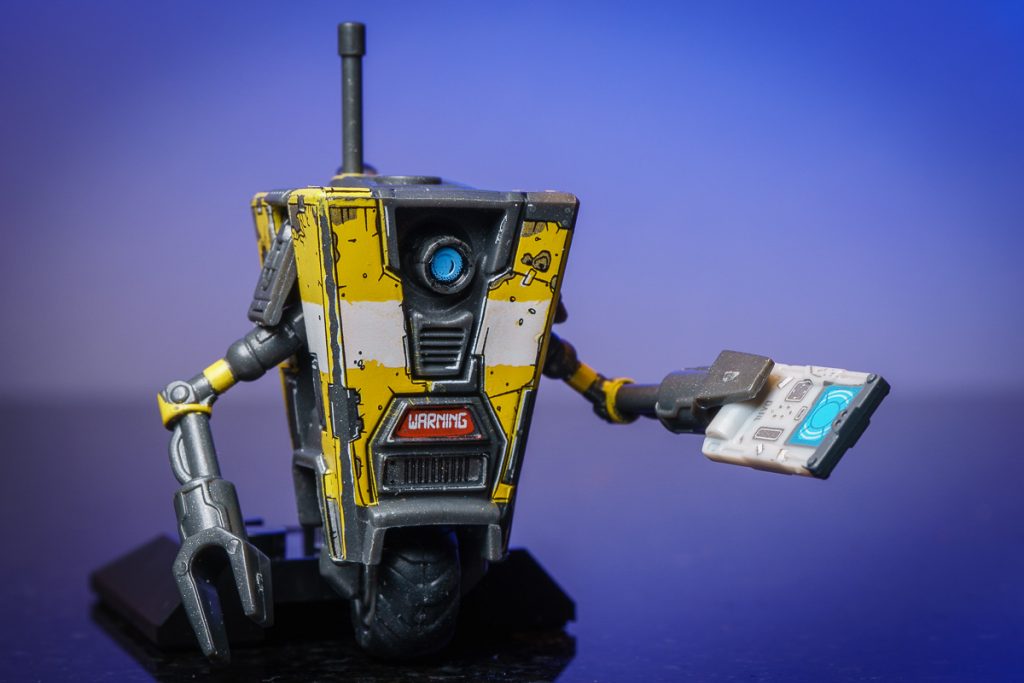 Brick-built worlds will never be the same again, now that Borderlands' lovable little wisecracking robot has entered the micro realm. In this post, I'll be looking at the Claptrap micro figure from Mega Construx to see how well it stacks up for toy photography.
CL4P-TP
If you are unfamiliar with Claptrap, he is one of the most colorful characters you'll encounter in the Borderlands video-game universe, specifically Borderlands 3 in this case. A general-purpose robot built by the Hyperion corporation, Claptrap zips around on his monowheel with an unstable, comedic personality that is a lethal mix of anxiety, insanity and hysteria.
Some assembly required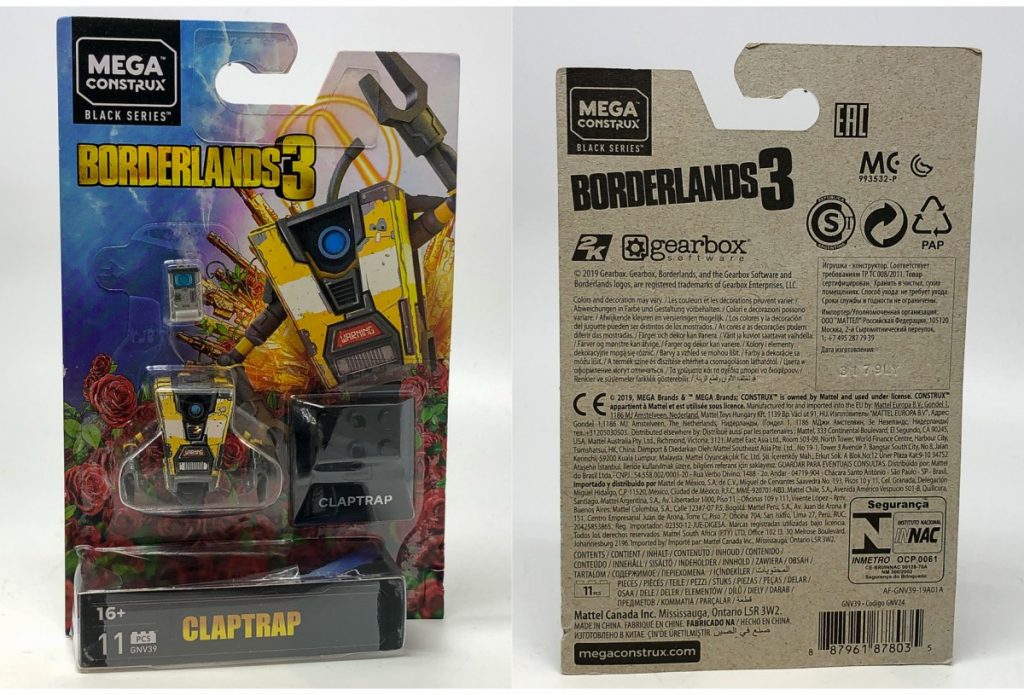 Out of the package, Claptrap requires a little assistance, but it's nothing like helping him recover his eye from a rampaging, bullymong.
His shoulder guards and antenna attach easily into place, and the included echo communicator accessory (Borderlands' key communication device) fits securely in either hand.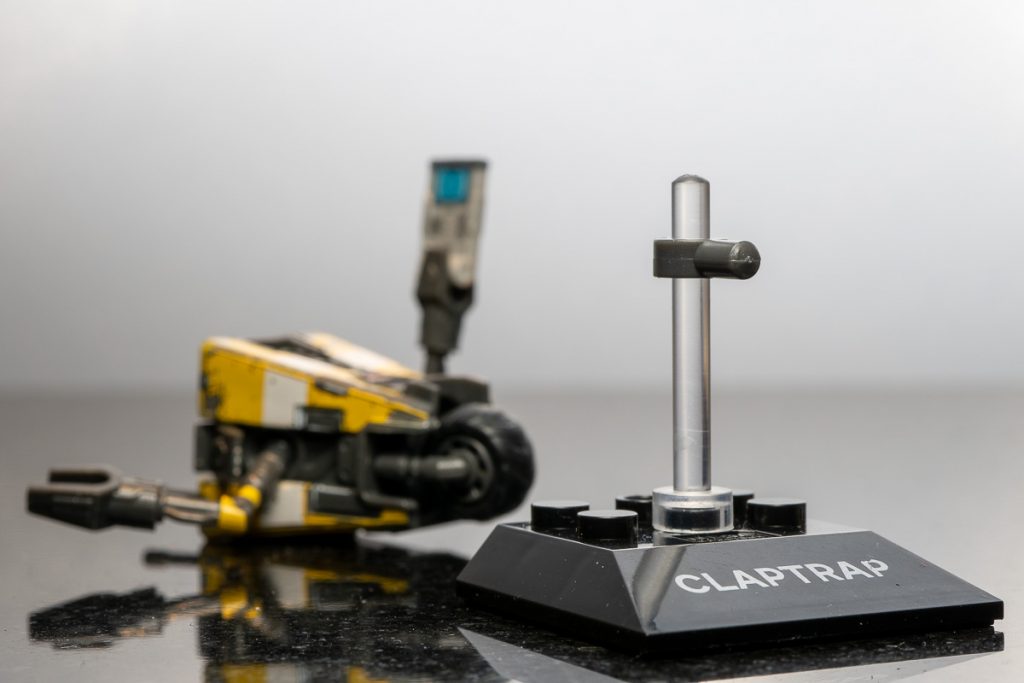 Claptrap comes with a simple display stand to help him remain upright. This comprises a printed base, clear pole and a claw that attaches Claptrap to the pole via a hole in his back.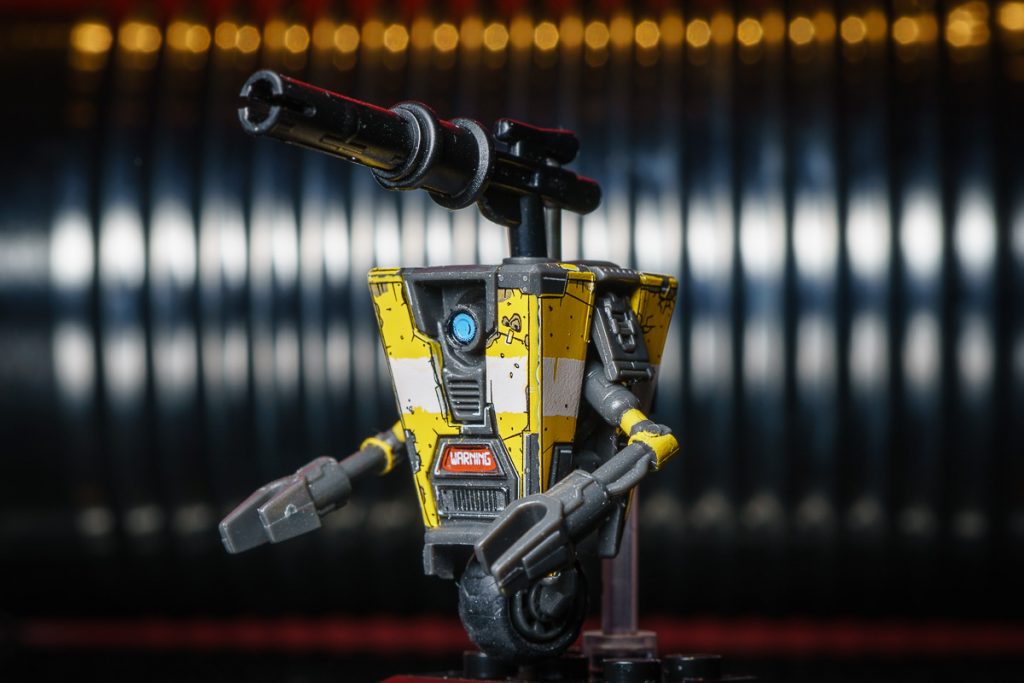 Claptrap also has an additional attachment point on the top of his head for accessories / weapons.
Detail
Claptrap is part of Mega Construx's highly detailed Black Series line, and they've absolutely delivered with this figure.
From tire to antenna, Claptrap measures in at 1.75 inches ( 44.45mm) yet sports a tremendous amount of impressive detail.
His paint shows wear and tear on all sides of his body, and his arms have simple yet great mechanical detailing.
Even the included echo communicator looks top notch
Articulation & posing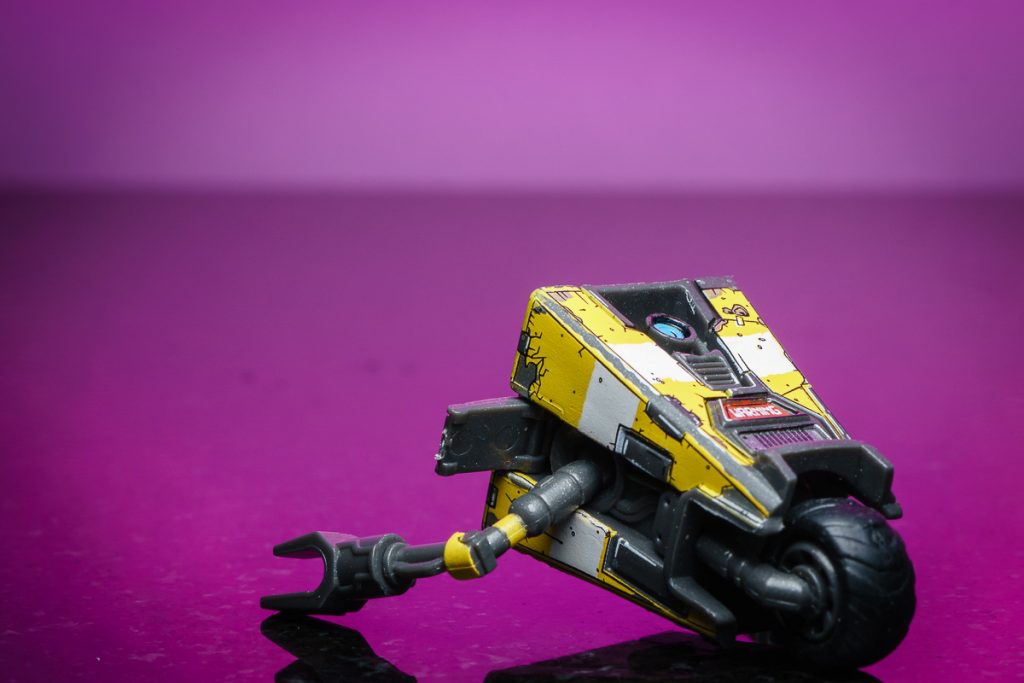 Just like the detail, the articulation for a figure this size (and of this type) is impressive. Claptrap's arms have a full range of motion at the shoulders, and his wrists rotate fully, allowing him a lot of play with regards to holding accessories.
His monowheel spins freely and rotates 360 degrees, and his shoulder flaps can rise and lower as he moves his arms.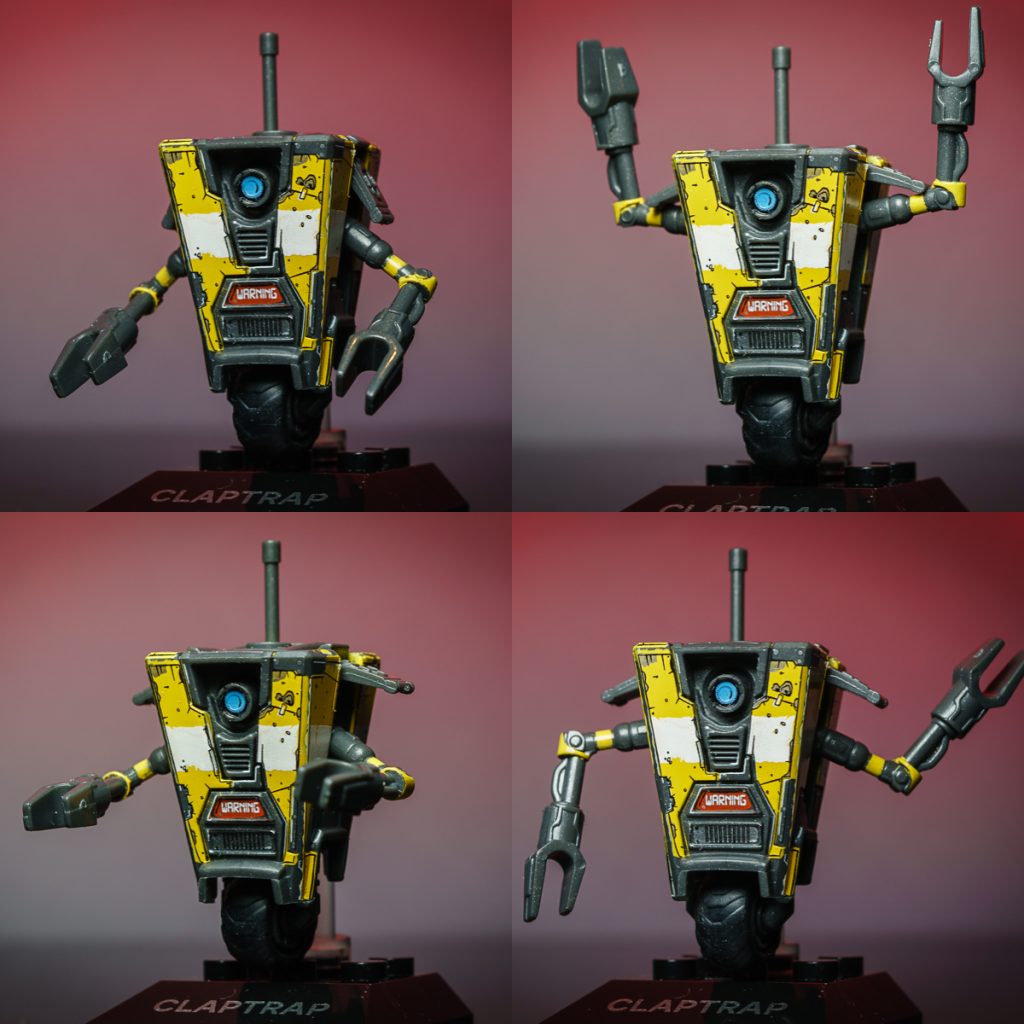 Even Claptrap's eye is articulated, however I didn't notice this until after I had finished shooting photos. His eye is extremely small though, and once I moved it I had a hard time getting it centered again. I needed to use Claptrap's antenna to nudge it back into place.
When shooting Claptrap, the challenge will be keeping the figure standing up. The display stand works great, but you are going to have to get creative if you want to avoid having it in your final image.
You can use the stand in different configurations to mitigate this, or just clone it out in post-processing.
Glamour shots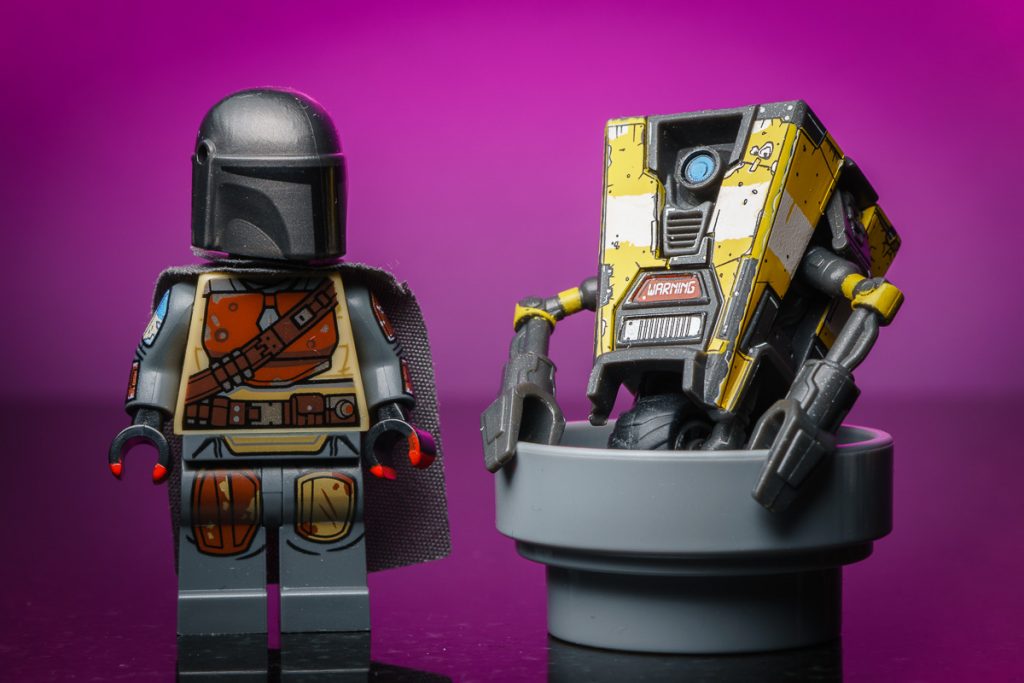 Conclusion
A+ to Mega Construx on a fantastic figure. Claptrap may be micro in stature, but he is a giant in front of the camera. The fantastic level of detail, coupled with the great range of motion makes this figure a blast to photograph.
He has quickly become one of my favorite figures, and has got me zeroed in on the Mega Construx Black Series line. I would love to see more Borderlands characters get the micro figure treatment.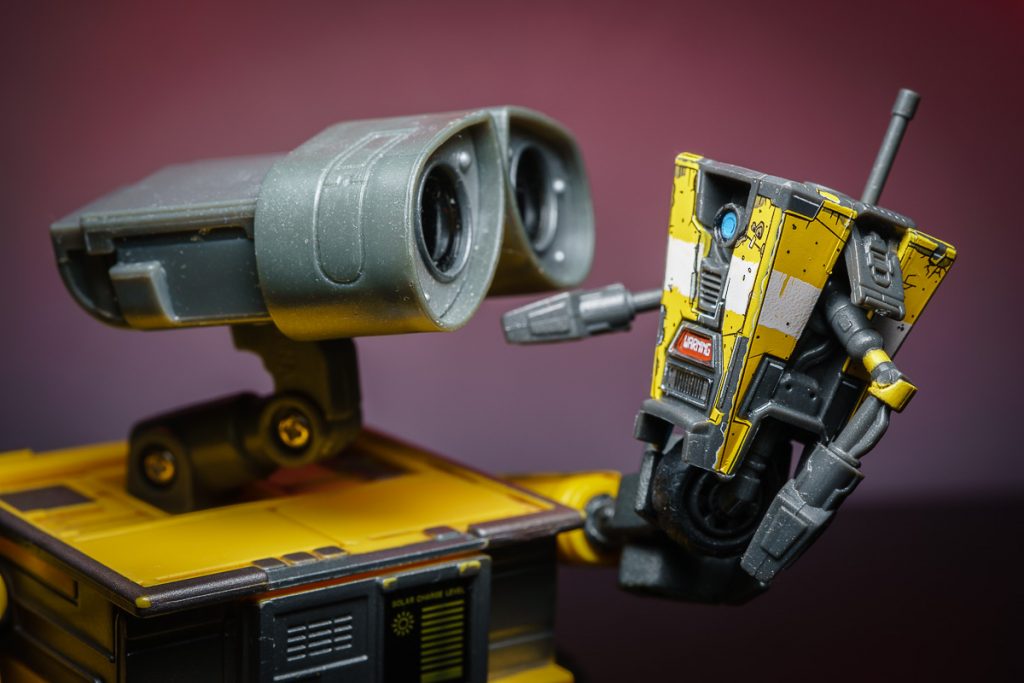 The Borderlands 3 Claptrap retails for an MSRP of $4.99, which is a great price for a figure of this quality. I'm looking forward to many future photo shoots with this quirky little robot.