As jANTMANuary, the month dedicated to shooting our Ant-Man figures in 1:1 scale, comes to a close, we thought it might be fun to look at all the ways this character can be used in our toy photography—especially when it comes to scale. The beautiful thing about Ant-Man is his ability to change his size, from the most microscopic, alongside germs and atoms in the Quantum Realm, all the way up to his Giant-Man persona, large enough to pick up cars with one hand and battle King Kong or Godzilla.
In addition to all the scenes we might create in a variety of scales, there is also a wide range of Ant-Man action figures in different sizes, so we're really only limited by our individual innovation and imagination. To demonstrate, I've chosen some of my favorite Ant-Man photos I've taken over the last couple of years. I'll talk a little about each and hopefully help spark some ideas. The featured image above includes a mini Marvel Legends Ant-Man posed on Hasbro's life-sized Infinity Gauntlet prop.
The shot above features a figurine from the Disney Store's Ant-Man and the Wasp Exclusive 6-Piece PVC Figure Play Set—PVCs aren't posable, but the set has a nice selection of characters in a number of sizes and poses.
To create the next photo, I recently found a giant, 9-inch tennis ball at Five Below and realized immediately how well it would work to make a Marvel Legends Ant-Man look even smaller. Standard tennis balls are less than 3 inches tall, so putting the oversized ball behind this 6-inch Ant-Man figure makes him appear more than three times smaller.
The key was avoiding any indicator, such as actual-size floorboards or items in the background, that would ruin the illusion. I accomplished a similar trick using a giant fork from Pier 1 Imports (Wayfair has something just like it) a few years ago—the shot isn't quite up to par, but you can still see it at @oliversees on Instagram).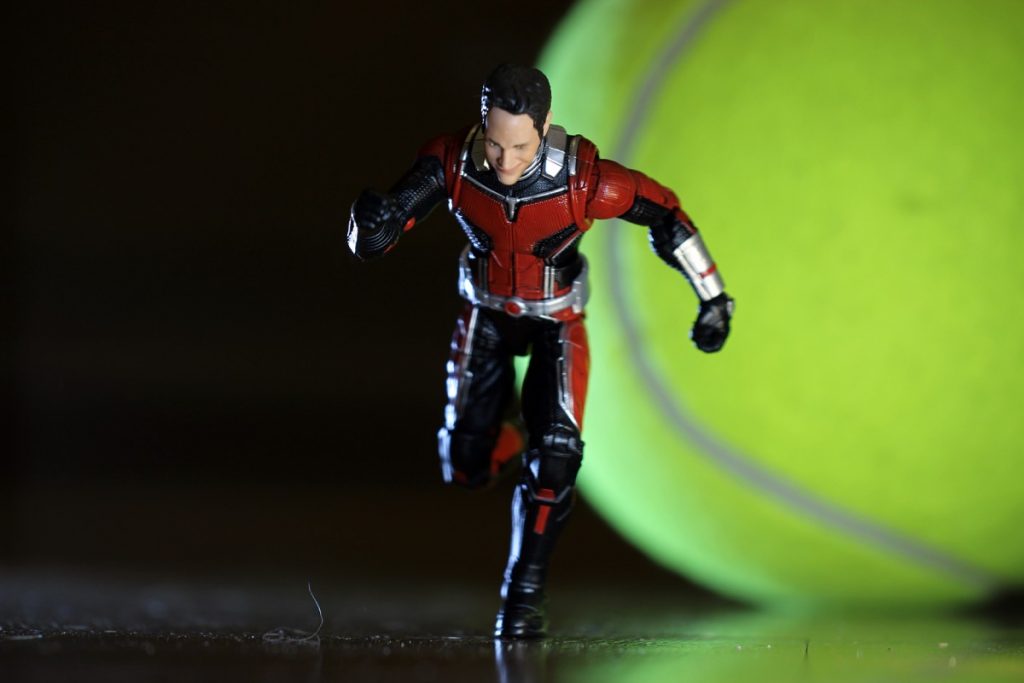 I found inspiration for the Quantum Realm shot below during another shopping trip, this time at my local supermarket. While waiting in line, I noticed a bin of Spritz Spiky Balls (or something very similar) near the checkout and thought they looked remarkably like super sized germs, dust particles or some other microscopic organism. I also added a 6-inch World of Nintendo Deluxe Metroid figure to include a different shape/creature in the mix. To achieve this shot, I suspended everything on the ends of wooden kebab sticks and poked them into a styrofoam block.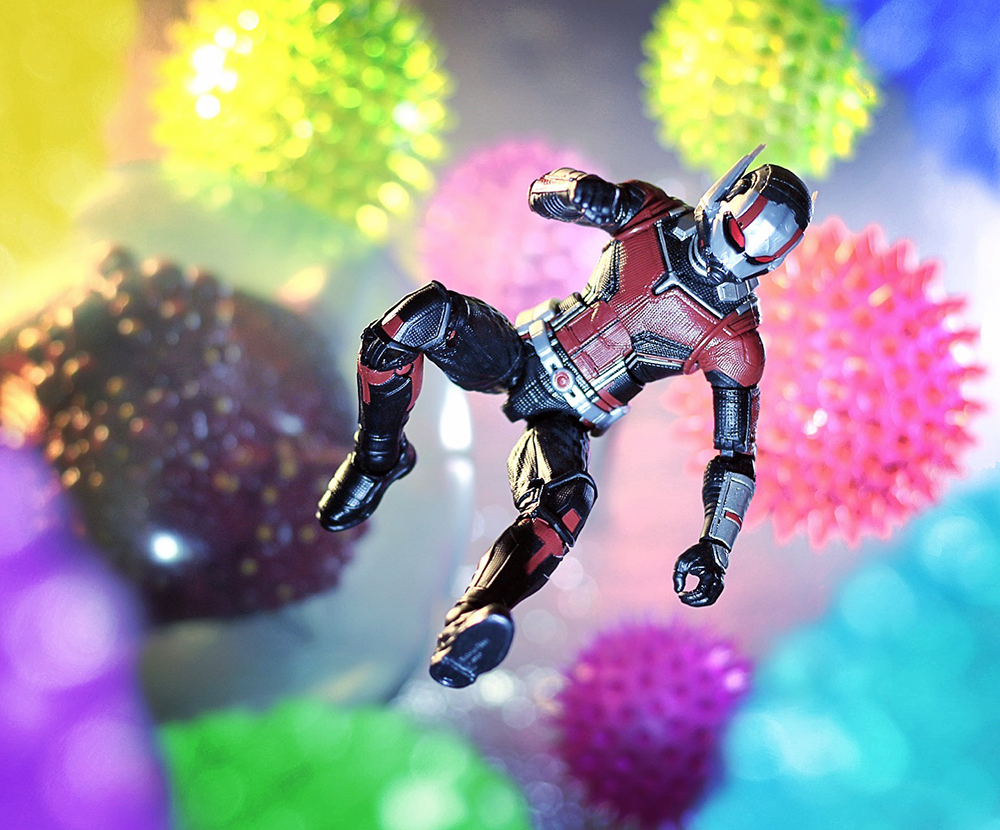 As we saw in Ant-Man and the Wasp, our favorite shrinking hero doesn't always have to be teeny tiny. The funniest, laugh-out-loud scene in the film had to be when Scott Lang infiltrated his daughter's school, got stuck at about half-size and used a kid's hoodie to disguise himself. To recreate the famous Baby Scott at School scene, I used various 12-inch figures and a painted Barbie sweatshirt with the 6-inch Legends fig. He appears exactly half the height of a "normal" adult!
This grenade photo is a perfect example of the kinds of 1:1 shots encouraged during jANTMANuary. Here, I imagined Ant-Man stopping the grenade from exploding by pushing the spoon (normally released when a grenade is thrown) back into place.
Finally, I attempted to feature Giant-Man (or GiANT-MAN, if you like) at a very large size. For this shot, I found a Maisto Build-N-Play gas station (also at Five Below). It definitely shows the wisecracking Avenger at an entirely different scale, though I might shoot from a lower angle next time to enhance the feeling of him towering over the buildings and trees. I'd also like to try lighting the cardboard structures on fire, but that's something for another post.
There are still a few days left in January, so if you haven't explored the #jantmanuary_2020 hashtag or posted your own, go for it! Your Ant-Man photos also qualify for the ToyPhotographers.com MeWe theme and contest, which Shelly mentioned in her wrap-up about the MeWe "Family" challenge. Include the hashtag #tp_realworld2020 on MeWe to join the fun.
If you have been participating, what tricks have you learned experimenting with Ant-Man figures? Has anyone tried using the Marvel Legends 1:1 role play prop replica helmet in shots to make him even bigger? Tell us how you've created a different sense of scale in the comments below.
Oliver Peterson @oliversees
Do you enjoy exploring the Toy Photographers' creative world? Subscribe to our weekly email round up so you never miss a post. You can continue the conversation in our communities on MeWe and Flickr.