Those who see my work often ask me, "What inspired you to build with LEGO and take pictures of your creations?"
Initially, my answer has been, "I'm a life-long builder and I have a background with photography so I thought I'd give it a try." 
My name is Jonathan Duggins. I'm a videographer and photographer based out of Orlando, Florida. Making art has always been a part of life. From an early age, I've been fascinated by drawing, painting and, most of all, building with LEGO. It is life-giving to take something I imagine and turn it into something tangible and real.
My love for bricks and minifigures fueled my curiosity to combine LEGO with my background in shooting video and photos. I was inspired by other photographers like Vesa Lehtimäki who uses practical effects to create realistic environments for his LEGO photos.
I grew up in Texas during the '80s and '90s hearing about NASA's glory days in relation to Mission Control in Houston. My wife, Stephanie, and I moved to Florida in 2008. It wasn't until I saw my first night launch (we live about 40 minutes from Cape Canaveral) that my fascination with space exploration began to grow. Since then, we've watched Atlantis' last flight as well as several of SpaceX's launches. I was inspired to create my own tribute to space within an artistic medium I'm passionate about. On top of that, I was lucky enough to have kids who love LEGO almost as much as I do. We've acquired so many bricks (50,000 would be a conservative estimate) that non-AFOL (adult fan of LEGO) who visit our LEGO room probably think we have a problem. Often, after our kids were asleep, I'd sneak bins of bricks downstairs to build and photograph late into the night. In 2016, I built my first MOC (my own creation) for this project and shot, "Weightless" (see below).
Over the past three years, I've photographed a few dozen LEGO space scenes. Many produced great shots, others didn't make the cut. For my LEGO space series "Let's Build Space," I committed to taking photos that incorporate LEGO with real environments. If I want to show the Earth in the background, that means I need to find a way to get the Earth in my garage. If I want to capture LEGO astronauts splashing down in the ocean, I need to photograph in coastal waters.
Early in the process, a couple friends, Kirk Rhodes and Mike Forrest, came over to my studio to help film a behind-the-scenes video. When I showed them a few pictures, they voiced their excitement about the project and the potential for the future. I remember coming away from our conversation feeling like they saw something in me and in my photos that I'm not even sure I saw at the time. They believed in me and haven't stopped cheering for me since.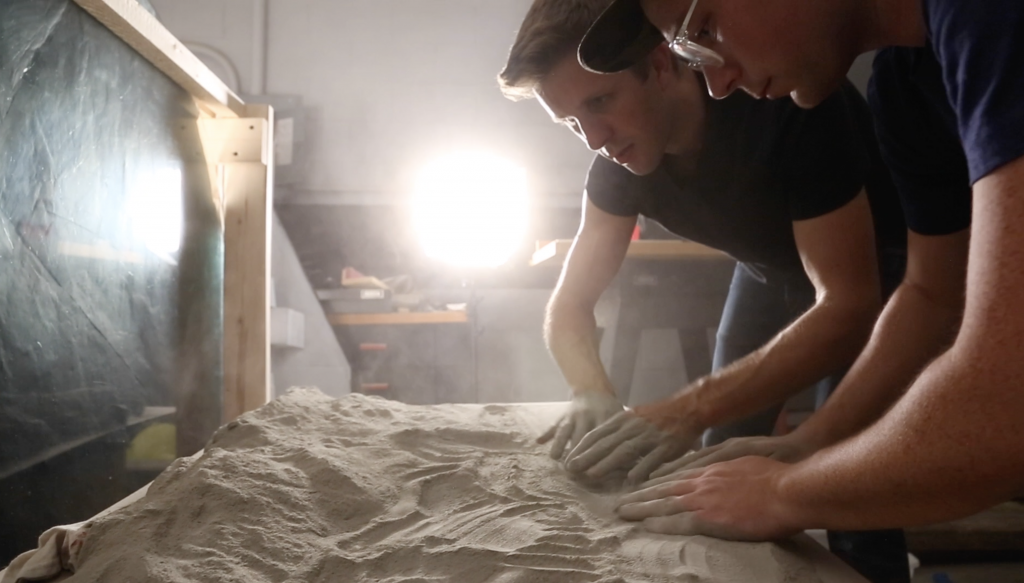 The 50th Anniversary of the Apollo 11 landing on the Moon happened recently and I admit, I spent a lot of time reading up on the mission, watching documentaries and news coverage about it. While Neil Armstrong and Buzz Aldrin are the human beings who walked on the moon, there were thousands of people who helped make that "one small step" possible.
I realized great achievements are not done alone but often though the collaboration of a team. I bet the Apollo 11 astronauts were grateful for the recovery team who flew out to meet them when they splashed down in the Pacific Ocean!
In the world of photography, it's similar. The person taking the picture is celebrated, but often, there are others who contributed. Today, I want to celebrate the people in my life who have been champions of my work and encouraged me to pursue this passion. I'm not sure my LEGO photography would have come to fruition without those few special people.
Sharing my photos online has introduced me to the vast community of toy photographers. It's affirming to receive recognition from other photographers, but it can be addictive when success is often measured by share-ability. It's tempting to "live for the "likes." I'm trying to remind myself not to run after the praise and value human connection instead.
So when asked again, "What inspired you to start taking photos?" my new answer is: community. If you're a toy photographer, ask yourself this: Who are the people in your life who will cheer for you and who challenge you? Find your own Kirk or Mike, and invite them on the adventure.
~ Jonathan and Stephanie Duggins
If you would like to see more of Jonathan's photography you can connect with him on Flickr and Instagram.