Like most toy photographers and also amidst a growing trend, I like to bring along some toys to shoot while holidaying. I would like to share my toy safari experience on my trip to New Zealand in this post.
Living on a small and highly urbanized island, the number of locations to shoot amazing vistas is zero. Our highest "mountain" is just a hill having a elevation of just 164 meters. I was thus looking forward to the trip with ideas of shooting toys in awesome natural surroundings. The plan was to drive from the North Island to the South Island, with stops at popular destinations and then google for stuff to do and places to visit once we arrived there. That has always been the way we traveled…not much planning and lots of discovering when we finally arrived at a planned destination.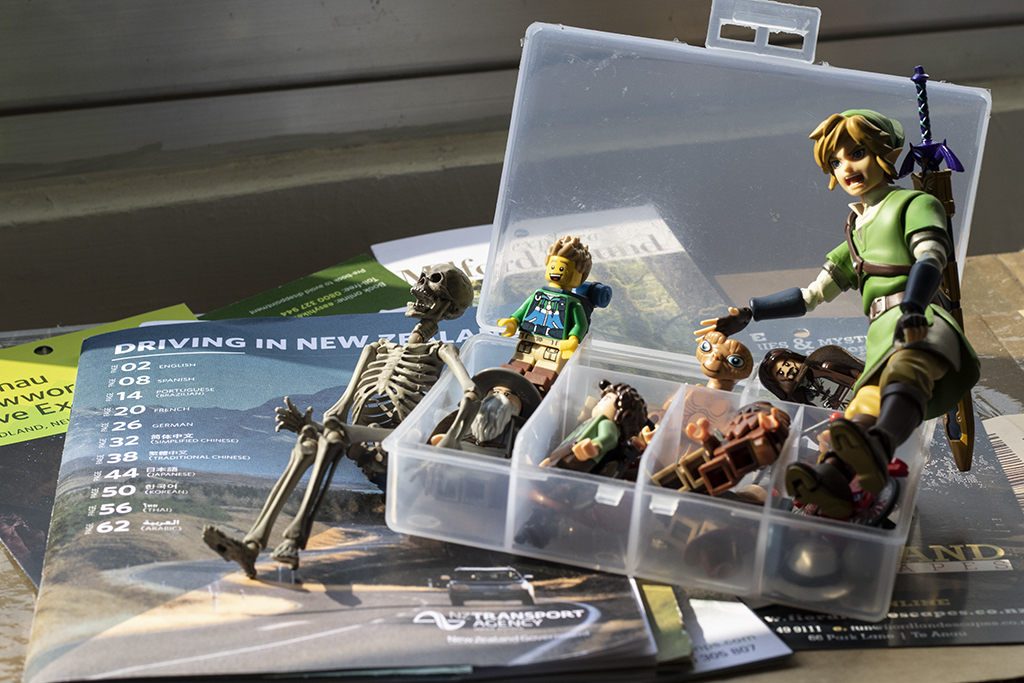 The few that got to travel.
WHAT TOYS
TO
BRING
This holiday trip was not the first time I had brought toys along. But this was the first time I brought more than 2. On hindsight, I wished I had brought more! This being New Zealand, the most obvious choice of minifigs to bring along were those from the Lord of the Rings. These were the figures I wanted to shoot most and I was so looking forward to visiting Hobbiton and shooting them there. But more about that later.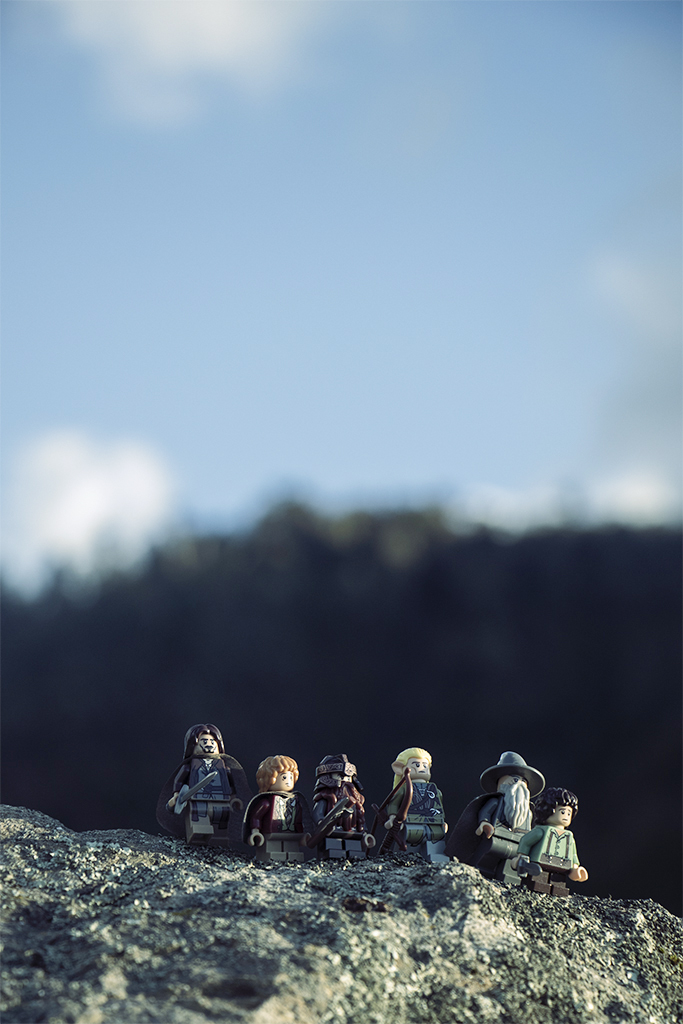 It's New Zealand, so it's only obvious to bring along these fellas, albeit missing some key characters from the brotherhood.
Five minute before we headed for the airport, I ran into my store room and grabbed Link (from Zelda)  and a skelly (from Jason and the Argonauts set). I was so glad I did that , cause I ended up shooting Link quite a fair bit. He was such a great figure to setup and photograph amidst the majestic places we visited. And along the way, while in Wellington, I discovered quite by accident, that Weta Cave was near where we stayed, and bought two additional figures there – a Gollum and Gandalf figure.
FIRST STOP: HOBBITON
I had visualized a fair bit how I wanted to shoot Frodo and company at Hobbiton but things got a little overwhelming when I was finally there. I think my excitement of visiting the place and trying to take it all in muddled my mind. This was a guided tour with lots of trivia info thrown in as we walked the site for an hour or so, stopping at specific spots. I would set up my minifigs, shoot and catch up with the tour. Not much time to think and compose. Was disappointed with the photos, but I did stop to enjoy the moment. All in all, it was a great experience just being there, even though I left with less than inspiring shots.
The only decent shot I got out of the Hobbiton experience!
EVERYDAY IS A TOY SAFARI DAY…KINDA.
No deadlines. No meetings. No work phone calls. When you are on holiday, everyday can be a toy safari day. Having an additional objective while holidaying with the family was definitely fun. However, family always came first, so their needs were always priority. This means having to skip some gorgeous locations, because everyone's tired and want to get to the next rest point quickly.  Kudos to my wife and sons for being so understanding and patient , even taking some BTS for me as we made numerous unplanned stops to stretch and take photos of course.
We trekked and hiked at a couple of locations. Setting up and getting the shot during these times would always be a slightly stressful situation because I got carried away sometimes and my wife and kids would have to wait up for me. No time for elaborate setup! Just put the figure there, shoot and catch up with the family. The best part was when we finally reached our accommodations and everyone settled in. That's when I would run out and start my toy photography sessions. The long days during our visit certainly helped. The sun would still up at 8 pm, giving me additional hours to shoot.
Quick simple setup was mostly the way to go.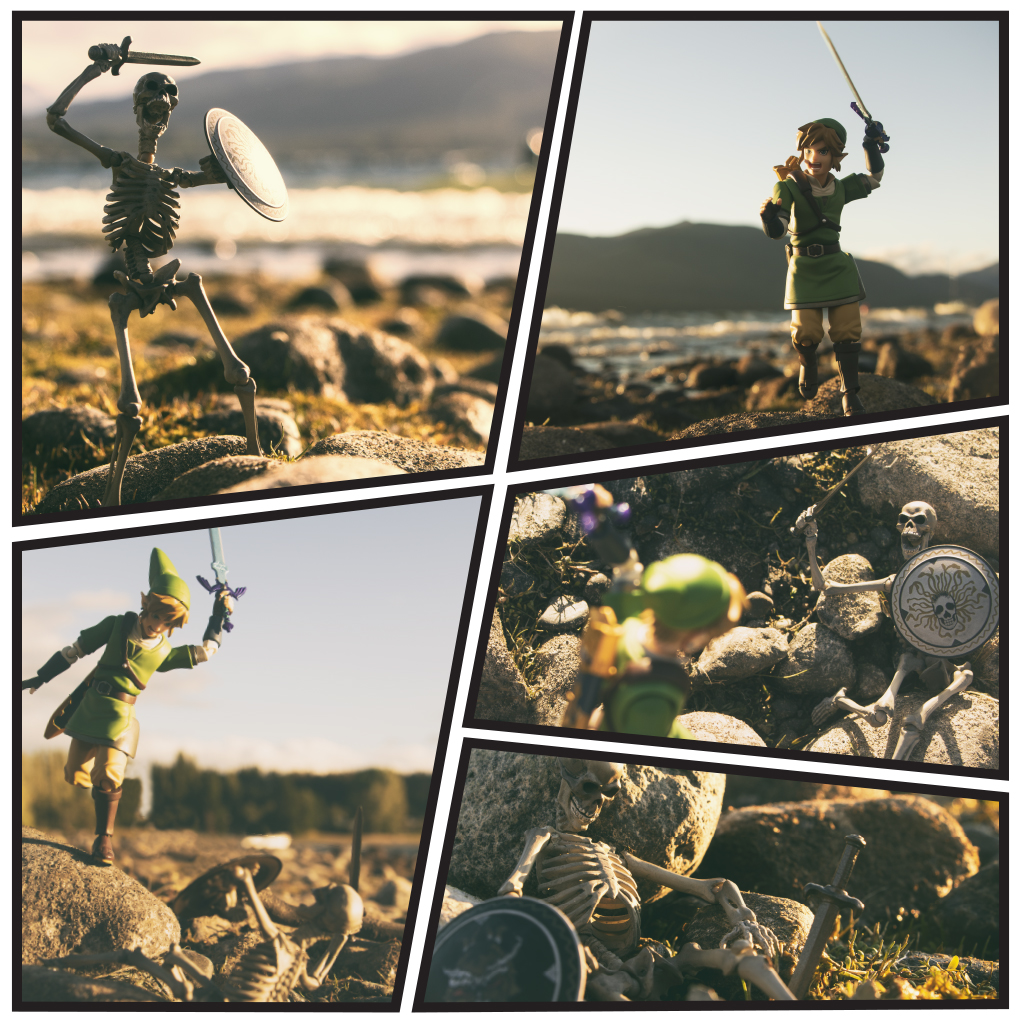 After settling the family with the accommodation at specific rest points, there was plenty of time to do a bit of storytelling.
I had a couple of memorable stops and one of them was this house in Tekapo. You were suppose to be able to shoot the milky way there. In fact, I would say it is THE place to go to see the Milky Way. But I did not have any luck with that, as it was not really a clear night and the moon was out. On top of that, I did not have enough experience and knowledge to shoot a milky way photo. Scratch that idea of ET with the milky way in the background. I did have a chance to setup a campfire with the kids and was inspired to use the flames as background for a toy shoot.
It's not everyday I get a chance to set up a campfire where I live! 
THE WEATHER
Where I live, it's always hot and humid or raining. So, visiting a country with cool weather is something I always look forward to. However, the cool and windy weather, which I seldom experience when out shooting in Singapore, was a new challenge. I gave up setting up couple of scenes as the figures just would not stay in place. I just took shots that were not really what I had in mind and be done with it. Respect to folks who shoot in these kind of weather! On the plus side, I didn't perspire much, which makes shooting outdoors very pleasant. You should see me when I am out and about on toy safaris back home. All drenched in sweat. Every. Single. Time.
AMAZING LANDSCAPES AND SAND FLIES
As we drove southwards, I got familiar with the road signs and was always on the look out for the attraction signs. We made numerous detours to lakes, creeks, forest, waterfalls, rivers. This being a self drive trip, we took our time to enjoy the place and take all the photos we wanted. Most of these stops were usually pretty quiet with not many people around and that was a bonus for my toy photography!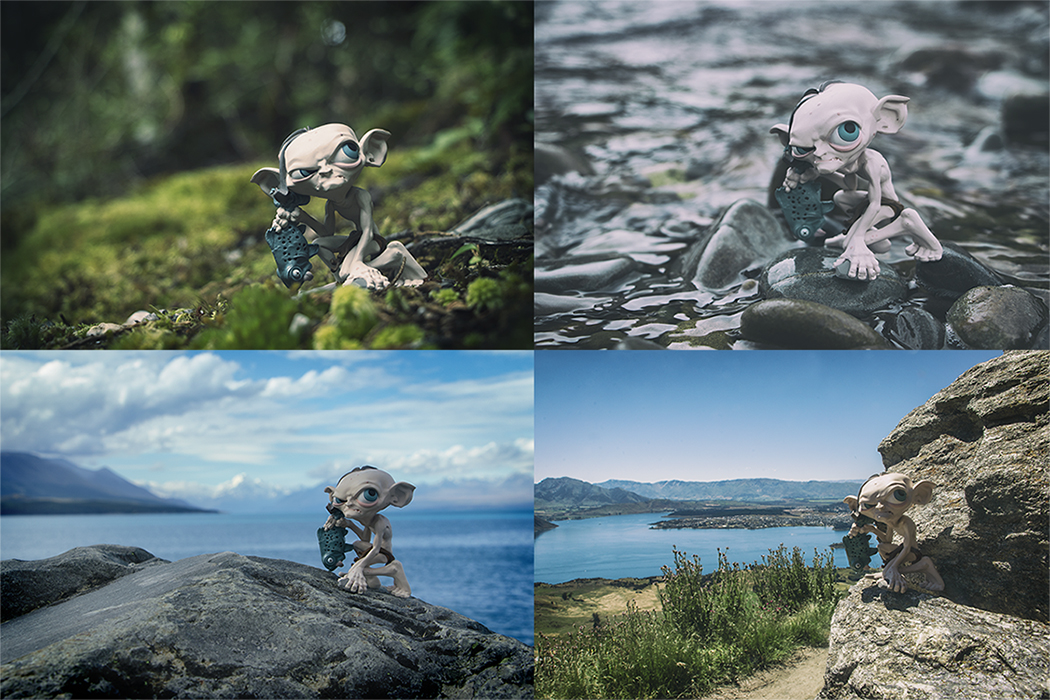 So many different kinds of landscape to explore!
Purchased Gollum after visit to WETA Cave and ended up being one of my go-to figure to shoot.
Though my son did remark that I could have taken the photos at a park near our home and no one would really know, it was great to be shooting in an actual red forest (I felt like a rebel trooper scouting around in Endor!) , or hear the river flowing as you go about setting up and shooting. Or even having the awesome Mt. Cook as a backdrop. It was a pretty inspiring and new experience for me. But the sand flies tho. Too engrossed in getting that perfect shot, I am now dealing with effects of their bites on both my hands and legs.
Even though no one can really tell or care where the image was taken, the experience to shoot the figure in a actual red wood forest was great.
Must remember to GEOTAG photos for future trips.
It was on this trip that I first created the travelling Aliens, who were the main stars on my next holiday!
I came home with lots of photos that I was really happy with. So many that I got tired of sorting and processing. Hence this post months after my trip. Looking forward to sharing the other pics that did not make it to this post on instagram and MEWE in the near future.
In closing, I would like to share the following thoughts from the whole experience:
1. I need to plan better. I should have spent more time thinking what toys to bring instead of packing hours before taking off! However, sometimes keeping a theme going with use of few characters is also the way to go, which I discovered when I went on another holiday with just two Alien Lego minifigures.
2. Geotag my photos. I cannot recall some of the names of the places where I took the photos.
3. Appreciate my family's support. They waited patiently when I would get carried away sometimes.
4. To all my friends who live near amazing natural surroundings, you're so lucky!
5. Remember to show the locations as background and not to zoom in too much (something which I love to do).
6. Self drive trips are the best! Making unplanned detours and discovering something new at your own pace.
7. Be in the moment and not be too obsessive about getting that perfect shot.
8. Thank you New Zealand for being so beautiful!