Even with its crazy quirks and outlandish style, I thoroughly enjoyed The LEGO Movie. And one of my favorite characters, besides Will Arnett's hilarious portrayal of The Cape Crusader, was Unikitty. She was an adorable kitty, a majestic unicorn, and a master builder all in one. Unikitty was magical.
The Build
Minifigures
Of course, we know that The LEGO Movie 2: The Second Part doesn't come out until February 8, 2019. However, as custom, LEGO released a handful of sets from their newest blockbuster. Ultrakatty immediately caught my attention. The Ultrakatty set comes with 2 minifigures, Emmett and Lucy. Minifigures, as usual, are quite easy to put together. These 2 weren't an exception, and were quick and painless to assemble. Emmett Brickowski's bright, orange work-uniform really pops in the light. Lucy, AKA "Wyldstyle," is armed up with a few cool accessories. She wears a pair of red-lens goggles on her head, ready for battle. She won't be missing any action with her crossbow.
Ultrakitty
Ultrakatty is a bonafide bad a**. From the protective spikes surrounding her body, to the fire emitting from her mechanical legs, she's packed with aggression and ready for battle! She even comes with 3 different face plates, for 3 different expressions. The colors that Ultrakatty are composed of are very unique in comparison to how she looked in the first LEGO movie. She's constructed with 9 different ball joints; her head, 2 hind legs, 2 front legs, and 4 from her tail. Each of her legs also have 2 different joints for mobility. And her torso also includes another joint, so she can bend her torso forwards and backwards. So, Ultrakatty was definitely designed with movement and mobility in mind.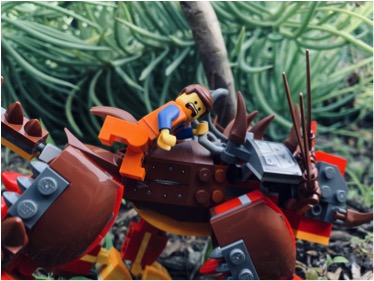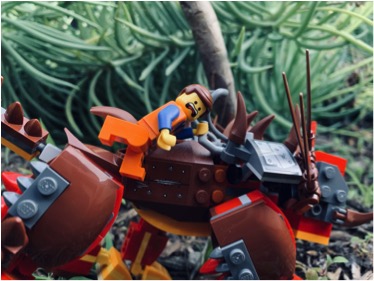 Photography
Minifigures
I always enjoy taking pictures of LEGO minifigures. From a perspective standpoint, they really make the world around us seem larger than life. Little rocks and small plants around your neighborhood can feel like boulders and jungle trees when incorporated well with the minifigures. LEGO really brings out a fun, "Toy Story" – esque vibe that can almost be felt in photographs. This phenomenon, which really can be replicated by any LEGO enthusiast, is actually what inspired the first LEGO Movie. Also, with the news of the LEGO movie 2 minifigures which was first covered by Brick Pals, I can't wait to build scenes from the fore coming movie.
(See our review of the LEGO Movie 2 Minifigure series here.)
Photographing minifigures, though, is somewhat limited. Without accessories, you really only can manipulate their legs, arms, and head. There's definitely room for creativity by swapping out pieces, such as hair pieces and torso pieces. But when you want to keep a minifigure's character and identity intact, there really isn't much variety when it comes to posing them. However, LEGO slightly ameliorates this issue by providing both of these minifigures with two face-prints which portray two different expressions.
While photographing these guys, I knew I wanted to provide a setting which gave a Jurassic Park kind of feel. I wanted natural lighting and a natural setting. It took a while, but I finally found a park around my neighborhood with sufficient lighting and great-looking plant life to match what I was aiming for. A big plus was that the soil was covered in wood chips which looked great in photos. The lush greenery in the background also makes Emmett's construction uniform look like very vibrant look. All in all, the contrast of the colors really adds a more lifelike feel to the minifigures.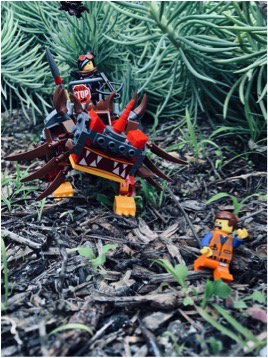 Ultrakitty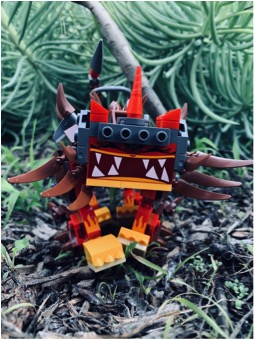 Shooting Ultrakatty in this kind of environment was a treat. Her vibrant red and yellow colors really pop against the green and brown of natural environment around her. The flames prints on her limbs really stand out against the grain. Even though she's set among the messy shrubs and sticks, which can be "noisy" in the background, the color contrast really makes her the center of attention. Your eyes are immediately drawn to her every detail. Also, as mentioned earlier, the 3 different face plates that LEGO provides really give her more life and definitely more range with her expressions. I honestly had the most fun tweaking her mane for the photos. The pieces that make up her mane can go up, down, left, right, forwards, and backwards. And they don't have to really be stuck together. It really allowed for a variety of subtly different looks.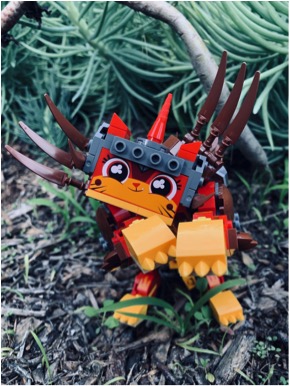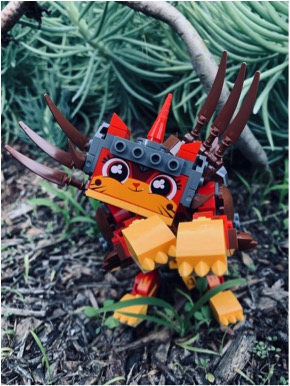 To my surprise, Ultrakatty was somewhat limited in her range of poseability. There are plenty of moveable joints designated for legwork, head-movement, and even tail mobility. However, Ultrakatty's head build doesn't allow for much play. And although, there's room to manipulate her limbs and even more room to manipulate her tail, she can only turn and face so far to the left or right and up or down. This problem may seem minor because I'm really just pointing out an issue with just one of her appendages. But the head is a crucial part of a toy's poseability. Therefore, of the many different poses I attempted with Ultrakatty, her head just wouldn't comply to make those photos successful.
All in all, the LEGO Movie 2 Ultrakatty and Warrior Lucy set has great subjects to shoot. Each character is unique, and their personalities really come through in photos.
James Hirlehey of BrickPals