I think I'm on a bit of a fantasy kick lately. The Mythic Legions figures didn't quite satiate my fantasy craving. They're awesome figures, but they're also fairly large and heavy. I want a figure that is easy to grab and carry along, or easy to pop in a container and slip in my camera bag. So I once again hit the inter-webs. This time Google was actually helpful and I found Figma's Link figures. If you haven't heard of Link before, I only have one thing to say to you: GET. OUT.
While I don't play Legend Of Zelda,  I'm a fan of Link and the whole 'timeless hero' thing he's got going, so I was going by look and price rather than which game the figure comes from. Figma has a couple choices with various prices when it comes to Link. I went with the Link Between Worlds version. Is this figure worth the forty plus dollars I paid for it? Read on and find out.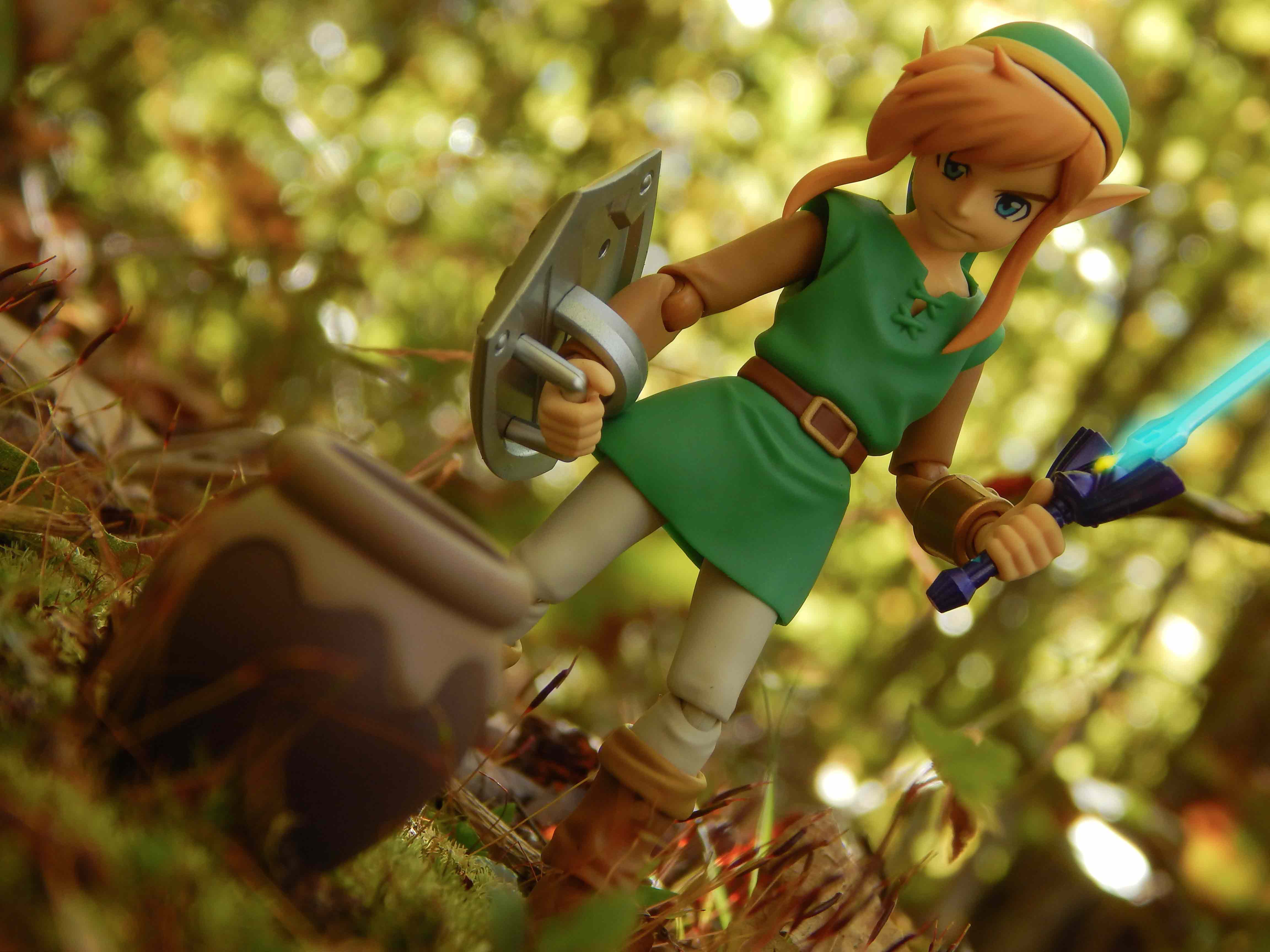 Box
I'm not one of those collectors who cares about the box almost as much as the figure itself. To me the box is just how the figure gets to me undamaged. However, there's something about the design of this box that I really like. Maybe it's the color scheme, or the glossy black Triforces lining the black sections of the box, or the quality. I don't know, but it looks great to me. Everything comes securely packed. The biggest thing of note with the way things are packaged is the fact that the 2D Link and Tornado Rod attachment are stuck behind the green backing so be sure to pull that out. There is also some way to pop out some of the backing and turn it into a display stand. Not sure how that works, and as there are no instructions for this, I probably won't bother with it.

Accessories
First and most importantly: the Master Sword. Every version of Link gets the Master Sword at some point and it is almost as iconic as Link himself. It looks excellent here. The molding is spot on and the paint is amazing. The blade is actually done in two colors: a bluish silver for the center and a brighter, more whitish silver on the edges, which is pretty slick. To put the sword in Link's hand, you pull the hilt off. Be warned that it is a bit fragile and you have to put it in right. When you first pull the handle out, it looks like it attaches in via a circle peg. It's really a half-circle that corresponds with a half circle hole. If you force it in wrong, there is a good chance of breakage occurring. There is no sheath included, which is a bummer.
Hylian Shield
Next up is Link's other trusty tool: the Hylian Shield. While not quite as iconic as the Legendary Blade, Figma would be remiss not to include it. Like the Master Sword, the molding and paint is excellent. If I had to complain about something, I'd say the gold on the Triforce is a little thin. You equip the shield much the same way as the sword.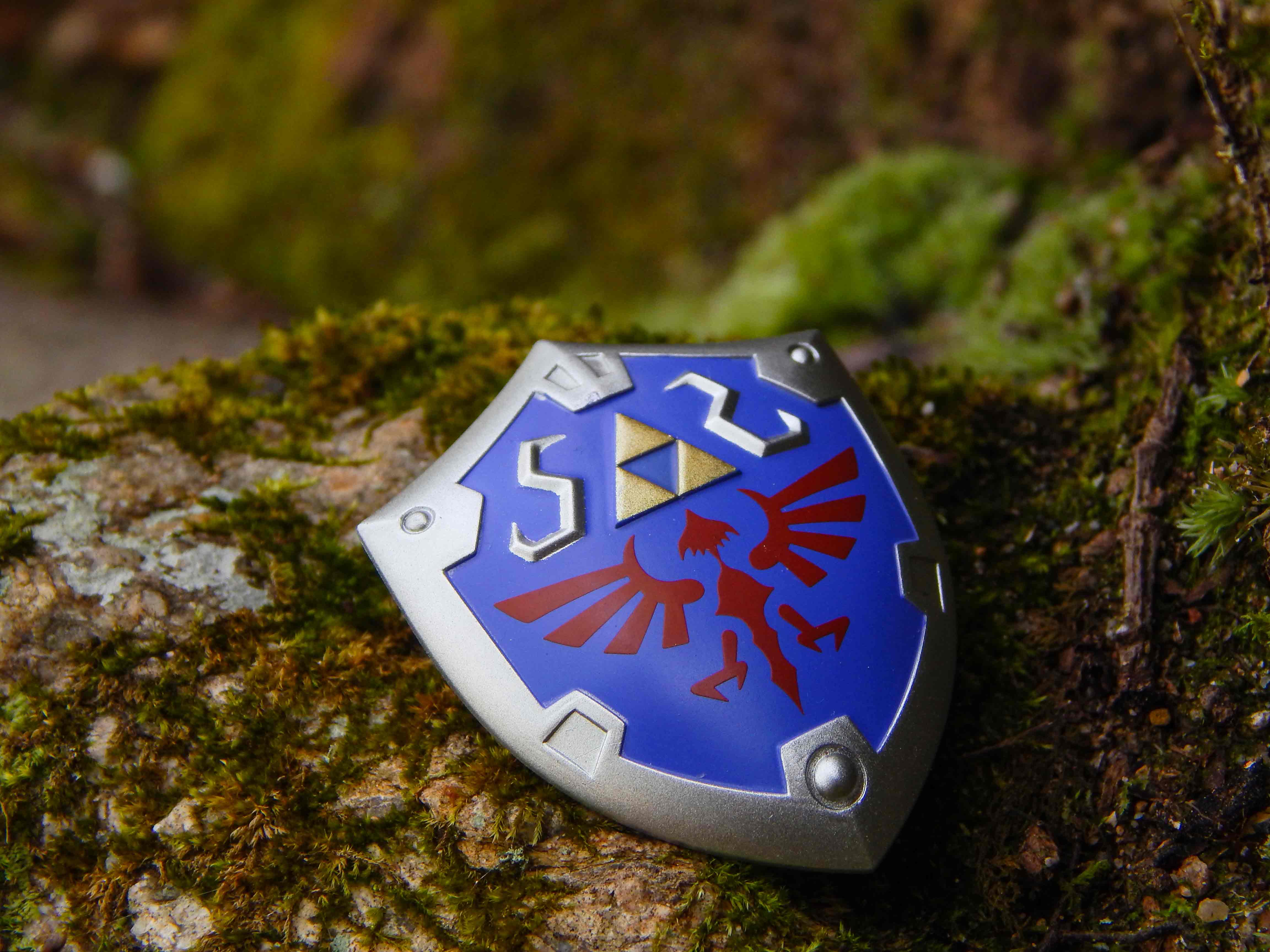 The Hookshot
Moving on, we have another recurring tool: the Hookshot (not to be confused with the Clawshot). The Hookshot comes with a retracted hook and a 'shooting out' hook. The handle uses the same system as the sword and the shield. And if you remove both the handle and the hook, it can double as a plant pot! Another A+ accessory.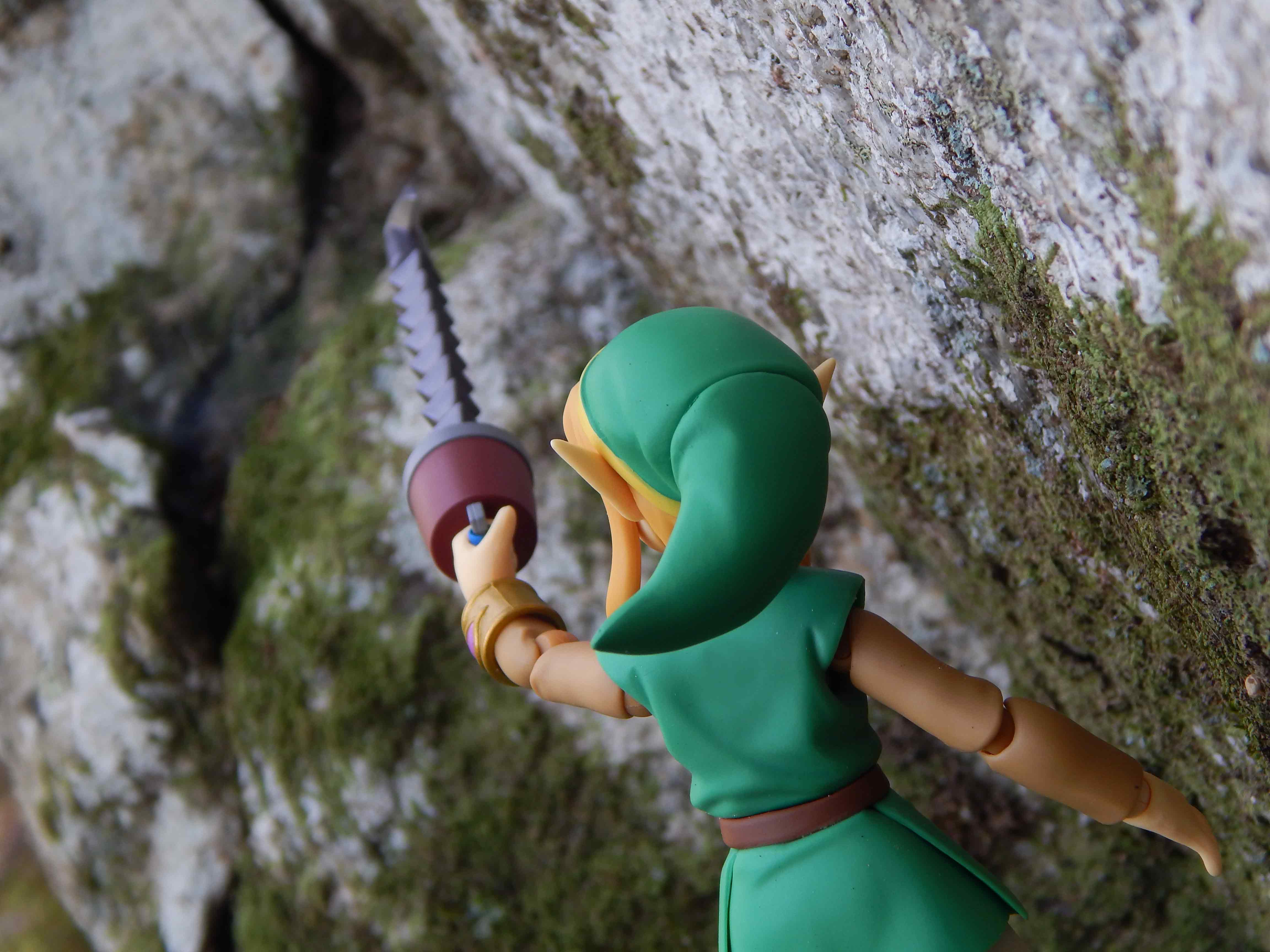 Tornado Rod
The next tool is the Tornado Rod. I'm not very familiar with this item, but it has the ability to make Link fly or float by spinning leaves attached to it. In-game, I believe it has two leaves on it when it isn't spinning but those are omitted here for some reason. There is, however, a large disc that looks like a green whirlwind. This piece is made out of thin, bendable plastic and printed so well it really looks like it's spinning (and it can really spin when attached to the rod). The Tornado Rod itself is painted nicely and fits into Link's hand the same way all the other tools/weapons have. This accessory is a bit thin, and potentially fragile, so be gentle with it.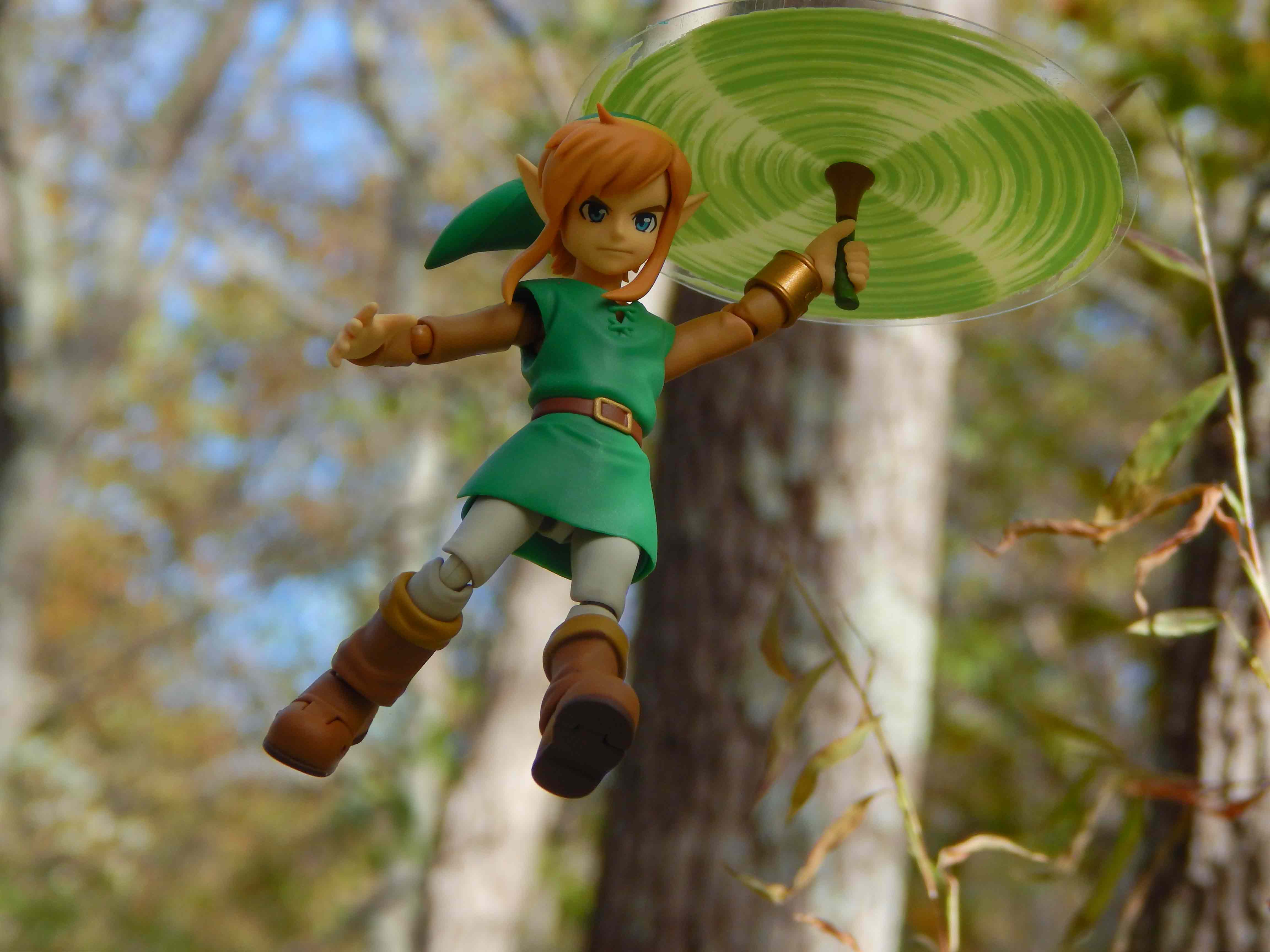 The Pot
Next is Pooh's hunny pot…err…I mean, a pot. Apparently in-game you can randomly find pots, pick them up, smash them and get stuff from it. Don't ask me what that dark tan stuff is dripping down the side. The dark tan continues inside. You can make Link pick the pot up or look inside it, but it won't smash easily. It's a sturdy thing.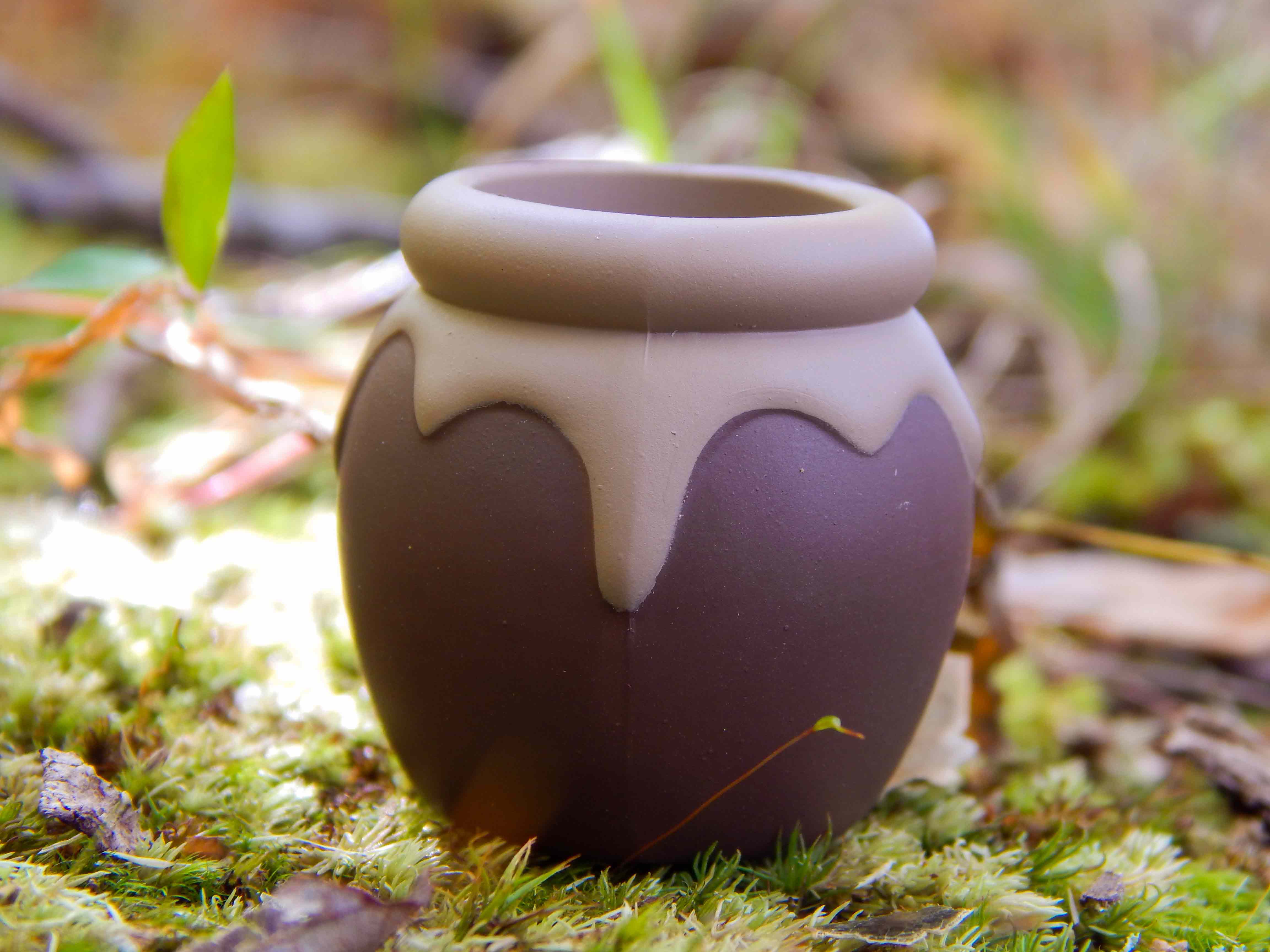 Rupee
Included to fill the pot is a green Rupee with a stand. It's kinda big, but then, they're kinda big in-game. There's a stand, which is a nice bonus and allows you to get the 'floating Rupee' look. The Rupee itself is very nice, though I wish it was a little bit darker green. That's just my personal preference though.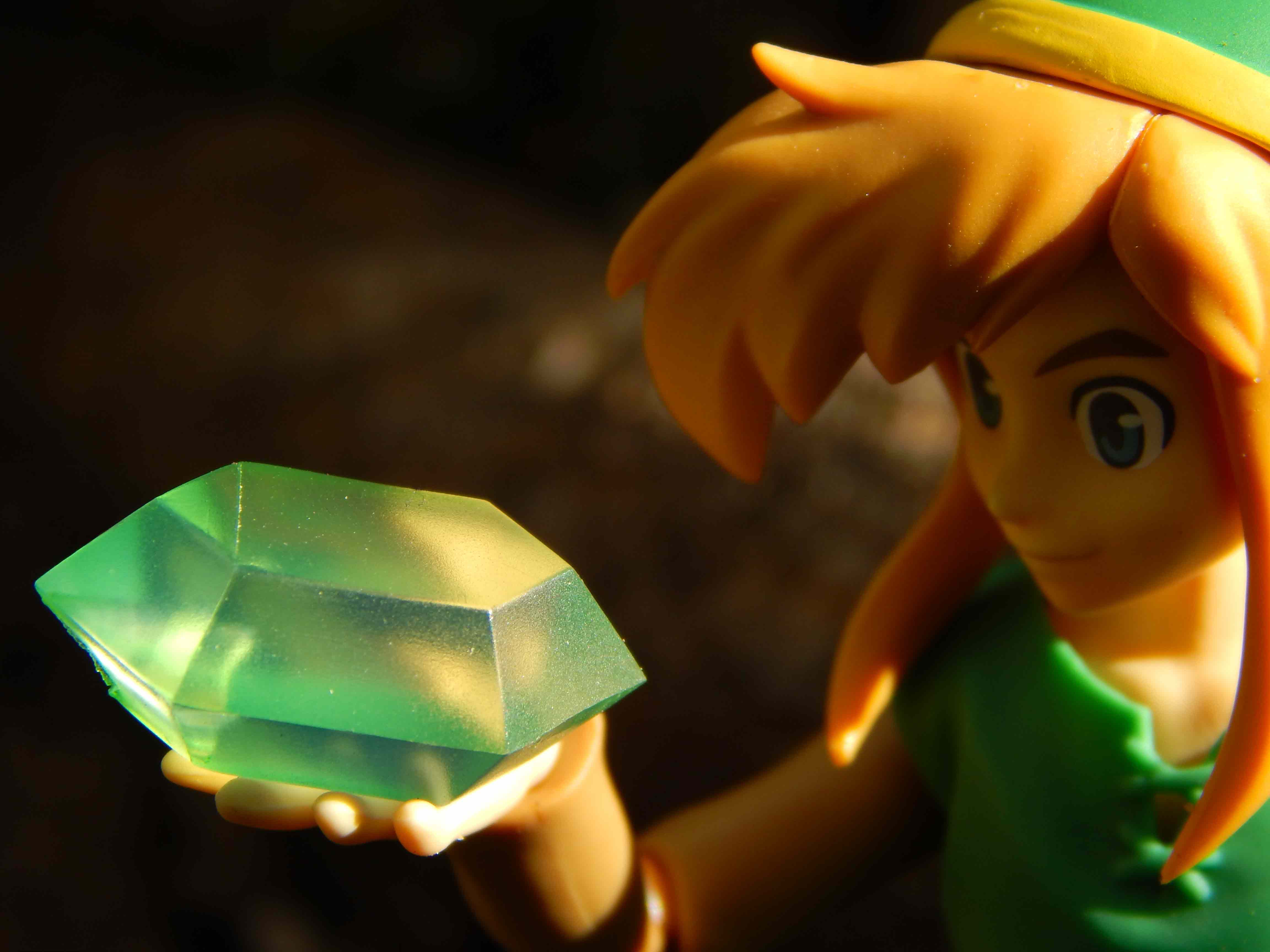 The Bomb
Another item that can be placed in the pot is a bomb. I like this accessory a lot. It's the perfect cartoony bomb. The paint apps are very crisp and the Rupee stand works with the bomb as well.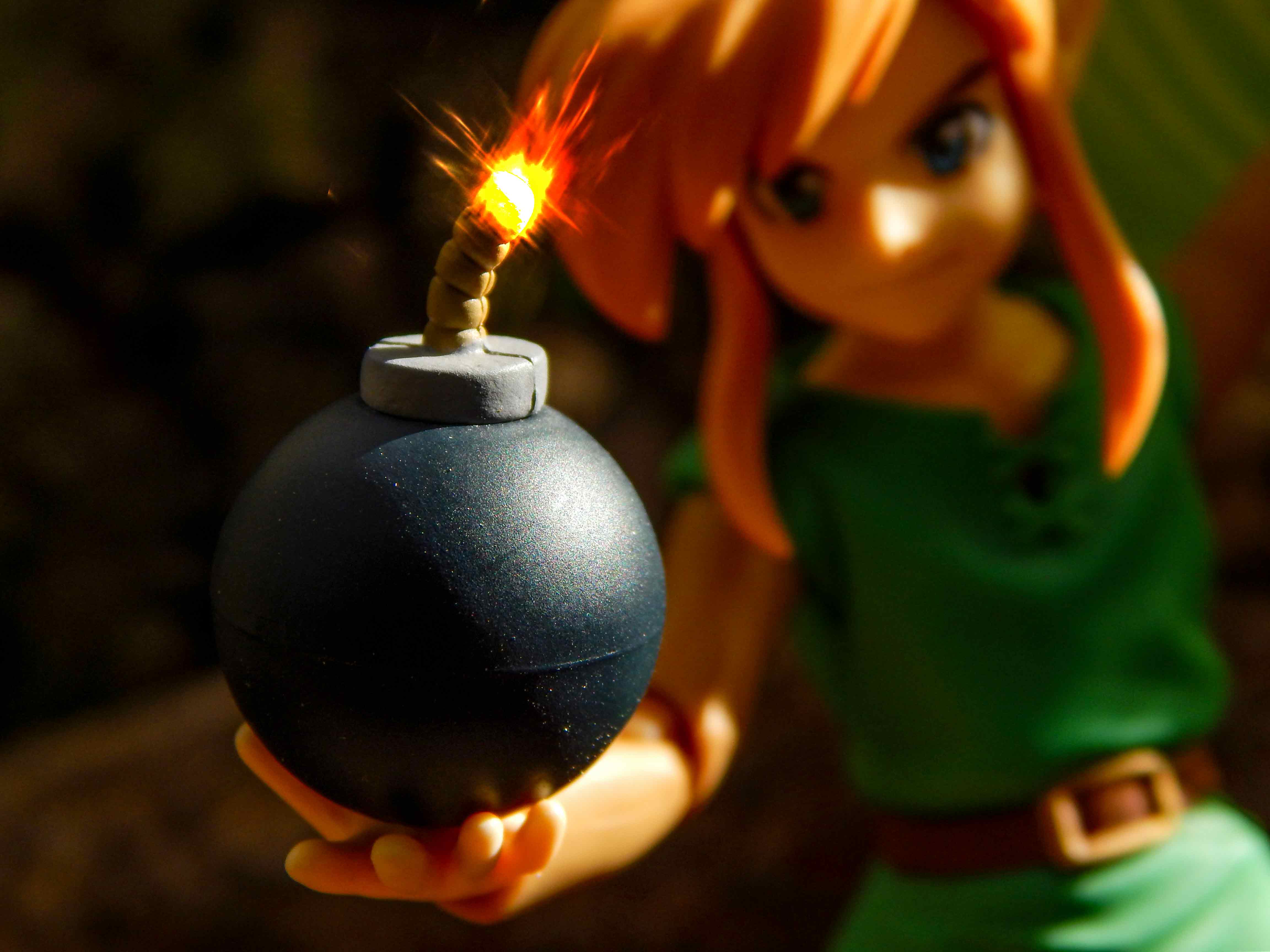 Baby Maiamai
Moving on, we have a Baby Maiamai, which is like a tiny octopus-snail. In A Link Between Worlds, Link is tasked with retrieving all…ten(?) Baby Maiamai (or is it Maiamais?) and returning them to their mother. This little guy is very cute and he has such a sad expression. I guess he doesn't like being away from his mother. His paint is crisp and clean and the pink against blue is pretty eye-catching. I think for photographers this guy (or girl?) is a valuable inclusion since it is a whole other character. I've enjoyed shooting him for sure.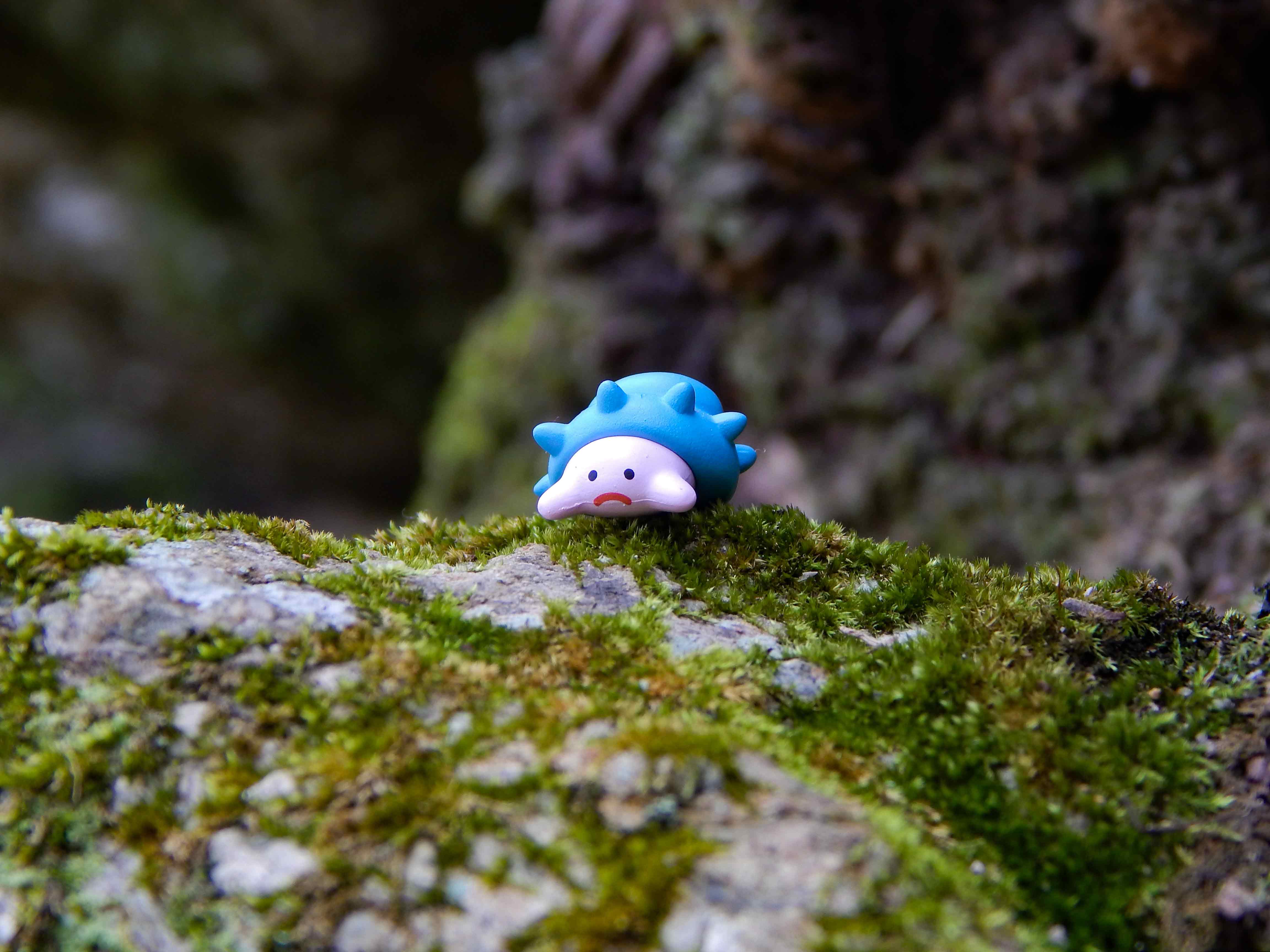 Wrapping up on the accessories, we have extra hands on a very useful storage rack. A set of fists, a set of weapon/tool holding hands, a set of relaxed/open palm hands and the extra item holding hands, which are for holding onto the bomb.
2D Link
Lastly, we have the 2D Link. For those of you who don't know why Link looks like a painting, here's a smidge of backstory: Link is given a bracelet by this dude named Ravio in return for a room in Link's house. The bracelet allows Link to merge into walls as a painting to complete puzzles and whatnot. Obviously that's a highly condensed version of the story. Anyway, now you know a little about Mr. 2D Link. The cutout is made of the same plastic as the Tornado Rod attachment and it's double sided, which is awesome. There is a stand that attaches to the larger Figma stand which I'll talk about later. I'm not a big fan of the 2D Link stand. It kinda bends Link forward and makes him look weird. It's a nice inclusion for display, but not something I'm too excited about.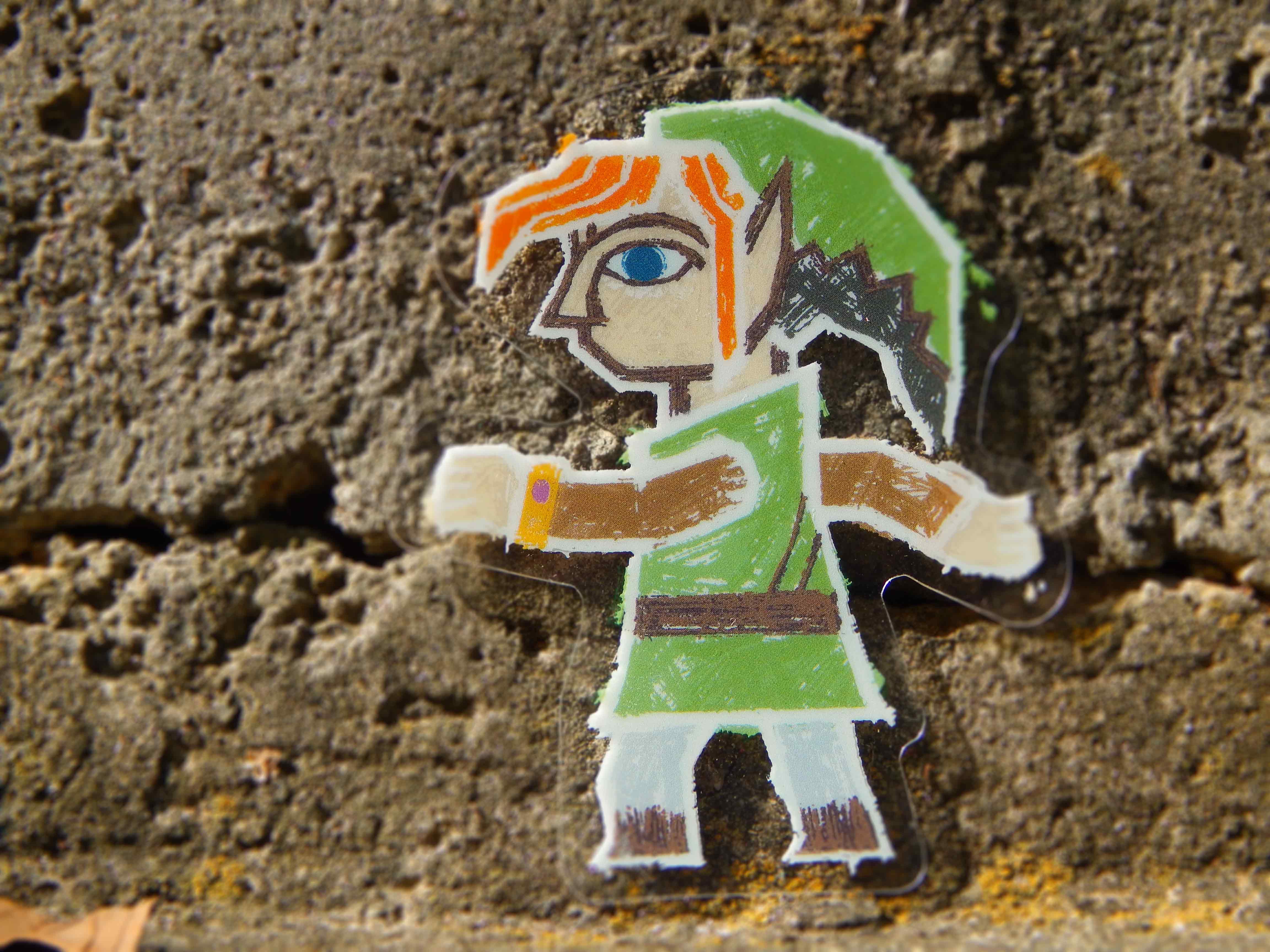 The Figure
Let's dive right into Link's articulation. There's too many joints for me to run through them all, so I'll tell you what he can't do. He can't look up very well, mainly because of the hair in the back. He can't sit very easily and he can't squat at all. And he can't do an ab crunch. That's pretty much it.
The joints all look pretty nice and don't stand out in a bad way. The only ugly-ish joint is the neck joint, which is only visible from a few angles. The hands are on what appears to be a ball joint but is actually a hinge joint that can give you almost as much movement as a ball joint. There are similar joints at his shoulder and ankles. To swap the hands off, just pull gently. An extra wrist joint is included should one break. None of my previous figures have included extra joints, so getting that wrist joint is a cool bonus.
The paintwork here is superb. There were a few anomalies on my figure (the instructions said some of the paint was done by hand, so this makes a bit of sense). The face, or rather, the faces are perfectly done. There is a happy, kind of innocent expression and an angry, frowning face. You can exchange faces by slotting off the hair and face, putting on the other face and replacing the hair. The hair and faces don't have that much clutch power, but they somehow don't really pop off on their own. The size is where some people have been surprised: he's only about four inches tall. I like that. He's exactly what I wanted in terms of size.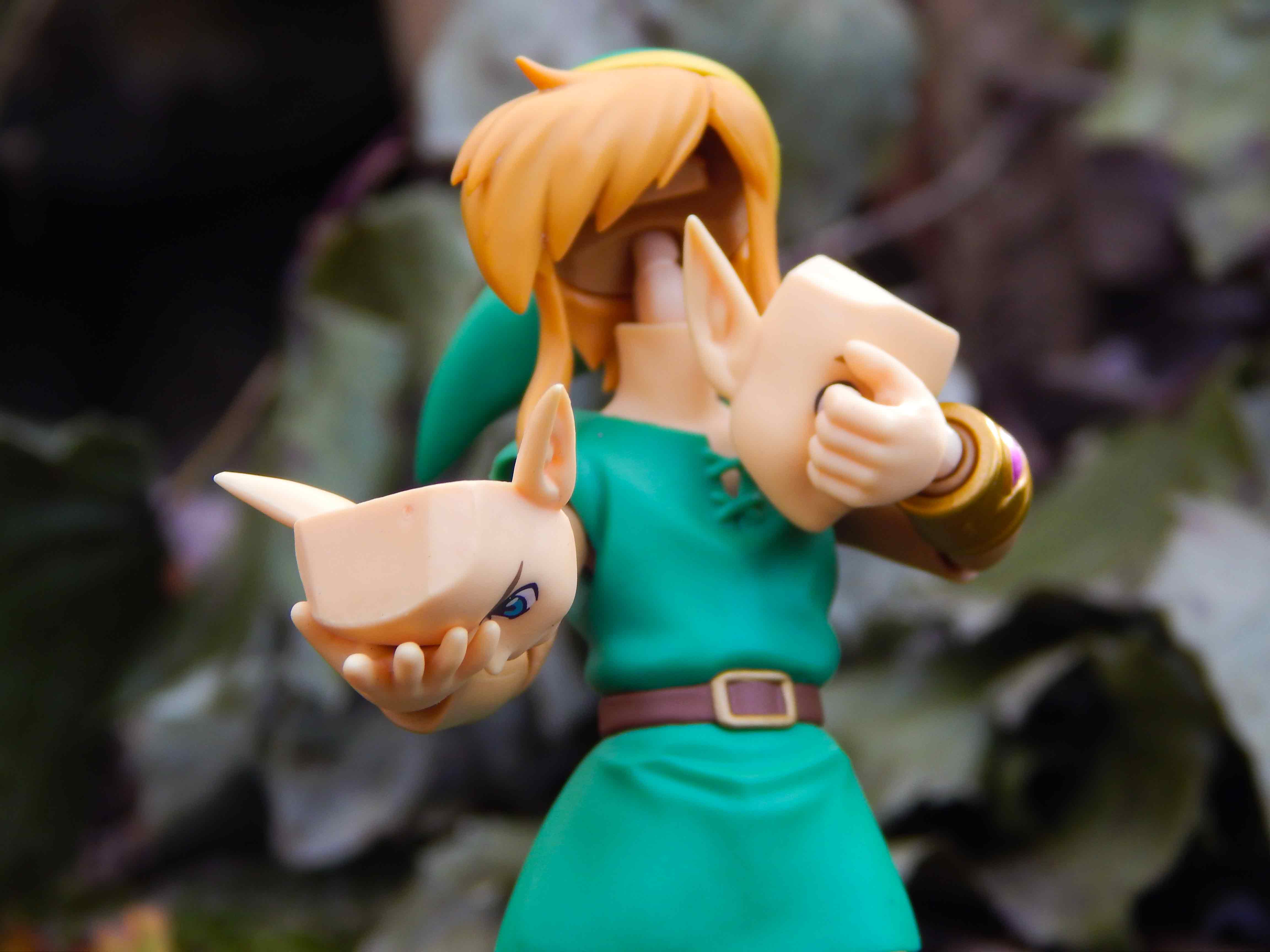 The Stand
Finally we come to the Figma display stand and it is AWESOME! It works for Link obviously, and attaches via peg hole on Link's back. But that isn't all! I found that it's compatible with Bandai's Gipsy Avenger, Bandai's Shoretrooper Model kit, a Micro Machines diecast Slave I miniature and even (sort of) the Black Series Stormtroopers and Sandtroopers. You definitely get your money's worth for the stand!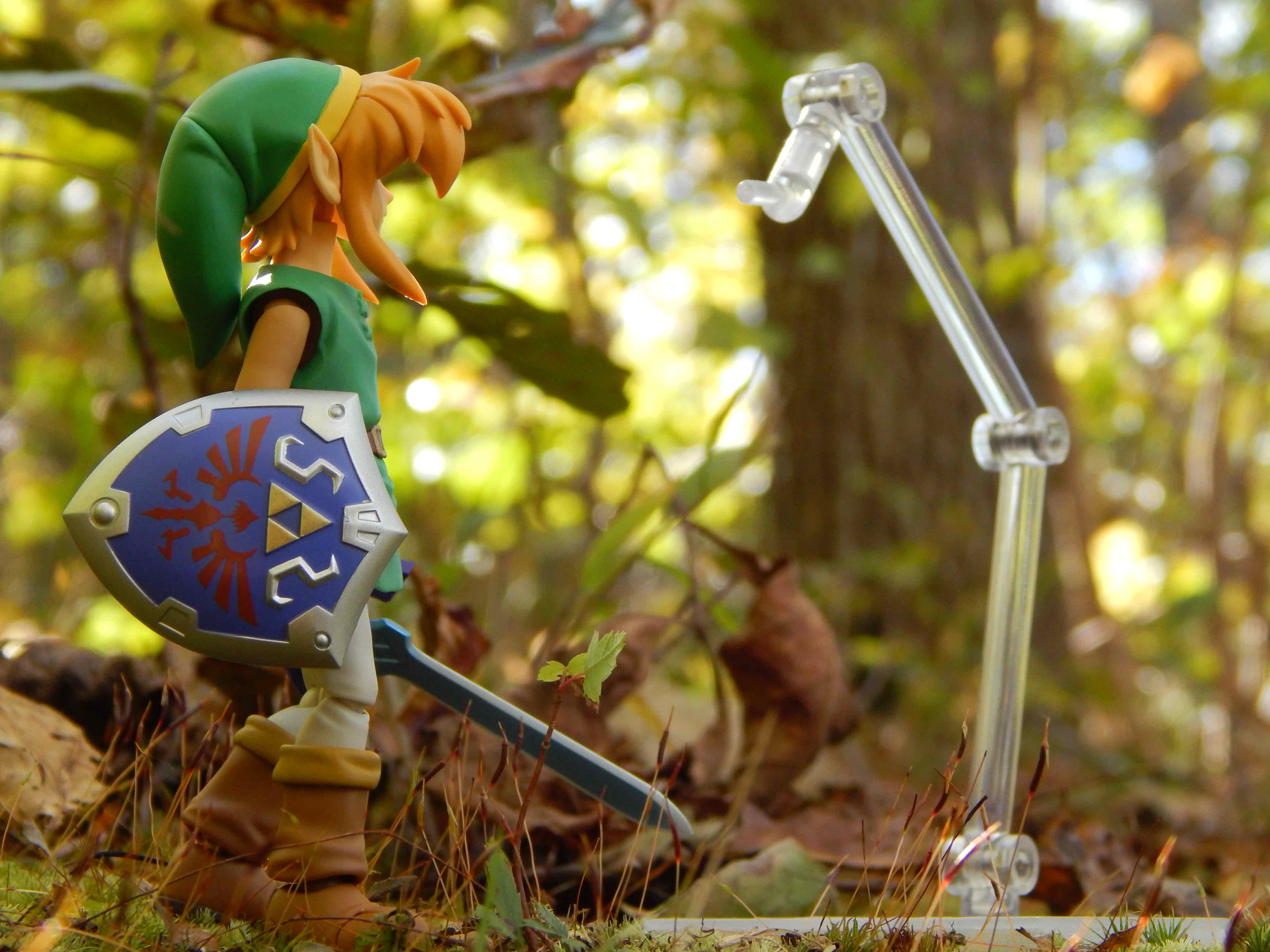 So let me circle back 'round to my question: is this figure/set worth forty to forty-five bucks? I'd say so. There's no such thing as a perfect action figure, but Link comes pretty darn close. The figure itself is amazing and feels like he'll hold up well to posing and photographing, the accessories have a ton of potential, the packaging is eye-catching and the stand is a lifesaver. I heartily recommend this figure. You can find him on Big Bad Toy Store or Amazon. I would recommend that you go to BBTS first as there tends to be a fairly high level of bootlegs on Amazon. If you purchase this guy, tag me on Instagram (demarcation_media). I'd love to see your shots!
Zee