What is Life of Toy Photographers? It's a book we created showcasing the amazing artists we featured on the blog in 2017. We created Life of Toy Photographers to celebrate our first anniversary as a blog. For a limited time only, we're offering you an opportunity to purchase this book.
In the past year we've grown from a site with approximately 6,000 visitors a month to over 12,400 visitors in January. In 2017 we featured the work of over 52 toy photographers. These photographers participated through one of our 29 Six Image Narratives and 23 "Why?" posts. In addition to these fabulous guest artists our regular writers contributed weekly articles designed to inspire our fellow toy photographers. In total there were 290 articles written. This is an amazing accomplishment from an entirely volunteer effort.
In addition to the blog, our G+ Toy Photographers Community has grown under the guidance of Tony Tulloch into a rewarding place to share work. With Tony's help we've grown the moderators into a rotating group of individuals who lead challenges and generally keep the place humming.
The blog's thoughtfulness and maturity in the midst of a wild Instagram world is what drew me here, to a community that feels like a cafe/pub down the street! – Janan Lee
The Life of Toy Photographers is our gift to everyone who has been a part of our success. Without your comments, your feedback, your willingness to share your words and images with the community, we wouldn't be inspired to do what we do. We love and appreciate our readers!
Besides showcasing the work of our 2017 contributors, we asked each photographer to share a few words about themselves or their photograph. By combining their images and their words we've created a snapshot of a year in the life of our community. It's this combination which makes this a special book; one worthy of your collection.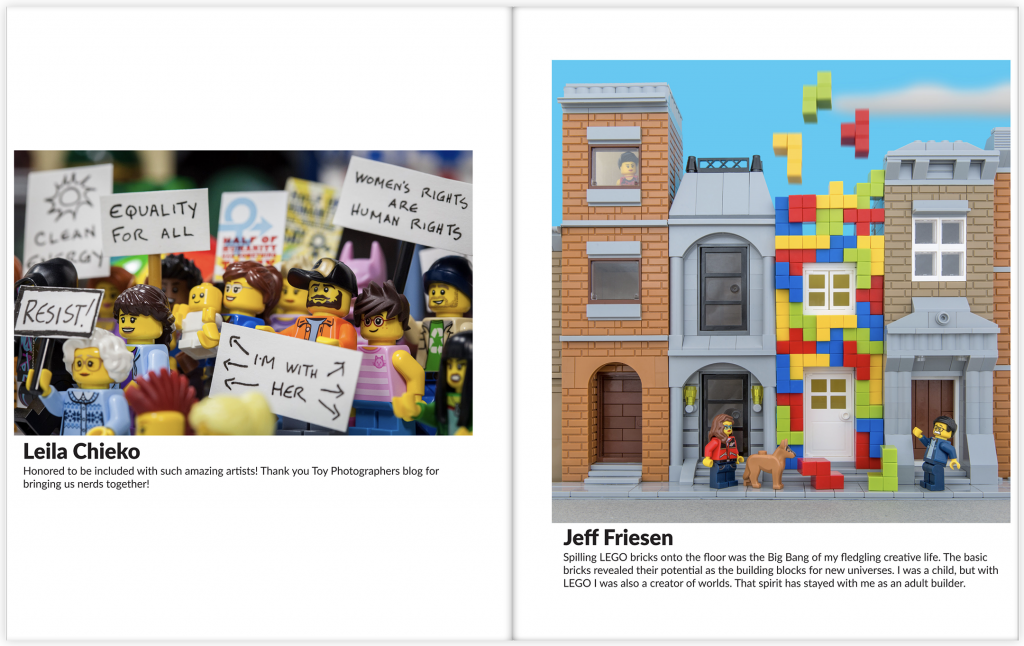 Support the Cause
Yes, we're asking you to buy the Life of Toy Photographers, 2017. This book is our fundraiser that will help us continue our mission to bring you the best of toy photography. By purchasing this book, in either a soft cover version or the eBook version, you're sending us a vote of support. It's a vote of confidence.
You're probably wondering what we will do with the money. Approximately $10 from each purchases will go into a fund that we will use to grow the Toy Photographers blog. Here is a quick break down of our fundraising goals:
0-$499 will pay our hosting costs and backend investments
$500- $999 we will be able to create merchandise like stickers, t-shirts, custom minifigures, patches etc. We want you to be able to say loud and proud: I am a Toy Photographer!
$1000-$5000 we will be able to create a fund to pay an honorarium to our contributors
Ambitious? Probably. Realistic? I have no idea, but I have to ask. If you value what we do, if you want to support the blog, now is your chance. By purchasing a physical copy of our book or ebook you're telling us you like what we do. You're telling us you want to see more.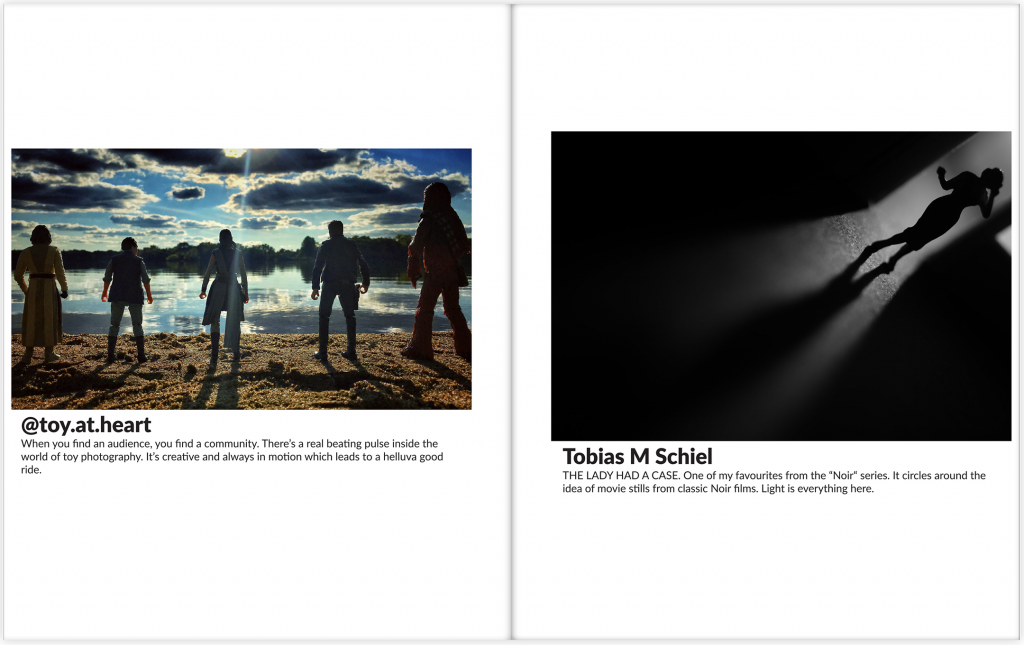 Don't Delay!
As a courtesy to the artists who have generously donated their images to the creation of this book, it will only be available for a limited time. So don't delay. Purchase a copy of the ebook or softcover and help support the blog.
The Life of Toy Photographers is a truly beautiful book. With the help of Tourmaline, Julie Blair and Lizzi Standing, we were able to create a lasting document that celebrates our first year as a blog and as a community. You won't want to miss out on this book, especially when we celebrate 2018 in volume two. I'm already looking forward to seeing how our community grows and as we grow as individual photographers.
On behalf of the entire Toy Photographers team, I want to thank you in advance for your support.
Shelly
The Book will be available for purchase through Blurb until March 31st, 2018. 
If you would like to meet some of these photographers in person, consider joining us over Memorial Day weekend for an epic four days of fun. All the details for the fourth annual Toy Photographers here.