November upon us, and the Thanksgiving holiday is just around the corner for those of us in the United States. At the risk of being region-specific, I decided to take this opportunity to review the latest LEGO seasonal kit: 40261 Thanksgiving Harvest.
Like its predecessor, 40260 Halloween Haunt, 40261 is a small vignette with two minifigures, a handful of accessories, and several mini-builds. If you're looking to get into the holiday spirit, or take some nice autumnal shots, is this the set for you?
The Builds
There are a total of five mini-builds in this kit: Two brick-built birds, a tree, a wagon, and a vegetable patch with accompanying scarecrow.
I must admit that I found these builds underwhelming. For starters, I've never been a fan of brick-built animals, which often show up in the LEGO Creator sets. I definitely prefer to have actual animal pieces; they're much more photogenic! With that said, I do like the look of the turkey, with its red gobble and back arched plate resembling feathers. It's harder to tell what the small bird is. A poult (young turkey) perhaps?
I was looking forward to photographing the wagon, which has a nice rustic look to it. It doesn't come with a horse, symboling to me that it doesn't get much use on the farm.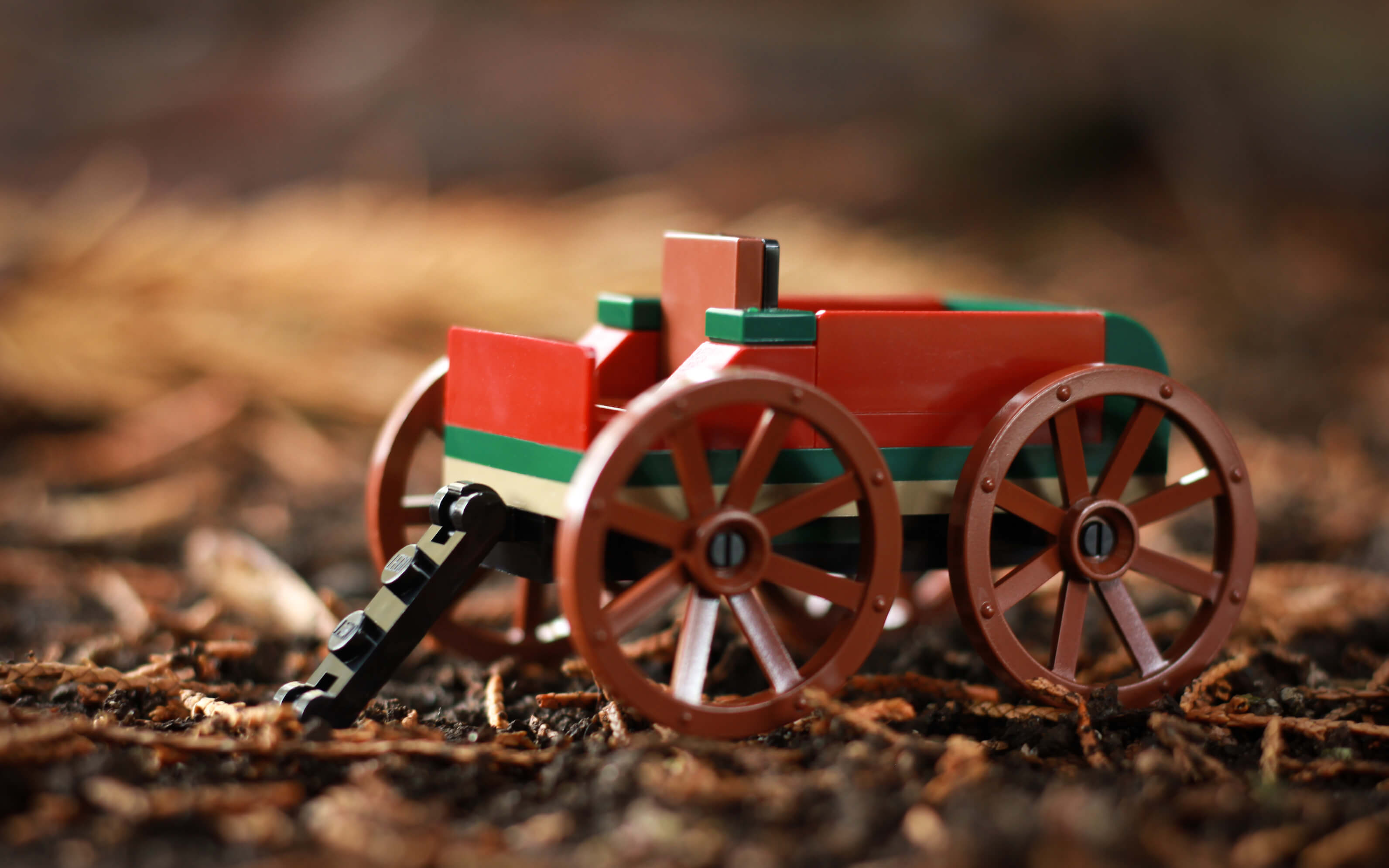 The tree is frankly nothing special, though I do appreciate the use of orange flowers on the brown leaves. This is the first time I've seen them in that particular color, and I can't wait to play around with them in future shots!
I found the vegetable patch and scarecrow the most difficult parts to photograph. The build on the vegetables is awkward; it's especially hard to tell what they're supposed to represent. The yellowish carrot tops could be wheat (they're used for wheat in the LEGO Minecraft line) and I suppose the yellow cones could be… corn? Or gourds and squash? I suspect this will change depending on the viewer.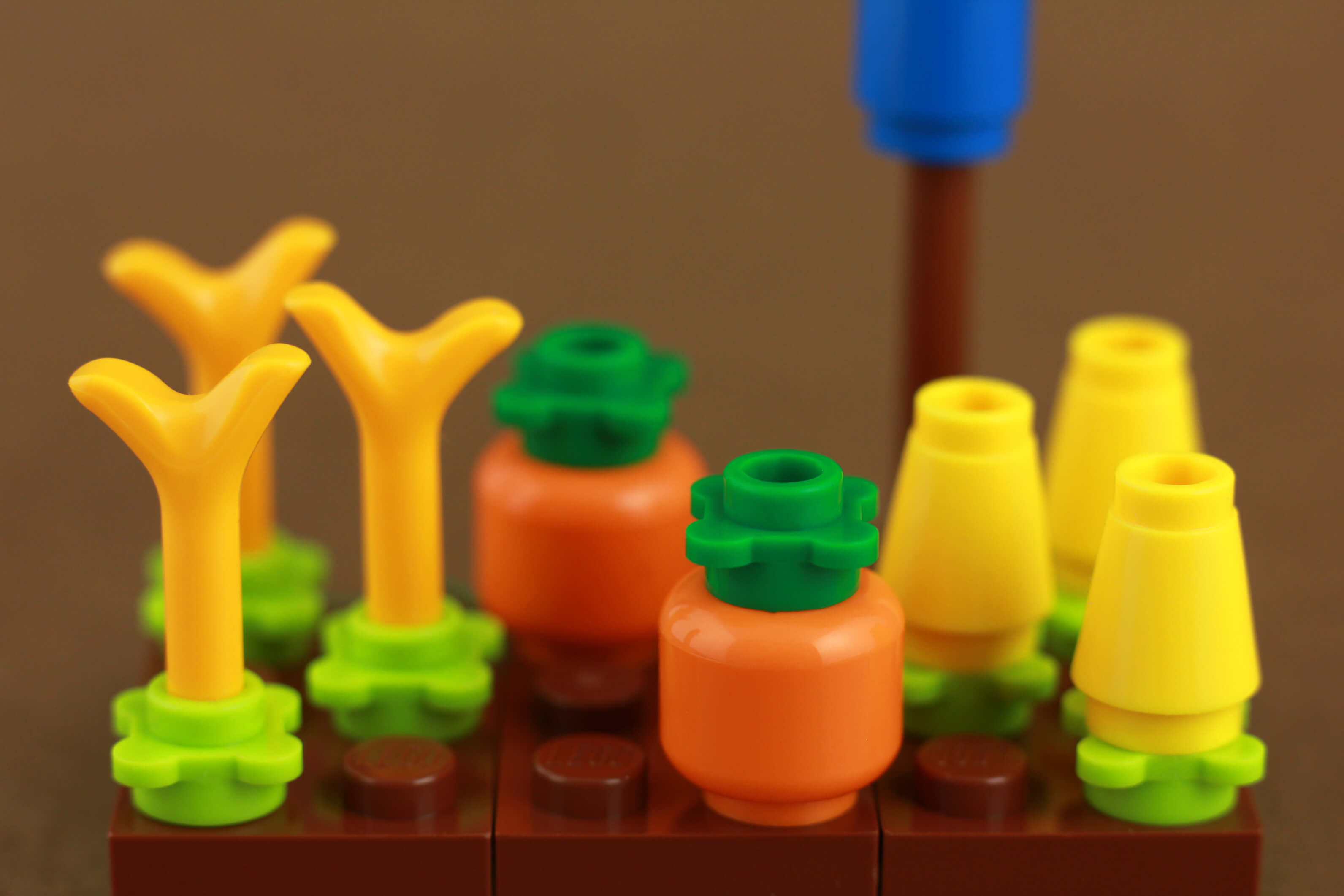 The scarecrow is a good idea, but I'm not a big fan of the build. I much prefer the Scarecrow from Collectible Minifigures Series 11.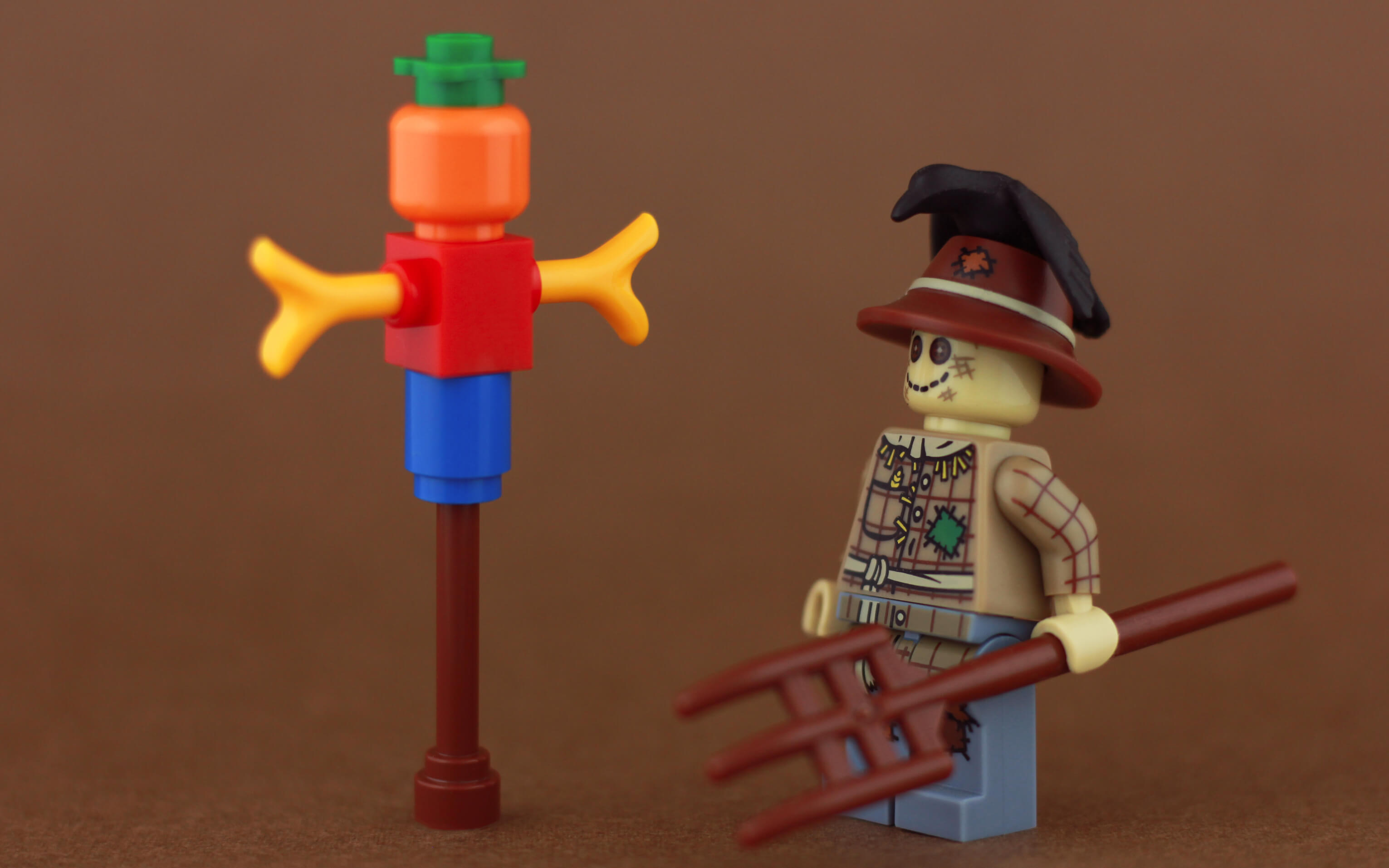 The Minifigures and Accessories
Speaking of minifigures, I'm a fan of the two that are included in this kit: A farmer and little girl. I like to imagine that they're a father and daughter, out picking vegetables for their Thanksgiving dinner (and avoiding those pesky birds along the way!).
The farmer is comprised of pieces we've seen recently, though his red plaid shirt and green overalls are perfectly suited for this kit. The little girl appears to be more rare. I love her determined face and red sweater tied with a cute bow. We're always in need of more female minifigures, so I'll definitely use her pieces often in future photos.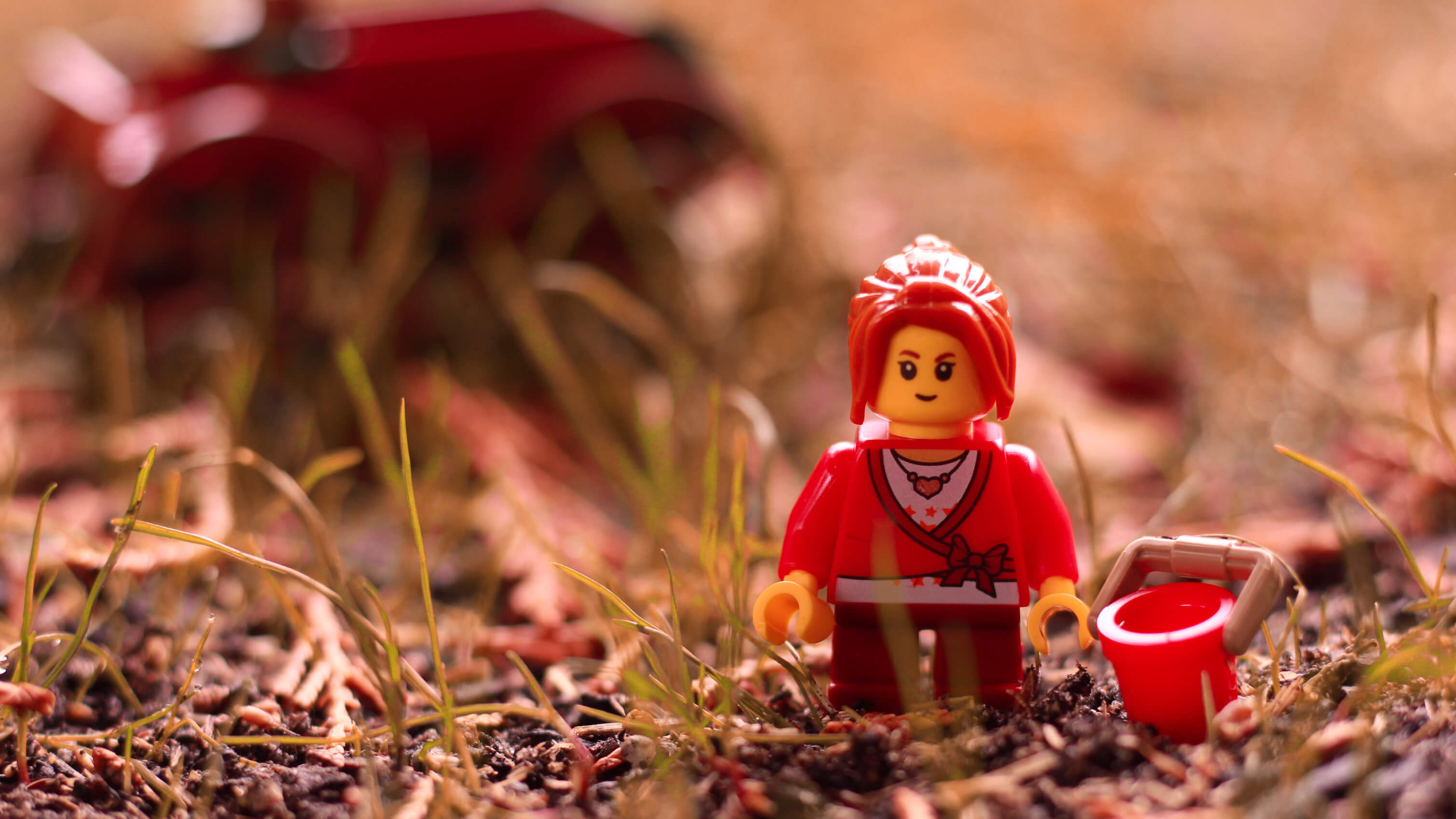 In addition to the aforementioned vegetable patch pieces, there are a handful of accessories included: A red bucket, carrots and apples (one red, one green), and a large, light brown bushel basket.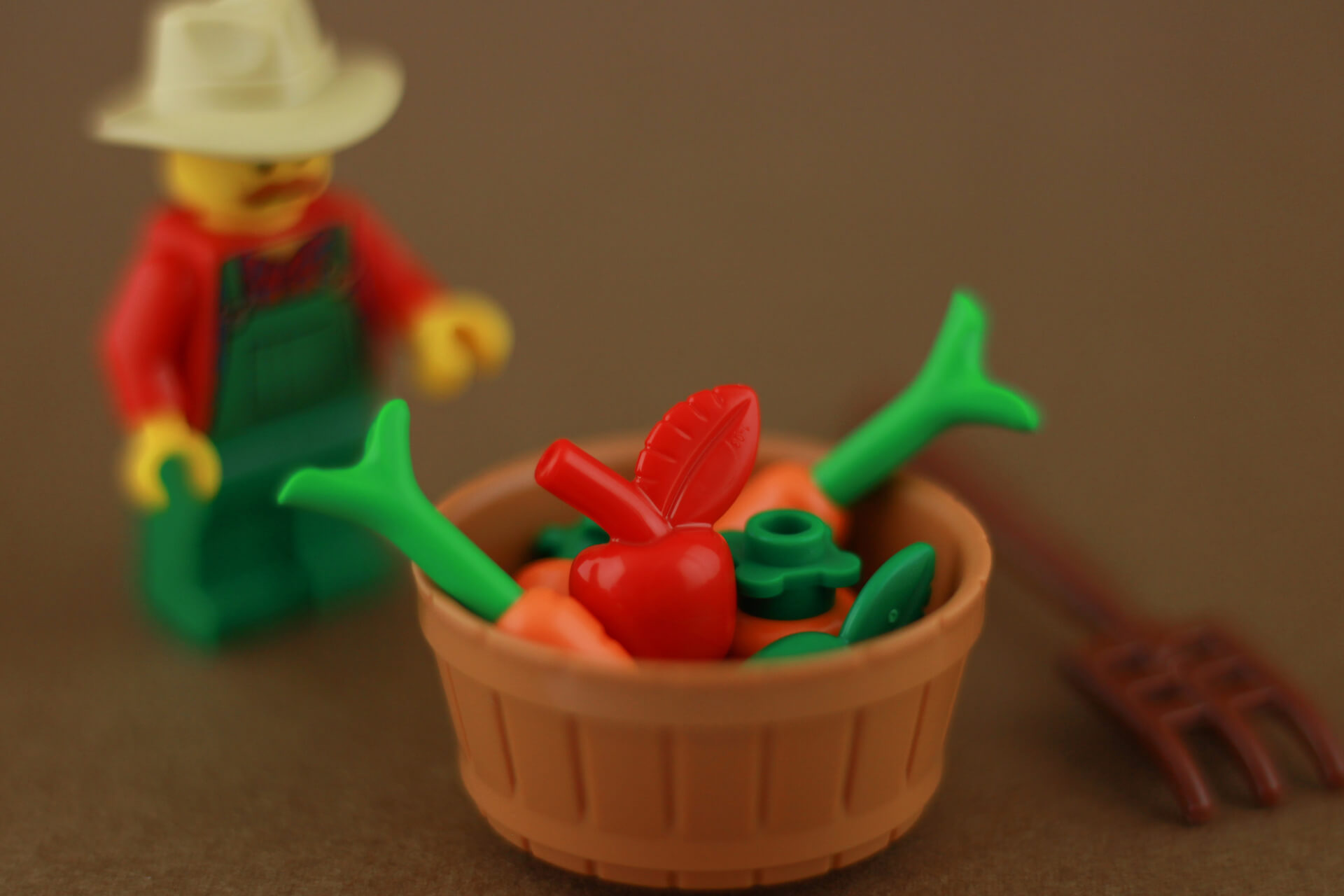 The pieces are nothing new, but you probably know by now that I'm always up for adding new accessories to my collection! Of all the pieces I'm likely to put the bushel basket to the most use.
The Verdict
The cute vignette provides a fun glimpse at the holiday, and will look good on display near some other decorations. The rustic wagon is a nice scene-setter, and the brick-built turkey was fun to shoot. As a whole, however, this kit doesn't offer anything particularly new or exciting. As a photographer, I unfortunately left underwhelmed by 40261 Thanksgiving Harvest. I'm hoping that the upcoming Christmas seasonal sets have more to offer.
Tell us, have you purchased this set? Did you have any more luck than I did while photographing it? I'd love to hear your thoughts in the comments below.
–James
If you enjoyed this review and want to continue the conversation, we invite you to join our G+ community!
Don't forget to subscribe to the blog to get notified when we have a new post ready for you.