Each year, the LEGO City theme gets some kind of adventurous line to break up the traditional, run-of-the-mill settings. In the past we've seen LEGO City citizens go to outer space, explore the arctic, and even face a volcano! This summer, seven sets took a group of adventurers into the LEGO Jungle.
The wide range of small and large sets included things like alligators, helicopters, a plane crash, waterfalls, secret tombs, Venus fly traps and fantastic new panther, tiger and leopard pieces.
While I admitted a few weeks ago that I tend to skip the LEGO City line as a whole, I couldn't help but be excited about this Jungle sub-theme. I was first drawn to the aforementioned big cat pieces; you can never have too many LEGO animals to photograph! Once I began looking at the sets at large, my curiosity only continued to grow. I knew that I had to take them for a photographic spin and review them here.
I picked up two sets: 60157 Jungle Starter Set and 60159 Jungle Halftrack Mission. Rather than review them both individually, I'll look at the two together, to see what I think of the Jungle theme as a whole.
Welcome to the (LEGO) Jungle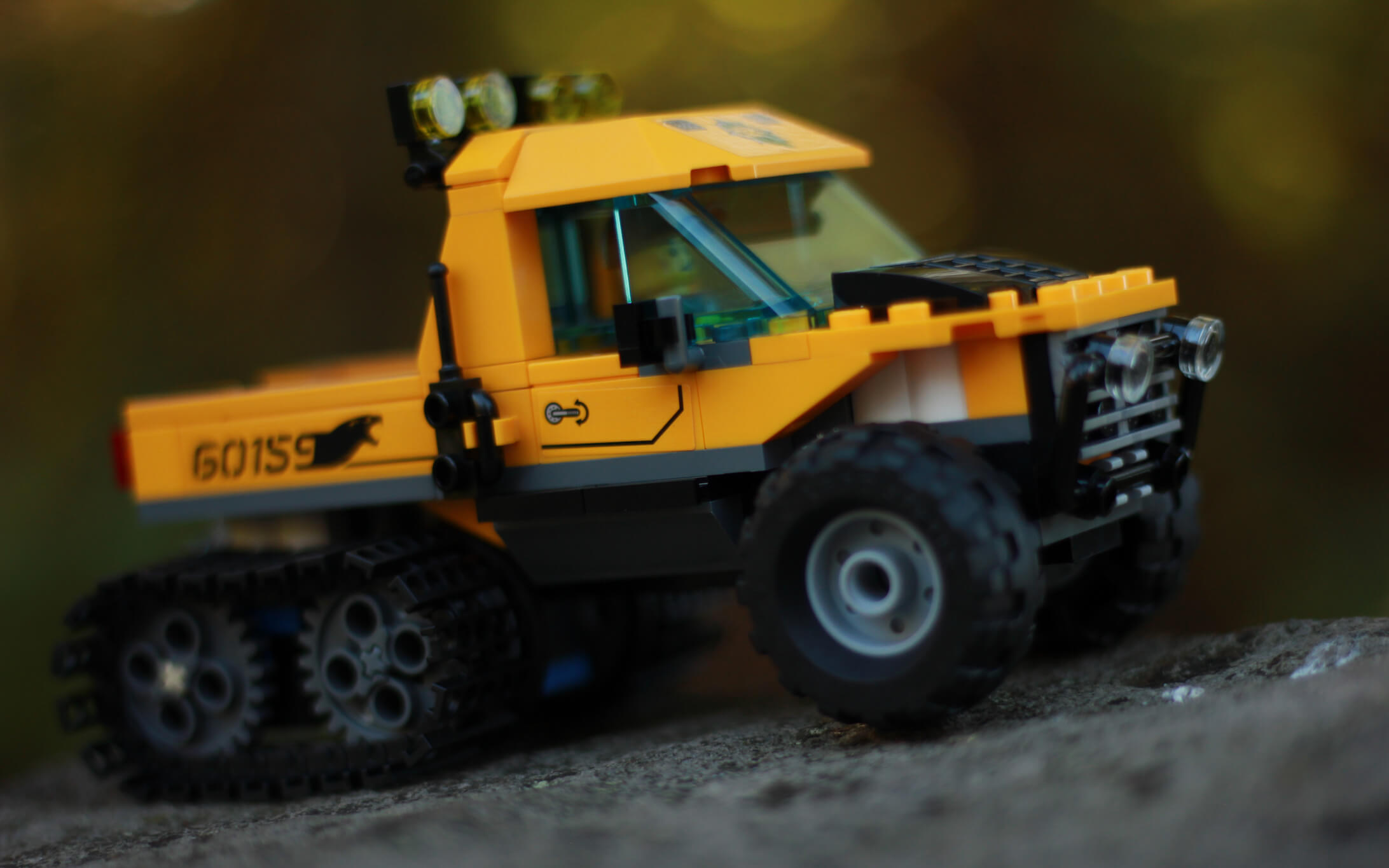 The first and biggest challenge I faced while shooting was one I didn't expect: the vehicles. As it turns out, I don't shoot vehicles very often! When I do, I tend to stick to cockpit closeups or using them as scene-setters in the background. I felt a bit awkward staging the "halftrack" truck (above) and the ATV that come in set 60159.
The build on these vehicles is both sturdy and photogenic, I especially like the treads on the halftrack's back four wheels. I'm also brainstorming ways to highlight the four floodlights on its roof.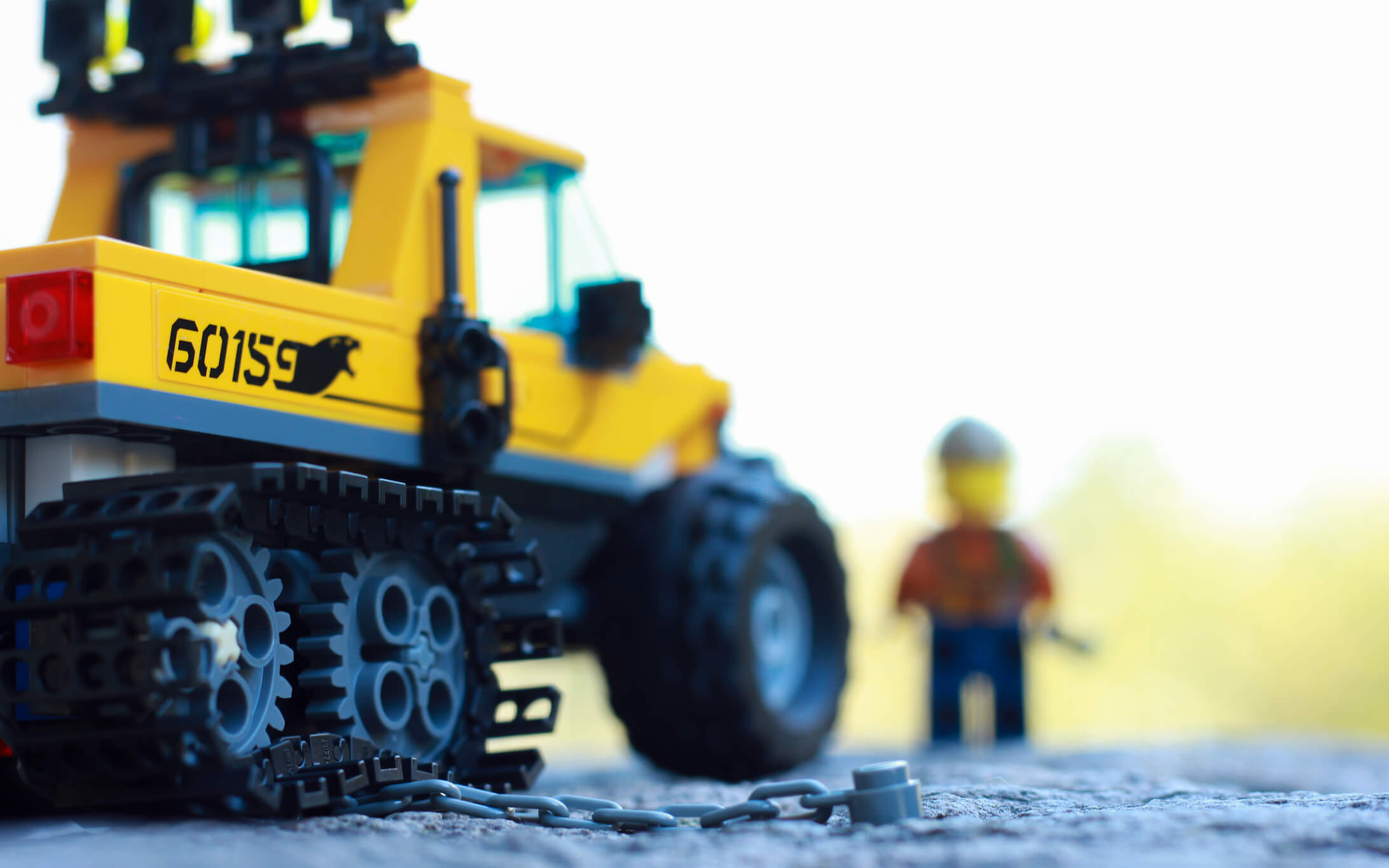 Don't let my apprehension scare you. I suspect that someone with more experience shooting around vehicles will find a lot to enjoy with these kits.
While I missed out on the various airplanes and helicopters in other sets, I did get my hands on two of the aquatic vessels: the red kayak and small boat. My particular kayak is from the 60153 Fun at the Beach people pack, but there's one just like it included in 60160 Jungle Mobile Lab.
I may not shoot vehicles very often, but I shoot boats floating on water even less! I knew going in that I'd have difficulty here, but luckily I had Shelly's tips to guide me. I'm very happy with the two shots I ended up getting. The kayak is extremely photogenic. It took me a bit longer to snap a shot of the small boat that I liked. I found success once I created waves to represent motorized movement.
60157 Jungle Starter Kit also comes with an alligator (or maybe it's a crocodile?) that was a bit easier to shoot around. I only owned one of the classic, all-green gators from older LEGO sets, so this menacing version is a sweet upgrade!
The Minifigures
I was pleasantly surprised to see the variety of minifigures represented in the Jungle theme. I originally assumed that the same two or three characters would be repeated throughout the seven sets. From what I can tell, there are seven kinds of explorers (three male, four female), each with with beautifully detailed jungle outfits and adorable little machetes. There are also three scientists/photographers (two male, one female), two male mechanics, and a female pilot.
I absolutely love the design on each of the minifigures. In terms of faces and hair, there's nothing that different or unique about them. I did get a kick out of the scientist's panicked face though, which you'll see later in this article. The real stars of the show here are the torsos. The LEGO Group nailed he designs, and the detail is astounding.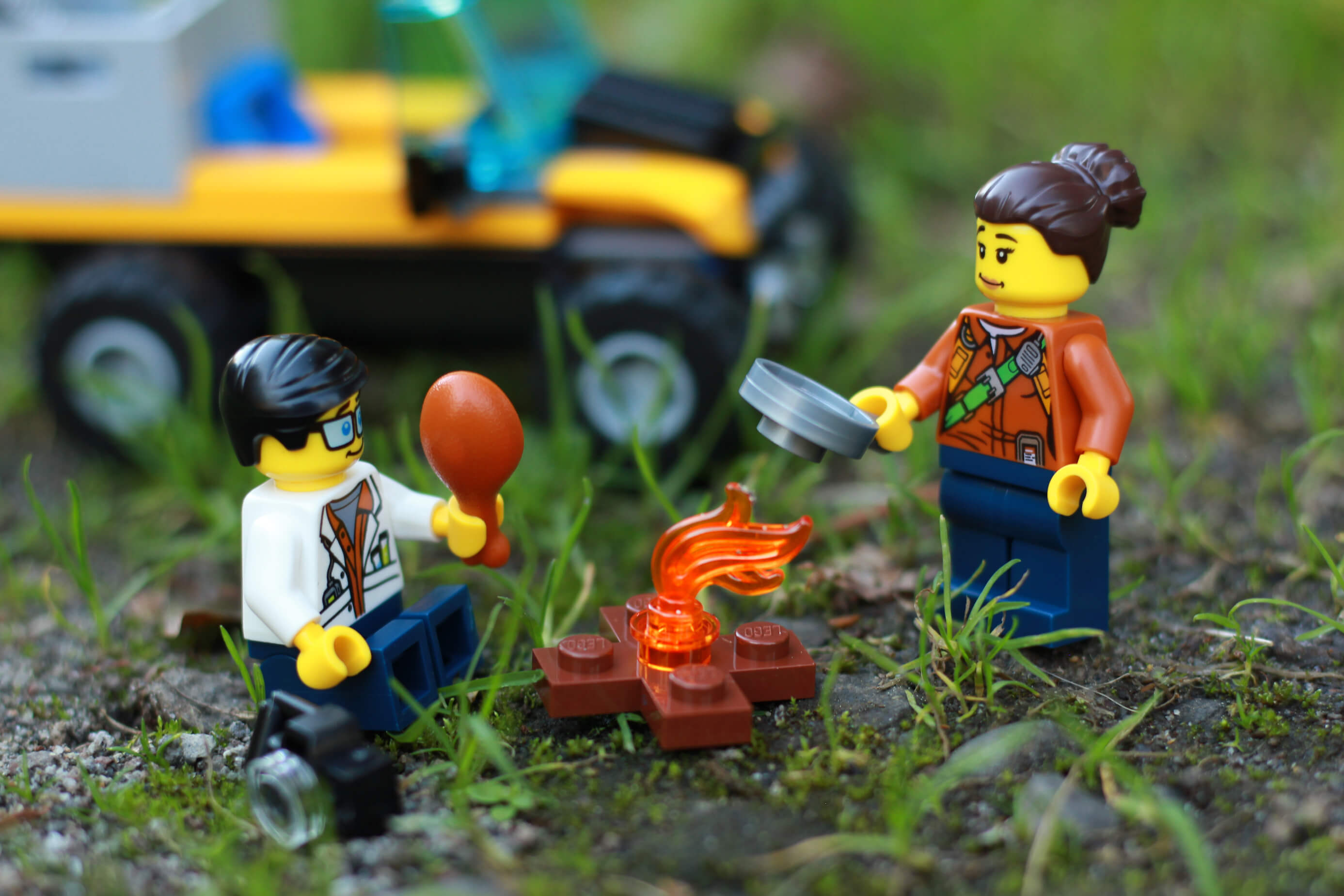 Each of the machete-wielding explorers looks pretty similar, with small variations on the torso and different hair or face pieces. The scientists have lab coats to immediately differentiate them from the rest of the crew. The mechanics have stained white tank tops with overalls, and the pilots have cool flight suits. I don't have any of the pilot or mechanic figures yet, but hope to pick them up and photograph them soon.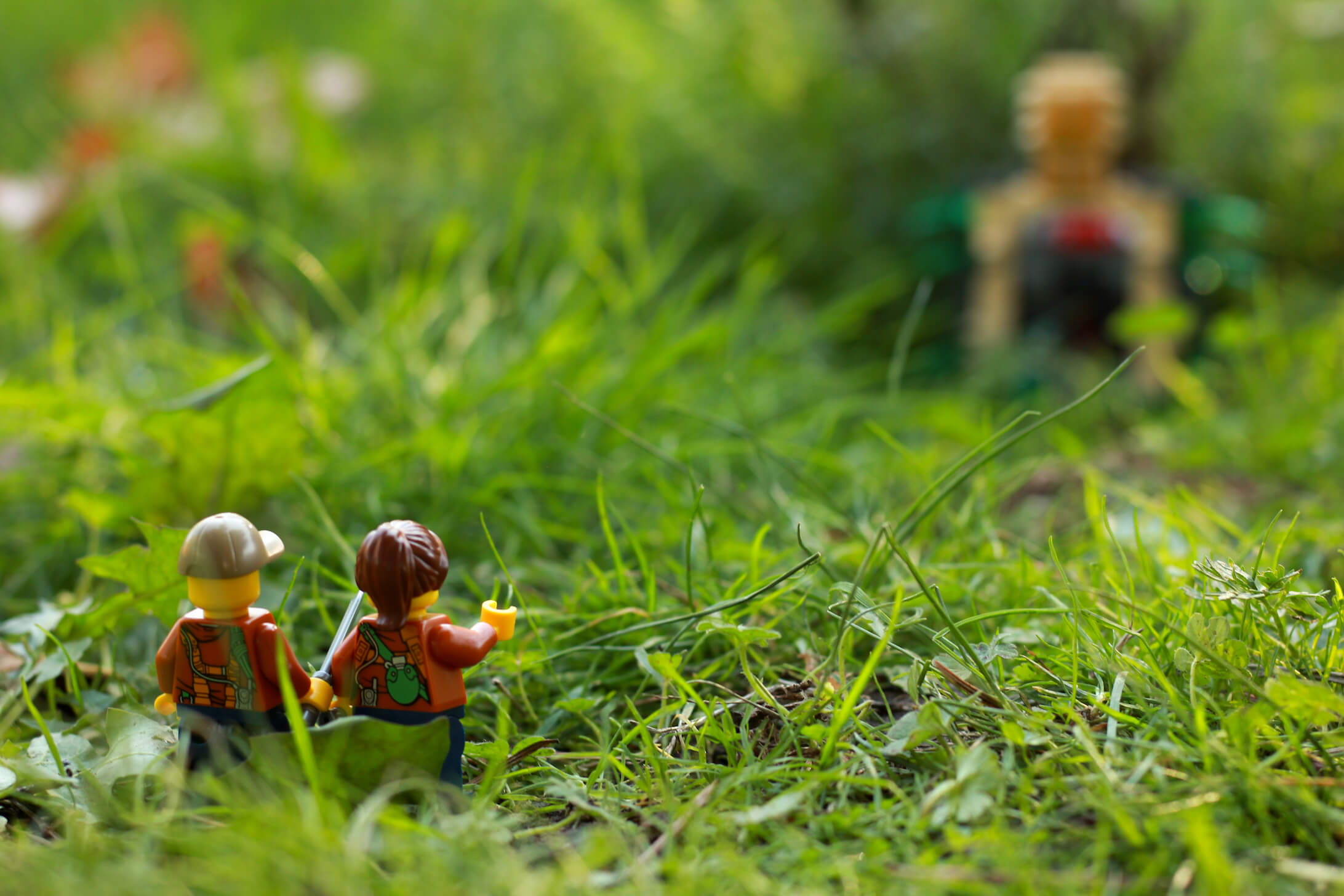 The minifigs alone are worth purchasing these Jungle kits for, and have convinced me that I need to pay closer attention to the LEGO City line. You simply won't find these designs anywhere else, and I had a lot of fun shooting them.
The more I shot, the more the ideas came to me. For my test photos I travelled to a beautiful nature park nearby my apartment, and had been shooting non-stop for two hours by the time I looked at my watch. I'm anxious to go back and capture all the ideas I wasn't able to, and re-take the duds.
While shooting on the water or in the grass was nice, I will admit that I had the best time placing my little explorers in… dangerous and precarious situations. Namely, the male scientist with his big blue glasses and shocked face. He's clearly out of his element, which was too good to pass up!
The Tomb
There are several tombs and treasure hideouts sprinkled across the Jungle theme. 60159 Jungle Halftrack Mission had one, though I found a bit of trouble photographing it well. You've already seen a glimpse of it in one of the photos above, here's another in which I tried to capture its hidden and mysterious nature: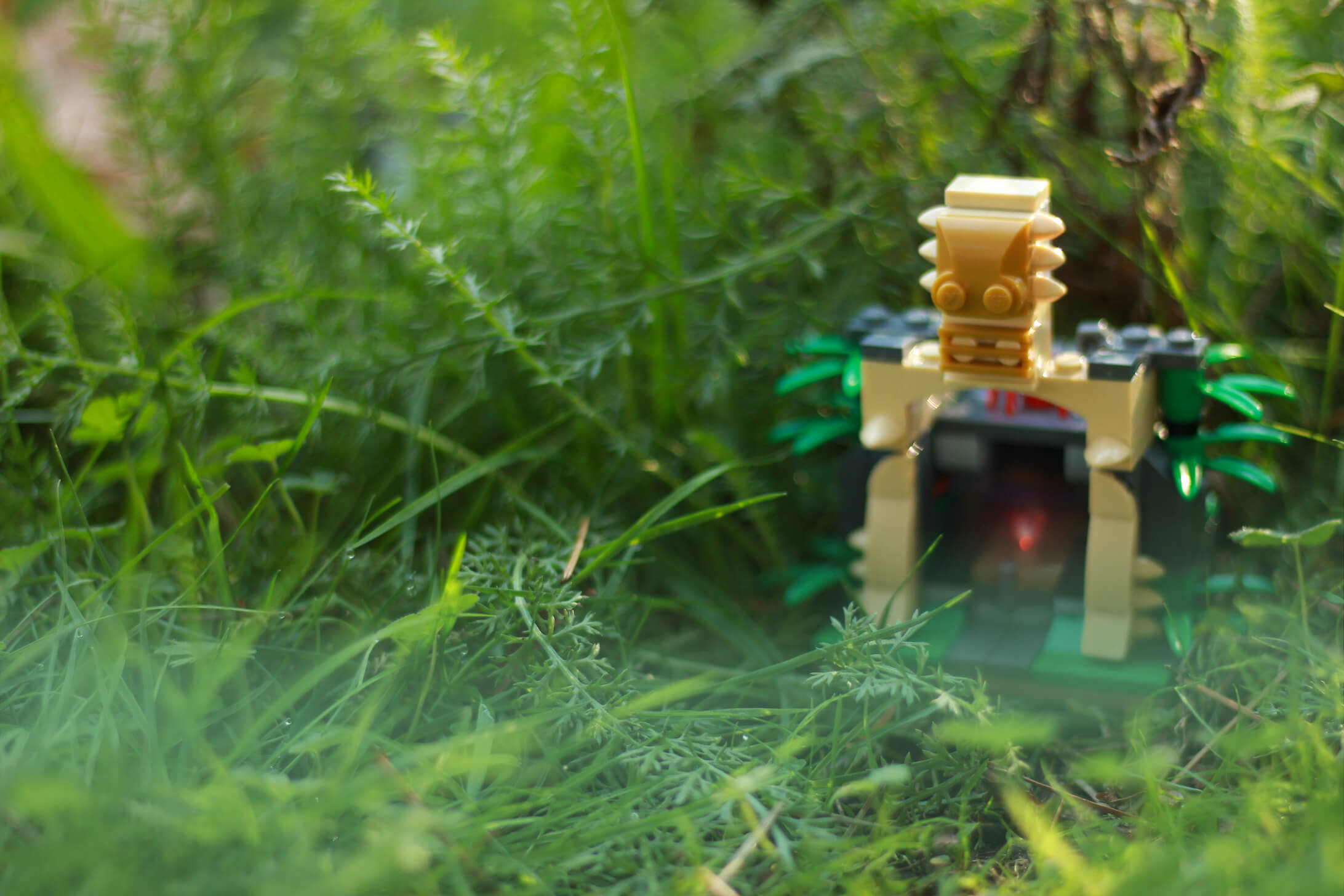 Despite having some trouble with it, I really like the tomb piece. It has a great Indiana Jones feel to it, and is rigged to drop a scary red spider on anyone who attempts to steal the jewel within.
The Panther
As I said before, the black panther is what initially drew me to the Jungle theme, and the beautiful big cat did not disappoint once it was in front of my lens.
I unfortunately don't yet have my hands on the leopard or tiger, but spent a great bit of time with the panther. Its piercing green eyes are unbelievably enticing, and I was surprised to find that it can stand on its hind legs. Place it just right, and this jungle cat can be quite intimidating.
The head piece swivels up and down, giving the panther either a curious and attentive stare, or a far sneakier pre-pouncing stance.
The Verdict
I can't recommend the LEGO City Jungle theme to photographers highly enough. The wide range of available kits offers a nice variety of minifigures, creatures, and scenarios to photograph. With just two of the smaller kits, I was able to shoot for hours.
Awkwardness in shooting vehicles aside, my test shots were a big success. I hope to add some of the other Jungle kits to my collection, especially for the chance to photograph the other tombs, Venus fly traps, and two big cats.
If you're bored by the other LEGO City offerings, looking for something more affordable than modular buildings, or seeking an original line instead of the plethora of licensed kits, I encourage you to take a trip to the LEGO Jungle. Countless adventures await, and I for one can't wait to venture back out into the wild and capture more of them myself.
What about you, have you had a chance to shoot the LEGO Jungle theme yet? What sets did you pick up, and what did you think of them? Share your stories in the comments below! 
-James
If you enjoy posts like this, we invite you to join our G+ community.
For more reviews and articles, don't forget to subscribe to the blog to get notified when we have a new post ready for you.