For this week's review we're stepping away from LEGO, and into the Multiverse for a closer look at Funko's 5-inch Rick and Morty figures!
These figures have been out for several months now, but with the third season finale airing tonight, I thought this would be the perfect time to highlight them. Can these figures offer photographers their interdimensional adventure fix until season 4 eventually airs? Let's find out!
There are 5 figures available in this first wave: Rick Sanchez, Morty Smith, Mr. Meeseeks, Birdperson, and Mr. Poopy Butthole. They each come with an extra piece, allowing you to construct Snowball and his mech suit if you purchase them all. The store near me was out of both Birdperson and Mr. Poopy Butthole, so I'll just be reviewing the other 3 here.
Rick C-137
The most obvious purchase for fans of the show will be Rick Sanchez himself. He is (of course) the Rick from Earth dimension C-137, and comes with two accessories: his trusty flask and iconic portal gun.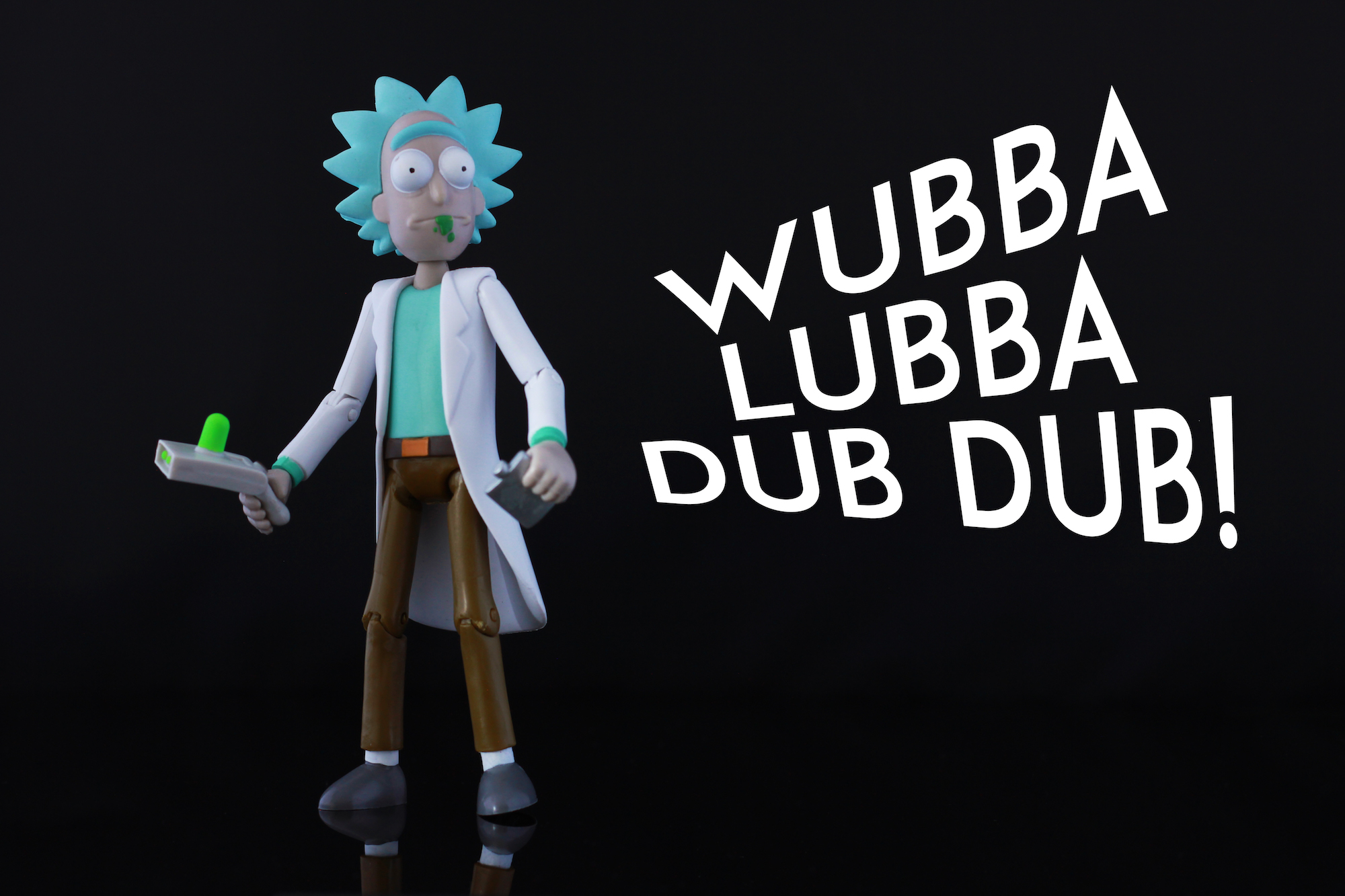 Quality-wise, these Funko figures are a bit on the cheap side, and feel like it. They're only $11.99 a piece, and in this instance you get what you pay for. There are only a few points of articulation, and both the Rick and Morty figures have a vacant, blank stare that I found problematic for photos.
Their big, bulging white eyes might look great on the show, but make it so that their posing for photography is limited, unless you want them looking bewildered all the time. My favorite test photo with Rick was one where I turned him around, and put him in his iconic cheering pose.
This allowed me to capture a different feeling with the figure than I would have been able to achieve if he'd been facing the camera.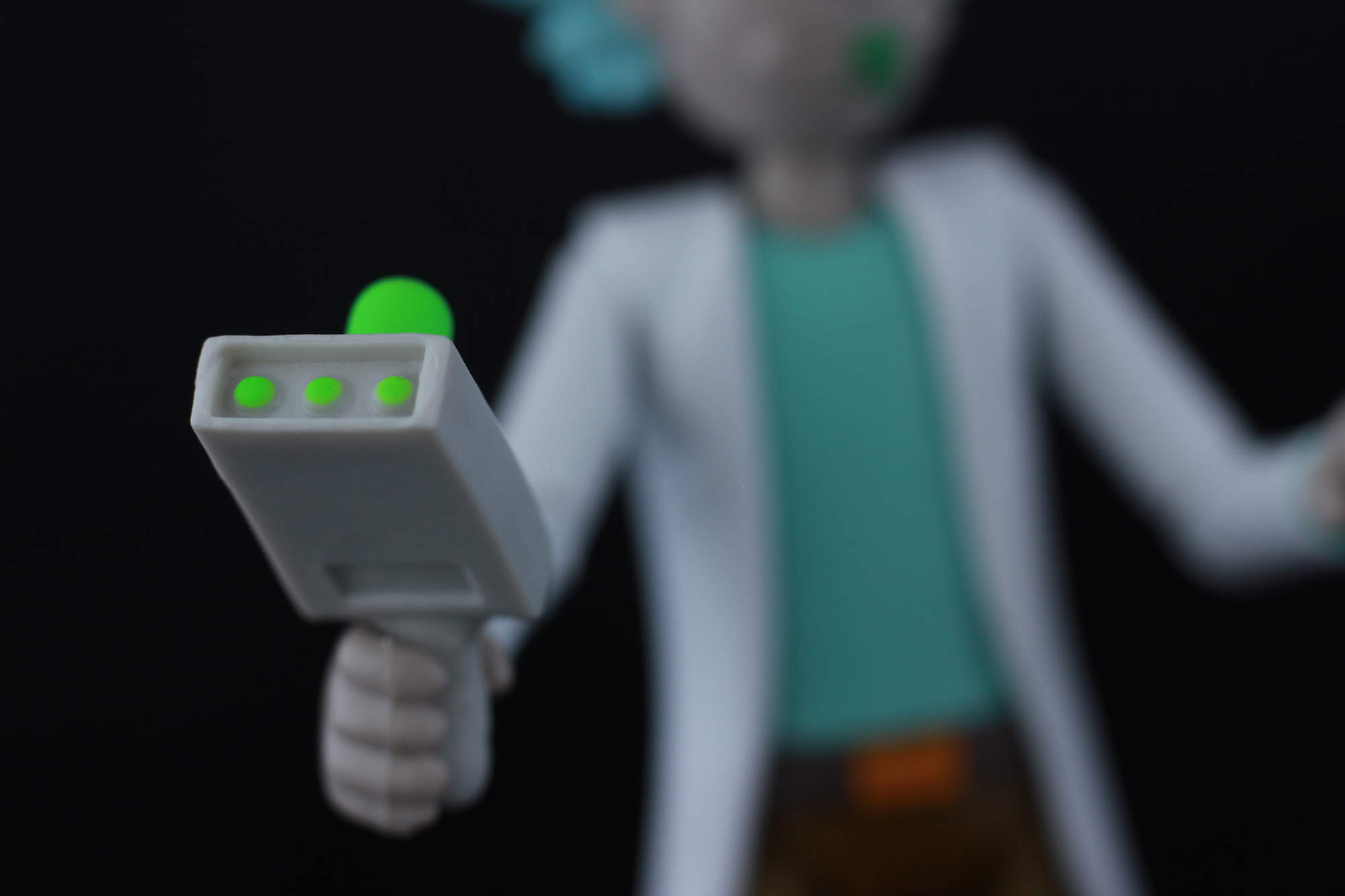 The Portal gun is a nice accessory, and has just enough detail to be immediately recognizable. I was, however, disappointed that it doesn't have its little red screen on top. There's a space for it, but it was left gray instead of painted red. It's not a huge deal, but does make the gun feel unfinished.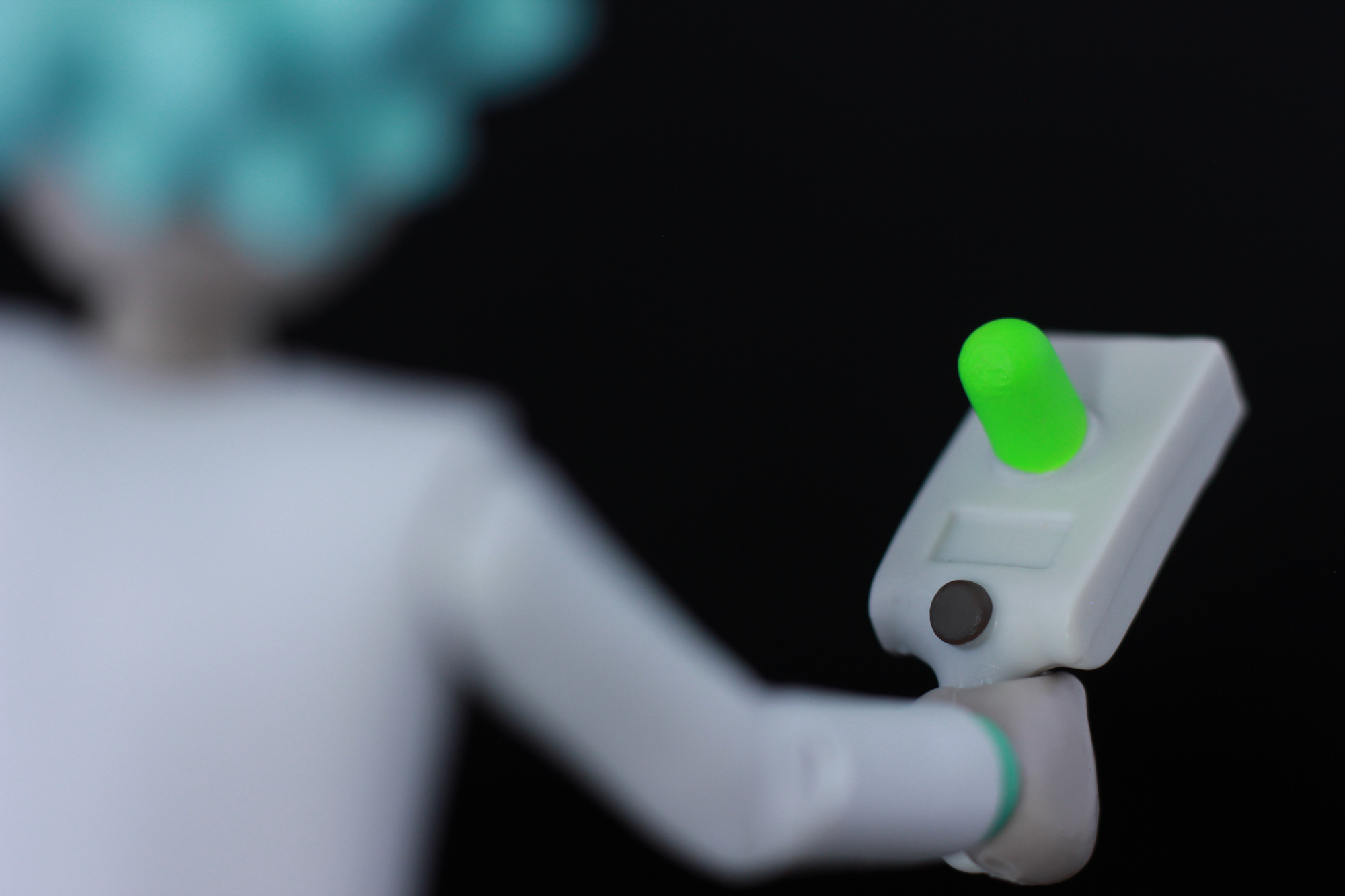 As for the flask, there's nothing notable about it, which is fine. It doesn't really demand much detail, and I found it a nice addition to the figure, since Rick carries it with him at all times.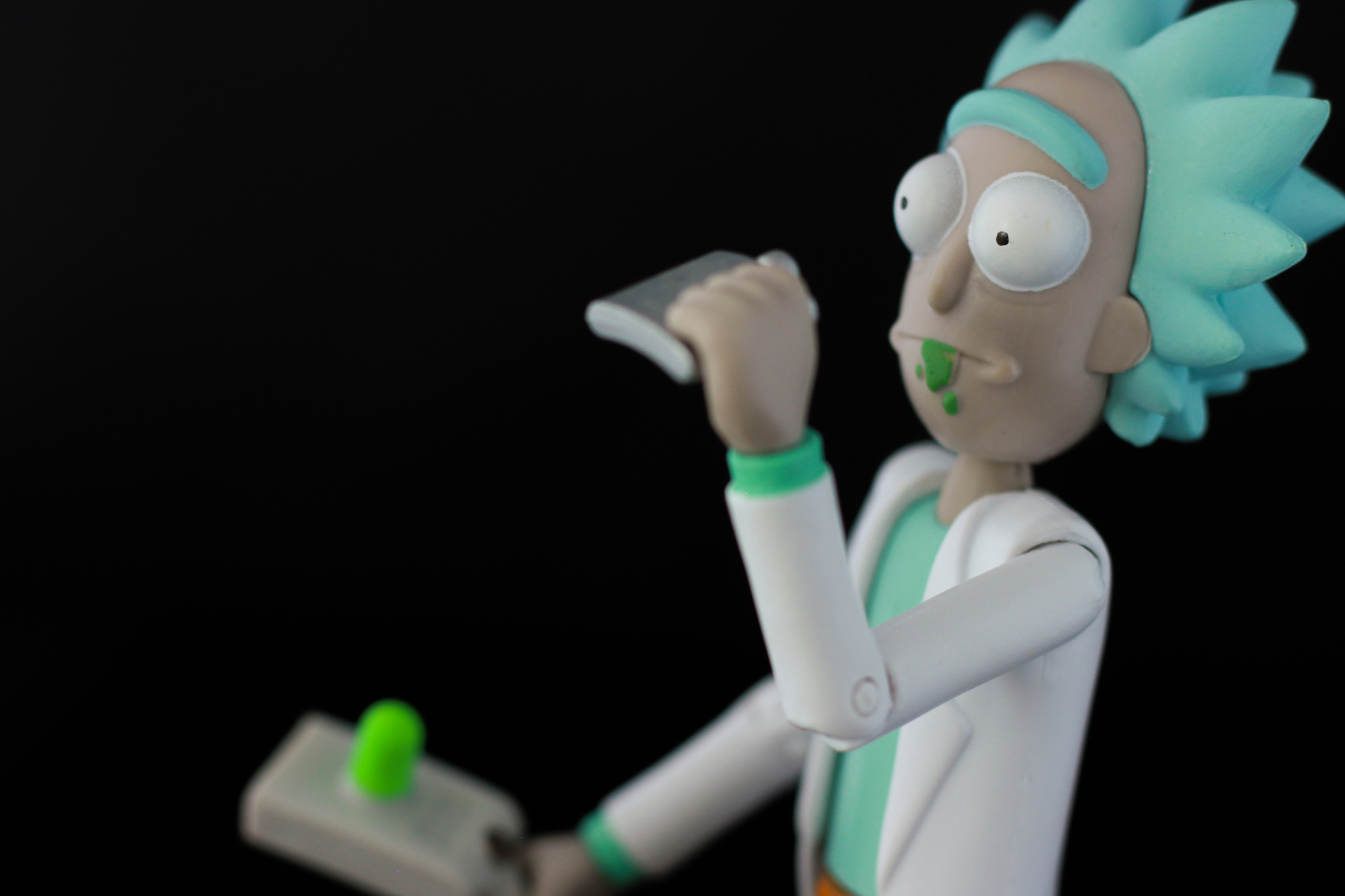 Morty
The Morty figure is even more limited. Without a neck, his head loses a point of articulation and only turns from side to side. I found him to be the most top-heavy of the three, and therefore, the hardest to pose. By himself, he doesn't offer many photo opportunities; I found more success when I paired him with Rick. On the bright side, Morty is always stunned and bewildered, so the expression is spot on. I'd have preferred Rick to look confident or unhinged rather than petrified.
The only accessory he comes with is his good ol' laser gun, which has appeared in a few episodes of the series. The gun itself has a few nice touches, though the overall paint quality is a tad sloppy. I recommend shooting it from afar so that those small mistakes are more hidden.
Hi I'm Mr. Meeseeks, Look at Me!
The crown jewel of the collection is the fan-favorite character, Mr. Meeseeks. He's the best suited for Funko's trademark simple features thanks to his more basic character design. He comes with two accessories, a pistol and golf club, which will be immediately recognizable for those who've seen his debut season 1 episode, "Meeseeks and Destroy."
My biggest problem with Mr. Meeseeks is that he only comes with one face, a big happy smile. He's an immensely expressive character on the show who gets more and more unhinged as the episode goes on, and it would have been great to have the chance to showcase that in my photographs. This could have been achieved with a swappable head, or even a few extra Meeseeks versions to purchase. Perhaps we'll get more variations of Mr. Meeseeks in future waves if this line is successful.
He's also incredibly reflective, so keep that in mind when photographing him. I had to continually adjust my lighting and check to make sure my own reflection wasn't making its way into my photos.
The Verdict
Overall, I'm a bit torn by these figures, as you can probably tell from my review. As a fan of the show, I'm glad that I picked these up, and will be purchasing both Birdperson and Mr. Poopy Butthole when they come back in stock. It's fun to own a small piece of the series, and these figures look great on a shelf.
For photography, however, they were tremendously frustrating to shoot. Each figure is top heavy and falls over easily. There are no holes on the bottom of the feet for me to click them into any kind of support, and their articulation is extremely limited. Up close, the figures look very cheap, thanks to the sloppiness in their paint jobs.
On top of all of that, their expressions are so specific that it limits the scenarios you can photograph. I found myself trying to creatively shoot around them and left feeling frustrated.
Perhaps in another dimension across the Multiverse, there's an Earth that got highly detailed, articulate and photogenic versions of these iconic characters. Alas, Earth dimension C-137 wasn't one of them. But, as Rick himself would say – That's just the waaaaaay the news goes.
-James
Have you picked up these Rick and Morty figures from Funko? What did you think of them? Did you have better luck photographing them than I did? Let me know in the comments below.
If you enjoy posts like this, we invite you to join our G+ community. Don't forget to subscribe to the blog to get notified when we have a new post ready for you.