Yesterday, my wife Jordan and I celebrated our eleven year anniversary. We started dating the day we met – as teenagers at a birthday party who talked alone for hours, fell asleep holding hands, and told each other we loved each other the next day.
She's my favorite person on the planet, my better half in every way, and instrumental in each and every photo I take and blog post I write. She's more than my partner in crime – she's the unsung hero of my artistic endeavors, of which there have been many over the last eleven years!
She's been supportive of every artistic itch I've had. Over the years I bounced back and forth between music, film, writing, and now photography. With each crazy new idea, she's been along for the ride.
I've mentioned her in my posts a few times. She provided me with makeup brushes to remove dust, she was there for me when I dealt with depression, and she accompanied me to the Art of the Brick exhibit earlier this year. But when it comes to photography and even writing for this blog, she's been pivotal in ways you'd never notice. While you've been looking at my work and reading my words, you've actually been spending time with her, too.
Jordan proofs each and every blog post I write.
I make sure to write my posts a few days before they're scheduled to go out so that she'll have a chance to sit down and go through them. She reads them out loud, with me sitting nervously next to her on the couch, and fixes every misplaced comma. She recommends synonyms that will spice up my language, and say things like, "I see where you're going here, but think you're forgetting this…"
She's the first one to look at my photos.
Whether it's on my LCD screen immediately after a shot, or on my computer screen after a long editing session, Jordan's always the first to look at my photos. I tell her most of my ideas before I shoot them, so she knows the basic premise before I turn my computer screen toward her. It's fun to see her light up when an idea comes to life. It's also hard when she frowns and says, "I'm not sure about that background," or, "Why are the minifigure's hands upside down?"
Jordan even helps me take photos.
Some of my favorite photos couldn't have been taken without Jordan helping me. I once put the Pig Suit minifigure on a chopstick and asked her to hold it above her head, so that I could get a shot of it against the clouds from the angle I wanted. The picture ultimately didn't turn out because we were both laughing so hard that the pig kept flailing around and falling off of the chopstick! Like Marco and his family portrait, now every time I look at that minifigure, I smile.
Jordan once saved my camera, a lens, and a minifigure from getting lost at sea! While I was bent down taking a shot at the beach, she quickly pulled me up as a wave came barreling towards me. She then grabbed the minifigure from the sand and managed to catch a lens that was falling out of my pocket.
Jordan has come up with great photo ideas of her own for me to take. She buys me LEGO sets she thinks will be fun to build or photograph together, and she always goes with me to feel up blind bags when the latest Collectible Minifigure series arrive. She even created a Sig Fig of her own, to accompany mine on his little adventures.
LEGO and photography are a huge part of my life, and it's amazing to have someone to share it with. I'm proud of the work I've done, and it simply wouldn't be possible without her.
Thanks for always being there, Jordan. I love you.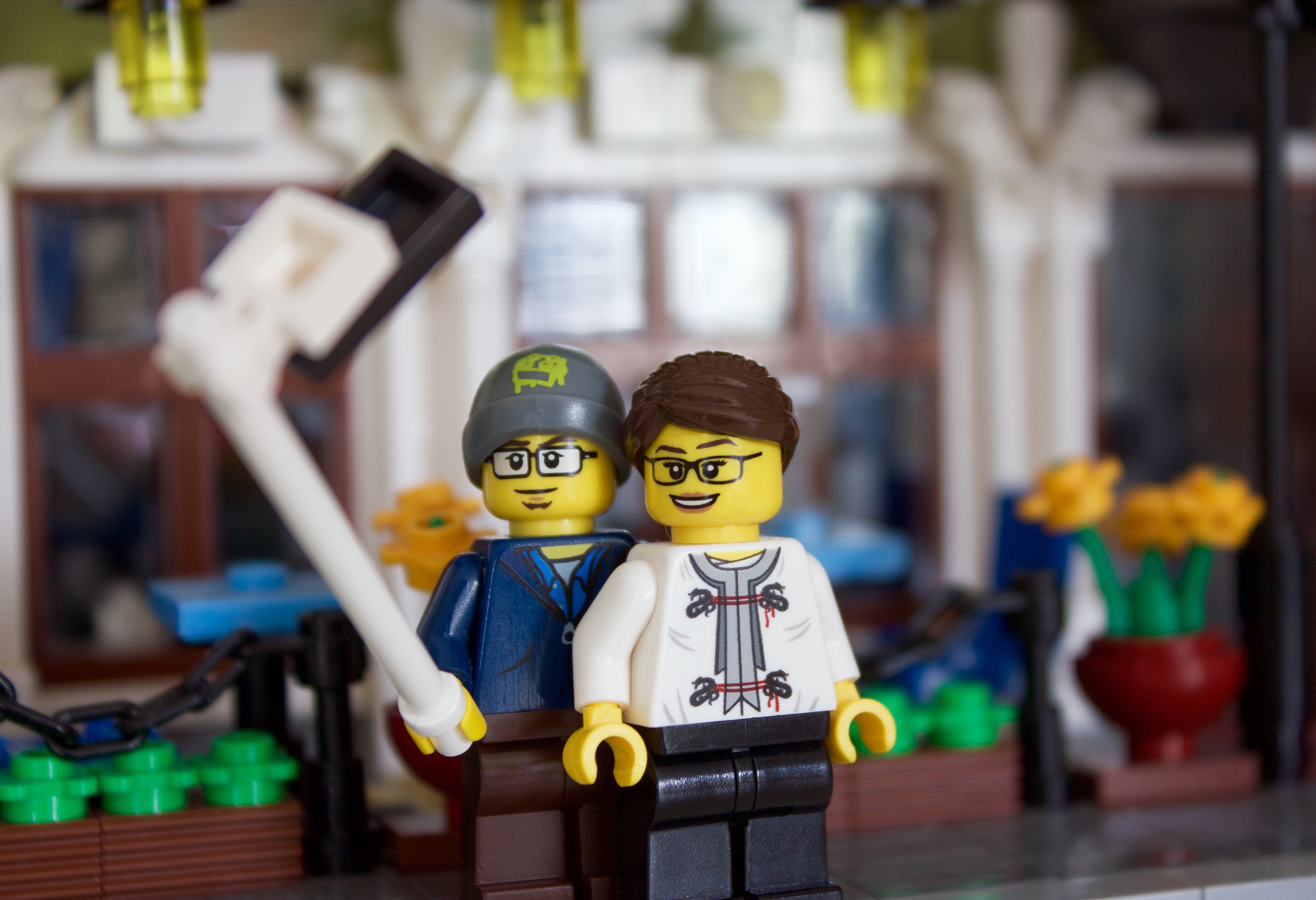 -James
Do you have someone that you share this hobby with? Are they a photographer too, or an unsung hero like Jordan? Share your stories in the comments!
And don't forget to subscribe to the blog to get notified when we have a new post ready for you, and to join our G+ community.