To celebrate the impending release of The LEGO Ninjago Movie this Friday, I've decided that my latest review will be on one of the film's tie-in sets, 70606 Spinjitzu Training.
At just $9.99 USD, Spinjitzu Training is the most affordable tie-in set, and I found it to be a great entry point for new fans. It's actually the very first Ninjago set I've ever purchased, and after building and photographing it, I can promise you it definitely won't be the last. I'm eager to get my hands on some of the larger sets once I see the movie.
Welcome to the Dojo
Spinjitzu Training comes with two minifigures and four buildable components: A dojo wall, a Garmadon combat dummy (which has a cleverly placed pin at the bottom that allows it to realistically wobble), a dual katana rack, and a spinning wooden training station that, regrettably and confusingly, doesn't actually spin.
This is the kind of set that will really shine when it's creatively utilized. As a small dojo, it looks great, but each of its buildable components can be used on their own, or combined with other pieces to create new scenarios. As a brand new fan of the Ninjago line, I found this the perfect opportunity to finally put my LEGO Ninjago Movie Collectible Minifigures to good use. Up until now they've mostly sat on my shelf without being photographed. I simply wasn't quite sure what to do with them.
My favorite piece in this set is, by far, the wobbling Garmadon dummy. I just got such a kick out of its simple but ingenious design, and immediately paired it with my Lloyd figure – to great results.
I'm also a huge fan of the dojo wall, which looked fantastic in the background of my test shots. It's a relatively small corner piece, but an avid collector could easily buy two or even four of these sets and create a great little dojo out of them. Again, I paired it with one of the Collectible Minifigures, this time Master Wu. He felt right at home!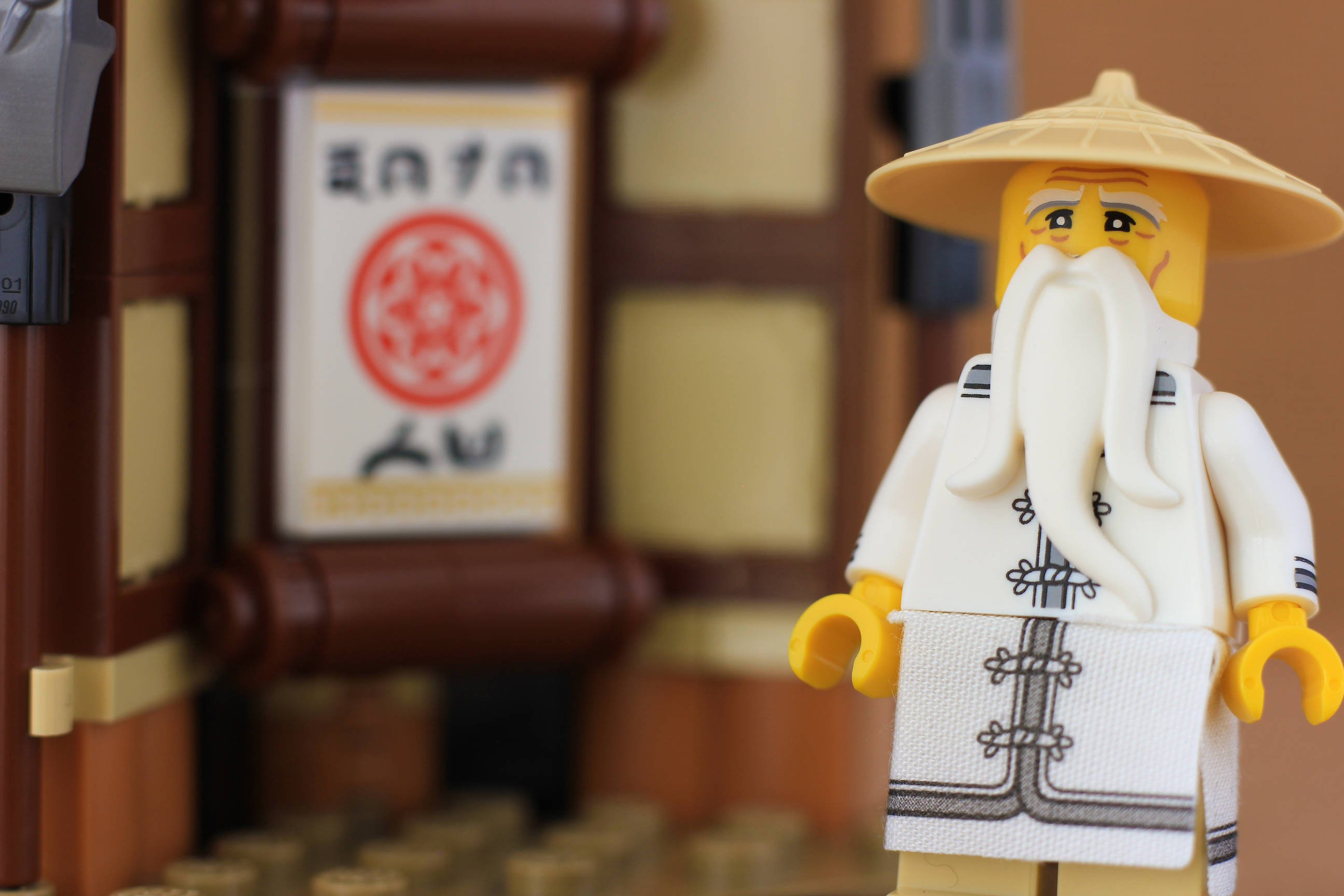 The Minifigures
If you haven't picked up any of the LEGO Ninjago Movie Collectible Minifigures yet, don't worry! This set comes with two of its own. I'm not sure if these particular variations have appeared in other Ninjago sets, but they're different than their CMF counterparts, which I appreciated.
I liked the Kai figure best. His red outfit has some snazzy small details, like a dark red diamond pattern on his pants. I love his dual katana holder and attached shoulder pad, which look great from behind. He's got two faces, and his mask comes in two pieces.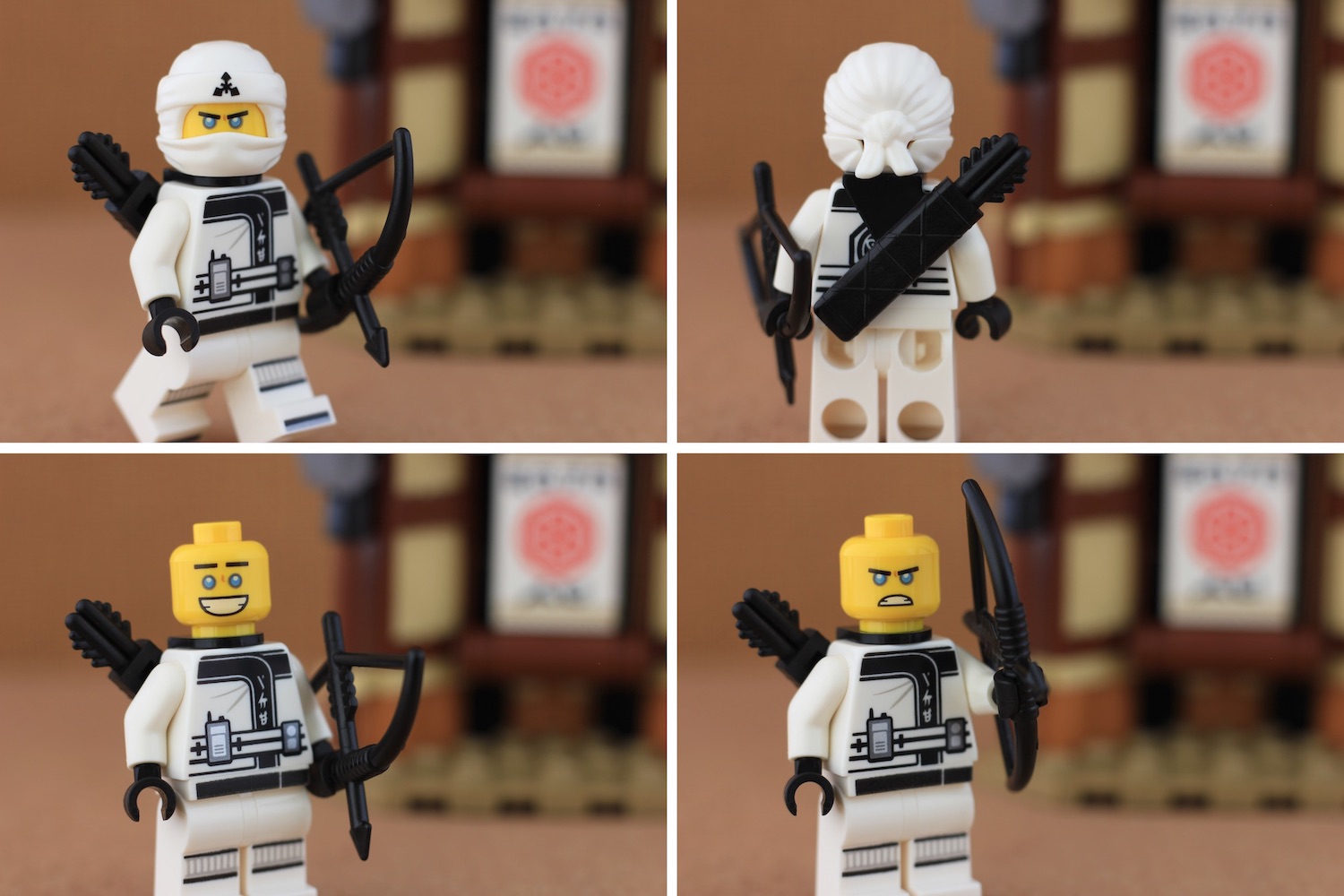 The Zane figure looks pretty intimidating, with his glaring blue eyes and black bow and arrow. I foresee photographers having a lot of fun with his black quiver piece. I found his clothing to be a bit of a step down from Kai's, especially the pants, but I really like the look of his white mask (which also comes in two pieces).
The Verdict
Like last week's LEGO Star Wars set, I found Spinjitzu Training to be a fun entry-level kit for new fans, or those curious about a property they may be unfamiliar with. The dojo itself offers enough versatility to have some great mileage for photography. You may find yourself limited by the two included minifigures, but all of the pieces are easily paired with anyone from the LEGO Ninjago Movie Collectible Minifigures series. At just $9.99 USD, you'll definitely get your money's worth, and more, with this purchase.
Be careful though, because I suspect this will be a set that gets you hooked on the Ninjago line as a whole, and will have you anxious to pick up bigger and more detailed kits in the future!
-James
Have you picked up The LEGO Ninjago Movie 70606 Spinjitzu Training? Have you taken any great pictures with it? Let us know in the comments below.
If you enjoyed this post like this, we invite you to join our G+ community. And don't forget to subscribe to the blog to get notified when we have a new post ready for you!