I was recently sent the LEGO City Ice Cream truck set for review. I was rather excited to receive this particular item as I felt the challenge of making quality photos from a vehicle set would be unique. I was not disappointed as there were certainly some unique challenges with this set. More on that later.
The Set
LEGO Ice Cream Truck is another in line with the LEGO City Theme. The set itself has 200 pieces and is easy to assemble. Instructions are also included and are standard pictograph LEGO instructions. I found the instructions to be straightforward and the build very simple. This set is suggested for persons 5 years of age and older. Of course, I would suggest you only allow small children to play with LEGO under direct adult supervision as the parts are small and easy to swallow or drop on the floor, lost forever…. until you walk through the room barefoot, and then you will certainly find the missing piece! OW!
The Build
As I stated earlier the instructions are standard LEGO pictograph instructions and the build itself was very easy to complete. The truck is the entire build as you would imagine and includes all the accessories belonging to an ice cream truck. This includes ice cream cones, shave ice, and popsicles. The entire passenger side of the truck swings opens via cleverly placed hinges for easy access. There is just enough room for a mini figure to fit comfortably while selling their wares. The driver's side has a sliding window allowing access and a "realistic" customer experience. Both the driver's and passenger doors on the truck open allowing access to place the mini figure in the driver's compartment of the truck. The build does include multiple stickers and while I am not generally a fan of stickers on LEGO, I feel these truly give that added something to the build and are necessary to complete the illusion. The top of the truck is adorned with a giant "fudgesicle" that can be placed almost flat on the roof or at a 90-degree angle to the truck. It has two stickers adorned on either side that give it the appearance of a face.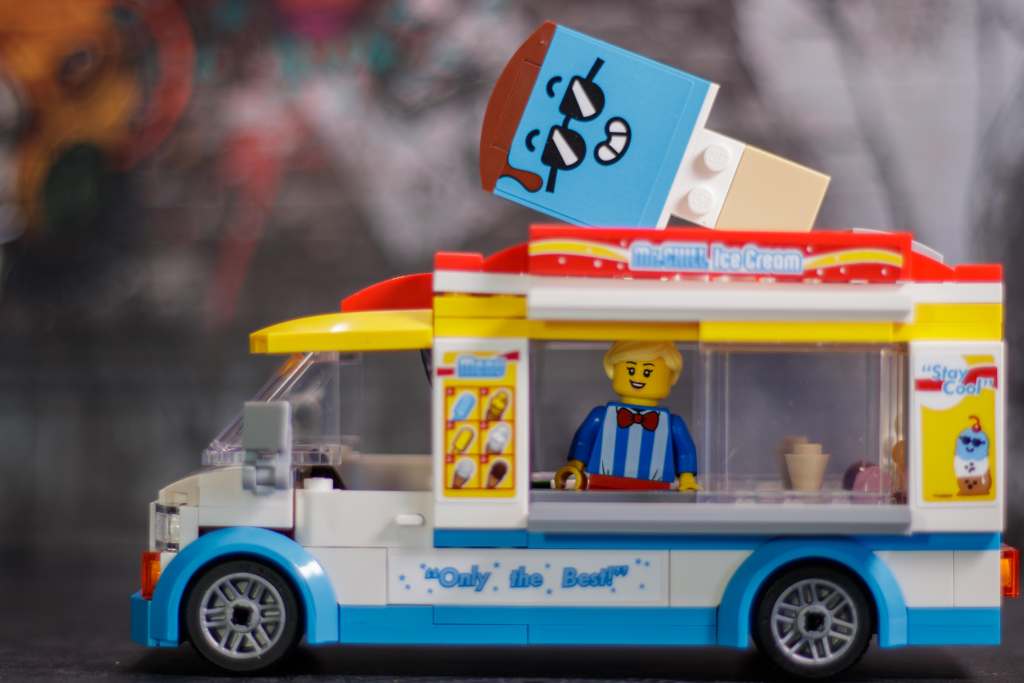 The Minifigures
The set comes with two minifigures and a dog. Including a dog in the set is always a good bet in my book. The first mini figure is a female and she is the owner/operator of the Ice Cream Truck. She has a blonde hairpiece with a ponytail and a stylish blue and white striped shirt with a red bowtie. Her pants are red. Her head only has one side, which is unfortunate as I always prefer options with my minifigure faces. The second mini figure is a young male, again only a single face. He is wearing a sleeveless green shirt and blue pants. He comes with a blue helmet and an interchangealbe black hairpiece. He also has a skateboard to ride around the city after enjoying his ice cream. The dog is a brown large breed with black markings on the face. I feel it is the perfect companion for a young lad on a summer adventure.
Storytelling Possibilities
This was a large part of why I wanted to review this particular set. I am a big fan of cars and car photography so I wanted to see how this would hold up on such a small scale. I found it difficult at times to take the exact photo I wanted. This was due to the extremely small size of the set coupled with a large 90 mm macro lens and the inability to get the light just where it needed to be. Nonetheless, I really enjoyed taking photos of this set and think I came up with a few nice pieces of art. I believe if I had more of the city set I would be able to use it as a better background and take a better series of photos.
Who is this set for?
At an extremely reasonable $19.99 US, this set is an inexpensive set and worth purchasing for many. I recommend it for collectors of the Lego City Series. Also, those who collect LEGO vehicles. Im not sure it's the greatest set for most toy photographers, however, I still see it as having some great possibilities such as forced perspective shots as well as when used with the aforementioned City Series set up as the background and I look forward to creating more photos with this set in the near future.